For Customer Onboarding
|
4 min read
Academy vs Knowledge Base
April 18, 2018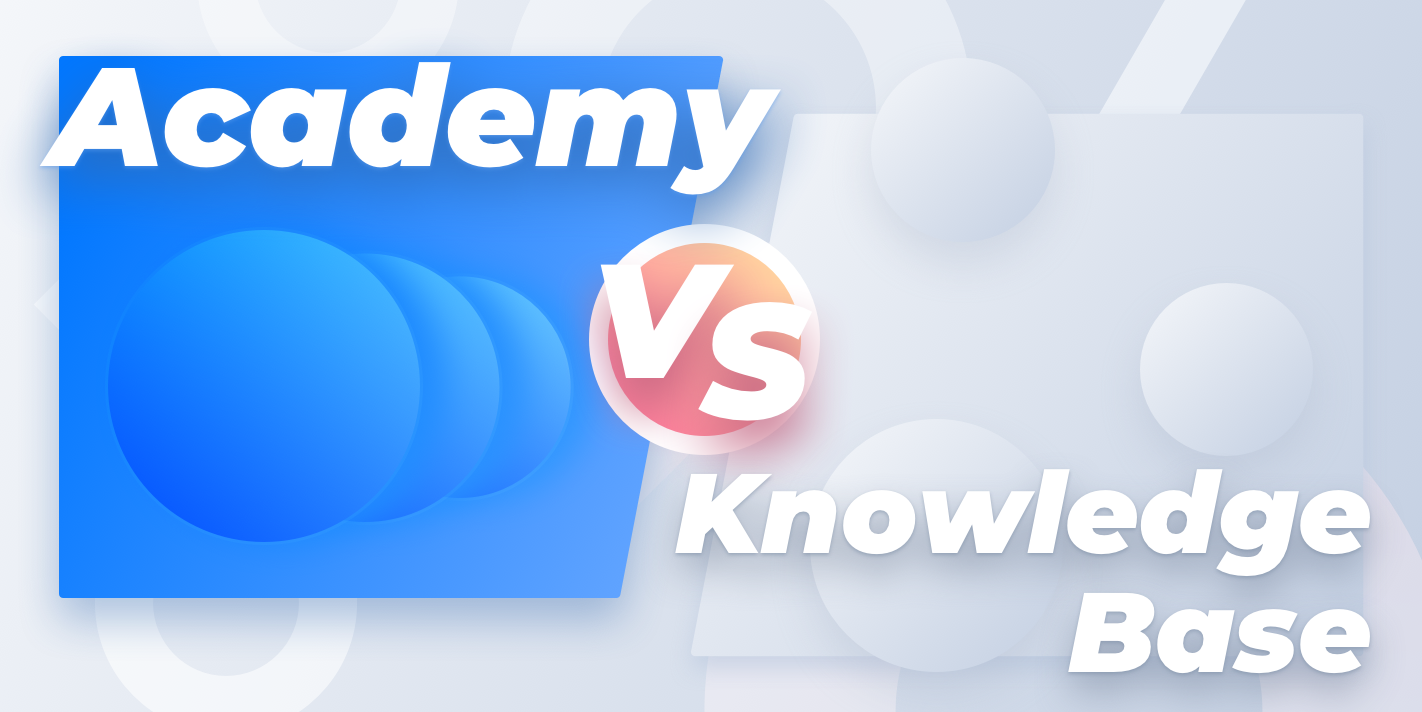 If you sell your product, then we are sure you have dealt with one "small" problem. We are talking about one essential question: "How to explain to my customer HOW and WHY to use my product?"
You can bring information about your product to your customers in many ways. For example, you can create a knowledge base, ebooks, white papers (by the way, our CEO wrote about it on his Medium blog). This time we decided to focus on the knowledge base.
What is a knowledge base?
It is a "knowledge bank" — a mass of reliable and structured information about anything. You can, however, transform your knowledge base content into an Academy pretty quickly. But you may have a question:
"Who needs an Academy when you got a knowledge base?"
First things first: there is a difference in the field of application
Knowledge bases are well suited solely for complex products. Academies are more universal because they can be applied to the products of any complexity. Moreover, you improve readability of your content by splitting information into parts — lessons and courses.
1 point to Academies!
How about interaction?
Well, there is no interaction with a knowledge base. Users, in fact, simply read your text. There are no tests, and they wouldn't spread information about your knowledge base. Who would ever share a knowledge base?
On the contrary, Academies can be easily shared. Furthermore, learners can share courses and certificates. It is one of the coolest things about Academies (and an extra point).

Statistics
This point is closely related to the previous one. As long as learners have many points of interaction with Academies, it allows you to have detailed statistics on each reader, for example, amount of lessons they've learned or time spent in your Academy. Knowledge bases really lack this powerful statistics.

Gamification and content attractiveness
Knowledge bases are boring, let's be honest. A lot of dry text, no step-by-step flow, lack of visual components, no quizzes, no awards… That is what Academies do have enough of, making educative content about your product attractive. Yes, don't forget about "novelty": knowledge bases are just a little bit younger than guest books. While Academies are a modern technology which appeared a few years ago.
How about gamification? Knowledge bases have no gamification at all (want to know more about it? Read our previous blog post here). At the same time, gamification principles were added to Academies from the very beginning to make them catchy and to raise learner engagement. Gamification plus novelty and Academies lead knowledge bases:

How and why
People usually turn to knowledge bases when they need to get a clear answer to well-defined questions. This means knowledge base is a response to "HOW".
Academies consist of structured and interesting content that provides broader explanations. They answer both "HOW" and "WHY". Sorry, knowledge bases, this point is for Academies.

The "HOW" and "HOW and WHY" principles influence the amount of time a user spends on your website. If a reader got stuck in knowledge base, it means that he got some troubles. Either he has a very complex problem or a text is hard to understand. This is why knowledge bases have nothing in common with marketing.
Academies are the opposite. The more time learner spends in it, the better it is. Why? Because your learners interact with your content to become masters of your product, and they turn into loyal customers. Academies are useful not only in customers success, they are your powerful marketing tool.
Looks like Academies score one more point.

And Academy wins, seven-zero!
Though, in fairness, it makes sense to have both an Academy and a knowledge base if a company has enough content and a complex product. A knowledge base, in such a case, would serve as a repository of information. While Academies can be used as a tool that turns visitors into loyal customers.