Stella Lee: "L&D`s should always begin with the end in mind"
July 18, 2022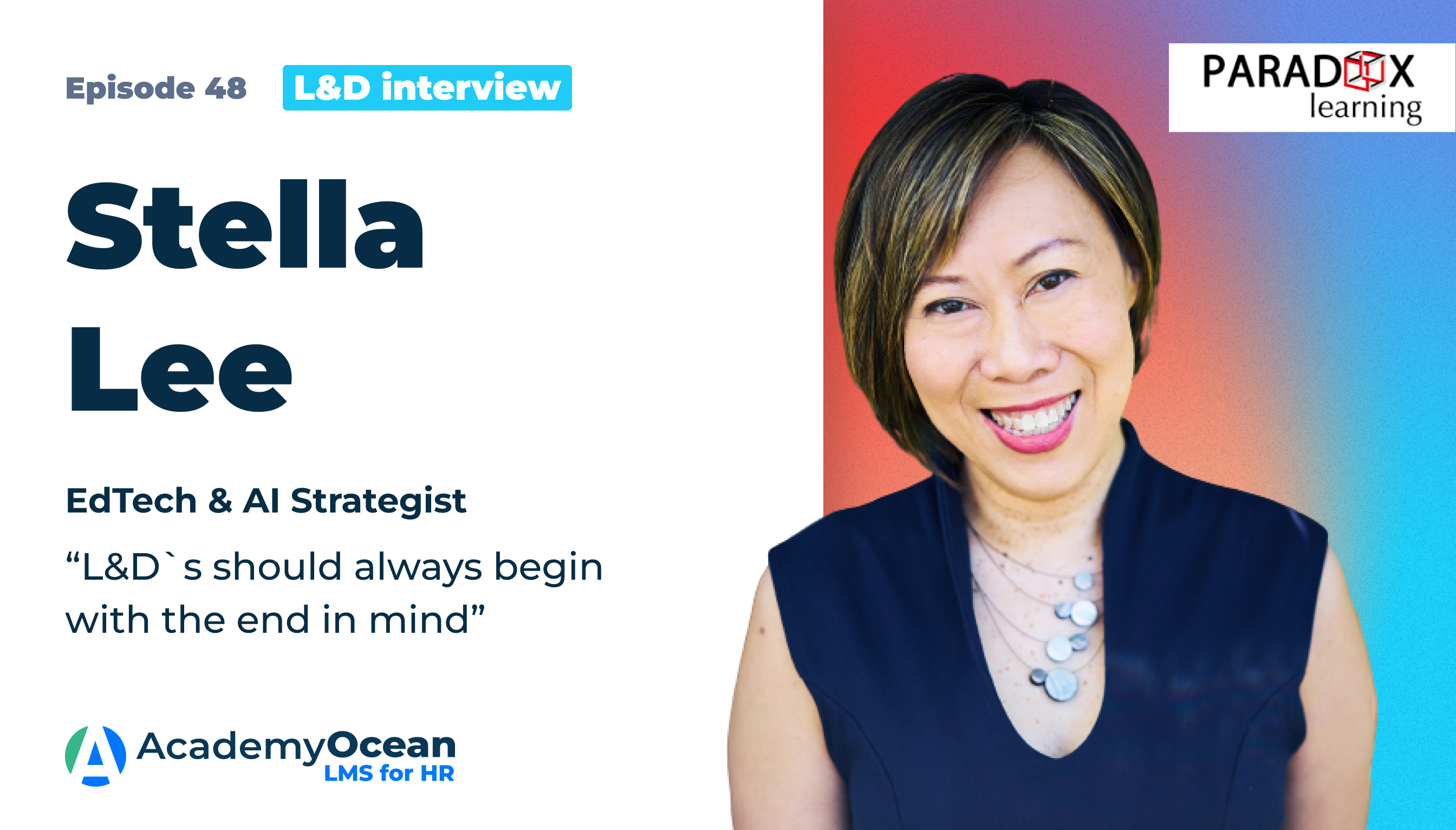 ✅ What is data literacy, and why is it a must-have skill for the L&D professional these days? What are the ways to adopt and personalized learning? In this interview you will find out the answers, and a lot of other useful things for the practical L&D!
Today our guest is Stella Lee, EdTech & AI strategist, speaker, and writer.
Dr. Stella Lee is a consultant, startup advisor, writer, speaker, community organizer, educator, and researcher.
She has spoken at Google, the United Nations, Open University, University of Auckland, Suncor Energy, and is a regular guest in many podcasts and webcasts. Currently, Stella is the technology columnist for the Training Industry Magazine and Canada's Startup Advisor. Stella holds a PhD in Computer Science with a focus on adaptive learning.
For 20 years, Stella has worked on enterprise-wide Learning Management System (LMS) evaluation and implementation projects.
🤩 The interview is going to be very exciting!
---
AO: Hi Stella! How did you come to the L&D sphere? And what do you love most about your job?
Stella: I was trained as an artist actually and my first degree is a Bachelor of Fine Art in drawing and painting. However, growing up I have always been interested in the intersection of design, education, and technology, and ended up getting my PhD in computer science with a specialization in adaptive learning technology design.
I started my working career in the academic world, primarily in higher education –conducted faculty and staff development and training, helped universities to shift from face-to-face to online learning, and researched on best practices in educational technology.
After I got my PhD, I decided academia is not for me, and I was always curious about how corporations develop and train people at work, so I ventured into the private sector. After that, I started my consulting company called Paradox Learning and I have been running it ever since – this is my 8th year.
Paradox Learning is LMS & e-learning consultancy with step-by-step support. Experts in LMS selection, e-learning strategies, and learning analytics.
AO: Could you share the most difficult task that you have faced in your professional life? How did you manage it?
Stella: I don't think there is one single difficult task – each project has its own challenges and limitations.
What I find challenging in general is that L&D is an ever-evolving field, particularly with the speed of innovation in technology.
There are many areas of L&D one can specialize in from leadership development to facilitation to education technology development. It could get confusing and overwhelming for people who want to enter the field or are trying to find their paths from within. There really isn't one way to manage it – or it "manage" is the right term.
I suggest looking at it as an opportunity to explore options and upskill yourself.
AO: Now more than ever, remote work and managing a globally distributed team are commonplace. How to maintain a culture of continuous learning and development in such conditions?
Stella: This pandemic has been teaching us a lot about managing remote work and leading distributed teams.
To keep their teams connected, I see a lot of companies are using games, challenges/competitions, sharing stories, dancing parties, and in general, being creative about it.
E-learning professionals have always been aware of the risk of the dehumanizing experience online.
Social learning platforms, knowledge sharing tools, and synchronized learning technologies such as webinars and live chats have been used for many years to keep people engaged and to add variety to the L&D experience. I also see that informal communications tools are becoming more relevant as those help make up the missing chit-chats in person, the water cooler moment.
Certainly this is a time for organizations to step up their digital learning game. But my hope is that we don't associate e-learning with only video conferencing.
While online learning certainly has entered every organization's lexicon during this pandemic, I see a lot of companies are rushing to go online and that might put people off if the online experience is terrible.
Companies that already have the technologies (e.g. LMS, LXP, etc.) in place will have an advantage as some of the newer learning platforms have the potential to provide a more personalized experience, adaptive content, and feedback in real time.
AO: What is the role of data in L&D decision-making?
Stella: As learning practitioners, regardless of approaches we took to design learning, a series of questions consistently arises:
Was the training effective?
And if so, what more can we do?
What area can be improved?
How do you know if the learner can transfer what she learned onto the job?
Did the training benefit the organization as a whole?
Meanwhile, across organizations, we regularly deal with an increasing number of technologies. In addition to LMS, many organizations have e-libraries, web conferencing systems, learning experience platforms (LXP), online survey tools, internal social networks, and employee knowledge sharing repositories.
Collectively, these technologies continuously generate a large and growing amount of data that are available at our disposal.
After careful data cleansing, processing and triangulating of these datasets, we can begin to detect patterns, interpret, and gain insights about our learners and the context in which they learn.
In return, these insights will support us in answering the questions above and make better decisions in L&D.
AO: What is data literacy? How do you approach using analytics to optimize your workforce?
Stella: To be data literate means that we know where data is coming from and how it is presented, be able to ask informed questions, process, interpret, infer, and apply data effectively and appropriately.
One of the main reasons for using data analytics for learning is that it helps us to make better decisions based on evidence and provide relevant interventions.
Moreover, you can use data analytics to focus on creating a feedback loop that allows us to adapt content, learning trajectory, level of support, and other personalized services in real time and on an ongoing basis.This contrasts with the current process whereby course evaluations or learner feedback come at the end of the training.
In some instances, data analytics is used to predict learning behaviors. So that we can act on the predictions, and feed those results back to the process in order to improve the predictions over time and provide a more personalized learning environment.
What makes data analytics more compelling now is the fact that lean operations will be the norm for many companies. L&D departments will need to justify expenditures and optimize resources even more.
Data analytics can help you decide:
if you need to redesign the training material based on data collected about how learners interact,
or if you need to renew licenses for curated learning content based on usage pattern,
or introduce additional L&D support such as coaching and mentoring based on sentiment analysis.
AO: What data do L&D professionals need to collect to demonstrate the impact of their learning initiatives on the organization?
Stella: There is no one single data set or a definitive dataset you need to collect. It all depends on the context and what you are trying to achieve.
Just like anything else we plan in life, we should always begin with the end in mind!
What is it that we are trying to do (i.e., what are the goals we want to achieve) or what problems we are trying to solve?
Are we measuring learning to detect patterns, to make predictions, or to support decision-making?
From there, we can narrow down the scope and choose an evaluation strategy and determine the type of data to collect.
AO: As far as I know, you are an expert in adaptive learning.
In your opinion, how much do adaptive learning capabilities depend on the software used?
Stella: Instructors and facilitators have always adapted their learning based on their learners' prior knowledge, experiences, responses, and context. So there is nothing new about personalized learning.
What technology can do now is that it helps automate some of the adaptations at scale.
The adaptive learning technologies have come a long way and there are some innovative solutions in the market. For example, there are smart chatbot applications that will automatically push information based on your job functions and other context, and to adapt the answers based on your responses. While these technologies can streamline some adaptive capability and lighten the workload of instructors, it is by no means perfect.
Human intervention and audit is very much needed to examine the appropriate use of adaptive technology, and to ensure that relevant content is not left out.
AO: Please name 3 to 5 main aspects that you think should be personalized in the learning process (or in the learning solution) in order to make each learner's experience effective.
Stella: Personalized or adaptive learning typically uses technology (but not always) to provide a more tailored and knowledge level-appropriate experience for individuals or groups.
The most common aspects being personalized are content, assessment, and learning paths.
Content – The most common aspect in personalized learning is adaptive content. Typically, content is adapted based on the learner's prior knowledge level or based on some pre-defined preferences.
For example, content can be adapted using certain criteria (either explicit or implicit) such as:
users' location,
language setting,
test scores,
and knowledge gaps.
This is to determine how information is presented, what the sequence of the content should be, and the depth and breadth of the content being generated for each learner.
Assessment – Adaptive assessments can be defined as any types of assessment that is tailored specifically to each learner, based on his/her answer (and sometimes behavior) on previous items on the assessment.
Adaptive assessments allow instructors to design tests that are targeted to the ability level of each learner, and provide more accurate feedback.
Learning paths — A learning path is a sequence of courses or learning material that allows learners to take and build their knowledge progressively.
In adaptive learning paths, such paths are either pre-generated based on job roles, org chart, competencies required, etc. or can be personalized dynamically based on the learners' progress or interest or some other criteria.
Usually, a learner model is built at the backend to identify, collect, and update variables (such as learning preferences, demographic information, competencies, knowledge level) in order to push out different pathways to each individual learner.
AO: What is the most valuable piece of advice you have ever received in your professional career, or you like to share?
Stella: We need more diversity and a multidisciplinary approach to the field. We don't all need to be data scientists or technologists to get involved, but it helps to have a basic level of tech and data literacy. So start by being curious and open-minded, ask a lot of questions and be prepared to learn continuously.
AO: Stella, thank you so much for your time! It was very interesting and cognitive!
---
See you later!🖐