🚀 Video Answer Month | AO Update June 2022
July 20, 2022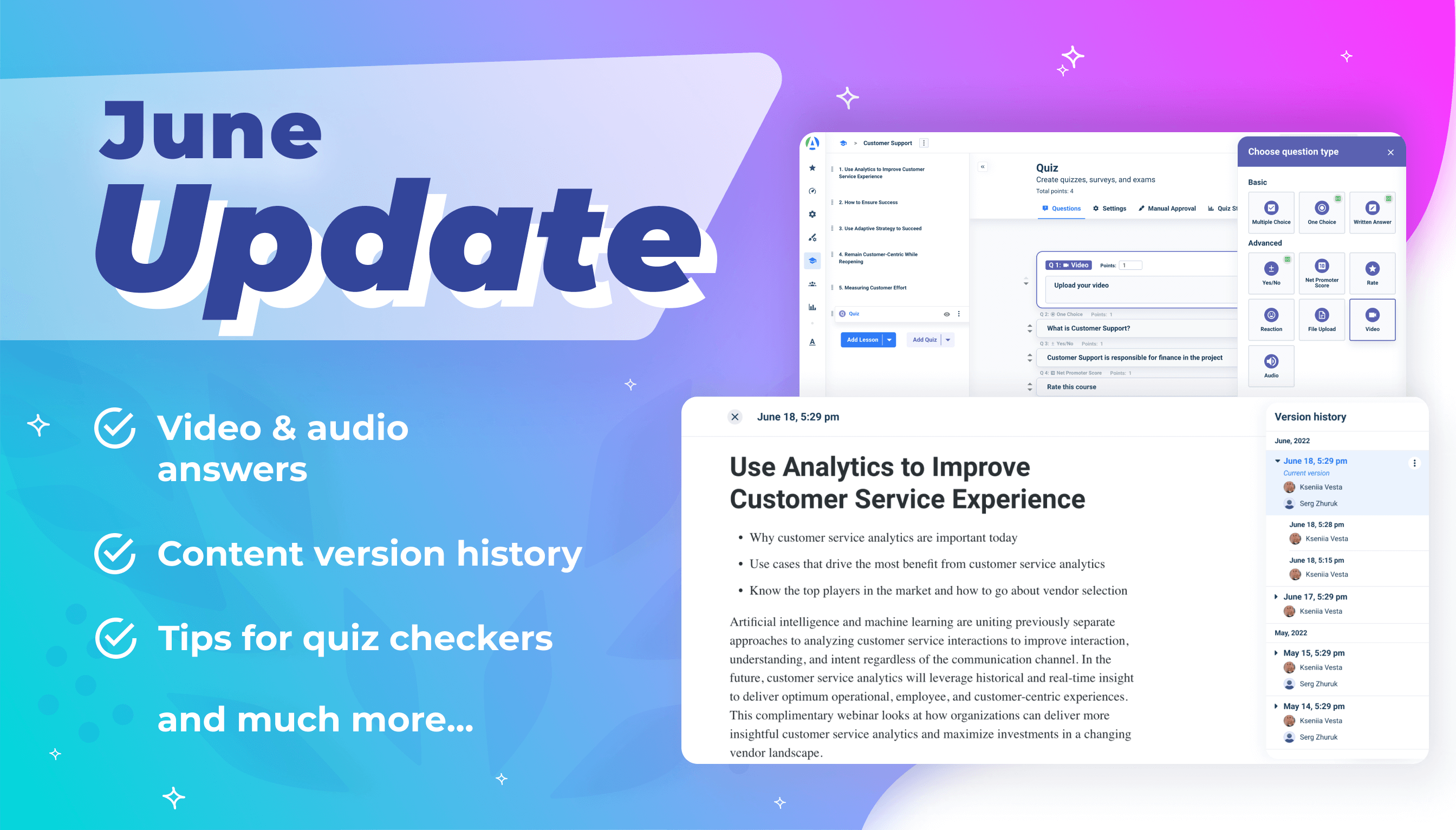 Take learning and assessment to the next level with new AcademyOcean LMS features!
In June, we introduced:
✔ new test types with video and audio answers;
✔ tips for assignment checking;
✔ content version history, and more.
Read more 👇
📹 Video and audio answers
Some topics are just better tested without multiple-choice questions. Nothing will help you evaluate your learners' knowledge better than a video they record where you can hear the sound of their voices!
We've tackled this problem by adding a new type of question that prompts learners for video and audio answers.
Do you want to test a learner's communication skills, or see how a support person would answer a tricky client question? Then ask the learners to record their response or reaction to a particular situation. You'll be able to evaluate their tone, body language, confidence, and more.
Unlike traditional dialogue simulators, where users select canned answers, live videos show you how learners work their way out of various situations in their own words.
It's one of the best ways to test how much learners have internalized!
✅ Tips for quiz checkers
Now you can add tips to quiz questions for graders.
This feature is designed for graders who check more complicated questions with open-ended responses, questions with video or audio responses, or questions where users upload files as part of their response.
You can add notes to any type of question. 😉
For example, a tip could specify the basic criteria a grader should use to evaluate a learner's answer, such as what gets the max grade, what warrants losing a point, etc.
This is very useful for teams with multiple admins and trainers working together!
📑 Lesson version history
Now you can view the history of changes made to a lesson and return to an older version if needed. 😍
You can track who made edits to a lesson, when they were made, and what kind of edits they were, and you can restore an earlier version of the content should the need arise!
This is a practical feature for teams with multiple administrators working on the same content!
😎 New Role – Mentor
Meet the new administrator role that makes academy management a breeze: the mentor, AKA the homework checker.
You can invite your colleagues or outside specialists to the academy with this new role and limit their access to just checking learners' homework.
Outsource assignment checking and rest assured that the people you hire for this job won't have access to the courses, stats, or settings in your academy.
Want more branding?
Make your learning platform completely unique!
We've expanded our branding settings, so you can even change how learner profiles look.
There are three themes now available for learner profiles and navigation. Choose from our two pre-made color themes or design your own using your company colors.
Exporting learner stats
Want to view individual learner progress without having to dig through overall reports? Easy! In a matter of clicks, you can generate a file with all your statistics.
We've added a button for downloading courses and test statistics for each individual learner. You can do this directly from a learner's profile!
This makes it much easier to report on a specific learner who has completed multiple courses.
Support at your fingertips
Admin support chat can now be found in each academy. If you have any questions about working with your academy, you can ask us without leaving the platform!
Now we're even closer to our customers 😊
Blog News
Don't miss our new interviews:
On digital transformation and how to align training with business needs
Lori Niles-Hofmann: "Now employees are redefining what «good work» looks like"
On the benefits of coaching, personalized approaches, and how to measure training effectiveness
Aparna Gupta: "Every individual learns in a unique and experiential way"
---
So long!