Academy Tips
|
5 min read
Is Your Customer Education Working?
February 15, 2019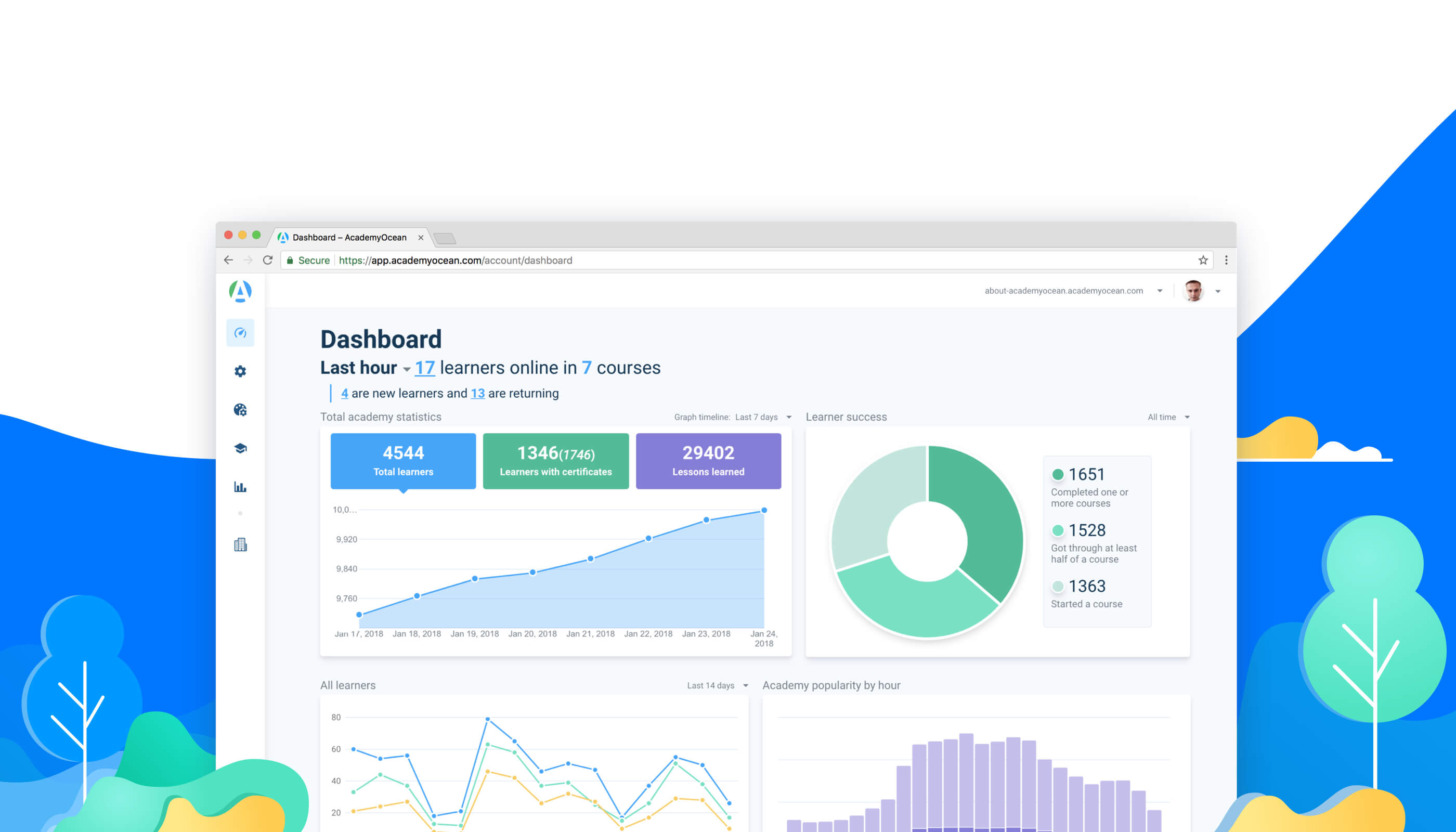 If you have a digital product, you know what customer success is. In laymen terms, customer success means that your clients are actually using your product, ideally to its fullest potential. But most importantly — they are actually solving the tasks they purchased your solution for.
Now, before they can do that, companies usually have to teach their new customers how to use their product — that's user onboarding or customer education.
You set up an elaborate system of email sequences, schedule calls between your customer success managers and your users, write lengthy manuals, FAQs, and maintain an up-to-date knowledge base to help your new customers learn everything there is to know about your product and how they can use it to reach their goals.
But in the end, do you know what's working and what's not? Do they even read your knowledge base or FAQs?
Teaching without feedback is like shooting blindfolded — you never know if you hit the mark.
There are many ways you can receive feedback from your new learning customers:
send out a feedback form for them to fill out

call them directly and ask about their experience while learning your product

you can even track their activity on your website

We want to share how we are tracking customer education progress within AcademyOcean.
Dashboard
We have several live academies and we want to know how our learners are consuming our content:
Do they read all of it? — Shows if our courses are interesting.

How much time do they spend learning? — If people are spending too much time on a specific course, maybe it's too hard to understand.

Do they finish the courses? — Another metric to understand if our academies are useful to our learners.

First, we take a look at the Academy Dashboard to get a bird's eye view of the whole academy.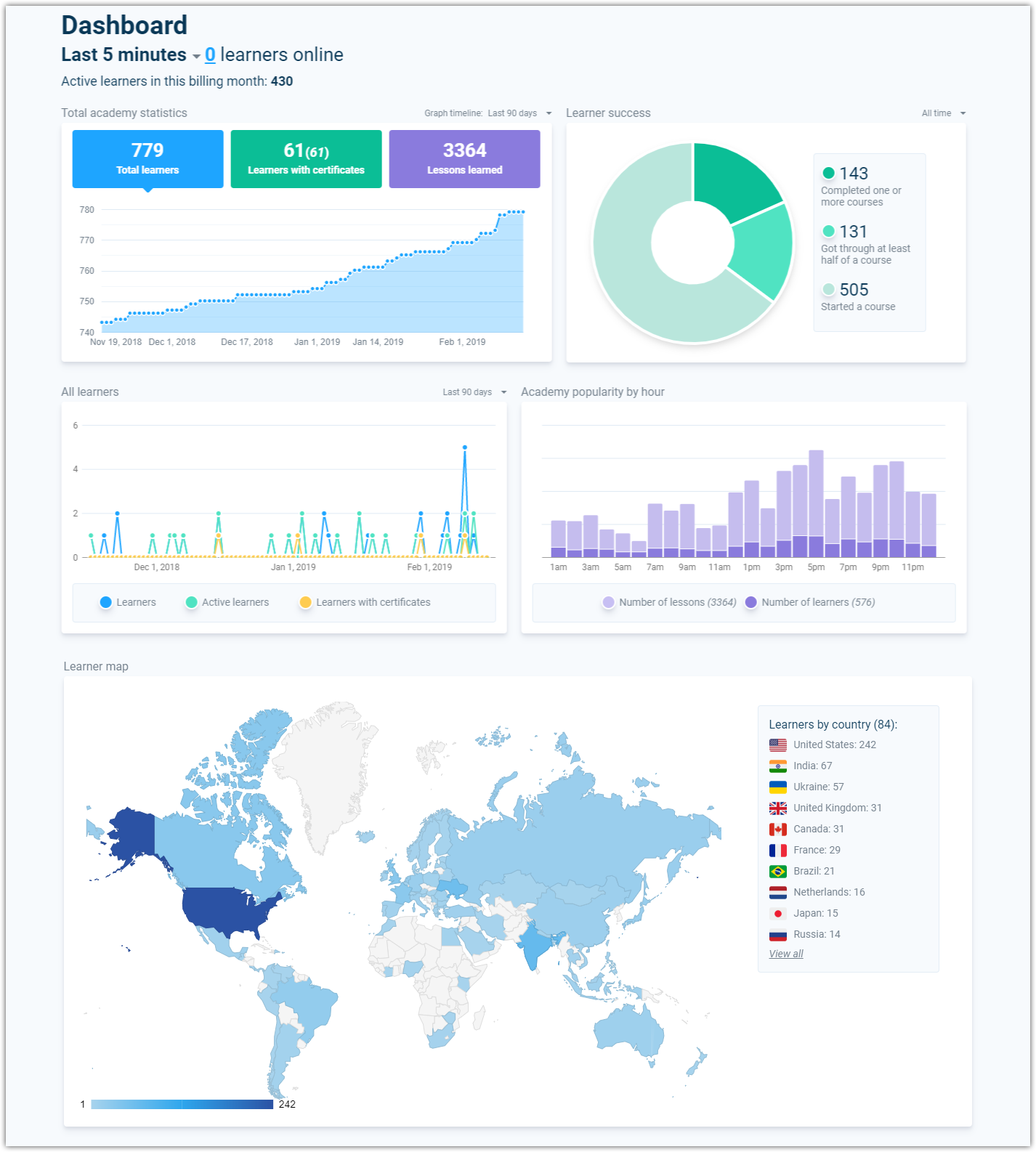 We can see that we have a steady influx of learners into one of our academies over the last 90 days. Most of them seem to be from the United States and it looks like more than 25% of learners finish the course they've started.
Looks like our academy is doing well in terms of engagement. Let's go into some details and try to find out how exactly learners are going through our academy.
Statistics
The Academy Statistics section allows you to see how your learners progress through your content via the Funnels View.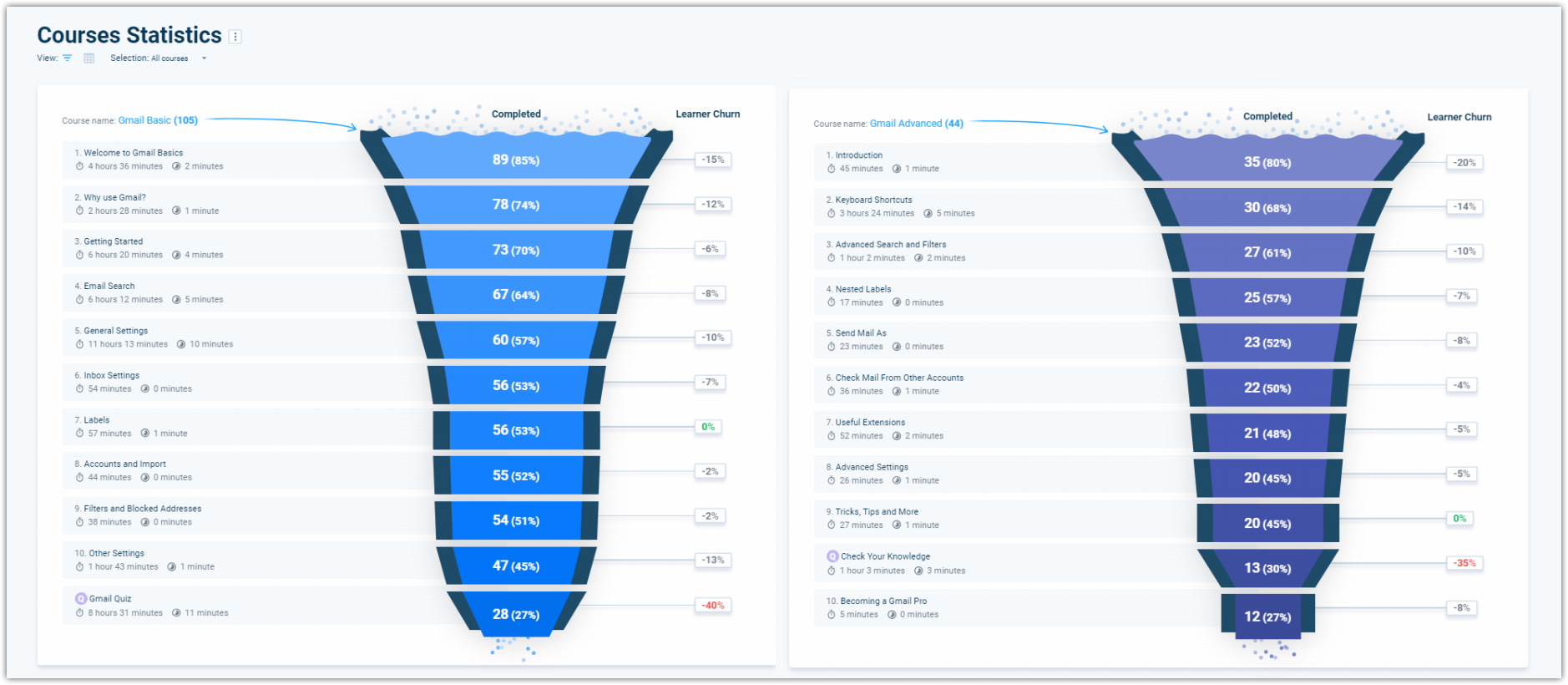 In this example, we have two courses of our Gmail Academy: Gmail Basic and Gmail Advanced. What can we learn from these two funnels for each course:
Average learner churn rate is about 7-8% right up until the Quiz.

Learners are dropping out mostly at the beginning of the course.

Our learners do not like quizzes — 35-40% churn rate means a lot of people are leaving the course at this point.

At this point, we already have something to work with. We definitely need to take a second look at our quiz, maybe even redo it completely. Also, maybe we can work on our intro lessons to keep people interested in continuing the course (right now 15-20% leave after the first lesson).
Learner Scores
With our Quiz Feature, we can go even further and see how exactly people are performing on our tests. Let's see if we can find out why learners are dropping out of the quiz, is it too hard?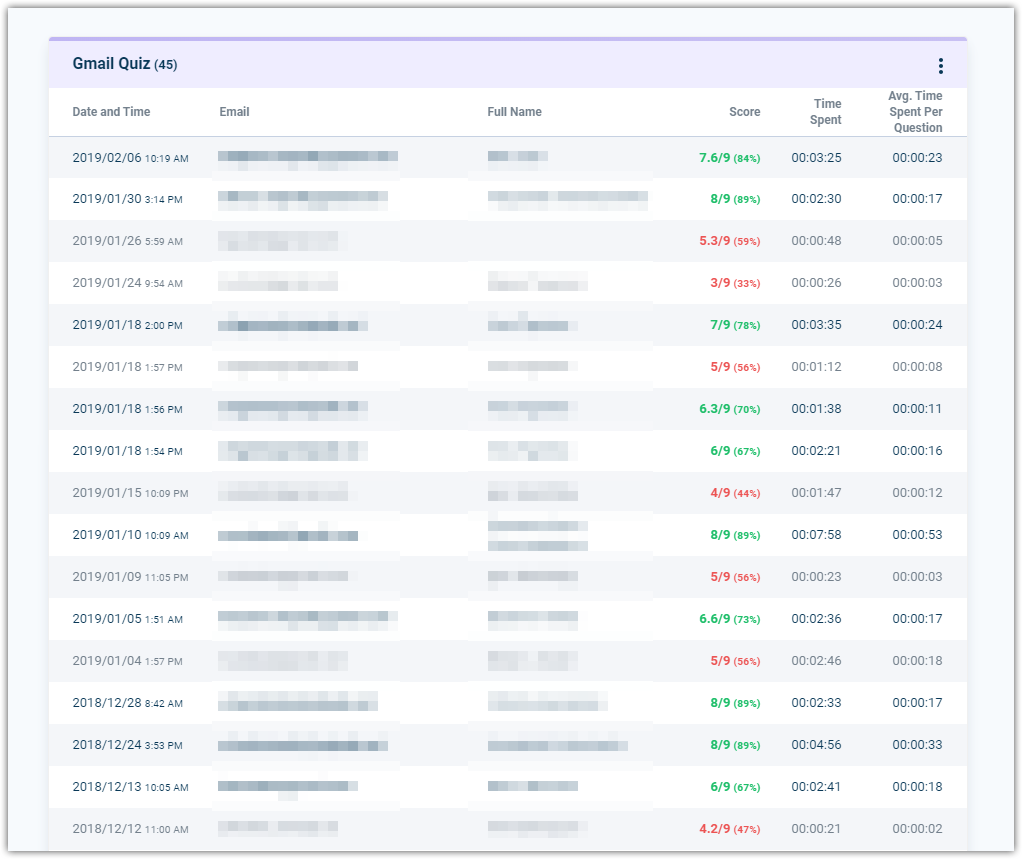 A brief overview of the quiz results shows that most people who fail the quiz do it in under one minute. It means they probably rush through the questions trying to guess the answers.
In any case, we need to work on the quiz to reduce the churn rate at this stage. A couple of ideas that might help:
Split one large quiz into several smaller ones across the course.

Keep the quizzes short — 2-3 questions.

Don't set the passing score too high. People will pass the quiz even if they can't answer all the questions, but will still continue through the course.

Top Learners
You want to reward your best learners for their efforts. Who knows, they might become your loyal customers or even better — brand ambassadors and help you promote your product.
So who are our Top Learners within our academy?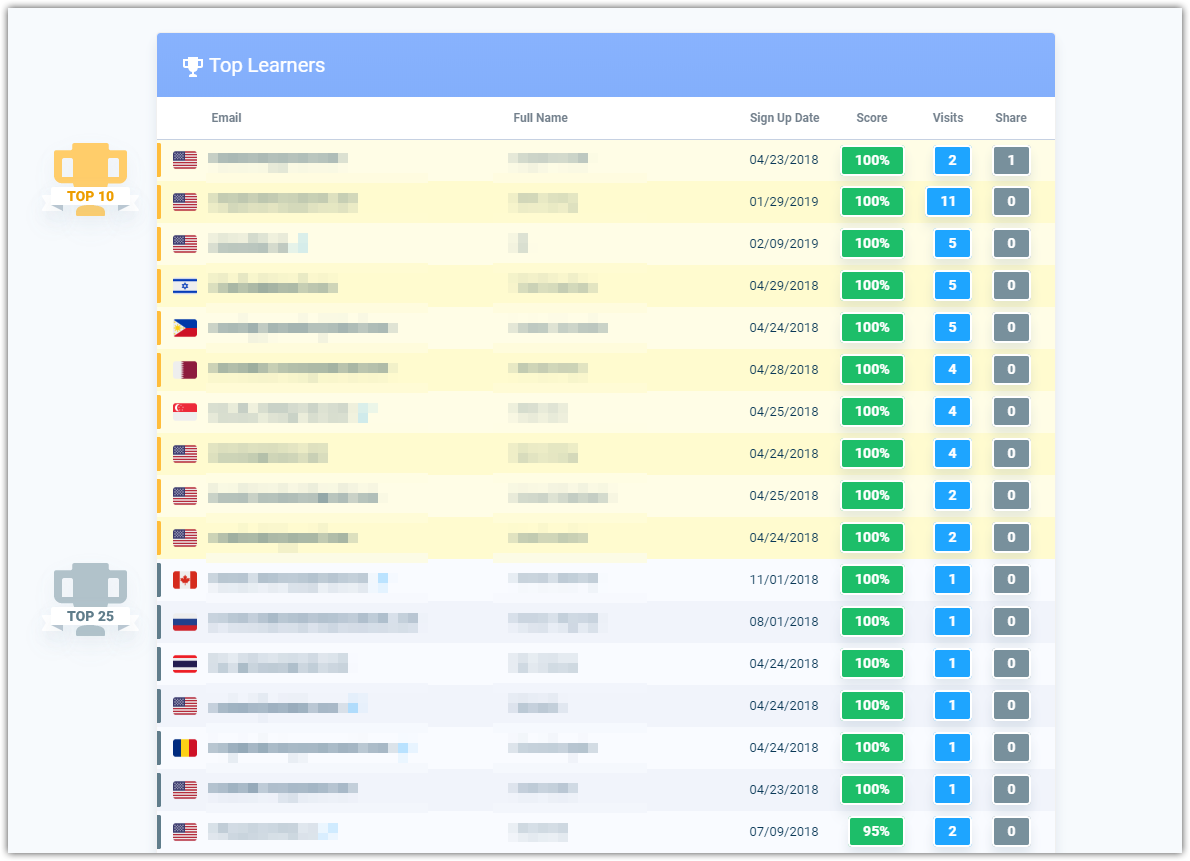 If your list of top learners shows that you have people who regularly return to your academy and share your courses, then it's a good opportunity to reach out to them and show your appreciation for their loyalty and efforts.
Academy Feed
One last, but definitely not the least important feature that helps us track how our academies are performing is the Academy Feed feature. It helps us keep tabs on recent academy activities and see what our learners are up to.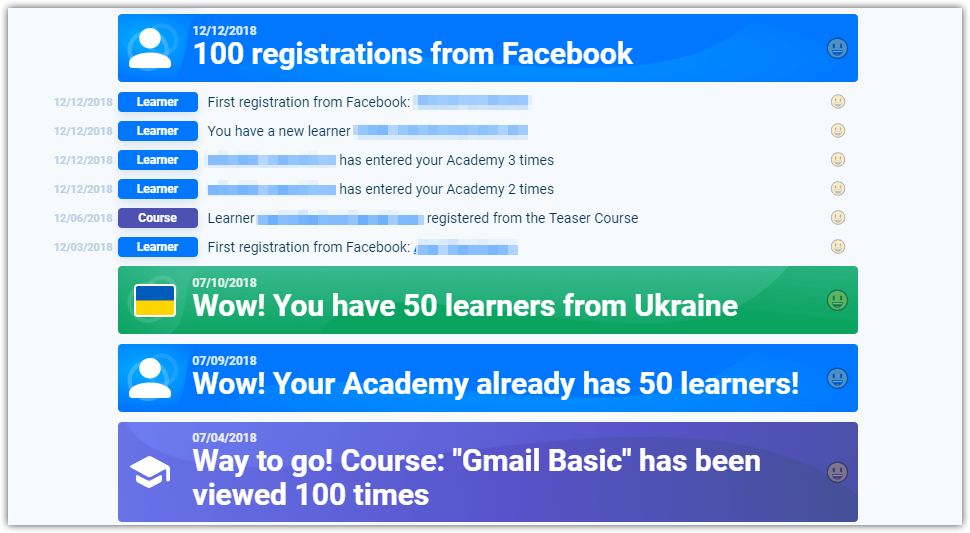 The answer to the question
So, are the Academies working?
They definitely do! New people are steadily joining our academies every month and we see good results when it comes to learner engagement. Thankfully, we can identify our weak spots and work to improve them.
Can academies work for your business?
We believe they can. The details of setting up a proper customer education strategy may vary, but the results speak for themselves.
We would like to discuss with you how our team can help you with user onboarding using AcademyOcean.
Feel free to leave your demo request or contact us directly. We will get back to you in a heartbeat.