For Marketing
|
4 min read
The Future of eBooks
February 20, 2019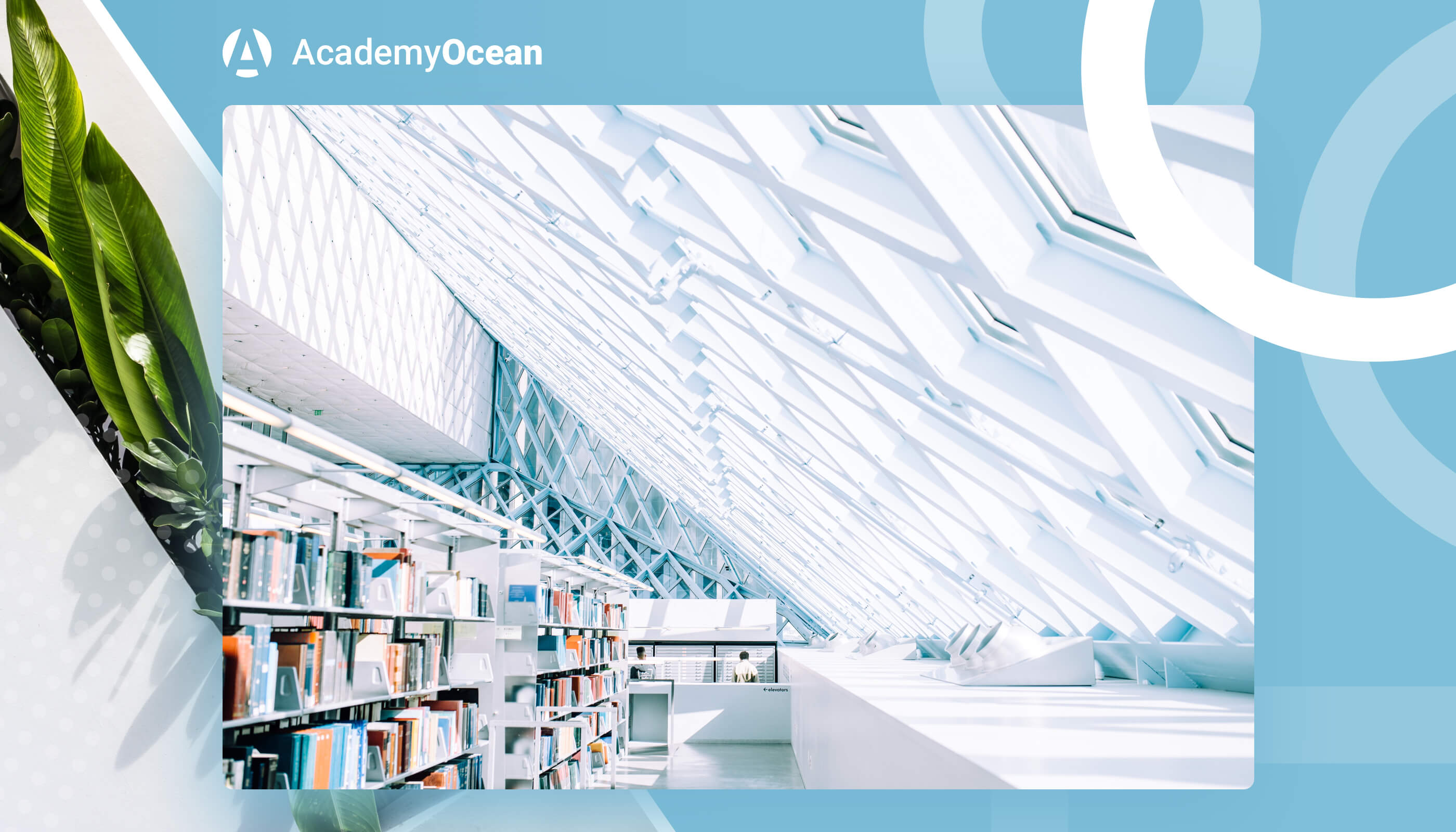 Today we want to talk to you about effective lead generation, particularly within the B2B segment. Of course, many strategies work similarly in B2C, but since AcademyOcean is a B2B company, we want to stick to our niche for this one.
What is lead generation?
Let's first define what we are talking about. Here is a definition by Marketo:
Lead generation is the marketing process of stimulating and capturing interest in a product or service for the purpose of developing a sales pipeline.
The key phrase here is "capturing interest". You need to offer something so valuable or interesting, that people will be willing to give you something in return — their contact details at the minimum.
Marketing eBooks as lead magnets
Remember, we are talking about B2B lead generation. In B2C you can capture your prospects' attention with entertaining content, build a personal relationship and have an overall more casual interaction.
When two companies communicate it's a lot more business, less pleasure, so everything usually revolves around value: "What can I do for you? What can you do for me?" — this type of relationship.
Many companies use eBooks and online reports to research and capture the attention of their potential B2B clients. This is, actually, not too surprising, since research shows, that:
B2B buyers are 63% more likely to share their name and email address in exchange for ebooks – DemandGen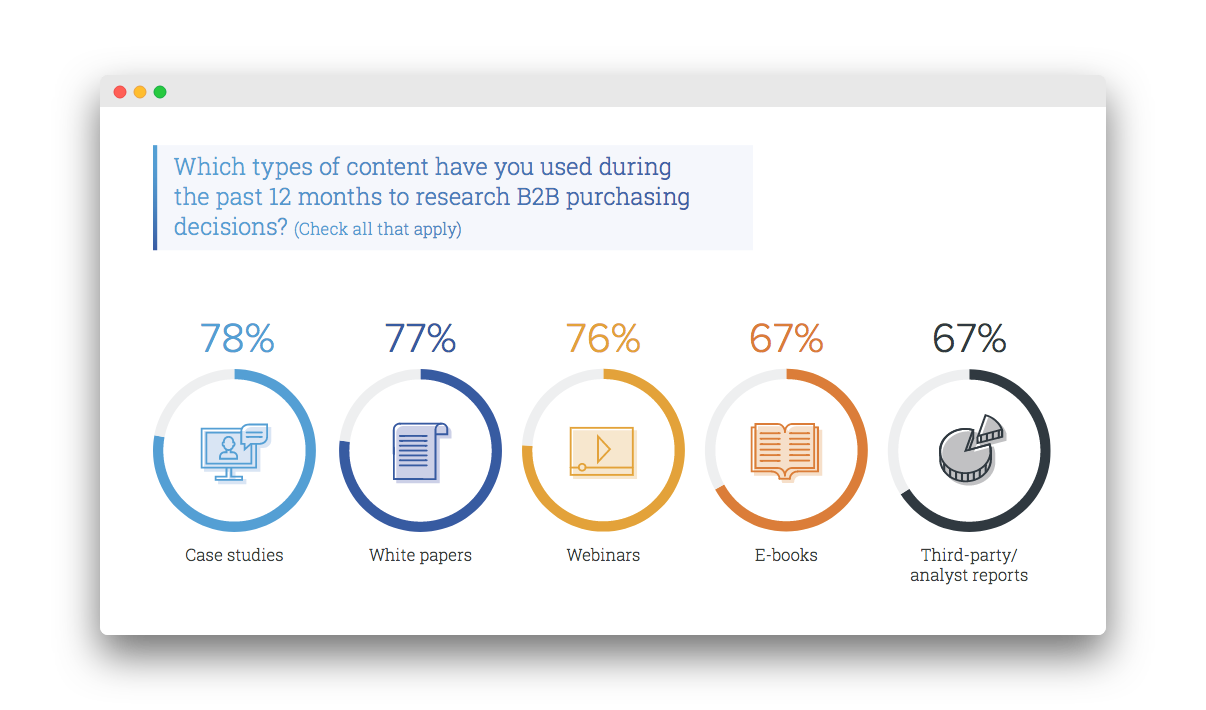 Here are some of the best topics for B2B eBooks:
Detailed guides to achieve certain goals (i.e. Marketing strategy guide)
Templates for specific tasks (i.e. Content calendar template)
Industry trends reports
Statistical data for the company's niche
Once the eBook is ready, it is usually given away in exchange for the person's name and email address. Some companies (for example, HubSpot) require much more information, i.e. a form with up to eight information fields to fill out.
In exchange for the contact details, the user receives a PDF eBook with the promised information. Hopefully, he or she will find that information valuable enough for it to be the first building block of a future business relationship.
One of the best examples of effective lead generation through eBooks comes from previously mentioned HubSpot. Among their top lead magnet pieces, eBooks (marked as green) are ranking close to the top and were shared more than 13,000 times combined.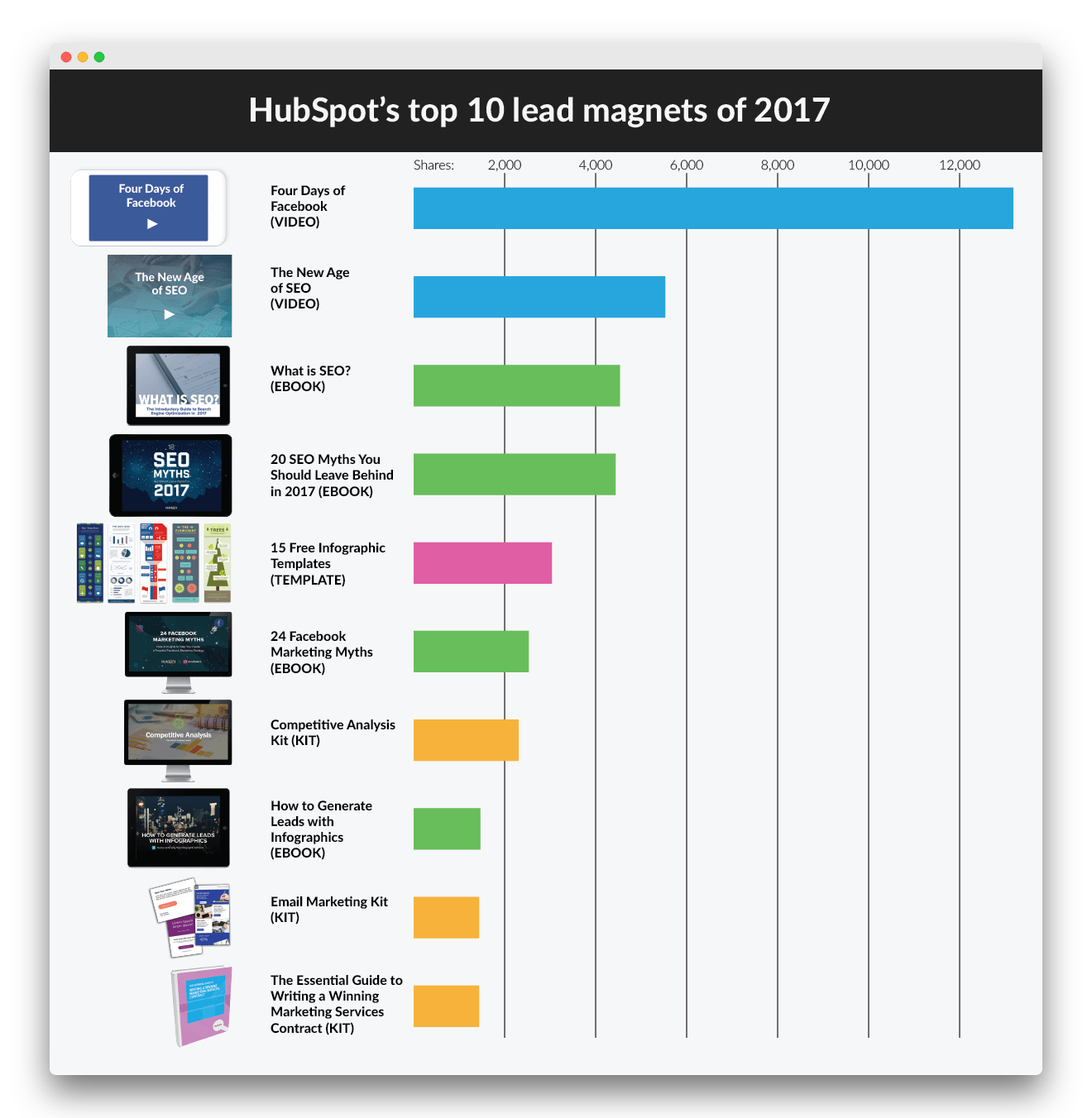 The future of eBooks
While being one of the most effective lead generation tools, eBooks face a challenge as marketing and online interaction evolve over time. After all, the PDF format (which almost every eBook uses) has been around for more than 25 years and hasn't changed much, while the way people consume and interact with content online has changed drastically.
According to Inc.com, companies are already moving towards more interactive content to keep their audience engaged.
93% said interactive content is somewhat or very effective at educating the buyer, compared to 70% for static content – Inc.com
Applying this notion to the B2B segment, however, proves to be a challenge for a lot of companies on the market.
60% of B2B content marketers say producing engaging content is their biggest challenge – CMI / MarketingProfs
Old static content like long PDF eBooks lack many of the modern requirements for easy-to-consume and valuable content:
No interactivity (only static content)
Not mobile-friendly
Rapidly loses relevancy (can't be updated without redownloading)
No data about user interaction
The last point about user interaction is especially noteworthy because knowing how people who downloaded the eBook used it may be game changing when it comes to future interactions with them.
For example, if you know that a person read your eBook all the way through and then returned to read specific sections of it, then you can have a more detailed and productive discussion with them on that specific topic, instead of starting the conversation with: "So, how did you like our eBook?"
In other words, when you know how people consume your content, you can make better decisions and build better connections.
The old PDF format, unfortunately, can't give such information. All you know is that people downloaded your eBook and hope they've read it. But we are not here to downplay PDFs and discourage you from using eBooks, on the contrary — eBooks are still one of the best ways to capture high-quality leads. It's just that times have changed and eBooks must too.
Thankfully, new technologies like Adobe Spark and eBooks by AcademyOcean are making their way into lead generation and help transform eBooks into a modern, easy-to-consume, valuable pieces of content.
---
If you have questions about how you can use eBooks by AcademyOcean to generate high-quality leads for your business, don't hesitate to contact us through our website or on social media.