Quizzes Month: 4 New Types | AcademyOcean Update, November 2022
December 13, 2022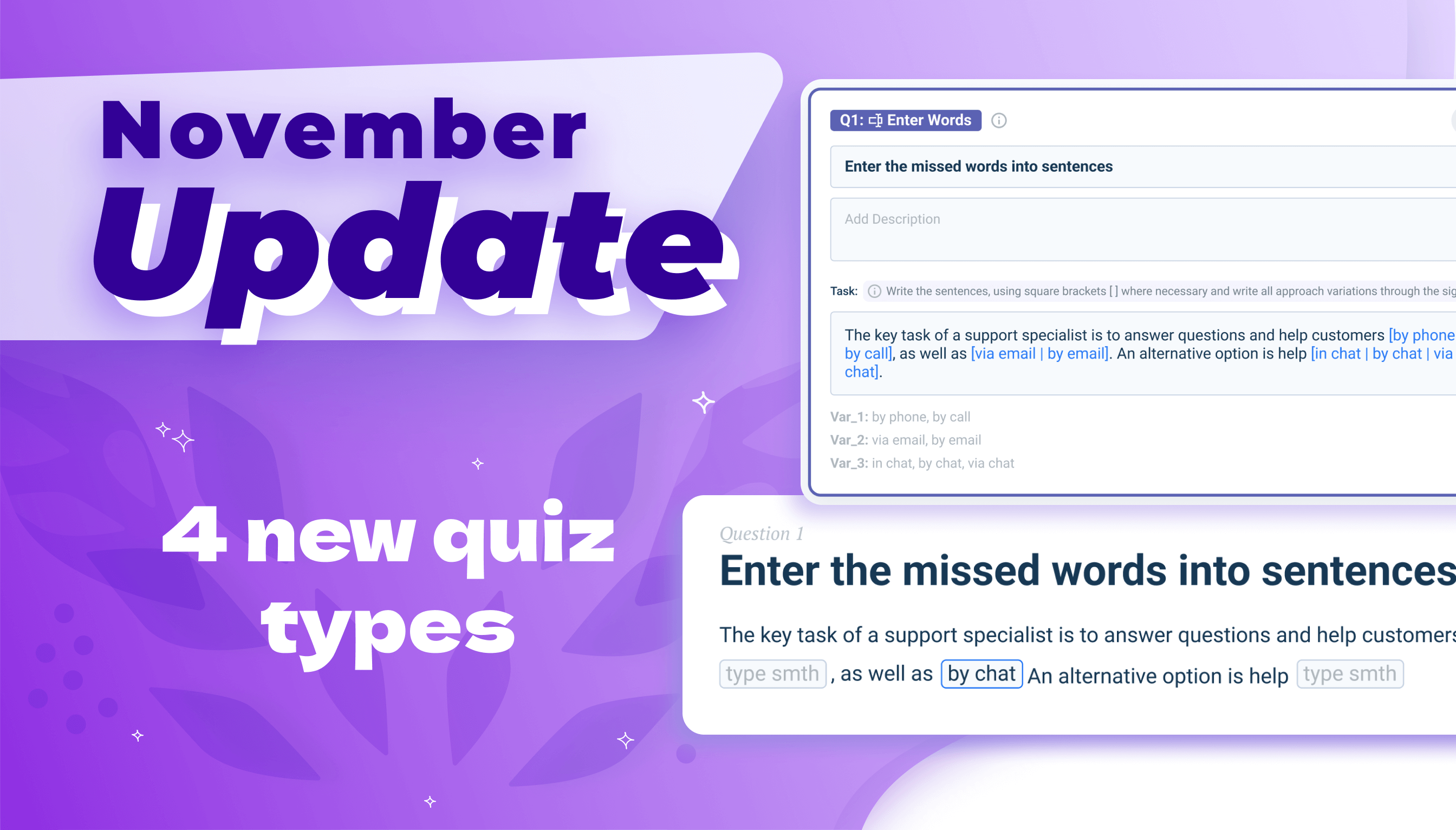 Hey everyone!
This month, we updated the quizzes on our platform by a great deal! So, now you have more than 10 different test options to play with. 😍
Whatever your task is: testing employees, language knowledge, communication skills training —you can quickly implement any idea!
Read more in the update 👇
🎉 4 new types of tests
AcademyOcean now has 14 different types of questions for you to access your learners' progress in the quiz section! Everything depends on your tasks and needs. Read more about the new question types below.
1️⃣ Matching Test
Create matching tests learners can comfortably pass by dragging and dropping answers.
For example, this type of question is great for finding connections, choosing the correct terms, or picking accurate translations.
2️⃣ Rearrangement
It works perfectly for asking learners to recreate a chronological chain of events or some step-by-step process they must remember. You create random options, and the learner arranges them in the correct order.
3️⃣ Cloze Test: Type Word Manually
In this case, the learner must fill in the missing words in a sentence or a short text. The administrator can pre-register several options that will be counted as correct/incorrect for each empty blank.
4️⃣ Cloze Test: Pick the Right Option
This one is similar to the previous one but is a bit easier for learners. In this case, you give them options to pick from.
Therefore, if you still want to complicate the task for your learners, use a cloze test with manual answers. It would make learners carefully think about the answer, trying to pick which word you omitted.
Very handy for language courses!
⚡ Simple Content Access Management
Our users are very fond of the folder functionality, designed to structure educational content conveniently. In addition, they allow you to save time on assigning access: you don't need to select each course separately. Instead, you can open access to all courses in a folder with a single click.
But what if you want to use a more complex content structure? For example, a folder may be dedicated to one department of the company, but the courses are designed for different teams (managers, employees), etc.
This month we have improved the access settings system, making it even more flexible. Expressly, now you can grant access only to specific courses in a folder without affecting the others.
With this update, you can conveniently structure the learning content and flexibly assign access to the needed materials.
Deleting, Archiving, and Restoring Learners
Now, all not permanently deleted learners are saved in the archive. We have added a table to the learner management section. It makes managing deleted learner accounts convenient and allows you to quickly restore them if deleted by mistake.
📣 Blog Updates
November welcomed 2 expert interviews and several articles worth your attention on our blog.
📌 A fresh look at leadership from dr. Todd Dewett, a globally recognized leadership educator, author, and speaker
📌 A modern approach to L&D from the founder of 70:20:10 Institute, Charles Jennings