Charles Jennings: "L&D teams need to stop being «Order Takers»"
November 25, 2022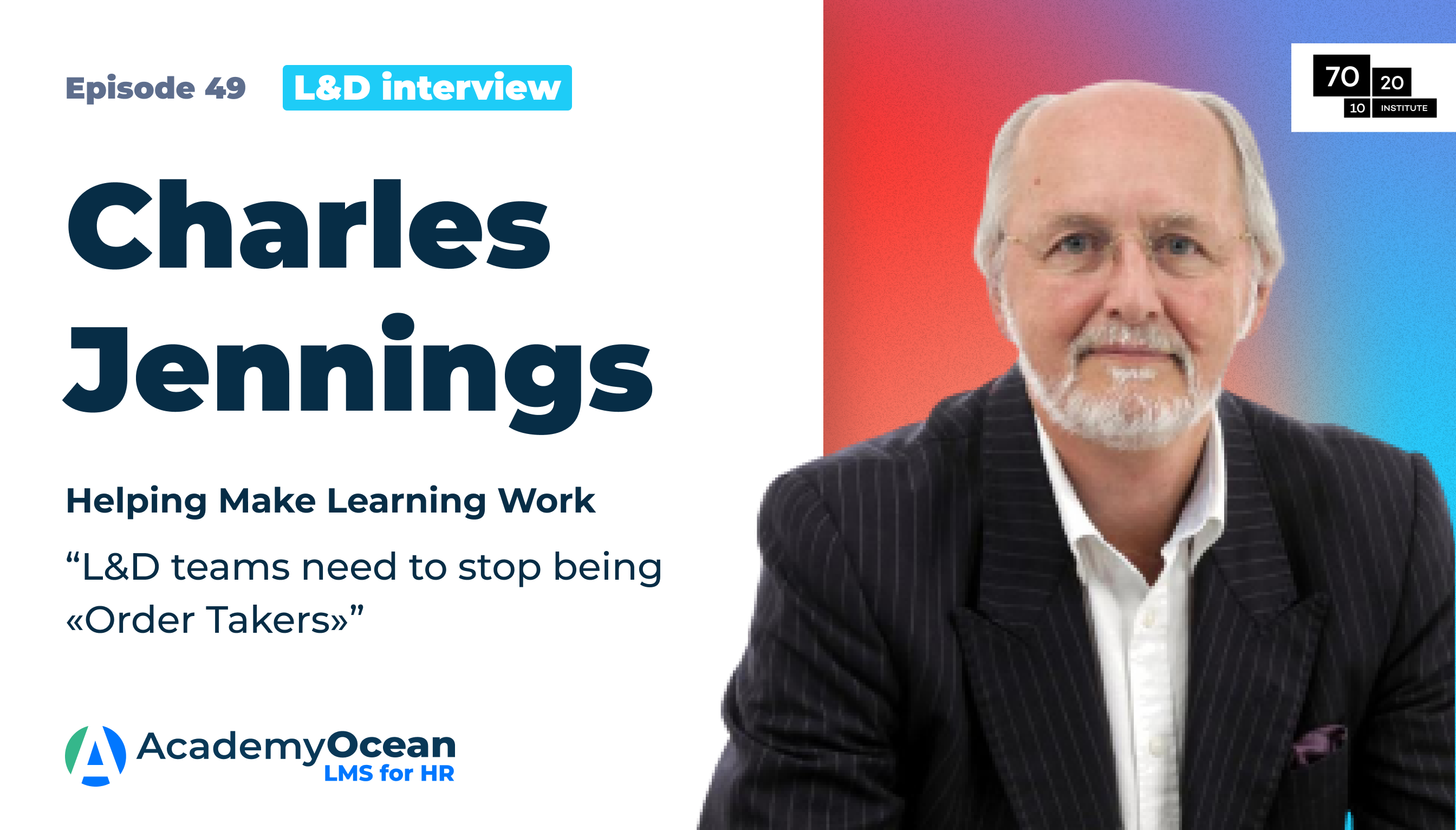 Hi!
The European Research Center for Education and the Labor Market, based in The Netherlands, has found that:
96% of time spent learning occurs in the daily flow of work, while just 4% of time spent learning occurs away from the daily flow of work.
This discovery brings a number of questions for L&D specialists, such as:
How training and L&D professionals need to extend their solutions into the workplace?
Which new roles need to adopt L&D teams?
And how to maintain continuous learning in a company?
Today, our guest Charles Jennings will answer all of these questions and even more!
---
Charles Jennings recognized as one of the world's leading experts on building and implementing learning and organizational performance strategies.
For more than 40 years he has led learning and performance improvement projects for multinational corporations, government agencies, not-for-profits and other organizations.
Key Areas of Expertise: Workplace Learning, Human Performance & Productivity, Learning & Talent Development Strategy and Operations, 70:20:10 Methodology, Value-Based L&D Methodology, 'Working Smarter', 70:20:10 Strategies and Implementation, 'Informal' Learning, Performance Support and Business Process Guidance, Learning Technologies, Social Learning.
Let's start our interview!
AO: Charles, how did you come to the L&D sphere? And what do you love most about your job?
Charles: I am fortunate to have worked in a number of teaching and L&D jobs during my career. My first job was working at Sydney University in Australia as a tutor. I completed my first university studies in Australia (where I was born) before I moved to the UK.
After some more studies in the UK, I spent two years as a school teacher. After that taught in Further and Technical Education colleges for five years. At that point, I was invited to become Head of a UK Government funded center supporting the use of computers and networks in education.
By the 1990s I was a professor in the Business School at Solent University in Southampton, England. While I was there I launched the world's first pure online MBA program. That was in 1995.
I moved from the world of education to the world of business after that, and took on roles as Chief Learning Officer and Head of Strategic Technology in large global companies. I was Chief Learning Officer at Reuters, the well-known information company, for eight years from 2001 to December 2008.
Since I left my role at Reuters I have worked as a consultant and also co-founded the 70:20:10 Institute with two Dutch colleagues. I have been building learning strategies and L&D solutions based on the 70:20:10 reference model for more than 20 years now.
The thing I most love about my job and working in L&D is the opportunity to make a positive impact on three levels.
Firstly, to help organizations create positive cultures of continuous improvement and innovation and to provide solutions that have a measurable positive impact.
Secondly, to help teams deliver their objectives. Many people do their work as members of teams. Only a few of us work alone. So this focus on teams is important for me.
Thirdly, to help individuals learn, improve, and learn more than part of their daily work, and also throughout their careers.
AO: How to understand that the applied training system is not effective for the company? The first and main signs are?
Charles: Many Training and L&D departments only design and deliver formal training and development solutions. Their work is based on producing courses, programs, e-learning, and formal coaching. All of these may work to some extent, but they will never be enough.
The first sign that learning is not effective is when we are stuck in 'the training bubble'. Where the only solutions we can offer our courses, learning pathways, e-learning, and other structured learning.
The reason for this is that we know that most learning for working adults happens in the workplace, not in classrooms or in e-learning modules.
The European Research Center for Education and the Labor Market, based in The Netherlands, has found that 96% of time spent learning occurs in the daily flow of work, while just 4% of time spent learning occurs away from the daily flow of work. So, Training and L&D professionals need to extend their solutions into the workplace. We need to think about ways we can help people to learn from working as well as learning to work. This means we need to change the way we think and work in our profession.
If we focus on the outputs that are needed rather than the inputs, we will deliver better results.
I often say "I'm not as interested in learning as I am in performance"! What I mean is that if we focus on performance improvement and the best ways we can achieve performance improvement—whether this is improving your organization's results, the performance of teams, or individual performance—then that's the best approach.
Formal learning is just one input to performance improvement. There are many other factors involved. One of the founders of the Human Performance Improvement movement, Dr Geary Rummler, has said "pit a good employee against a bad system and the system will win almost every time".
What L&D professionals can learn from this is that we need to approach our work with focus on the performance objectives in mind.
Our work is not just about learning. It is about helping our organizations solve problems and exploit opportunities. It is not just about individual employee performance. It is about the performance of teams and the organization as a whole.
AO: I was reading your article on workplace learning models like Adding, Embedding & Extracting. It seems that in the new realities, "Extracting" is especially relevant. What do you think? What does this mean for L&D professionals?
Charles: That is an excellent observation! 'Extracting learning from work' is especially relevant for L&D professionals. It is also something that few L&D professionals think about.
Reflective practice is an extremely important way we learn. We do something. It works well or it doesn't work well. Then, if we reflect on the outcomes and think about why we achieved these, and what we could do differently, then we are using the experience to provide the learning material.
For many years, I have recommended a '3 Question Card' to support this process. The three questions provide an opportunity for reflective practice:
What success and challenges have you experienced over the past weeks/months?
If you could do anything different to achieve better outcomes, what would you do?
What learning have you gained from these experiences and your reflection?
AO: What is the key factor in supporting continuous learning in a company?
Charles: Firstly, there is no doubt that continuous learning in organizations is underpinned in psychological safety. Without a culture where everyone focuses on increasing the level of psychological safety, then continuous learning is almost impossible.
Once we are criticized for challenging or for making mistakes, or ignored when we make suggestions for improvement, trust is lost and a culture of continuous learning will be impossible.
It is important that leaders, with the support of L&D leaders, work to create an environment that encourages everyone to ask questions; to admit mistakes or weaknesses; to offer ideas; to challenge the status quo when we feel there are opportunities for improvement.
Secondly, if continuous learning is to be embedded in the culture of our organizations then we need to step beyond thinking of 'learning' as 'schooling'.
We all experience learning opportunities every day of our lives. Formal learning may be needed to help us start out, but we can only become experts if we make use of the learning from our work and experiences and from our colleagues.
To support continuous learning, L&D professionals could use the diagram above and spend more time working on how they can help 'embedding learning within workflows' and 'extracting learning from work'.
AO: Can you name three areas of L&D that you feel need the most improvement?
Charles:
L&D teams need to stop being 'Order Takers' and use a tested process of performance analysis.
Without doubt, L&D teams need to stop being 'Order Takers' and use a tested process of performance analysis before starting to develop any solution. Whether that is a course, an e-learning module, or some other solution to help address the problem or opportunity.
By continuing to simply take 'orders' for new courses, pathways, programs, or e-learning without finding the root cause of the issue, it is intended to address first, L&D will remain in the 'training bubble' and never be considered as a 'value creator' in our organizations.
L&D teams need to move out of the 'learning paradigm' and into the 'business paradigm'.
This means:
Changing our focus from attempting to close knowledge gaps to solving performance and business issues.
Changing our focus from educational goals to performance and business goals.
Working out ways to embed learning and extract learning from work rather than keep learning and working separate
Using business metrics and not learning metrics to measure success.
Focusing on business value or organizational value rather than learning value.
L&D teams need to adopt new roles and develop their capability to design and embed 'systemic' solutions in the culture of our organizations that are the right mix of formal, informal, and organizational learning approaches.
AO: What personal qualities are important for an L&D or HR manager to have in times of chaos and the VUCA world? What skills would you recommend developing L&D to stay in demand?
Charles: We all need to learn to act like detectives and scientists.
Whether we are an HR professional or an L&D professional. We need to adopt the mindset of 'constructive skepticism' both detectives and scientists use.
We don't take what we're being told as truth without testing it and gathering data and evidence. Once we have evidence, we need to have the mindset and capability to design solutions that will produce the outcomes our stakeholders need.
In the book '70:20:10 Towards 100 Percent Performance' which we published in 2015 my colleagues and I described five new roles for L&D.
These could serve as a template for the qualities and capabilities L&D and HR professionals should develop. It also serves as the set of capabilities any L&D department need:
Performance Detective:
This role systematically evaluates performance problems. This involves conducting business, performance, and influence (root cause) analyses.
Performance Architect:
This role co-creates solutions with stakeholders that solve the individual and organizational performance problems identified by the Performance Detective. The Performance Architect designs for the '100' using an agile set of principles, has an open mind, works in a structured way, and validates the designs with the key client before passing to the Performance Master Builder.
Performance Master Builder:
This role works from the critical tasks defined by the Performance Detective and co-creates solutions based on the Performance Architect's design. The Performance Master Builder uses standardized processes and checklists to combine sources and goals, resulting in an effective, carefully thought-out solution.
Performance Game Changer:
This role focuses on developing new mindsets in the organization and implements/project manages the solutions created by the Master Builder. The Performance Game Changer focuses on continuous improvement and ensures connection with the organizational culture in order to achieve a sustainable improvement in performance.
Performance Tracker:
This role identifies what the key stakeholders see as success. The Performance Tracker creates and implements a plan to measure this. The role also reports the performance improvement over time to stakeholders using business metrics.
AO: Charles, thanks for this great interview! And lastly, what is your advice for becoming a successful L&D professional?
One of the important lessons I have learned is that if you want to be a successful L&D professional, you need to look beyond creating formal learning courses! You also need to look beyond just helping individual workers to develop their skills. High performance is much more than knowledge and skills.
Success only comes when we understand what our organisation, or our clients, want to do and then focus on supporting them to achieve that.
Real success for an L&D professional is more than helping people pass tests, or developing a great e-learning program. Of course both of these are essential parts of what we do, but…
Our real job is to help people do their work better and help organisations respond to change, drive change, and adapt over time.