🌟 Empowering Your Learning Journey | AcademyOcean LMS Update, August 2023
September 8, 2023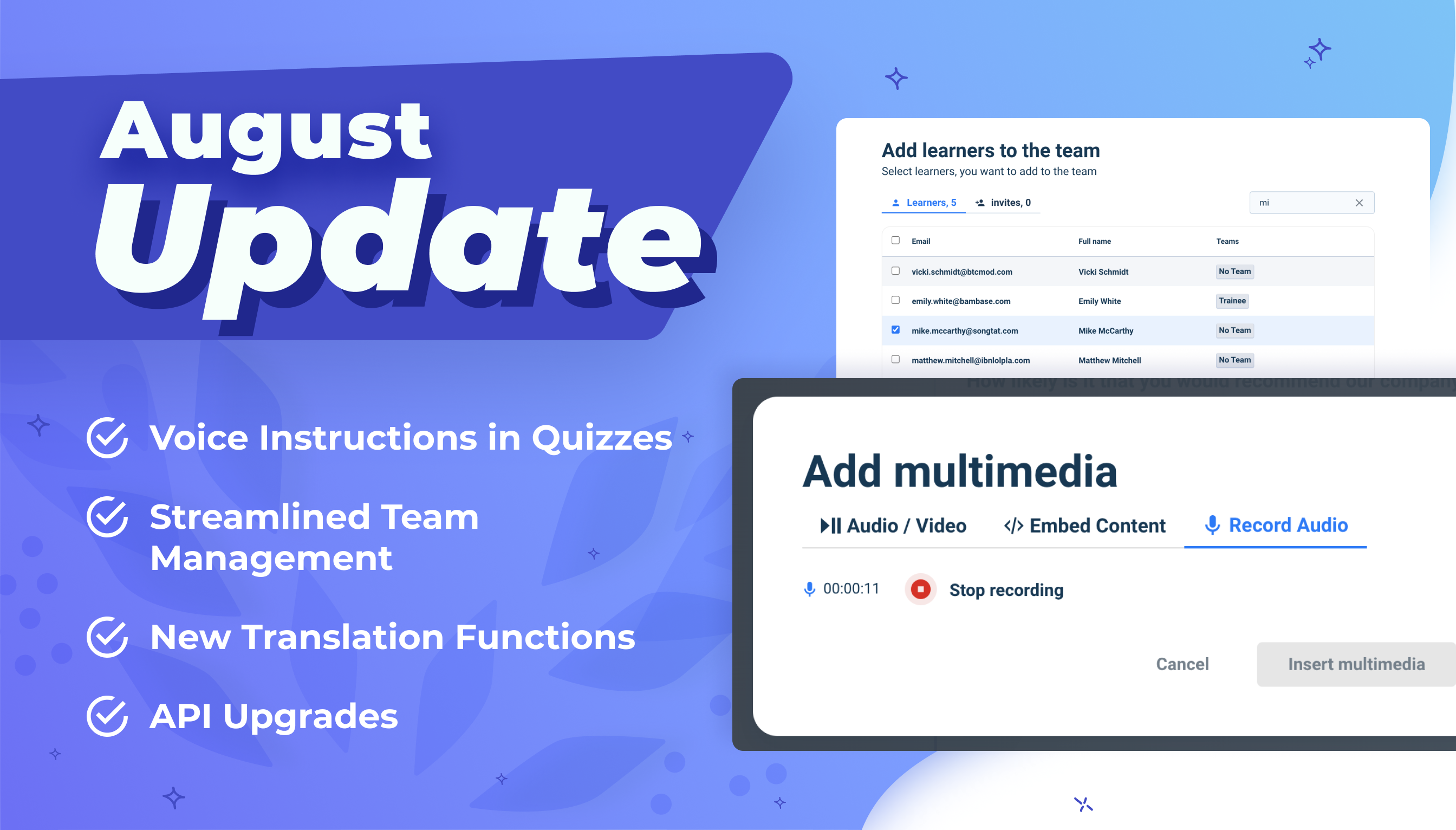 Are you ready to discover the latest enhancements in AcademyOcean's LMS? We've worked hard to sweeten your experience as a learning professional, and we're thrilled to unveil these exciting new features.
Whether you're an existing user or considering joining our platform, these improvements are designed to make your journey more efficient, engaging, and informative.
📊 Enhanced Insight: Learner Names in Feeds
We continuously strive to provide a comprehensive view of your learning environment. Now, we can display learner names in your Feeds section.
This enhancement makes tracking learner progress more intuitive. Administrators can now access detailed news about academy activity, including when learners join, earn certificates, or achieve significant milestones. Moreover, you can seamlessly transition from a news item to an individual learner's profile, gaining deeper insights into their performance and engagement.
🎙️ Elevating Quiz Engagement: Voice Recording in Question Descriptions
Get ready to elevate the learning experience for your learners. In quiz descriptions, you can now incorporate voice recordings.
Imagine this impact on engagement – learners can read and hear instructions and explanations, creating a more immersive and effective learning environment.
🎨 Unleash Your Brand's Identity: Interface Customization
Taking customization to the next level, we've expanded your interface customization capabilities:
Course Card Translation: Now, you can translate course cards, making catering to a diverse audience easier.
Modal Window Translation: Customize translations on your course pages for modal windows, allowing for a truly tailored learning experience.
These enhancements empower you to personalize the interface, ensuring it reflects your organization's unique identity and communication style. From your corporate tone of voice to the use of emojis, you can infuse your brand into every corner of the learning platform.
⚙️ Streamlined Team Management: New Command Settings
Managing teams within AcademyOcean has never been more accessible. We've introduced several updates to make team management more efficient:
Search Functionality: You can now use a search bar in the Team section to quickly locate specific learners and adjust their team access. Finding the right learner is a breeze whether you search by email or full name.
Save Button: Say goodbye to worries about accidentally losing changes. We've added a "Save" button within the Command settings, allowing you to confirm and save your modifications without leaving the page. It's all about convenience, ensuring your changes are implemented just as you want.
🔄 Seamless Integration: Introducing a New API Feature
Automation and integration are essential for a smooth learning experience. We're excited to introduce a powerful new API feature that enhances integration capabilities:
Export Course Data: Export a list of courses within your Academy, including Course IDs. This feature enables fine-tuned data collection and integration with other systems.
No more manual searching for Course IDs – simply export the course list, locate the desired course by name, and utilize the obtained Course IDs for other requests. It's a game-changer for streamlining your processes and creating a more efficient learning ecosystem. 🤖
📚 Dive into Our Latest Blog Updates
Stay up-to-date with the latest trends, innovations, and insights in learning and development. Don't miss out on our latest blog articles:
"10 Best Online Training Software & Tools In 2023": Explore the top-rated training software and tools to supercharge your learning initiatives in 2023.
"AcademyOcean Declares War on L&Ds' Stress at the Workplace": Discover how we've implemented AI in the lesson creation editor, revolutionizing how L&D specialists work.
"The State of Learning & Development (L&D) During the AI Era": Dive into the results of our global research, based on input from nearly 400 L&D specialists, and gain insights into the evolving landscape of L&D in the age of AI.
---
Don't miss out on the chance to explore our platform and see all these exciting enhancements in action.
Book a demo today and discover how AcademyOcean can transform your learning and development journey. Witness the difference for yourself! 🌟