✨ Every Detail Refined | AcademyOcean Update, September 2023
October 12, 2023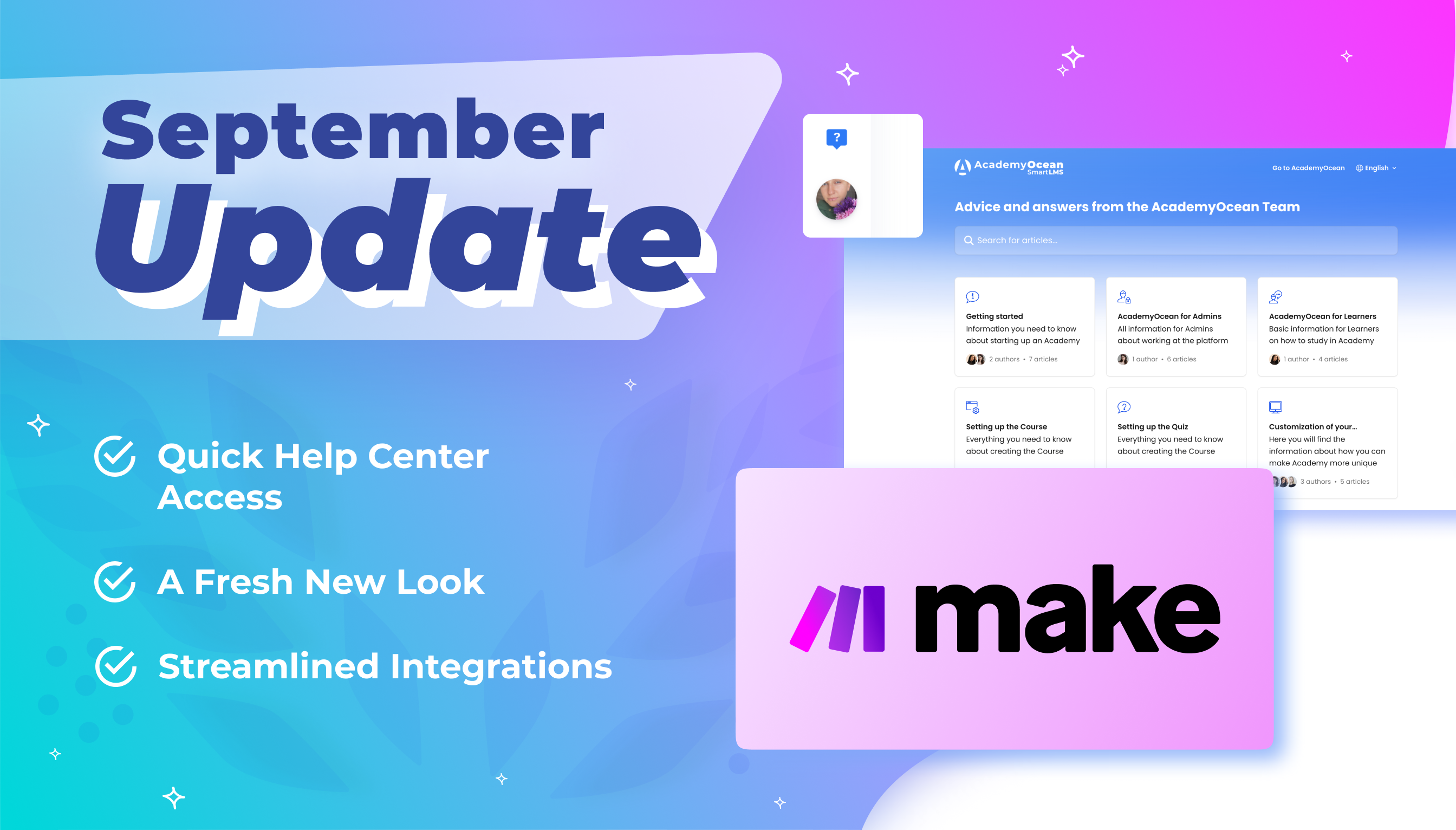 With every AcademyOcean update, we're dedicated to enhancing your experience. Here's what we've prepared for you this time:
Knowledge at your fingertips 📚
We've introduced a new feature – instant access to the Help Center. It's now just a click away in the navigation menu.
Your learners can quickly find educational articles and videos to get answers to their questions. This streamlines learning and provides unparalleled support for all users. Knowledge is now always at your fingertips!
Seamless Integrations 🚀
We've simplified the integration process with other services thanks to our partnership with make.com. Integrating AcademyOcean with other platforms is now hassle-free.
No more separate requests or installations – our application is readily available in the list of services!
Enhanced Design for Improved User Experience 🌟
We've given AcademyOcean a new look, making it even more modern and user-friendly. Our latest design update is tailored for enhanced usability. It's particularly beneficial for those with visual impairments, ensuring that AcademyOcean is now more accessible and user-friendly than ever before.
With updated colors, improved menus, and stylish icons, the platform is visually appealing, intuitive, and functional.
🔐 Simplified Secure Password Creation
Our latest update simplifies the process of creating secure passwords. The password hint is now visible below the password input field, making it easier for learners to craft strong passwords without hassle.
This boosts data security and guarantees uninterrupted access to your courses.
📑 Blog update
In a world of constant change, businesses of all sizes strive to stay competitive. Amidst these challenges, one often underestimated key to success is employee satisfaction.
Today, we'll delve into the concept of employee satisfaction, its critical importance, and the myriad of benefits it brings to the table. Read the full article: What Is Employee Satisfaction? Benefits And Best Practices.
With AcademyOcean, you are ready for the challenge!