For Marketing
|
7 min read
Learning Management System Complaints
August 15, 2018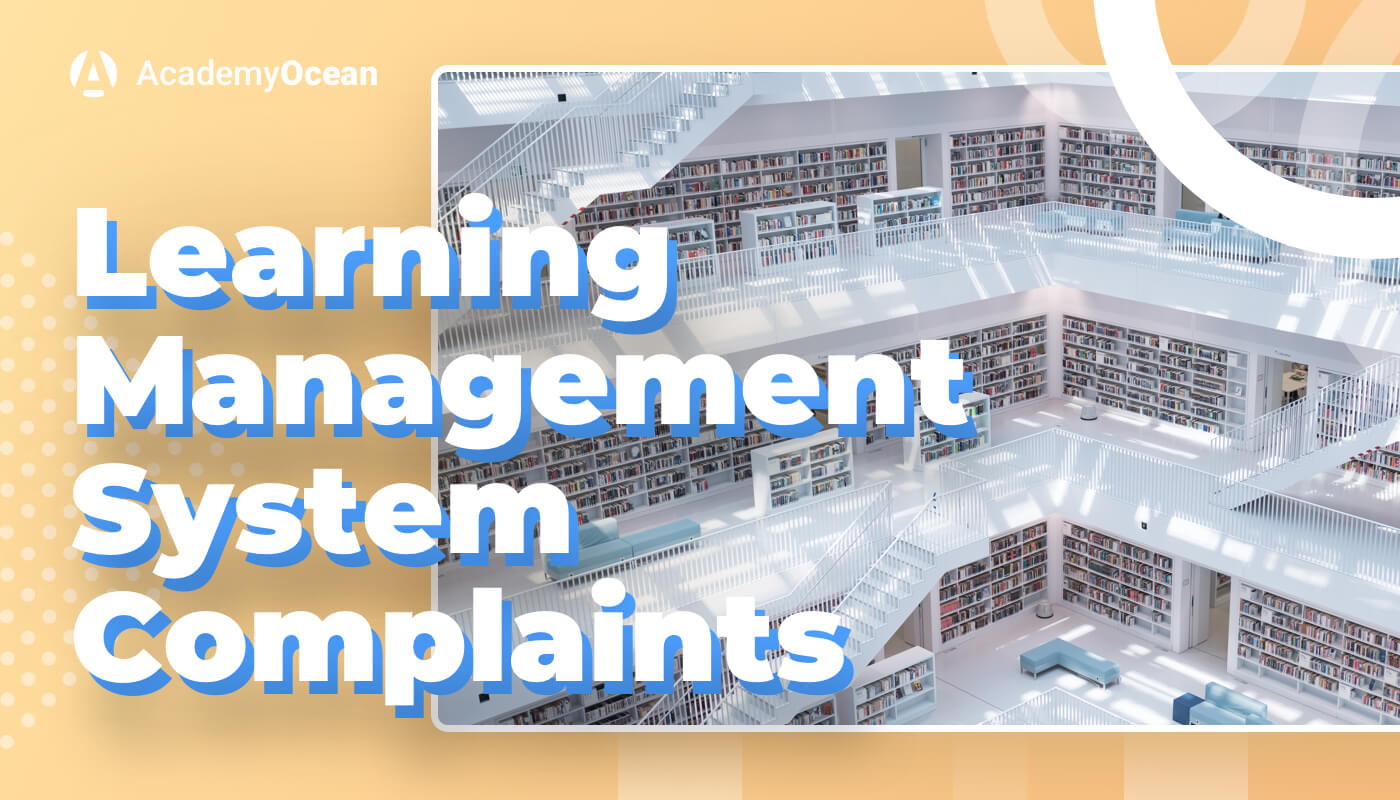 Introduction

If you're here I know how you feel. You've taken on board a promising Learning Management System hoping it would fine-tune it all. Alas, that's not the case. Now, let's see what went wrong and what could be done.
According to the statistics by Mimeo, there are several problems you may have faced: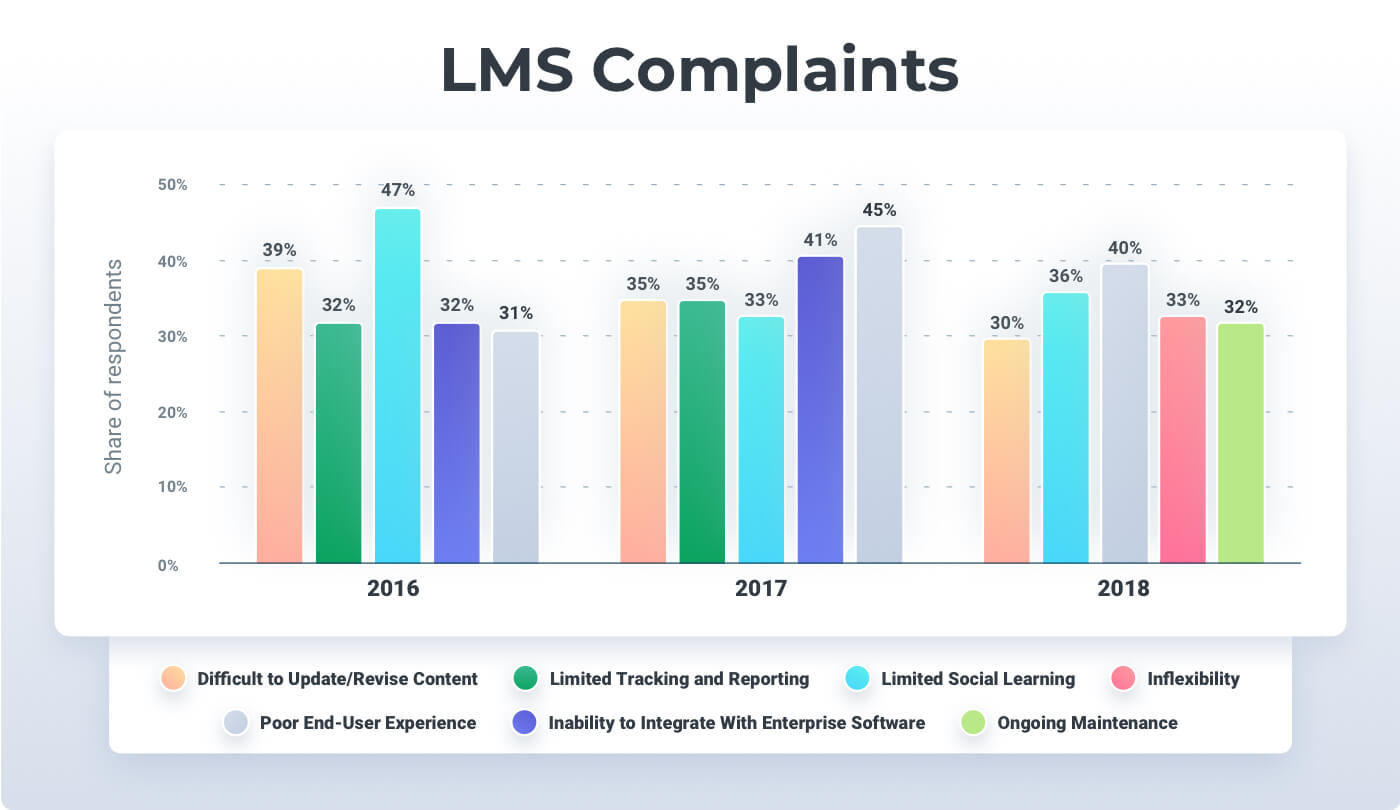 Source: "The State of Learning and Development in 2017 Report" by Mimeo.

Main LMS Problems:
Customer: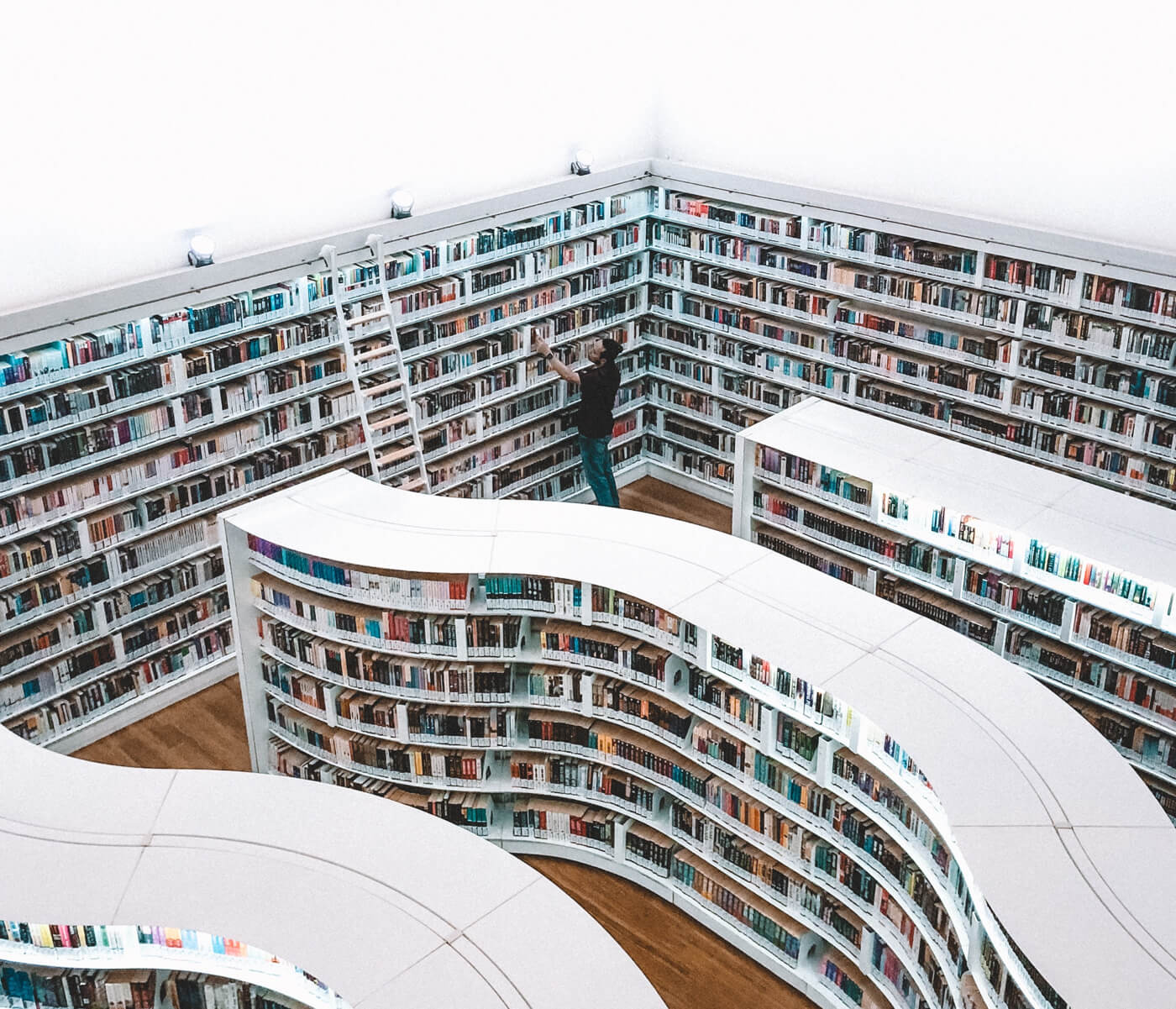 Difficult to update, revise or animate content:
Users of LMS often complain that it's a rather complicated process.

As a rule, those sections of LMS which are more or less stable are to be reviewed annually. Others are updated every 3 months. And each time there is a chain of people you need to inform and get their "yes" or "no" for such an action. You can't move on until everybody ticks their "agree".
Limited tracking and reporting:
The key benefit of LMS is tracking and reporting. If you have limited possibility to track your learners' progress and help them to fill in their learning gaps, that's too bad. LMS provides tracking as it can inform you of the courses your users have passed and the scores they've got.
But you have no idea at which moment and why they gave up and closed the course, which parts of your course seemed more difficult to them. Those who create such courses have no feedback to fix any bugs or poor content and boost the course's effectiveness. Without definite data presented in reports you have no grounds for complaints and thus - for changes;
Limited Social Learning:
lonely training process. You may think it's a bonus as it will let you concentrate on training more. But no, we're all human beings and we need to exchange ideas and thoughts and your learners would appreciate providing them with such opportunity. At least give them chance to see how many people are doing the same;
no integration with social media. About 36% of learners are begging for online forums, Facebook groups or some places where they could exchange ideas and discuss problems with other users or even mentors of the course.
Poor End-User Experience:
too tricky registration process. The case when a learner needs to fill in various forms, confirm his password by email, re-enter LMS again, etc. Sometimes it can result in losing the potential user at all as he may never come back from his e-mail box because he's been distracted by some of his emails;
lack of staff training. Sometimes LMS staff doesn't know all the features of their product well and thus they can't make a really customized offer based on the client's needs. They can sell him LMS with too many features half of which he doesn't need which will result in his frustration;
Technical part: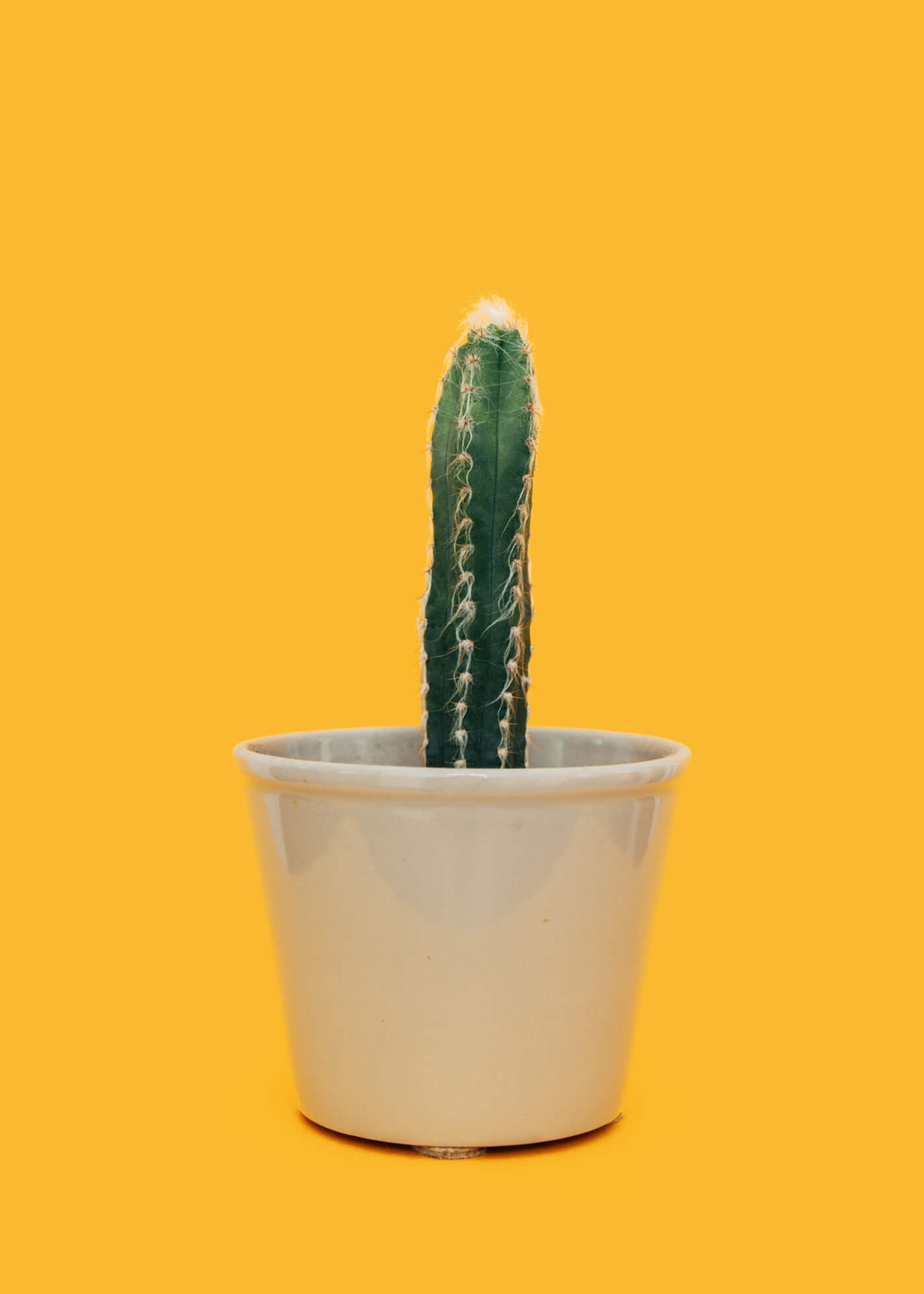 That's supposed to be all smooth and silky yet sometimes it turns into painful experience.
Inflexibility:
too restrictive. It's when you don't have enough rights to distribute access for sections of the platform or content on them to certain users or administrators. Some organizations need to grant access to some groups while limiting the access to others. The inability to provide it impedes your seamless working process;
Inability to integrate:
platform and OS limitations. Your users must be able to work across various online learning platforms, browsers and devices experiencing no difficulties during such shifts. Laptops, smartphones and tablets must also present zero difficulties to them.
problems with the integration of your LMS with other systems. If your Academy is isolated and autonomous you'll find it rather difficult to transfer information from it to other systems you use. That's why integration with other systems must be among your priorities through such services as Zapier or even directly through API.
Ongoing maintenance:
The main point is that a customer who has ordered LMS must feel their help throughout the whole process, they should never wave a client goodbye as soon as he pays the bill. So to ensure the customer satisfaction and his further loyalty the LMS creators must provide perfect customer and service support to help their clients overcome any troubles we've mentioned before.
Price part:
That's one of the most frustrating points. That's what usually drives LMS clients mad:

no strict division into free and not free items. Your clients may only guess that sometimes set-up costs, licensing, hardware and administration costs are not always included in the price. As a result, the initial price doesn't correspond to the one the client gets at the end and feels disappointed by so many extra-charges;
no clear pricing per item. It's an important part. If you really care of your clients you must make your pricing itemized and identify each factor:
number of learners;
number of active learners;
tech support;
project management hours (if any);
staff training;
integration of APIs;
additional portals/tenants;
Taking into account all the above difficulties we have a bonus solution for you which may help to handle some of the above complaints.

Consider Academy:
We are your friends in need as we faced the same problems and had the same complaints. That's why we made a product for solving particular tasks. It was not a Learning Management System, it was something simpler, targeting our problems more, pleasing to the touch and pleasing to the eye.

LMS in many cases may be an overkill. Like using a super-computer for office tasks, you may reach your goals with a more precise solution - an Academy.
That's why we created AcademyOcean which is a new generation saas platform for customer education.
It's a platform on the basis of which you can create the educational course for any category of your users:
clients;
final customers;
staff;
It's flexible and you may select the particular set of features you need which will provide for the level of customization your company requires. The content is presented in the extremely convenient format.

You can choose the audience, level of complexity and even whether your learners will pass lessons step-by-step or they can skip some of them.
You can add gamification or interactivity and make it more engaging for your learners. It also shows you the statistics for each particular user's activity. We also give you a detailed information of your own content.
Case studies:
Reply.io: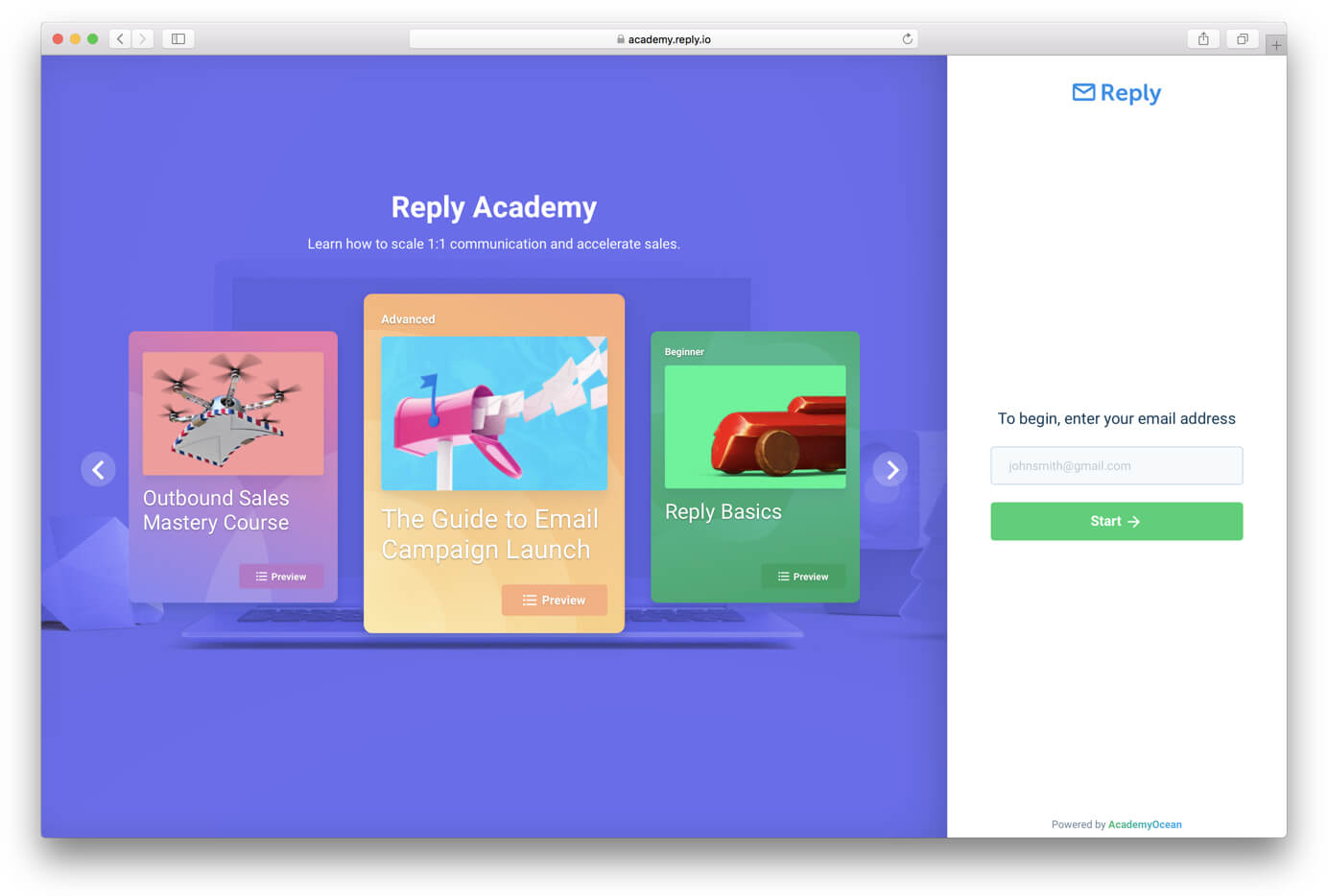 That's one of our clients who's created by now six courses on the basis of our online learning platform, part of which aims at current users and tell about the product and part of which attracts new users.
To their own mind the integration of Academy into their daily workflow has helped to:

explain the functionality and advantages of their service to their customers;
educate their customers on how to create the best e-mail campaigns;
ignite the excitement of the customers from their product;
scale up their communication with customers;
capture new leads;
accelerate sales;
get more personalized information of the customers due to statistics;
Gmail: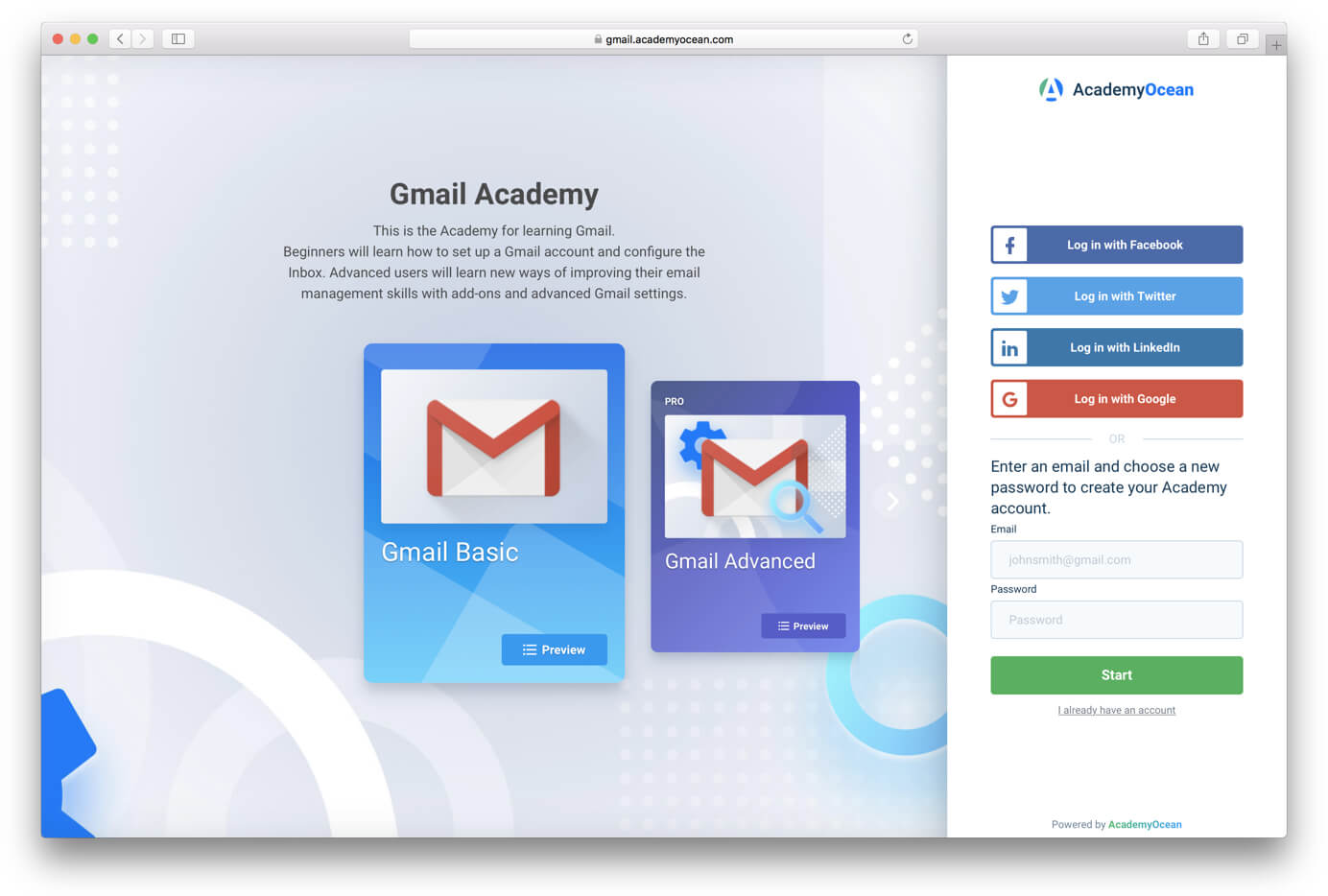 If your company has a product which seems simple to your customers but in fact is multi-functional then the Academy is just exactly what you need.
That's the case with Gmail. You may think there is nothing simpler than sending someone an email yet you can't imagine what great potential Gmail has and how many features you may be losing that could make your email performance really outstanding.

We've created Gmail Academy for onboarding our new staff and it has tremendously simplified the whole process of their training.
Conclusion:
Each product needs its own exposure. Some need huge Learning Management Systems with the complex interface and multiple functions. Others need platforms which would have a clear interface, be easily adjustable to your needs and which could be adapted to any types of customers and goals.
It's up to you to decide. In case you make up your mind for Academy — here is more information about the product and some more information about us at Facebook.