Stella Collins: "There's no such thing as a boring topic, just boring training"
January 6, 2023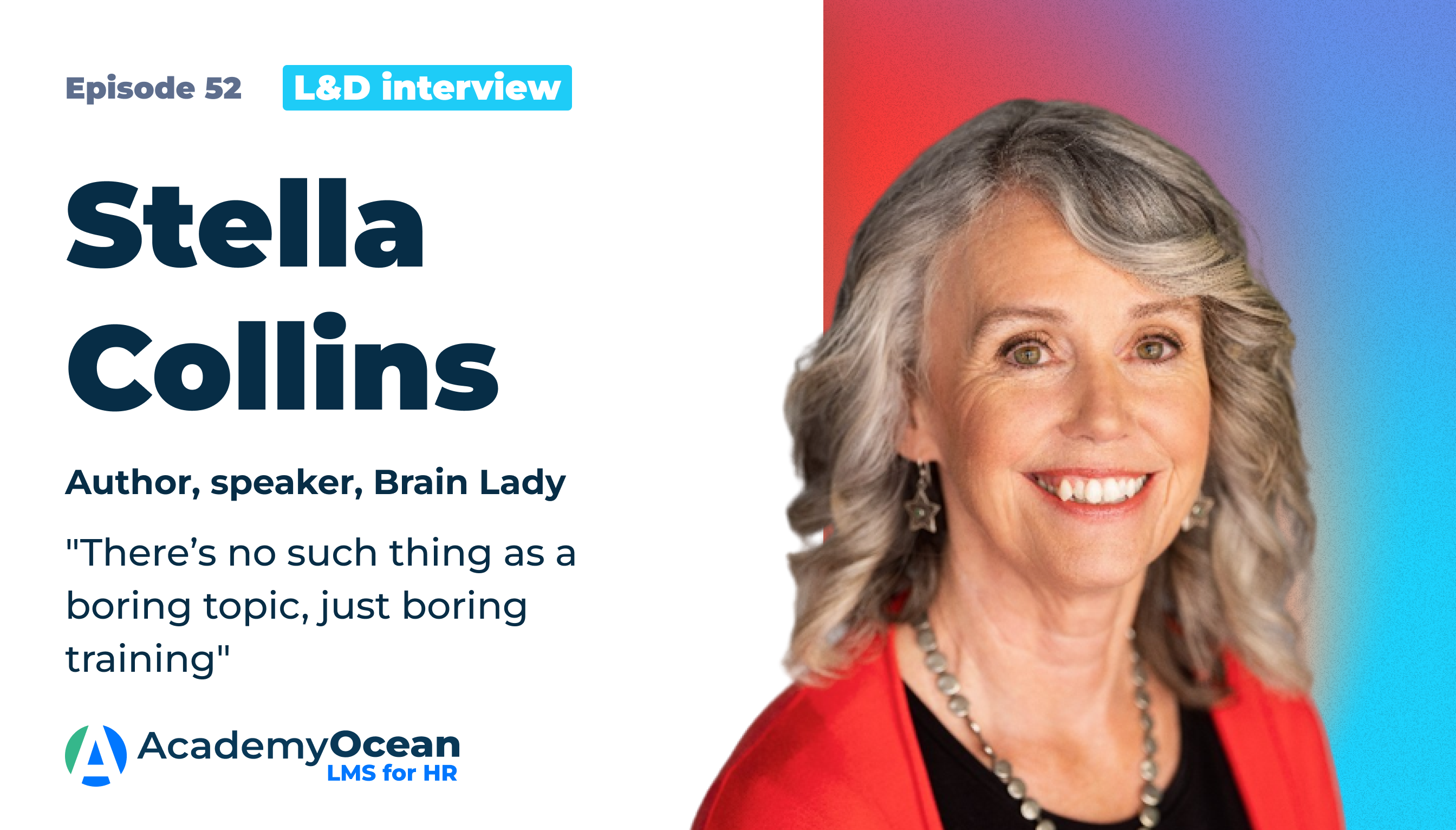 When a company implements employee training, they don't just want employees to learn new things. They expect employees to start doing new things differently!
But, how do you know when something has gone wrong and corporate training requires transformation? How to involve employees in the learning process and achieve better results?
📌 We need to study the abilities of the human brain and resort to scientifically proven methods of training.
Let's talk about that with our guest Stella Collins.
Stella Collins — Author, keynote speaker, Brain Lady. She is an evangelist for learning to make a difference, and advocate for science, data, and technology.
🔬 spent 25 years researching and investigating the psychology and neuroscience of learning😊 trained 10s of 1,000s of people in brain based learning methods🐝 founded two training businesses📗 written the sell-out book Neuroscience for Learning and Development (amongst others)
So, let's start our interview!
AO: Stella, you have an incredible experience in L&D. Why did you choose this path? What do you like most about your job?
Stella: L&D chose me rather than the other way around :)
I was working in IT and my experience of training so far had been boring and ineffective. Then, I somewhat reluctantly took on a role as a Training Manager in a tech company. I employed an inspirational trainer who showed me that the purpose of training was to help people be better at their job.
I went on a journey of discovery in L&D which brought me back to the science of learning that I'd studied as a psychology student. I'm fascinated of how we can optimize the learning process at work, so I research and then build practical solutions. What I enjoy now is working with our team to develop AI enabled learning technology, with learning science at its core and people in mind.
At Stellar Labs we're building an AI enabled upskilling platform fuelled by neuroscience.
I still love helping people grow and develop, so they grow and go beyond their current horizons.
AO: Recently, next to the word training, you can often hear "transformation". By what signs can a company understand that it needs to transform training?
Stella: There are plenty of signs that a company needs to transform their training.
For example:
If people don't turn up or drop out of training programs there's clearly something wrong.
If people make mistakes and don't learn from them. If you can't see or measure changes in behaviour or skills.
If training is irrelevant or not connected to business requirements.
With the rapid and constant rate of change everyone needs to learn more regularly, so companies need to be agile and adaptable in how they help people learn.
AO: What is the first thing to pay attention to when transforming corporate training?
Stella: It's definitely not to create more content.
You need to start with your business objectives — what do you want people to do to ensure they and the organization thrive and survive.
First you have to have the people on board, so you can find out how learning really happens in your organization.
Then use learning science to optimize the learning process.
Learning technology can support and enable that process but no amount of technology or content will have an impact if it's not designed to motivate people, enhance performance and increase support from key stakeholders.
AO: What would you say is the main mistake in a learning strategy that does not lead to the expected results in the end?
Stella: Being blinded by one of two things — or possibly both.
Too much emphasis on glitzy content that looks great and keeps people occupied but doesn't deliver change.
Or fancy technology that isn't grounded in learning science — it's got all the bells and whistles but doesn't support people to go through a full learning journey.
AO: It happens that people in a team have different learning agility. In this case, how to ensure the most effective training for all employees?
Stella: That's an interesting question, and I'm curious as to how you measure a person's learning agility exactly. People vary in their ability to learn different things but there are so many reasons for that, it's hard to define one solution.
However, one of the best ways to learn anything is to train it to somebody else so encouraging well-supported peer to peer learning can help everyone.
The 'new teacher' gets to validate what they've learned, and they are very often in a better place to teach someone else than an expert who's forgotten what it's like not to know how to do something.
AO: What is science-based learning? What are its main differences from traditional learning?
Stella: Elements of 'Traditional learning' may be science based of course – traditional learning has got us to where we are now.
However, what differentiates science-based or evidence-based learning is that the process is validated by research and testing what works and what doesn't. It's not simply a hypothetical model or theory about how to help people learn but seeks evidence from many sources to validate or invalidate the process and its elements.
If something is proven not to work then you find another way to do it that does work.
AO: What are the main functions and aspects of the human brain that are important to study in order to understand how to improve learning?
Stella: It's more than just your brain — we also need to consider how our brains and bodies interconnect because you can't have one without the other. If we are hungry or too hot for instance it's harder to concentrate and learn.
But the key things we need to understand include motivation, attention, memory, habit formation and, I believe, social connection because we don't learn in a vacuum.
AO: How to keep employees engaged in training? Will the same methods work for different people?
Stella: In a broad sense the same methods will work for many people, but we can take a lot of lessons from the science of marketing to see how we can engage different people at different stages in their learning journey. People can feel very motivated when they start learning but as we naturally hit plateaus or challenges our engagement can fall, so we need different incentives or motivation to keep going. Understanding how motivation works is key.
Tapping into people's intrinsic motivation is probably more effective than offering extrinsic rewards to keep them engaged.
For example, companies like Duolingo are excellent at keeping people engaged and on track, but it doesn't mean that every method works every time for everyone.
AO: And finally, what would you advise an L&D professional for personal development (books, resources, topics/areas that are useful to study, etc.)
Stella: Find out as much as you can about the science of learning but also make sure it's in context. We don't learn for learning's sake at work but because we need to develop ourselves and help our organizations succeed.
So I recommend you find about how organizations work too and how you can improve people's performance.
My book Neuroscience for Learning and Development is a good starting point and I have a LinkedIn learning programme https://www.linkedin.com/learning/using-neuroscience-for-more-effective-l-d/using-neuroscience-in-training
For a broad view of learning in the context of work I recommend Michelle Parry Slaters 'The Learning and Development Handbook'.