Gary A. Bolles: "The traditional role of the manager needs to shift to the «team guide»"
June 1, 2022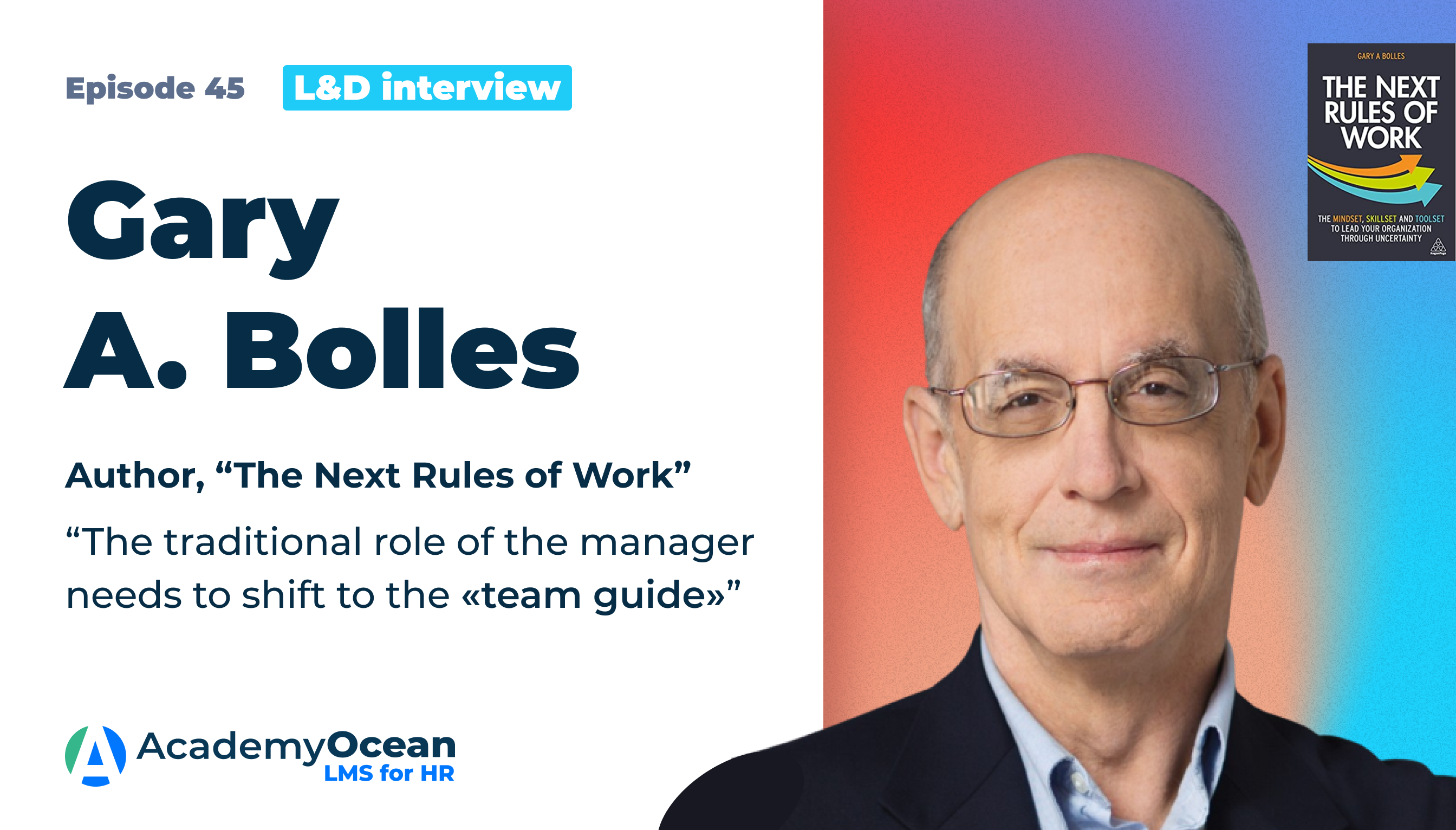 📌 Today we talk with Gary A. Bolles about the talent war, the skills of the future, and what the next generation of leaders should be like.
Meet Our Expert!
Gary A. Bolles is an author, speaker and internationally-recognized expert on understanding and managing disruption.
He is Chair for the Future of Work for Singularity University and partner in the boutique consulting agency Charrette LLC, positions in which he shares his knowledge and expertise on disruption to help business and society manage change. His focus is on strategies for helping individuals, organizations, communities, and countries to thrive in the transition to a digital economy. More than 1 million students have taken his courses on LinkedIn Learning.
---
Let's start the interview!
AO: Gary, what is your main line of business now? What do you love most about your job?
My main focus as an author and lecturer is on the future of work, learning, and the organization. My commitment is to help individuals, organizations, communities, and countries to navigate these seismic shifts in our world of exponential change.
AO: You have defined work, as human skills applied to problems. What skills will the next generation need?
There are two general kinds of skills, "know" skills (bodies of information) and "flex" skills (usable in a range of situations). In a world with a rapid pace of change, the four "flex" skills I point to constantly are Problem-solving, Adaptiveness, Creativity, and Empathy—which in English conveniently spell PACE.
These are the skills that can help each of us to be able to solve the problems of today and tomorrow.
AO: Do you agree that it is already important to be able to quickly learn new skills/professions? What does it take to make it available? (what approaches, tools, etc.)
There is no question that many problems require new skills, and that each of us needs to be able to learn "just in time" and "just in context" — just-in-time, as we encounter a new problem, and just-in-context, while we are in the process of solving that problem. But…
...we need to balance rapid learning with learning committed to mastery, finding the kinds of problems that fascinate us the most so that we can dive deeply.
AO: How can an L&D specialist adapt to new realities (digitalization, VUCA world, crisis…), what knowledge needs to be replenished?
First,
L&D professionals themselves must commit to being the change they want to encourage in others.
They must be lifelong learners, using examples of their own learning to inspire others.
Next, they must help other learners understand.
AO: Do you think the "War for Talent" phenomenon is still relevant? Or has a wave of crises changed the situation?
I admit I'm not a fan of any zero-sum mindset that frames a challenge as "a war." But the market for talent has changed dramatically in recent years, as workers embrace new options for flexibility, and hirers adapt to a changing power dynamic for in-demand skills.
Both workers and hirers need to embrace this need for flexibility, and collaborate on the design of problem-centric work roles. The employers who are most adept at creating engaging and flexible work opportunities — both for existing workers and new hires — will be the ones who are most attractive to people with in-demand skills.
AO: If we talk about the consequences of global crises. What can HR do today to mitigate the problems of the future?
If the global pandemic has taught HR professionals one thing, it's that the organization must be human-centric. That means encouraging a commitment to supporting the mental, physical, and emotional health of workers, and to creating meaningful, well-paid work roles.
That also means equipping every worker with the mindset, skill set, and tool set they need to continually solve problems in a world of exponential change.
AO: How is the approach to talent management changing with the spread of remote work?
The role of the manager is rooted in the old rules of work, requiring them to always be the person in control, the one with all the answers.
As we have removed the geographical anchors for many work roles, the traditional role of the manager needs to shift to what I call the "team guide", the person with all the best questions, dedicated to empowering a team of problem-solvers.
That takes a fundamental mindset shift, judging your own accomplishments not by how many problems the team guide solves, but by the number of problems that others are empowered to solve.
AO: How does the global distribution of the team affect its cohesion? Do you have any recommendations on how to avoid negative consequences?
One of the new skills of the Team Guide is to be a relentlessly-intentional communicator.
That means constantly and transparently communicating plans, and continually building authentic connections with team workers to stay aware and supportive of professional and personal challenges.
Distributed workers also need to know that their work is contributing to the process of creating value for the organization's stakeholders, to help them continually find meaning and purpose in their work.
AO: What is the most valuable piece of professional advice you have received or would like to give to other colleagues?
I like to repeat the advice that the inventor Dean Kamen said his father, the artist Jack Kamen, gave to him when he was young: Find something that you really love to do, and then get so good at it that people will pay you for it.
It all comes down to permission: The permission you give yourself to dream, to envision a more positive future for yourself and the people you care about, and to help make that future a reality.
AO: Gary, thank you for this incredible interview and such inspiring words at the end!
---
🥰 Thank you for being with us. See you soon!