12 months and 12 awesome updates 🎄🎅 The AcademyOcean 2021
January 24, 2022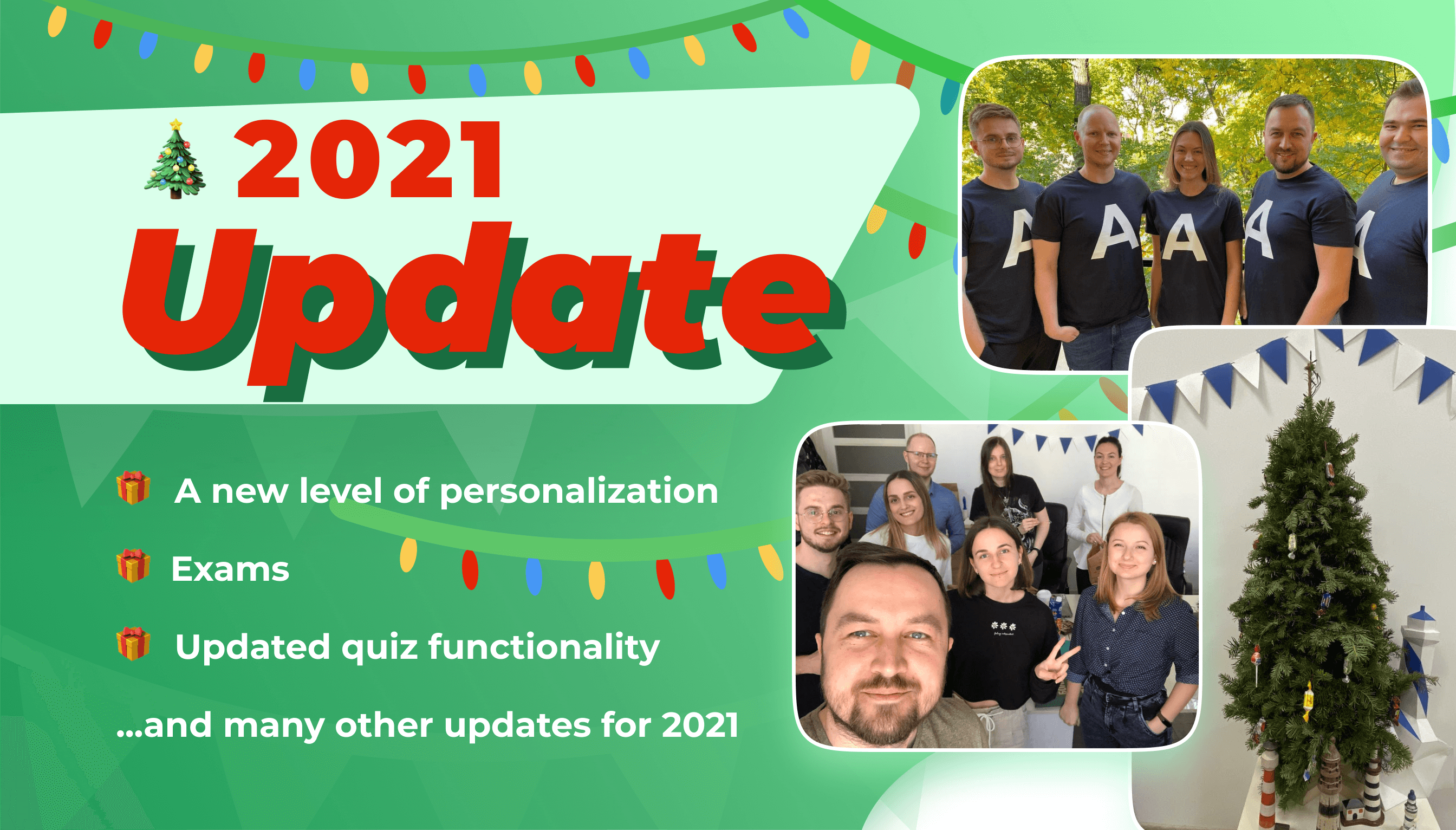 2021 was definitely the year of AcademyOcean :)
Hundreds of new companies and hundreds of thousands of learners from 25 different countries discovered AcademyOcean. We were also able to make an incredible number of amazing updates to our product, affecting almost 90% of all our functionality!
We've selected 12 AcademyOcean updates that we think were the most exciting of 2021. Read on to learn more!
1. A new level of personalization


In 2021, we made it possible to show different information, and even entirely different lessons, for individual learners depending on their quiz or poll responses.
Imagine, each of your thousands of learners get exactly the training they need that helps them learn as best as possible.
2. Exams


We've created an entirely new section of AO where you can carry out an overall assessment of your learners. For example, you may want to evaluate the sales department after they've completed the courses they've been assigned. This lets you perform a comprehensive check of all key knowledge areas.
In addition, you get access to a wide selection of tools to help you create and customize this content.
Create exams from your quiz library
Question weights (different numbers of points for different difficulty levels)
Exam time limits
Unique certificates
Assigning evaluations to individual learners or teams
3. Updated quiz functionality


We've made the learner testing process even easier to manage and more flexible. In addition, you can give feedback to learners to help them understand the material even better.
Quiz timers
Comments on quiz results
Instructor feedback when manually grading
Quiz and tag library
4. New analytics capabilities


We've improved reporting in AcademyOcean and have added many features to help you more accurately assess how your learners are doing.
Filters for all basic reports (filter by learner, course, quiz, sign-up date, number of courses completed, etc.)
Notes on each quiz metric
Integrations with professional analytics tools such as Power BI
5. AcademyOcean as part of your app

We've made it possible for our clients to embed the AcademyOcean training portal in their desktop and mobile apps.
With our customized API, Iframe integration, and WebView technology, you can embed AcademyOcean in an environment your learners are familiar with, making for a seamless transition between your platform or app and AO.
6. Level up your ease of use
AcademyOcean has a record-high ease of use rating (9.8/10) — but we're not stopping there. We're constantly working on our UX/UI to make it even simpler to work with our platform.
In 2021, we made more than 200 visual and technical improvements, and...


We've updated learner cards (you can now see the entire learning path of a specific learner in one place)
We've improved navigation and made it easier to switch between academies
We've improved server architecture so processes for admins and learners are as fast as possible
7. Updates in courses


Set up your training exactly how you need it!
Set a learning pace based on content difficulty, grant access to lessons in stages, set schedules, and more.
This helps you create effective training programs and helps students better absorb learning material.
Two types of deadlines: hard deadlines (a specific date or dates) and flexible deadlines (which let you continue training once the date has passed)
Start dates for lessons and quizzes (grant access to information in stages and on a schedule)
We've made course cards more compact and informative
We made the lesson editor easier to use
8. Live meetings with no limitations

We made significant improvements to our ILT and webinar module. You can now create events and assign them to learners or entire teams in no time at all. You can use any webinar platform you like, and your learners can join the event without leaving the training platform.
9. Calendar

Learners can now keep track of events assigned to them and view their training plan. Google Calendar integration ensures they won't miss any important events.
It's now easier for administrators to plan virtual meetings and webinars and to view the schedules of their learners.
10. Certificates 2.0

Now you can create, award, and update certificates in a matter of clicks.
Individual certificates that can be configured for each course
New certificate templates in different languages
Certificates that can be reissued or updated if needed
11. New integration capabilities: Webhooks, API, Zapier
Transfer the data you need to your HR or CRM software, or any other system you use. Try transferring quiz, survey, or exam results, or information about new learners who have completed courses.

We've expanded what you can do with our API and Zapier: there are over 15 new trigger events, and information about them can be uploaded or transferred to other systems.
Webhooks: we've made it possible to create web callbacks. For example, you can send an event when a learner starts or finishes a course that triggers an automated action in your CRM or HRIS.
12. We've updated the learner interface
These improvements allow students to navigate the academy with ease, monitor their progress, and get feedback from their mentors.



Learner notification center
Detailed quiz results
Updated navigation on mobile
Certificates page, where learners can download certificates or share them on social media
Learner time zones
Special projects
A little over a year ago, we launched a large HR development project on our blog. Since then, we've put out five articles featuring expert insights and 38 interviews with HR specialists from well-known companies including Bosch, Intel, and Cisco, and opinion leaders like Dave Ulrich, as well as others.
We've worked on the AcademyOcean YouTube channel, where you can watch a short video overview of the platform or dozens of instructional videos about getting the most out of our main features.
---
Our team has big plans for 2022, some of which we're excited to say we've already put in motion. We're going to make a quantum leap in the education sphere!
Stick around and learn about updates as they're released :)
Have a wonderful New Year!
The AcademyOcean team 💛💙