Grade your learners | AcademyOcean September 2022 update
October 24, 2022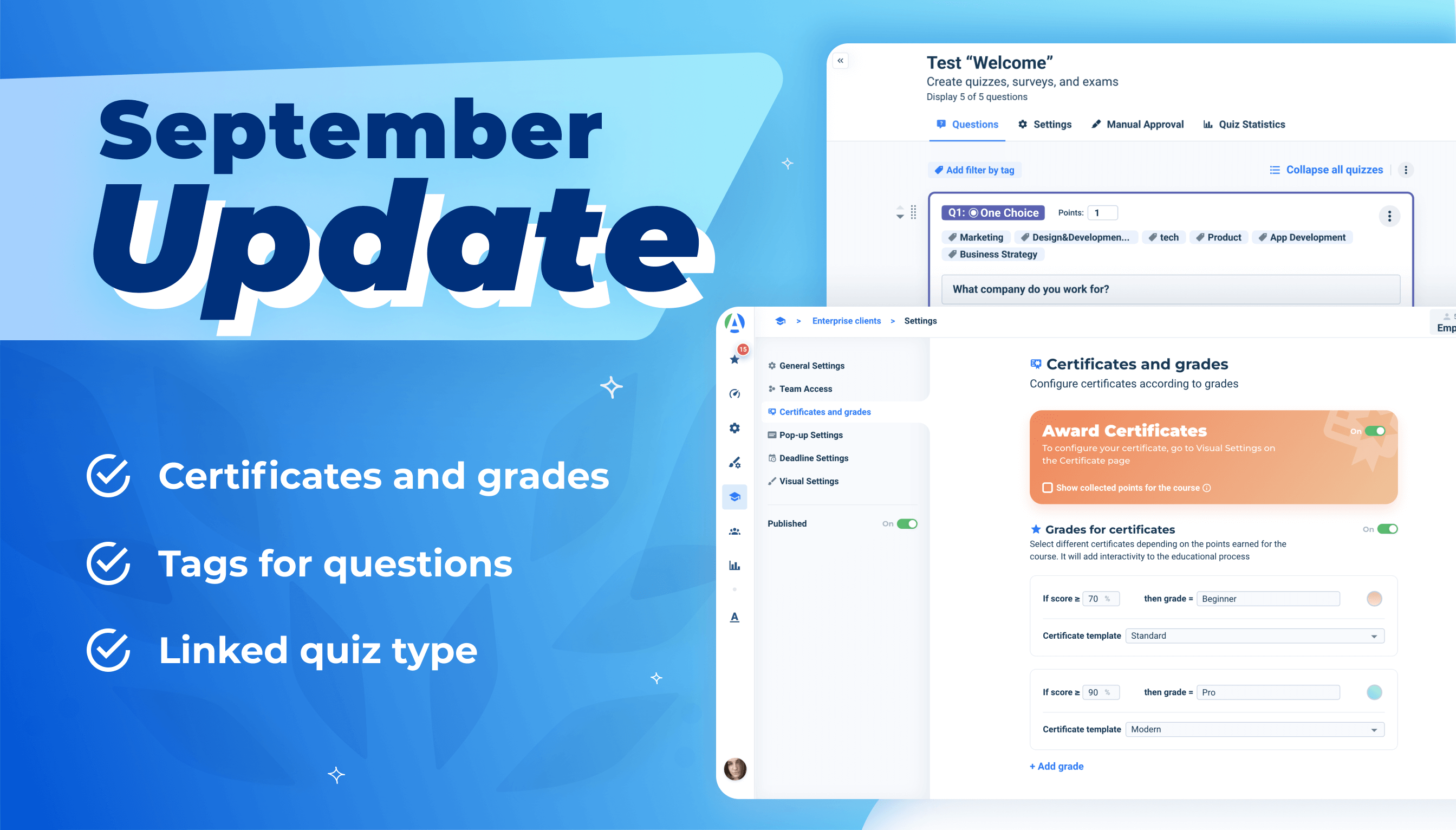 What's new at AcademyOcean?
We have launched awesome tests and exams section updates! The tag system and the new type of test are already available on the platform 😍. New question categories are coming soon.
Furthermore, we've added a new engagement tool and improved admin access.
Read the details in the update!
---
Engage learners by grades
The grading system (levels) is another outstanding gamification and learner engagement tool!
Create your grading system and let the learners know their progress and what they must strive for. For example, you can grant different skill levels to learners within a particular topic or skill.
In this way, you will have a complete picture of what level the learner's skills are at and what their knowledge gaps are. Build new adapted training programs based on this info.
The final grade depends on the scores. You assign scores based on the training program requirements and your vision.
In addition, you can customize unique certificates for each grade.
Collect a question library sorted by categories
Get your hands on a brand-new level of control over your tests! Now, you can create question libraries for different categories and topics. Afterward, quickly create new tests using those materials.
With this purpose in mind, we have added the capacity to assign a specific tag(s) to each question in your tests.
This feature also allows:
Assigning multiple tags to all questions in the test;
Sorting questions by the selected tag;
And, of course, creating new tags-based tests.
Create new tests in a few seconds!
Our new type of quizzes allows automatically creating tests according to previously assigned tags. Thus, you make a unique test in just a few seconds 😍
In this case, you will have the most flexible settings. You can:
add question(s) according to the desired tag;
combine several tags (displays only intersected with tags questions);
set a specific number of questions that the system will randomly take according to the selected tag;
configure all parameters for this test (timing, deadlines, etc.).
Additionally, use this type of test to create exams. For example, you can collect all the questions in desired categories and run a comprehensive examination based on the covered topic.
Assign admins for each team
A new type of access allows you to assign mentors and administrators for each specific group of learners. So they can focus on particular tasks: managing content, analyzing progress, and giving feedback.😍
You can use this to:
invite different trainers to check the homework of a group of learners (or departments of the company);
invite individual editors to create courses (assigned to a specific group)
add managers with access to courses and learners solely assigned to their teams (departments, branches, flows, etc.).
Now, the learning platform has become even more flexible and convenient to manage. In corporate training, this allows you to assign access following the organizational structure of your company. And if you run an exclusive authored course, you can assign individual mentors to different groups/streams of learners.
Free workshops from TED, Google, and Fortune 500 experts
The AcademyOcean team has been holding online sessions and webinars with the world's best experts in HR and L&D for 5th month straight. Our "Coaching for Ukraine" project attracted such speakers as the author of the bestseller "The Multitasking Myth," the head of L&D at McDonald's, and TED speakers.
Participation is free + you get access to the Academy with video recordings of all webinars.
If you haven't joined us yet, don't hesitate and share with your colleagues!
---
Follow our updates 😘
See you soon!