🧐 How to meet the needs of each learner? | AcademyOcean May 2022 Update
June 14, 2022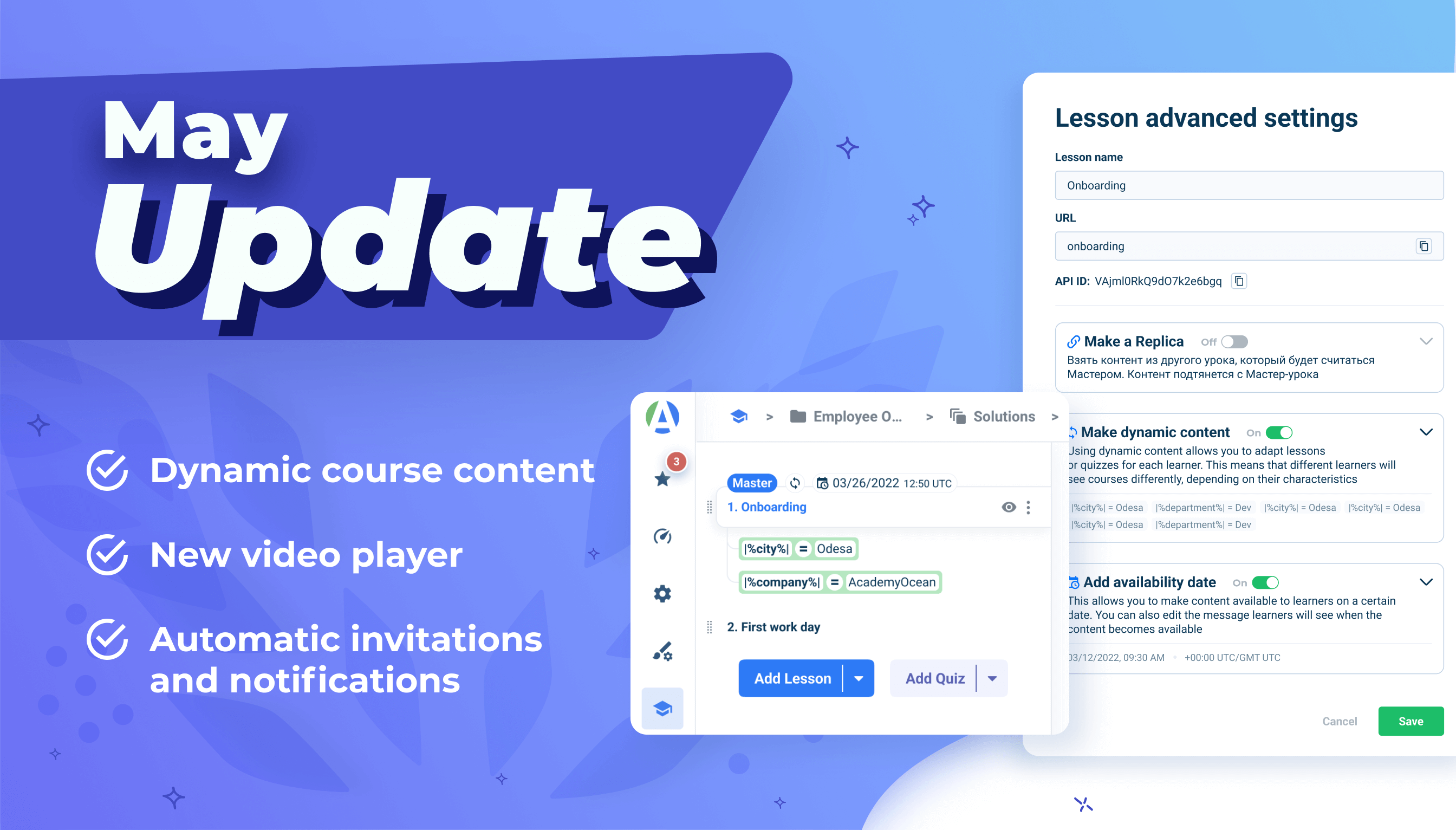 Hi there, it's a new AcademyOcean update!
As always, we have great features for both learners and administrators. New personalization options, automatic notifications, and a special project that you can't miss!
Let's go)
⚡️ Repeat, correct mistakes, and consolidate knowledge. Create individual learning experiences!
This may be the most exciting part of the May update! You can now personalize entire courses and create tiered learning paths for each individual learner.
Let each user have an individual learning path! The ability to repeat and reinforce the material, correct mistakes, and underline important information, in order to better grasp, memorize, and apply new knowledge!
For example, a learner did poorly on the last test, and you want him to correct his mistakes and consolidate the material. You can assign them a few extra lessons to review the material and an extra test that will be a pass for further study. You can have as many combinations of lessons and tests as you want!
Consider all possible course progression options for your learners, and thus make their learning as effective as possible.
📧 Send notifications and reminders
With our new API and Webhook features, you can easily set up notifications for students when new courses appear on the platform. And also notify administrators when a new student is joining the team.
Automate your invitations and notifications!
The improved API feature and the new Webhook allow you to easily set up integrations with email services and all kinds of messengers.
Notify your learners by email or messenger when new courses are available.
Send messages to the administrator when a new learner joins the academy.
In addition, we've expanded the ability to transfer learner progress data from the AcademyOcean to external accounting systems. This expands your analytics capabilities.
👍 Video lessons just got better
All videos on the platform now work with an updated player. Learners can select their preferred video quality and have an even more enjoyable experience watching your video lectures/lessons!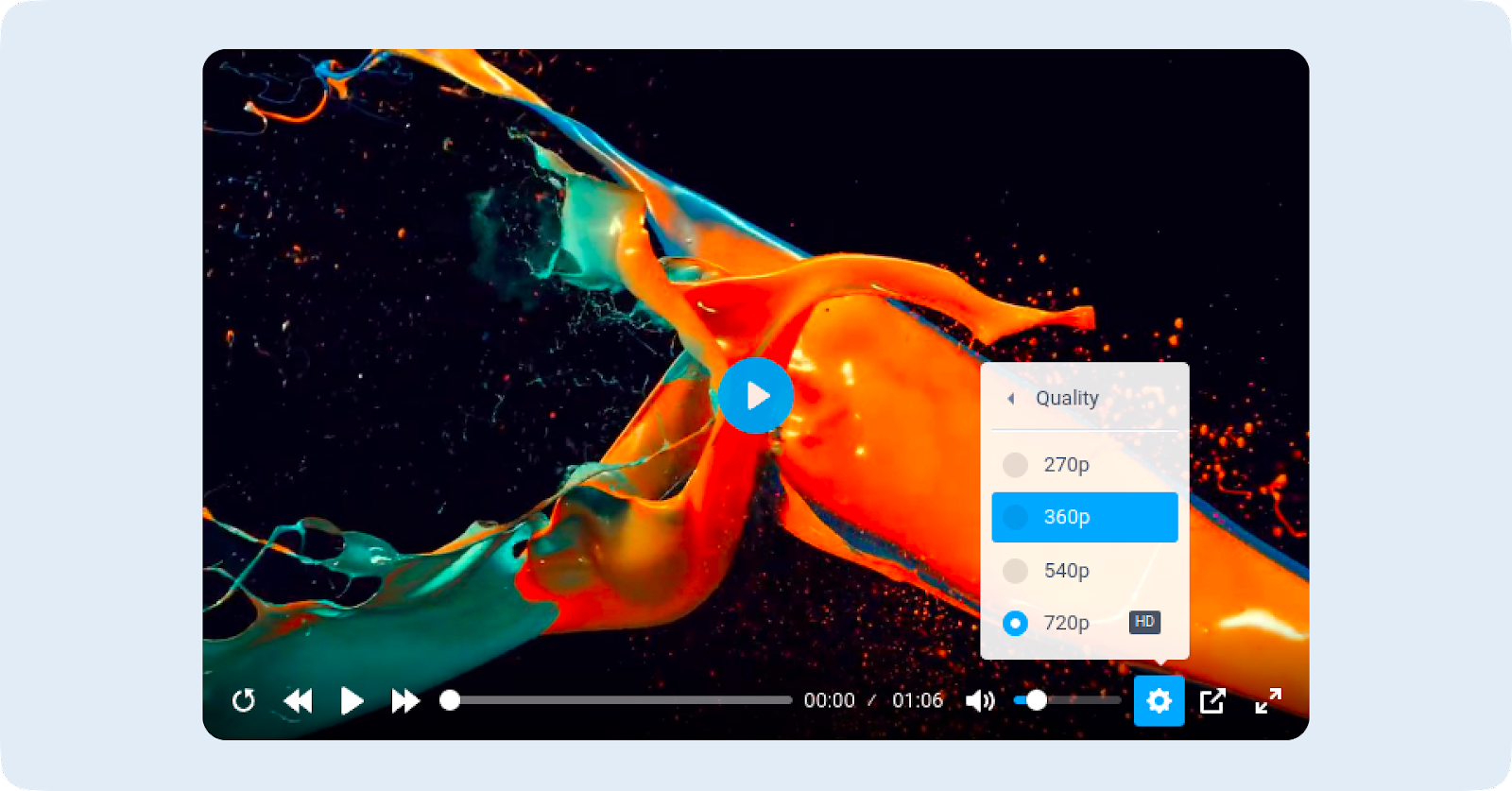 We convert videos uploaded to our system into differently sized files and let you choose the ones you want for playback.
For example, if a learner has a poor Internet connection, all they have to do is switch to lower video size and continue watching.
We've additionally plugged in new technologies that speed up work with a large number of videos on a single browser page.
We don't stop caring about the platform's performance, and your convenience!
✅ Optimized, quick, easy
We strive to simplify and reduce the time for administrators to configure the entire learning process on the platform as much as possible!
All the lesson and test settings are now in a separate section. Our product designer has been working very hard to make this feature practical and convenient for admins 😉.
When creating lessons and tests, you can now set all the parameters you need in one place. From standard settings to advanced settings such as dynamic content, opening dates, and synchronization.
💛💙 Special project "Coaching for Ukraine"
We are happy to share the great news. The AcademyOcean team has launched the project to support Ukrainian HR and L&D professionals "Coaching for Ukraine". These are free events from the world-known L&D experts, whose performances are worth thousands of dollars.