Passed all the Exams 🥳 AcademyOcean August Update
September 14, 2021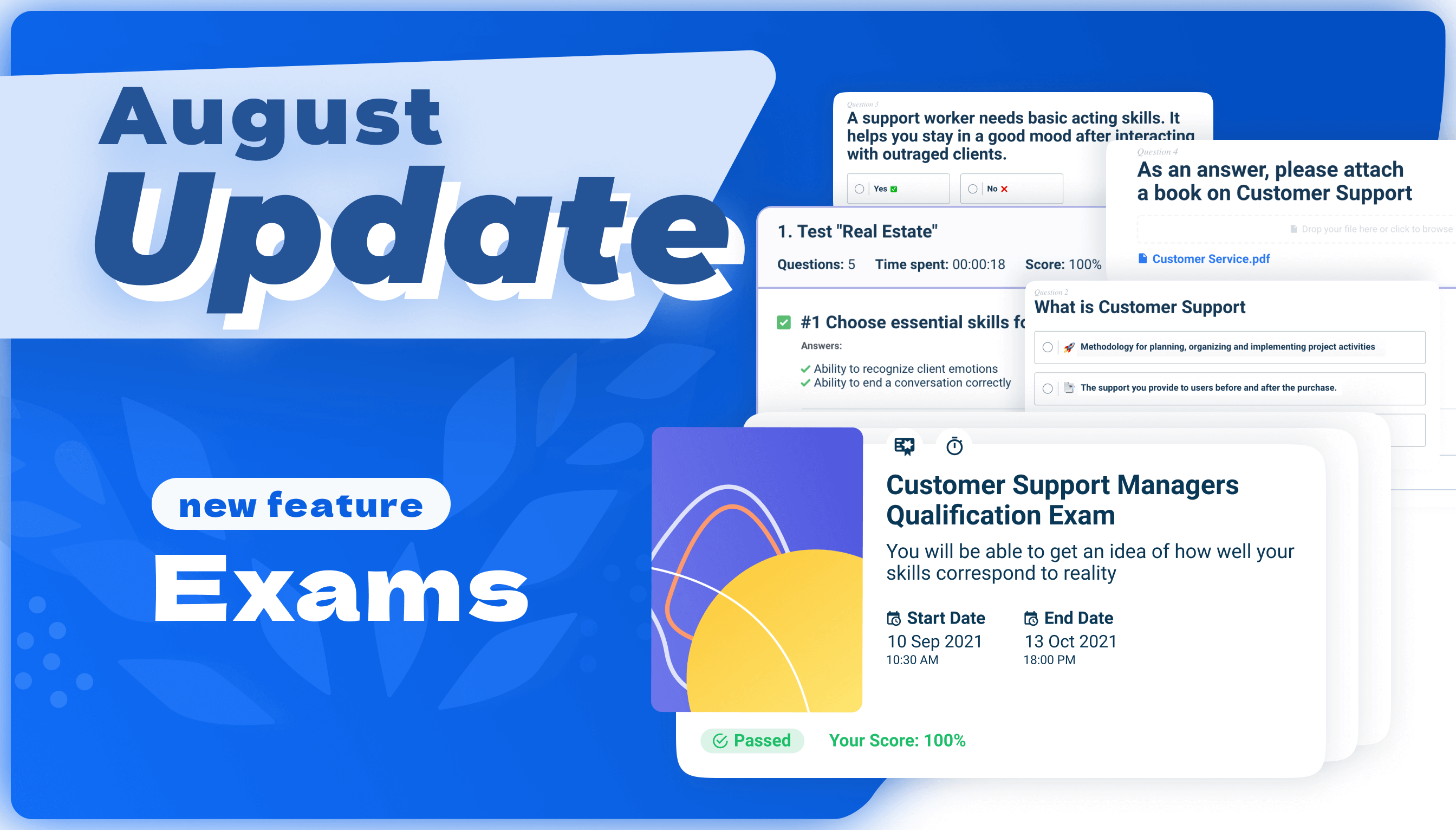 Hey! We have some great news. Our team has been working on a brand new feature all month, and we're ready to show it off!
This has ended up being one of our biggest improvements ever since this feature affects all aspects of our product.
Exams
This is a separate section of AO where you can conduct evaluations of your learners' knowledge.
You can use this feature to conduct any assessment or test you can think of: set up regular knowledge checks for managers, evaluate how well your support team knows the product they're working with, or *.

Unlike quizzes, exams are a multi-faceted and versatile evaluation of your learners' knowledge. Customization allows you to adjust the difficulty level of your assessments according to your needs.
When creating an exam, you can:
1. Use existing quizzes from your account. In a matter of minutes, you can have a complete assessment with different question sections.

2. Set weight for each quiz. Use this if different stages of your assessment carry more importance than others. With weighted questions, learners get more points for difficult questions and fewer points for easier ones.
3. Limit the time a learner can spend on exam or only make the exam available for a certain period of time or specific number of days.
4. Reward your learners with unique certificates for completing exams.

5. Assign exams to individual learners or entire teams.

Switch easily between courses!
Your convenience is our priority. That's why we have easy navigation between courses in a group.
Now, all it takes is one click!

Managing learners just got easier!
We've added new options to the report filter.
Now you can easily sort learners by:
Sign-up date
Email
Name
Number of courses completed
Role

*. We did everything we could to make it easy for you to work with your data.
---
Those are our August updates. But we're not stopping there — we have something interesting in store for September… 😉
Stay tuned for updates!