Maria Dolgusheva from PandaDoc: "Analytical skills should be part of every HR specialist professional portfolio"
September 10, 2021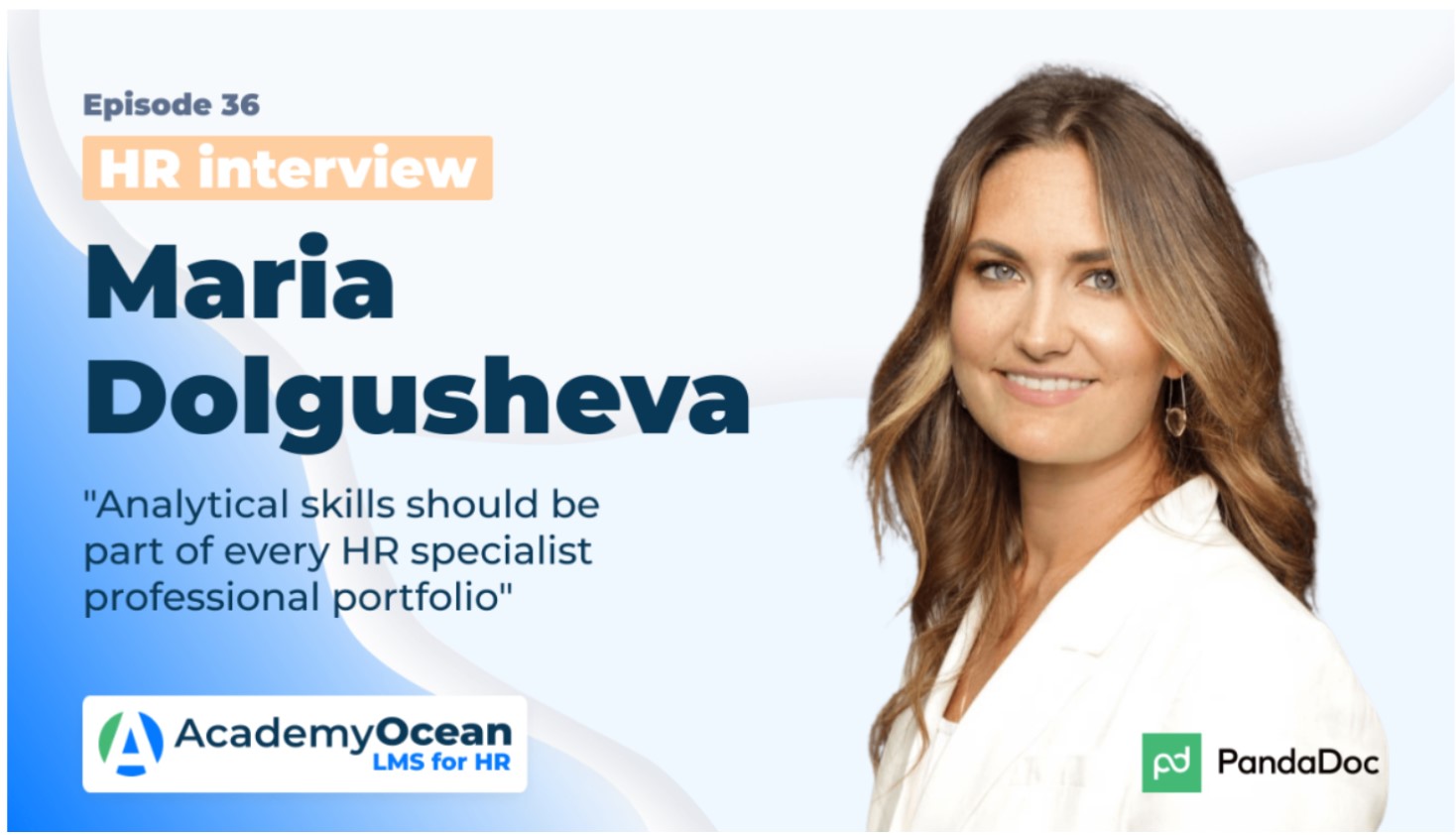 📌 Read the new interview to find out the difference between working HR for a big corporation versus a startup.
Good day everyone!
We continue to explore the HR field with its experts. And today we are in touch with Maria Dolgusheva, a solutions-oriented HR analyst who brings over 14 years of progressive leadership, including a global geographically distributed, remote multi-cultural workforce.
Let's meet her!
Maria Dolgusheva is PandaDoc's Sr. HR Analyst and resident of Saint Petersburg, FL! Born in Moscow, Russia, Maria is a true citizen of the world, having lived in both Dubai and Germany and traveling as far as China and Norway for business.
She made the cross-country move from San Francisco at the beginning of the pandemic to explore the benefits of remote work by herself.
Maria has been on the PandaDoc payroll for 3 years now but spent 6 months prior to her anniversary date as an MBA/ Business Analytics intern for the company.
PandaDoc is an all-in-one document automation software to streamline the process to create, approve, and eSign proposals, quotes, contracts, and more. Teams use PandaDoc to improve document workflows, insights, and speed.
Currently, Maria is focused on translating data analysis into impactful business decisions, which will help PandaDoc to grow.
So, let's start our interview! 😉
AO: Hi Maria, nice to meet you!
Please tell us, did you work somewhere before becoming an HR specialist, and why did you decide to become HR?
M: I have started my HR career in one of the biggest private Oil and Gas companies during my Economics and Management Bachelor's degree. To help an industrial company to overcome business challenges from an HR operation perspective was a trilled experience. Our department was focused on international business development, so we had implemented global HRIS, onboarded global teams, developed partnerships with oil and gas universities in the USA & Europe, and relocated team members from country to country. I am an HR operation and analytics-focused HR, my mission is always to help people fulfill their full potential and find the right career track.
AO: How did you start working in PandaDoc?
M: Digitalization and technology industry was an inspiration for me and after 8 years in Oil and Gas I have decided to move to San Francisco and start my MBA/ Business Analytics master in HULT international business school. When PandaDoc offered me an MBA internship I was so happy to implement my new business analytic skills at practice. When I started we had only 2 HR in the US, and I was involved in all aspects of hr: policy development, onboarding, recruitment, compensation analysis, and HRIS & benefits management.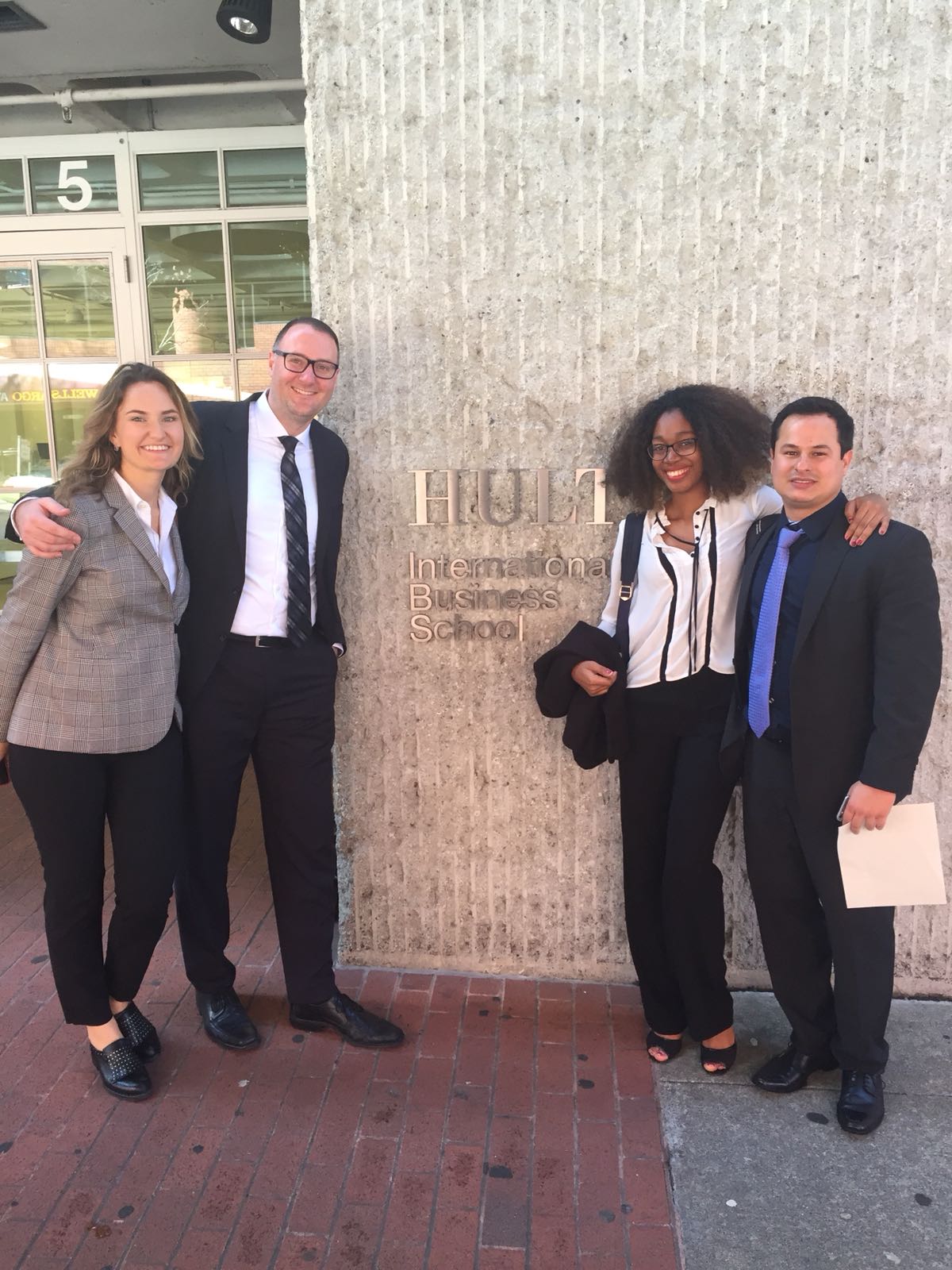 Maria in HULT international business school
AO: Maria, what have you managed to change in the company during your work?
M: It was a challenge to find an HRIS which will work well for the USA as for Europe. So I am proud of the work that we have done with PandaDoc HR team to find the best combination of software to collect and analyze HR data:
Led transformation globally, including automatization onboarding, offboarding, reporting, and HR data collection.
Selected, configurated, implemented, and established systems/data migration of a new company-wide human resource information system (Sapling) and Payroll platform (Paylocity).
Implemented a comp analytical platform (Pay Factor) and set up a process of compensation data analysis for a global team.
AO: Super, you did a great job. We are glad that everything worked out for you! By the way, how has PandaDoc changed since you worked there?
M: Since I have joined PandaDoc and our HR team has overcome a lot of challenges to organize the processes.
Transition to remote work and back to Hybrid: We did shift from working from the offices and have only 10% of the team working remotely to 100% remote work and lately back to hybrid work again.
Flexibility to choose a location to work and or hire from: A lot of our employees moved to other states or countries abroad. Now we work from 29 states in the US and 14 countries. It brings more hiring opportunities because we are not limited by the location where we have offices. So we are hiring from all states and five countries in Europe.
Hyper-growth: At the same time, we supported hyper-growth and workhorse; PandaDoc has grown by 500 people since October 2017.
PandaDoc team
AO: Are there any peculiarities of the HR department in the PandaDoc company?
M: The biggest difference between working for a big corporation versus a startup is the speed of work. The HR team should work much faster to keep up with company growth. For example, you need to simplify the HR process for more straightforward implementation and managers' onboarding.
Also, if you join the HR team at the early stages of a startup, you wear many hats, but at some point, you have to specialize and develop your career in a particular direction with time.
So for me, the most significant career challenge was to delegate the majority of the scope of work to new hires and focus only on HR analytical roles.
AO: How does the onboarding of new employees go into your company?
M: Onboarding is one of our main HR services for business. We started the onboarding process immediately after candidates sign a job offer. We use our PandaDoc product to onboard new hires: we send new hires paperwork, policies, and agreements electronically, allowing them to complete time-consuming processes remotely before their first day.
We have a lot of challenges onboarding people who started work remotely.
The new hires should have all the information and know what to do in the first weeks of onboarding. Also, it is the managers' and buddies' role to ensure new hires feel they belong to the team and are socialized from day one.
Best tips, that will help you switch to remote work successfully.
We use the PandaDoc product to: create a checklist for the new hire, manager, and buddy; track new hire onboarding progress, organize the information that new hires need for the onboarding period. We planne new hires' first week to help them integrate into PandaDoc quickly. Each day focuses on a different theme to guide their virtual safari through PandaDoc culture, product, and processes.
Embarrassment (Enablement) Wrangler, bet here guide throughout the first week before releasing new hires into the "wild" (also known as department onboarding).
Day 1 - Who We Are: Learning about our company culture, teams, and goals.
Day 2 - What We Do: Learning about our product.
Day 3 - Who We Impact: Learning about our clients, competitors, and partners.
Day 4 - How We Do It: Learning about the software you'll use on a daily basis.
AO: What traditions your company has and what is your favorite one?
M: A work friend and I have challenged each other to work out more. And at the end of the month, more than 100 coworkers have joined us. We called it The Ripped Panda Challenge. We track, compete & inspire each other with the goal of keeping ourselves active, happy, and interacting. We push ourselves to work out at least 1-2 times a week and are looking to have a lot of sweaty selfies on our phones and share them with coworkers through slack.
The Ripped Panda Challenge selfie
Essentials of a Successful Team
AO: It's great that you have such a friendly team!
Maria, what is the most valuable professional development advice you have ever gotten?
M: Skills take time to develop. For example, you just started to work out, and you could not expect your muscle to be significantly stronger in one month. So take your time to develop the skills which you want and be consistent. As a part of the Millennial generation, I want a faster career progression, and it creates extra pressure and not necessary stress.
The most significant thing is that you are growing in your desired direction. Be patient with your career progress.
For example, if you want to develop HR analytical skills, start from data collection in your area. Use Excel for analysis of this data before jumping into SQL, R, or Python languages.
AO: Can you name one (or several) HR experts whose work do you highly appreciate or take as an example?
M: Josh Bersin, a Global Industry Analyst, is one of the most well-known HR analytical leaders. He influences leaders to develop HR analytics practice. He is my role model and inspiration.
Josh Bersin is a global research analyst, public speaker, and founder of the Josh Bersin Academy, the world's home for HR. Also, Josh and his team of experts offer research, advisory services, the Global HR Capability Project.
Claude Silver, Chief Heart Officer at VaynerMedia (CHRO)/Chief People Officer, is my role model to lead with a heart full of love and empathy.
Claude Silver is a motivational speaker, thought leader, and industry trendsetter. She focuses on teaching people and organizations how to disrupt the traditional HR model with the use of emotional optimism and heart-centered leadership to empower teams to be purpose-driven and infuses companies with empathy, humanity, and joy.
AO: Thank you, we are always pleased to meet new outstanding personalities!
Maria, what types of tools do you think every HR should be using in 2021?
M: I am a big champion of Tableau, I think that it is a great tool for data analysis and data visualization. And of course, it would be great to know one of the program languages, my favorite one SQL.
Learn more about LMS for HR platform.
AO: What was the funniest/most unusual incident during your HR practice?
M: I moved from San Francisco, California, to St. Petersburg, Florida, 1.5 years ago. My purpose was to be closer to my leader and team, but it was the pick of the pandemic. And since I have moved, I've worked remotely and saw my manager only after one year. However, we are much closer as a team to go through all challenges that we did not know we could handle.
AO: Our interview is coming to an end. So let's finally get a little fantasy and look into the future :)
Where do you see the HR industry in the next 5 years?
M: People Analytics would play a considerable aspect in HR practice moving forward. From one side, it would be easy to measure the effectiveness of HR initiatives.
Currently, we are focused on Talent acquisition metrics. In the future, we will be more concentrated on predictable analytics in another aspect of HR, for example, career development.
So for employees, it would be more precise which career path works better for them and how quickly they can achieve their development goals. HR and managers would have more information about the talent potential of their teams and who potential would be more successful for critical roles of the company. Also, HR analytics would help organizations be sure that they have fair HR practices for all employees and avoid discrimination for any minority group.
My vision is that analytical skills should be part of every HR specialist's professional portfolio. It would be beneficial not only for HR but overall for the HR industry.
AO: And the last question, Maria. If the company you work on now were a person, what kind of person would it be?
M: People that get straight to the point, say the way things are, communicate openly about problems, and are not afraid to deliver the bad news. Someone who values other's time proactively finds solutions to individual and team problems. People that back their point of view with research and data. Constantly improving, open to feedback. Someone who can figure out creative ways to add a lot of value while spending minimal resources. Someone who treats the company's resources as their own. Someone who not only rebounds from failure but most importantly, learns from failure.
---
That's all for today, guys.
We thank Maria for taking the time and for such an interesting and informative interview! 😍
In case you would like to ask your own questions, write down them in the comments. Also, if you want to read an interview with a particular person, let us know.
If you want to learn more about the HR field and find a lot of useful content, join the most secret HR group.
See you at the next interview! 👋