⚡ Reinvented the personalization | AcademyOcean September Update
October 21, 2021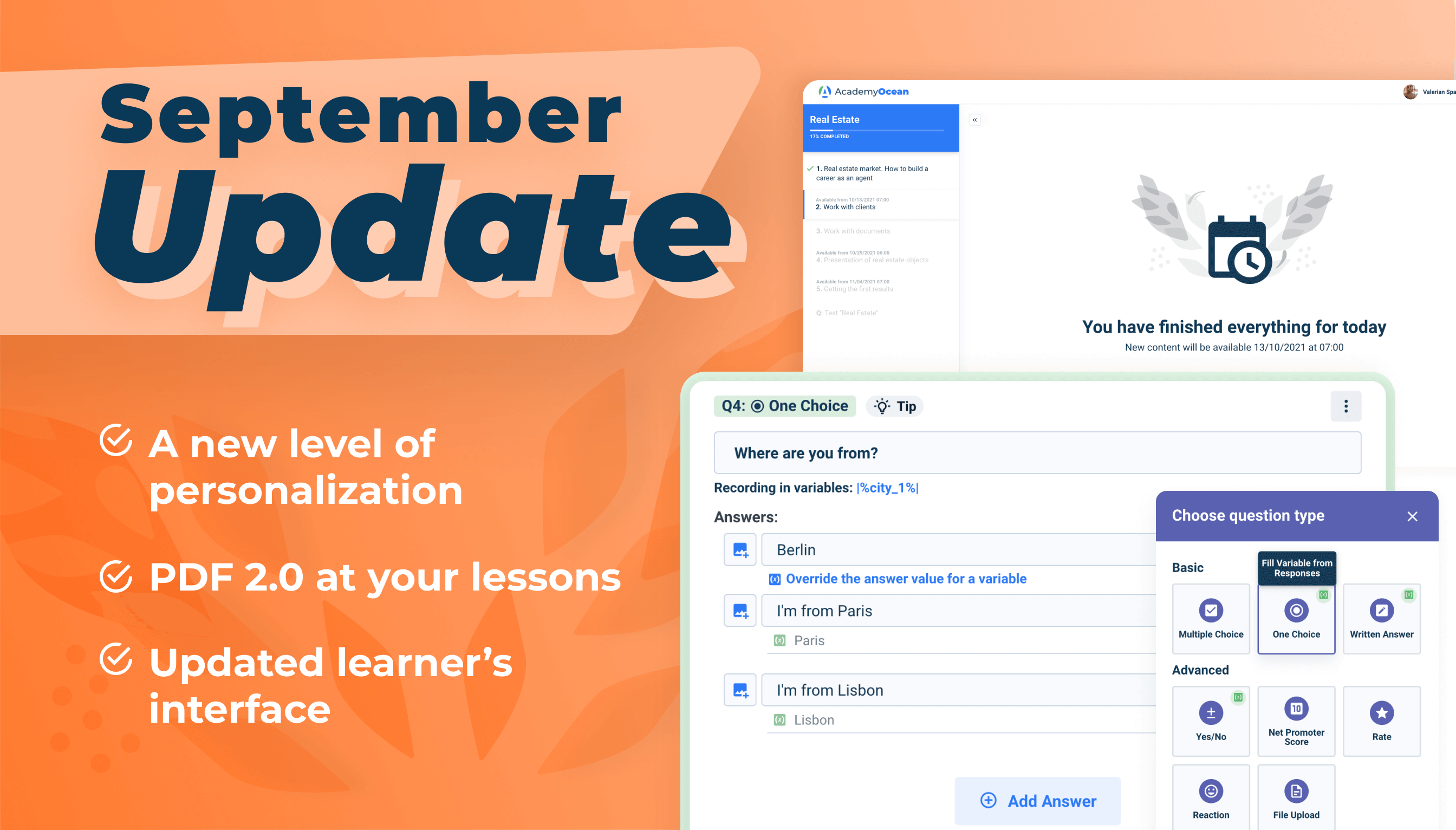 Hello everyone!
As promised, we released a lot of cool updates in September!
We've been working hard all month to bring you personalization options that you couldn't even imagine🤩
So, let's go to the point!
💬 A new level of personalization
Another leap towards a personal approach to each student!

Now, you have the ability to adapt content for students based on their responses to quizzes and surveys.
Variables can be assigned to each answer option in tests. Further, based on these variables, you can:
Build unique personal learning paths;
Ask the students a question and, depending on the answer, direct them to a specific lesson.
Use your students' answers to personalize lessons;
For example, assign the variable "repeat" to the wrong answer in the test, so in the next lesson, you will be able to show a block of information with a recommendation to repeat the material before starting a new lesson to everyone who chose the wrong answer.
Upload the student parameters to your CRM system.
Get the information you need, to personalize your newsletters/notifications, etc.
🔐 Open your lessons at a specific date

A new function that allows you to set a date of opening for lessons and tests for students. For example:
you can open each lesson in stages (every Tuesday and Thursday) so that students can better understand the material.
make each lesson available during the week, and open access to the test only at the end of the week.
📜 PDF 2.0 in lessons
Now viewing PDFs in lessons has become even more convenient on all devices!

After uploading PDF into the lesson, the system will automatically divide your file into slides, so you will be able not only easily switch between them, but zoom in or zoom out the slides by changing their scale as well.
🎓 Updated learner's interface
New mobile navigation will help students to use the academy more conveniently on cell phones and tablets.

All the necessary data and settings are displayed on the screen in a convenient order on a student's personal profile page.
New learner's certificates page

Students will be able to see a list of all of their certificates and names of the courses for which they were received. Now it's become easier to print, download, and even share certificates on social media.
Learner's time zone

AcademyOcean is used in 25 countries, so we are trying to make the platform convenient for customers around the world. Now you can customize even the time zone for your students!
✌ Improved admin's interface
We made it even more convenient to switch between academies: we added a search bar, manual confirmation statuses, published and hidden academies. And also divided the list of the main and archival academies.

Now it is more convenient for the owners of a large number of academies to switch between them!
We also simplified the loading of CSV files: we expanded the number of separator types and encodings.
This means that no matter what program or operating system you are using, the data of the uploaded CSV file will be displayed as correctly as possible on our platform!
---
We are glad to constantly improve our product for you!
Enjoy the news and wait for new updates 😉