Customer Onboarding Best Practices 2021. An expert interview
November 17, 2021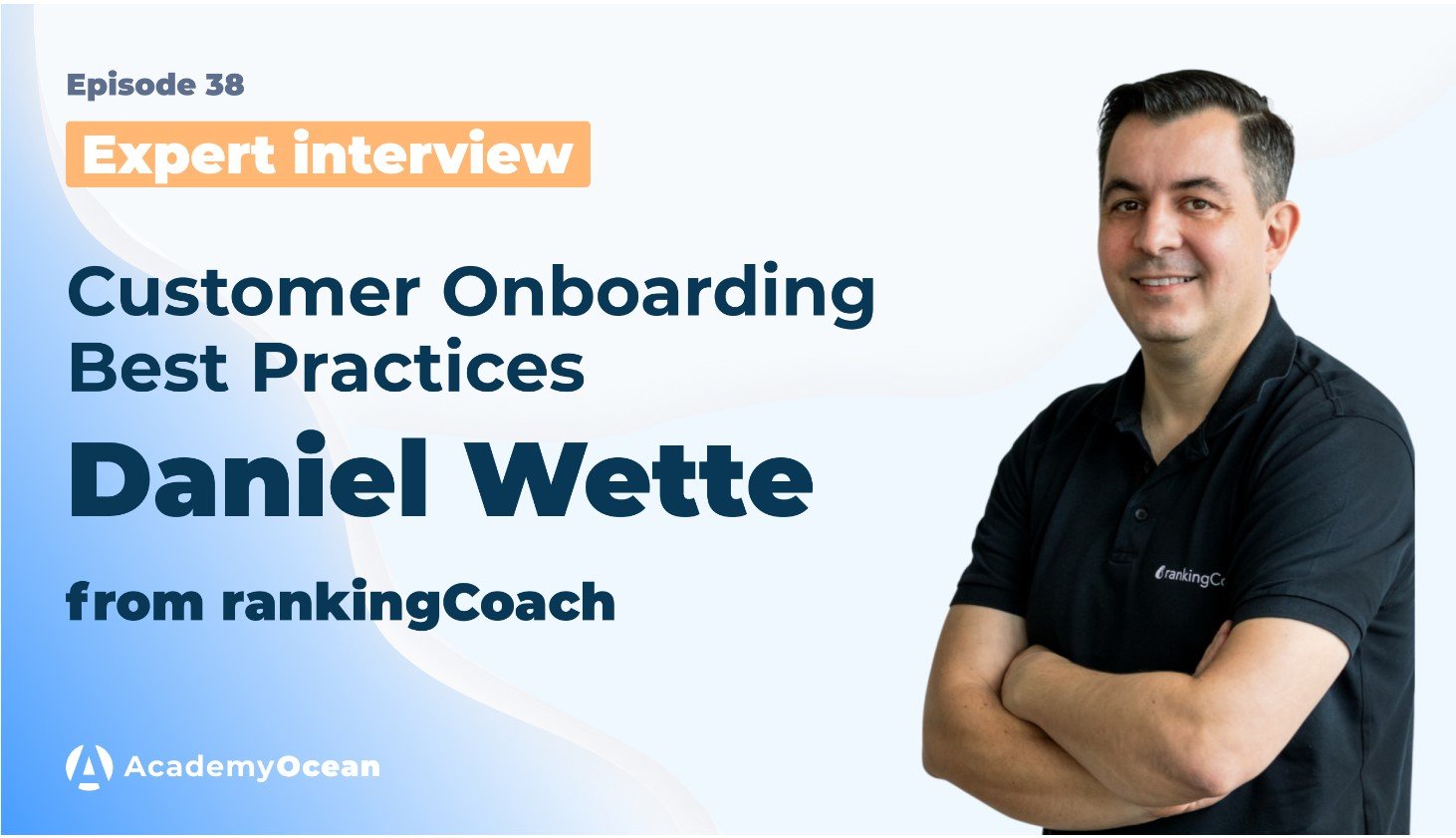 Hello friends!
📌 We have started a series of expert interviews on the topic of customer onboarding, in which specialists from companies around the world will share their opinions.
And today our guest is Daniel Wette, CEO of RankingCoach GmbH.
Daniel Wette is a German entrepreneur who founded his first company in 1999 while studying Business Economics and Information Sciences.
During 2004 Daniel became one of the co-founders of FAIRRANK which rapidly developed into one of the largest online marketing agencies for SMEs in the country.
Because of a massive lack of online marketing solutions for these businesses, he then with the help of Marius Gerdan and Thomas Meierkord developed a tool that would assist this specific group to be successful online. The tool was called rankingCoach and spun off as its own company from the original FAIRRANK a year before he sold FAIRRANK to Müller Medien.
rankingCoach is a DIY Digital Marketing solution that gives small businesses the power to do digital marketing themselves including onboarding.
The company rankingCoach now has over 200,000 active paying users as well as an international staff made up of more than 100 people from 22 different countries. This is split between two different offices in Cologne, Germany, and Timișoara, Romania.
As for his private life, Daniel is married with two children and lives in the beautiful Sauerland.
AO: What steps should an effective Customer Onboarding consist of? How is this process organized in your company?
Daniel: Our software rankingCoach FREE provides small businesses with an intuitive real-time feed of insights into all the key digital marketing activities impacting their business including keyword monitoring, competitor activity, and brand monitoring. We also offer rankingCoach 360: the complete digital marketing suite for small businesses as well as numerous tailored solutions for our partners and resellers.
The vast majority of our users don't require help from a dedicated customer support team with onboarding. By the end of the onboarding process, the vast majority of these users have located their business, identified its industry, competitors, and most valuable keywords - all within a few clicks by themselves.
The fact this is done so effectively and efficiently is all down to these aspects of rankingCoach's onboarding process:
The seamless transition
The first stage of onboarding must begin immediately following the customer's purchase of your products and services. This is such a crucial part of effective online onboarding because this transition stands in for the physical delivery of value a customer would receive in-store.
As soon as customers have clicked on your sales or signup CTA they should feel like they have been given access to something new and exciting.
The warm welcome and immediate delivery of value
This sense that something new and exciting has begun must be cemented on the first onboarding screen where there needs to be a pronounced difference between your sales and onboarding pages. Simple and easy to understand language must be used to make the customer feel totally in control.
The easy and painless setup framed around achieving value
Onboarding inevitably requires a little admin from the customer when they must fill in their details. Well-implemented automation can make this process as painless as possible.
The minimal work customers must do during onboarding should always be framed in relation to what they are getting.
So rather than just asking the customer to fill in their details, explain to them that they are just three steps away from getting everything you have been promised.
Seamless transition into the product
After the customers have done the hard work make sure they are rewarded with immediate access to everything they need. Ideally to the features that they are most likely to need right now.
Our jumpstart feature in rankingCoach does just that. Based on an analysis of the customer's site we offer them a breakdown of the key features that are most likely to be useful to them right now and then give them the power to decide.
Receptive Customer Support
For those few who aren't too good with computers or just haven't quite got round to it, we also offer 1 on 1 webinars. This receptive and responsive customer support ensures that all customers can make it through onboarding as well as offering a vital source of feedback for continually optimizing these processes.
📎Read our article: The best onboarding plan for a B2B SaaS company
AO: What are the key channels for onboarding? Which channel works best in your experience?
Daniel: Webinars are an important tool for motivating those customers who still haven't completed the onboarding process yet. The ability to watch you modal the process for them in real-time is much more engaging and powerful than written instructions.
No matter how good your onboarding process is, there will always be a few customers whose browsers aren't up to date or just need a little extra help to get started.
Tracking your onboarding rates and using email to proactive contact is an essential way to ensure all customers make it through as well as providing a useful source of feedback for continuous improvement of your onboarding process.
Offering chat bubbles on the onboarding screen is great to make sure customers always have the support they need.
AO: What's the hardest part about onboarding users?
Daniel: The time it takes to get it right. It may be that a customer has endless questions for you when attending your webinar, or that they have found an entirely new way of confusing your team or software.
You need to strike a balance between creating a useful structure that will minimize time wasted and maximizing the feedback you receive from customers that will improve your products and make your processes more efficient.
The key to getting this right is establishing a connection between your team and pool of knowledge so off-the-shelf solutions for regular problems can be developed and novel problems can be given appropriate attention.
AO: What technologies should the сustomer success department invest in?
Daniel: Regardless of which software your teams are using there will be other apps and software out there that can save you time and money in the long run by integrating processes or providing an overview that will help you prioritize your team's time better.
This could be email programs that automate your emails whilst providing key KPIs on sales data or social media listening tools to help protect your business's online brand and monitor the feedback and reviews from customers.
Those who invest in these kinds of solutions are the businesses that stay on course and smash their target as the number of channels continues to increase by the day.
AO: What customer onboarding metrics and KPIs should you track?
Daniel: The onboarding process itself is the most vital source of KPIs.
You need to break your onboarding process down to as many stages as you can and then focus on the dropout rate for these different stages.
This will help you to see where issues are occurring so you can focus on improving UX or messaging.
When it comes to activation email open, interaction, and open rates are crucial.
Be sure to factor A/B testing into all of these processes. This will help you to discover issues with your onboarding that had never ever been considered.
📎 Read our article: User onboarding effectiveness. How to track it and why?
---
So this was the first episode. We received valuable and, most importantly, practical advice on effective customer onboarding!
We thank Daniel for his participation!
And see you in the next interviews🖐