🌿🌸 Spring: a time of changes | The AO April 2022 Update
May 18, 2022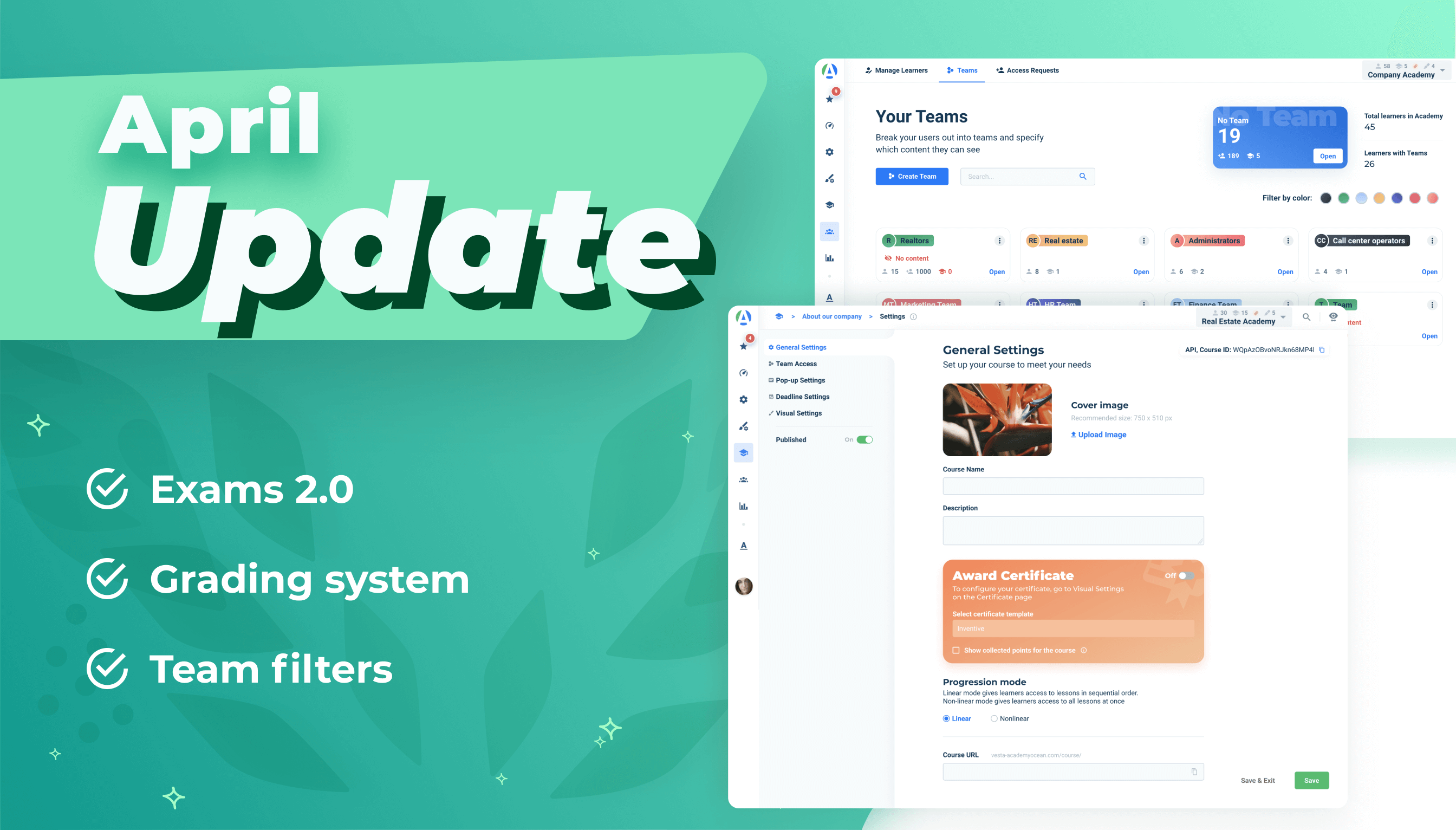 Since the start of the war, we've almost doubled our product development speed at AcademyOcean 🚀 We're serious about our intention to both support the Ukrainian economy and also make the best training platform in the world!
In April, the AcademyOcean team created version 2.0 of the exams section, updated course, team, and academy settings, and made tons of UI/UX improvements.
Read on to learn more!
Exams 2.0 🎓
We've added new features for exams and updated the design of the exam section.
🏆 Grading
We've added a grading system that makes it easy to assign learners different levels and give out certificates based on the number of points they've earned.
This helps you build growth plans and gets learners more engaged in their education.
In a sample scenario, you could designate a learner who earns 90-100 points as a "Master" and one who earns 60-89 points an "Expert," and then you can give out corresponding certificates. Learners who score below a 59 can get a "Beginner" certificate or no certificate at all. You can then offer learners a structured path for growth and improvement. The system will direct learners who get the beginner certificate to courses that will help them progress.
This grading system helps you better evaluate how much your learners are learning and helps motivate them to grow and improve.
✨ Try out these new features
Now you can add lessons to exams as well as different types of quizzes and polls.
This makes it easier to add complex questions to exams, such as questions where learners read a text, analyze a situation, and provide a detailed response.
We've also added new tabs to the manual exam checking section: Passed, Failed, and Not Checked. Tasks will automatically be moved into these tabs based on their status, which will help administrators manage the checking process.
📊 View detailed statistics
Now administrators can view exam statistics broken out by individual tasks or questions. This provides a better overview of your learners' progress.
UI/UX updates 🎨
The AcademyOcean team regularly expands the platform's functionality in response to customer needs and new developments in educational technology. We're constantly reviewing and improving our UI/UX, maintaining our leading position in ease of use across the world's LMS platforms.
🔰 Course settings
We've changed the format of course settings and added tabs for different topics that make navigation easy and help you find the settings you need.
Previously, courses were assigned in the teams section. We've duplicated this feature in the course settings. This has helped our clients' administrators work twice as fast!
Now, if you have a large number of teams, you won't have to assign training content to each of them individually. You can assign a course to multiple teams at once from the course's settings.
🔰 New academy page
We've updated the academy page. We hid lesser-used settings and visually highlighted the ones used more often. The number of academies available to create is also displayed.
This makes it easier for you to work with your list of academies, especially when you have a lot in your account.
🔰 Filtering teams by color
Customer feedback taught us that lots of you would like to be able to differentiate learner teams in a visual way, not just by name. That brought about the feature that lets you assign a color to each team. Now we've added a filter for these colors that helps admins quickly find the teams they're looking for in a list.
For example, you can set the same color for multiple groups, such as groups that work in the same department, groups based in the same city, or groups where employees have had the same level of training. Then you can use the color filter to identify these groups with ease.
New certificate template 🆕
We've crafted a new certificate template.
We regularly update our template designs, and we add new options that you can use when training your learners.
Platform speed improvement🚀
When we add new and useful features to AcademyOcean, we also keep an eye on the platform's speed, keeping your experience as comfortable as possible.
We've expanded our server architecture using a CDN, and our servers are now located all over the globe. This speeds up data transfer.
What does this mean for users?
No matter where in the world learners and administrators are, AcademyOcean runs as smoothly and reliably as a Swiss watch!
---
New updates are ahead!
See you 💙