Keep moving forward 💪😉 | AO's March 2022 Update
April 27, 2022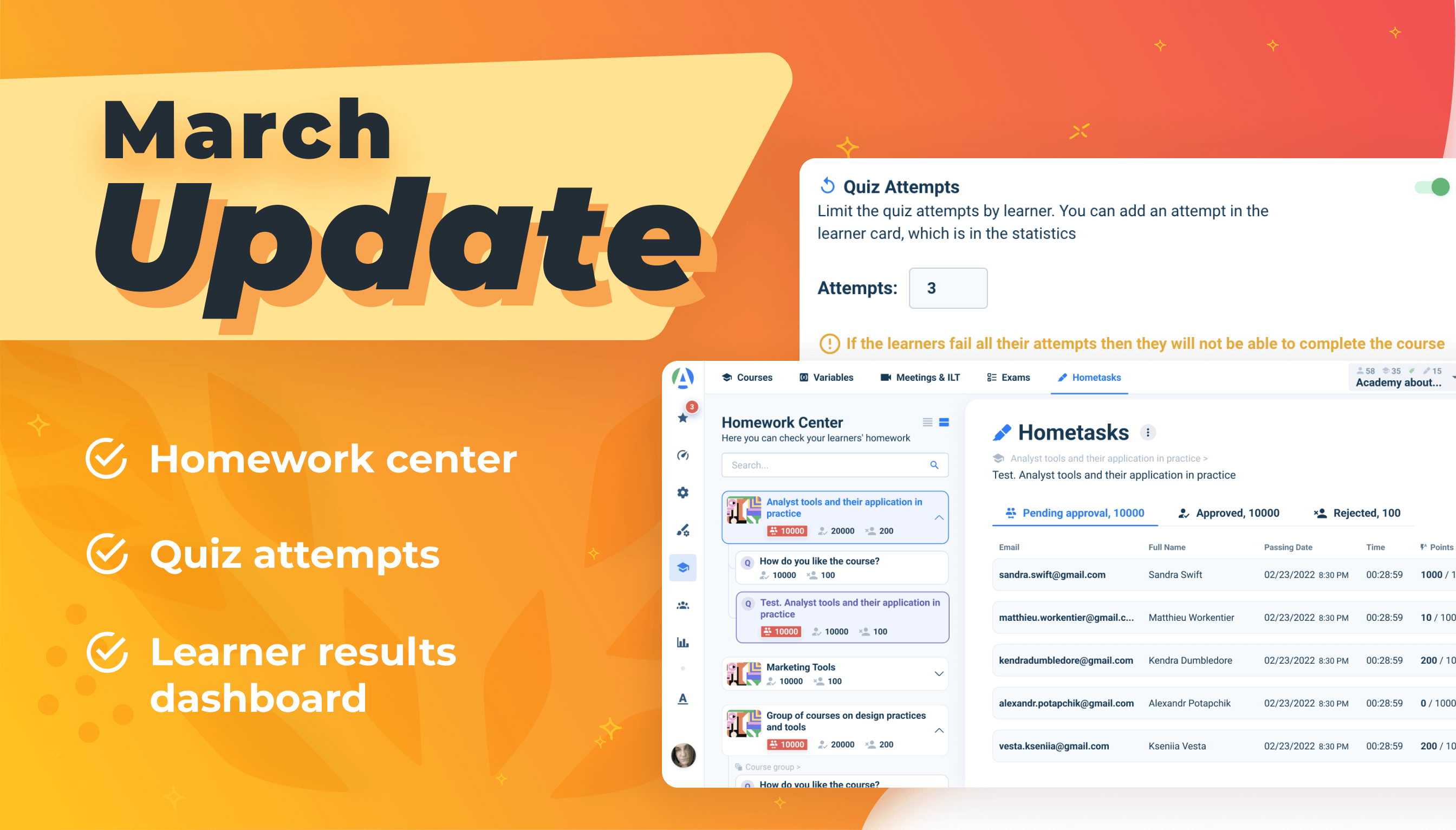 Hey!
March wasn't the most cheerful month, due to the war taking place in our country... But there's a wonderful little saying that goes: If you want to see the rainbow, you have to get through the rain.
We'll see our "rainbow" soon enough, and until then, we're doing what we do best — developing new and useful features for our product, and making our clients happy!😉
We've crafted some awesome new features that will be exciting for admins and learners in AcademyOcean. Our platform has two new sections: one will speed up the process of checking work, and the other will give your learners more detailed tracking of their progress, allowing them to achieve even greater goals!
Let's get into some details 👇
Homework center
This is a new section in our platform that stores all requests for manual quiz and exam checking.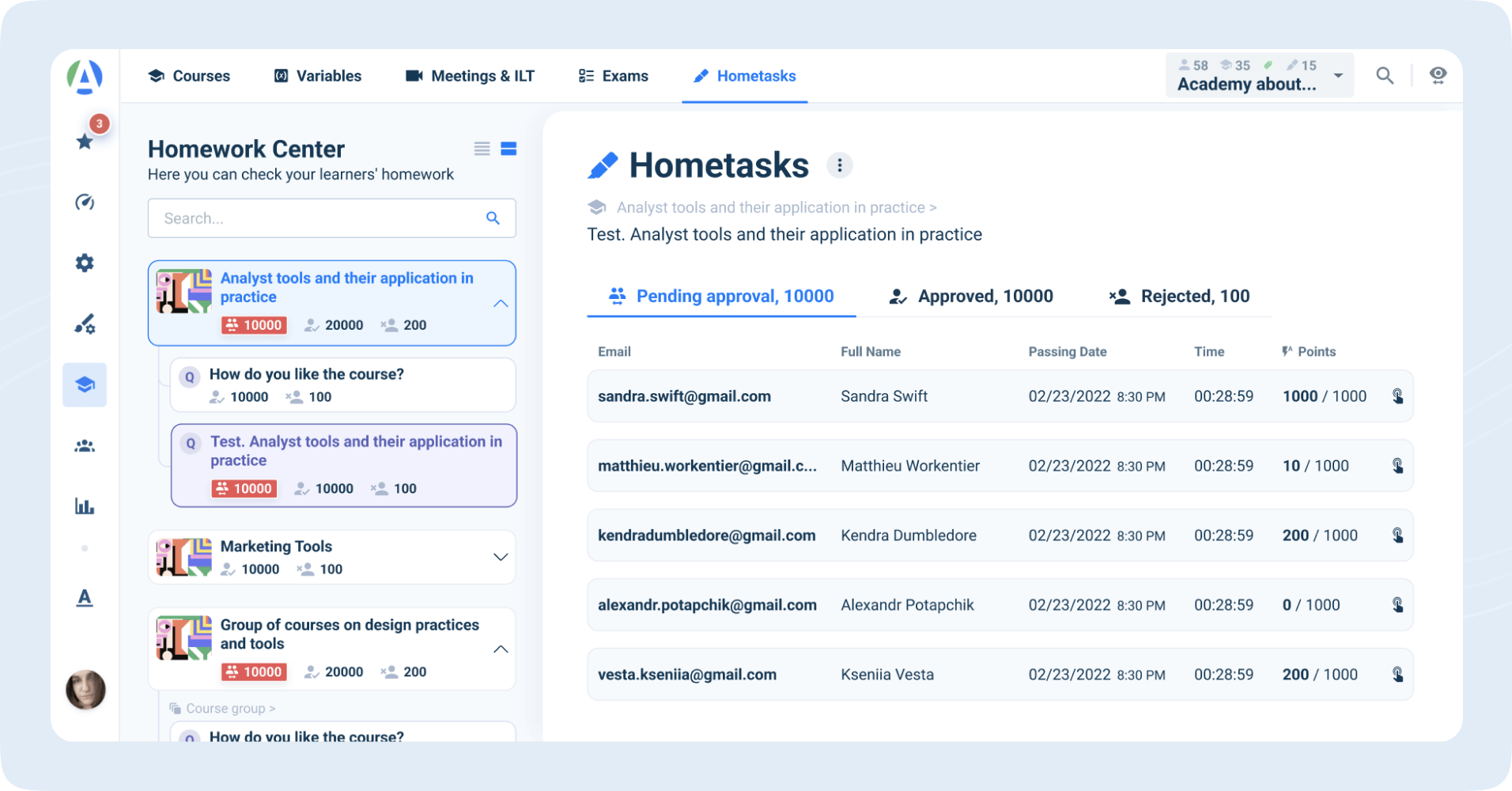 Now administrators can:
Check quizzes and homework for learners;
See all quizzes that need to be graded;
See all current and previous quiz attempts;
Search and filter quizzes.
If you have a lot of quizzes in your academy that need to be manually graded, this section will make things significantly easier and will save you time.
🤩 Spoiler: in the near future, we're going to be adding a new administrator role specifically for this section.
This will let you appoint people to oversee courses and check answers, who won't be able to go into other sections or accidentally change your academy's settings.
Number of quiz attempts
We've made it possible to limit the number of times your learners can attempt to pass a quiz. This gives you more control over the training process and will keep quiz stats intact.
It means that learners who aren't able to pass a quiz in the specified number of tries won't be able to complete the course or continue their training.
Administrators can manually give specific learners additional attempts.
📎 Please note! If you use a quiz for data collection, set the number of attempts to one. This will prevent learners from changing their information.
You should also set the number of attempts to one if you show the correct answers at the end of a quiz. Otherwise, learners will be able to retake the quiz with full knowledge of the answers.
Learner results dashboard
We've created a separate section that shows all quiz and exam results. This will make it easier for learners to track their progress.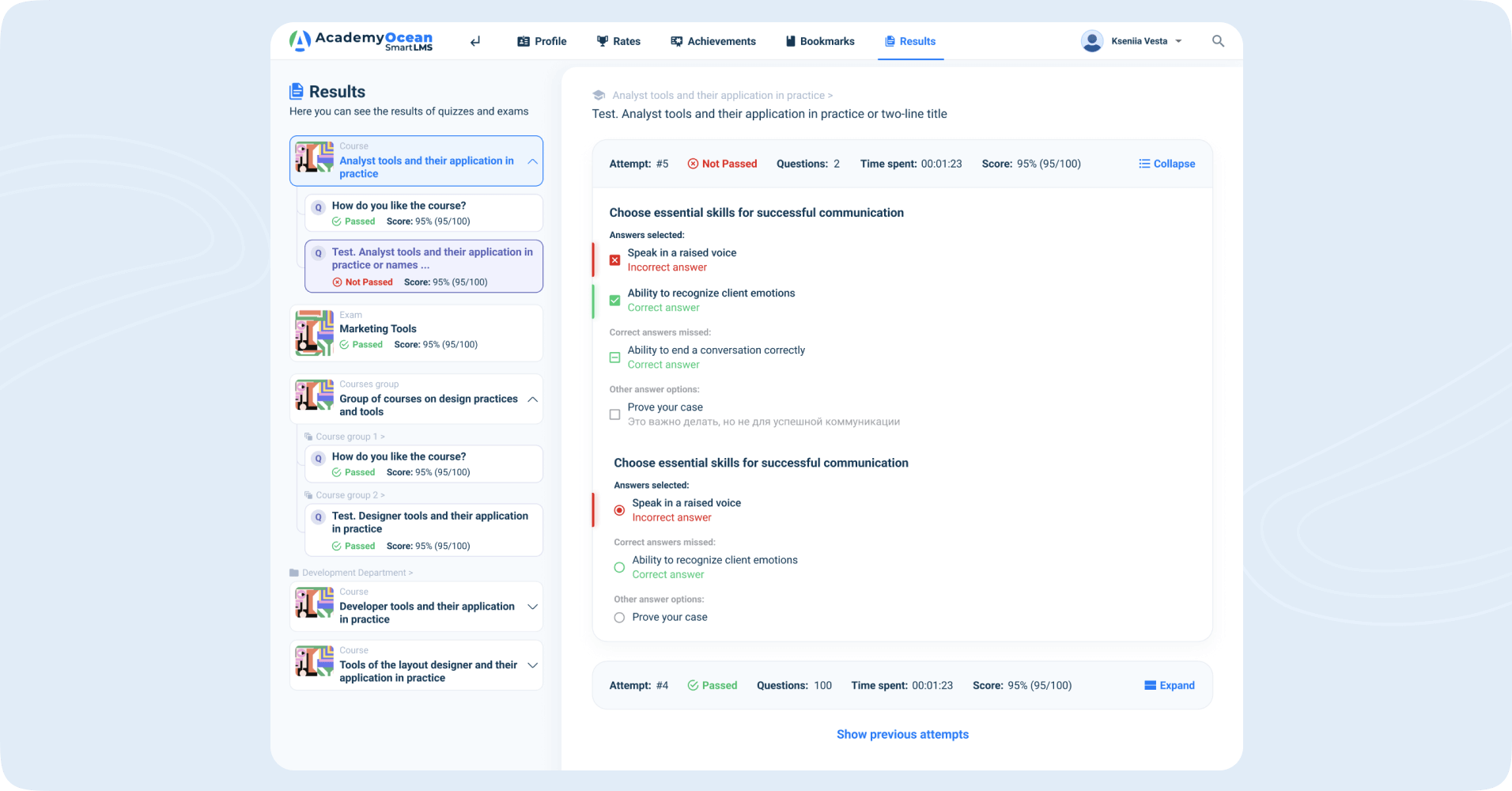 Each learner will be able to see the details of their results and any comments from the person who checked their work.
Please note that the only quiz results that show up in the dashboard are for quizzes where:
manual results checking is enabled and displaying comments on questions is enabled,
or the "Show results" setting is enabled.
If your training program allows learners to retake quizzes, learners will be able to compare their answers in the results dashboard and see where they're making progress.
The results' section will also be useful for companies who use AcademyOcean for instruction and testing.
Learners will be able to view their results for all quizzes in one place, which helps them figure out what knowledge and skills they need to improve in order to grow or progress to the next instructional level.
Updated learner navigation
For your learners' convenience, we've separated courses, exams, and meetings into separate tabs. Now, learners can switch tabs when they need to shift their focus.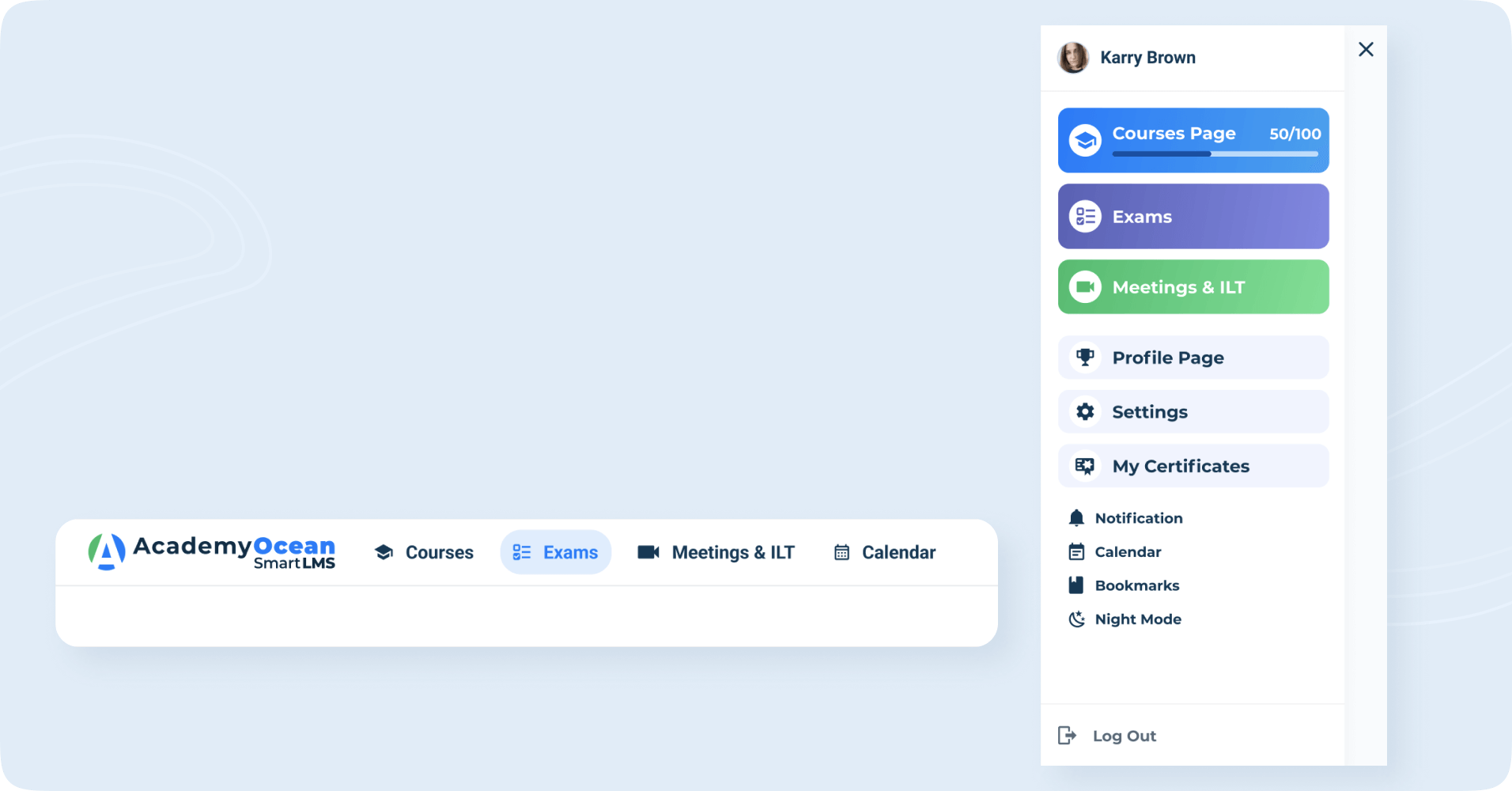 This is particularly important for academies with lots of different learning content, such as courses, exams, webinars, and ILT meetings.
The student card interface has been updated, too. The navigation there has been simplified, especially on mobile.
Blog news
We're continuing to research and gather interesting information for you in the sphere of digital training.
Don't miss our latest posts:
HR expert opinions on Enabling a Culture of Feedback
---
That's all for now — time to get started on our next round of updates 😻
Until next time!