🚀 Check tasks in minutes instead of hours| AcademyOcean Update, March 2023
April 7, 2023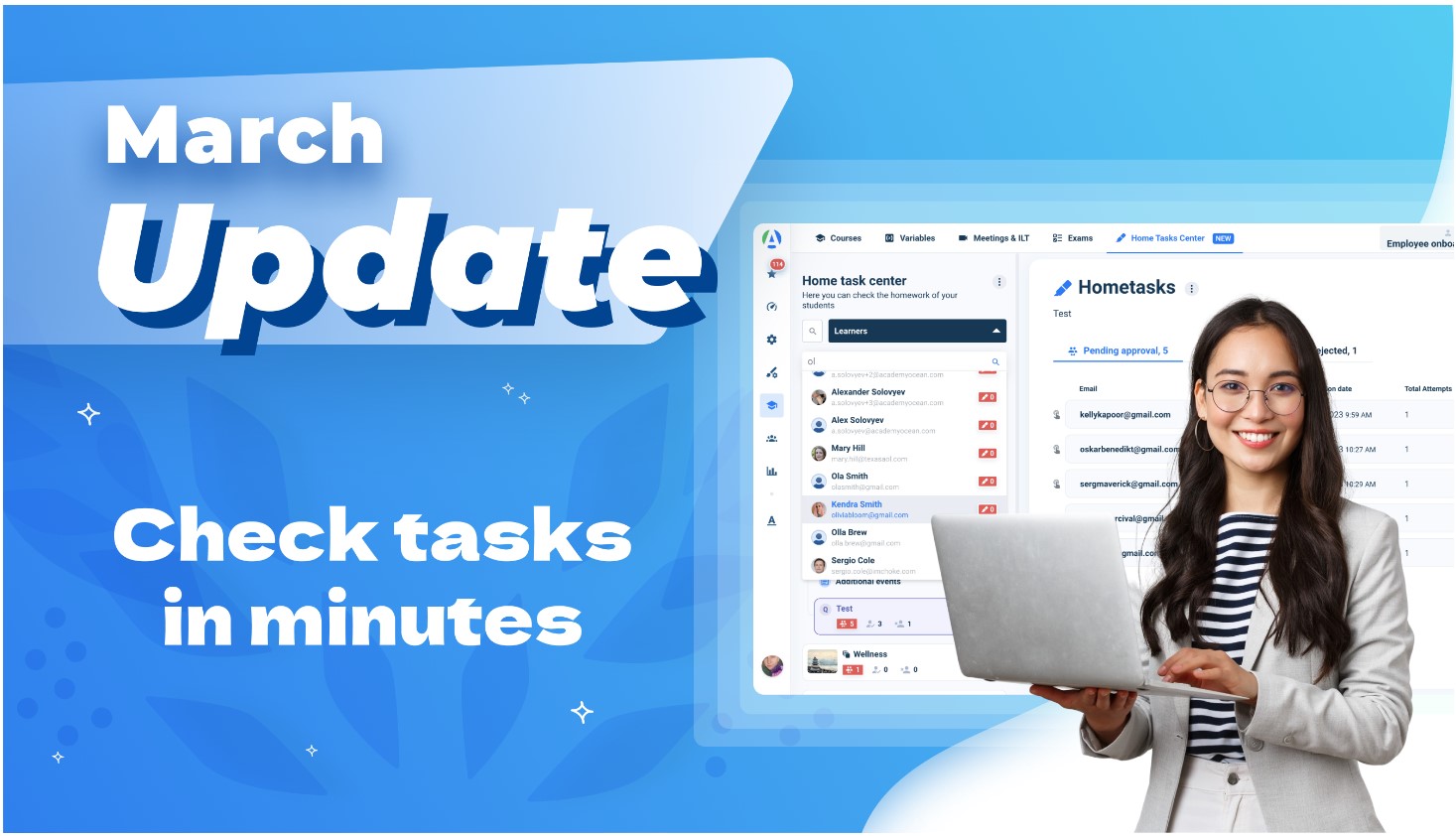 Enjoy a new major update of AcademyOcean's Home Task Center!
Let's look at the new features and how they enhance the learning experience.
Homework Center 2.0
The tasks manual approval section is now more convenient and informative 🤩. Improvements significantly speed up the review process for instructors. Moreover, it allows you to be more personal with learners, considering the entire history of your interaction with them.
🔍 Lookup and filter tasks by the learner
We included a feature enabling you to search and filter homework by individual learners. This way, you can track their training progress related to the manual assessment.
For example, it is helpful to see what comments the trainer has given before and whether the learner's results have improved. This will help guide further communication and enable learners to achieve better learning outcomes.
📹 Video descriptions for questions
The updated question description now allows you to include written, audio, and video explanations for your questions. It's a new level of personalization!
Record audio or video instructions for quiz questions to convey the essence of the assignment as clearly as possible.
The description will appear in the homework center, making it easier and faster for coaches to review. Learners will also see it in the results section and can analyze their work with the trainer's feedback in mind.
News & Publications
Learn from the world's best L&D and HR
Thanks to the Coaching for Ukraine project, we have gathered an incredible collection of materials, tips, and best practices in L&D and HR from global experts.
This L&D academy contains video recordings of master classes and recommendations of useful books and resources from the project's speakers.
Podcast on The Telegraph
In March, The Telegraph interviewed our CMO, Andrey Byzov, about AcademyOcean's research on the war's impact on HR processes in Ukrainian companies and the company's achievements during the war year. Here's the link to the audio podcast: AcademyOcean podcast for The Telegraph.
Radio Poland interview
Furthermore, Radio Poland also discussed how Ukraine is moving closer to becoming a global player. Ukrainian IT companies are showing growth despite a full-scale war in the country, as AcademyOcean discovered in its research. Read the text version of AcademyOcean's broadcast for Radio Poland.
Ukrainian L&D Summit 2023
In early March, AcademyOcean was one of the information partners of this significant event for Ukrainian L&D specialists. We continue to develop the field of training in Ukraine!
📝 What's new on the blog?
What Is an Adult Learning Theory Concept? Let's explore how adult learning principles can be applied to your corporate learning strategy.
What Is A Business Playbook, and how to transform it into companies' online knowledge base?
Want to make employee training exciting and memorable? Here are the various creative training activities for employees.
See again the importance of listening to customers for any business to develop.
---
Want to see the AcademyOcean LMS in action? Book a demo, and you can ask our platform expert all your questions!