For Marketing
|
7 min read
What Is A Business Playbook?
March 17, 2023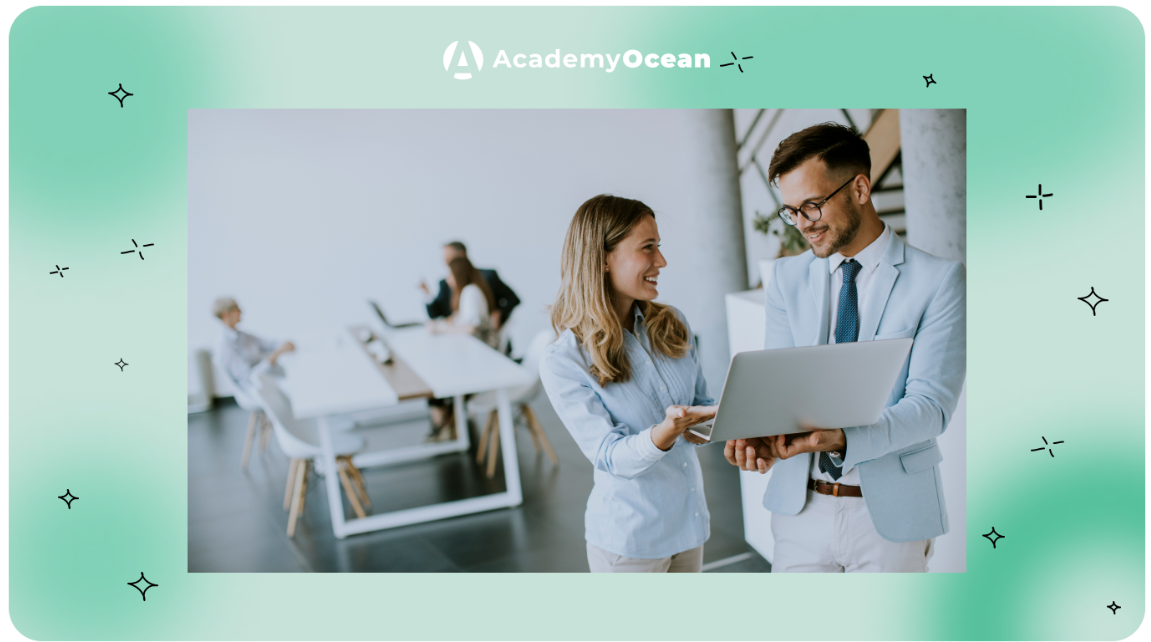 So, what is a playbook in business? A playbook for business is a thorough and organized document that details a company's objectives, plans, methods, and best practices. Employees can use it as a reference manual to learn how to handle various circumstances and make choices consistent with the company's goals. While things can get way more manageable if you use an LMS for business, this guide will be helpful if you still, for some reason, don't use such solutions.
What Does A Playbook Look Like?
After learning what a playbook in business is, the time has come to dive into deeper details. The format of a playbook might change based on the size, industry, and particular business requirements. A description of the target audience, a competitive analysis, a marketing plan, a sales strategy, an operations manual, and a crisis management plan are typically included.
What Are the Benefits of Having a Business Playbook?
A business playbook serves as a valuable resource for organizations, offering a range of benefits that contribute to their success and growth. By establishing a well-structured and comprehensive playbook, businesses can unlock the following advantages:
Boost Productivity and Efficiency
A business playbook provides a standardized framework and guidelines that employees can reference when performing their tasks and responsibilities. The playbook streamlines operations and eliminates ambiguity by clearly defining processes, best practices, and critical procedures. In turn, this enhances productivity and efficiency throughout the organization. Employees can work confidently with a playbook, knowing they have a trusted resource to guide them daily.
Provides Competitive Edge
Having a well-developed business playbook gives organizations a competitive edge in the market. It allows them to maintain consistency in their operations, ensuring that all team members follow established protocols and deliver high-quality outputs. This consistency builds customer trust and enhances the company's reputation for reliability and professionalism. A robust playbook enables businesses to differentiate themselves from competitors and stand out as industry leaders.
Fosters Better Decision-making
A business playbook is a repository of knowledge and expertise within an organization. It captures lessons learned, best practices, and proven strategies refined over time. By making this valuable information easily accessible to employees, the playbook empowers them to make informed decisions. When faced with challenges or unfamiliar situations, employees can refer to the playbook's insights and recommendations, enabling them to make sound judgments and take appropriate actions. It fosters better organizational decision-making, leading to more effective problem-solving and improved outcomes.
How To Create A Playbook For Work?
Creating a playbook for work involves a systematic approach to ensure its effectiveness and relevance to the organization's needs. Before discussing an example of a playbook, here are the essential steps to develop a comprehensive and practical playbook:
1. Determine the Target Audience
Identify the specific audience or teams that will utilize the playbook. Understand their roles, responsibilities, and needs to tailor the content accordingly. Consider different departments or job functions within the company to create targeted sections within the playbook.
2. Set Objectives
Define clear objectives for the playbook. Determine the specific goals it aims to achieve, such as standardizing processes, improving efficiency, or enhancing knowledge sharing. These objectives will guide the content creation and structure of the playbook.
3. Choose the Appropriate Tool
Select the appropriate tool or platform to develop and host the playbook. Consider user-friendly options that allow for easy navigation, updating, and sharing of content. This could be a digital document, an intranet portal, or specialized software designed for creating playbooks.
4. Make a Template
Design a consistent and visually appealing template for the playbook. Use clear headings, subheadings, and formatting to enhance readability and comprehension. Include a table of contents for easy navigation within the playbook.
5. Organize the Content
Organize the content of the playbook in a logical and structured manner. Group related information into sections or chapters. Use bullet points, checklists, and visual aids to convey information effectively.
6. Collect Relevant Data
Gather relevant data, case studies, examples, and real-life scenarios to support the content of the playbook. Incorporate practical standards and best practices within the company or industry to provide context and relevance.
7. Make it Available
Ensure easy access to the playbook for all relevant stakeholders. Upload it to a central repository or platform accessible to employees. Consider integrating it with existing knowledge management systems or intranet portals for seamless accessibility.
8. Track, Analyze and Tweak
Regularly review and update the playbook to ensure its continued relevance and effectiveness. Encourage feedback from users and stakeholders to identify areas for improvement. Monitor the usage and impact of the playbook to track its effectiveness and make necessary adjustments.
9. Emergency
Finally, develop a crisis management strategy, which describes what to do in an emergency or unforeseen circumstances, as a last stage. It may sound pretty hard, but extended enterprise learning solutions most likely already have every tool you need to do this.
By following these steps, businesses can develop a robust and practical company playbook that is a valuable resource for employees and contributes to the organization's overall success, even without operational playbook examples.
Business Playbook Example
Although every industry and business is unique and may require different approaches, the main structure of operational playbook examples is common. Thus, you can significantly benefit from those examples when searching for how to write a playbook for work. Here's an AcademyOcean's example of how a corporate playbook may look like:
Introduction
It is an overview of the purpose, range, and goals of a business playbook may be found in the introduction section. It outlines the playbook's significance, intended audience, and goals.
Company Overview
A team playbook company overview section provides information on the company's history, culture, beliefs, and objectives. It contains details about the company's target markets, products or services, and competitive environment.
Vision and Mission Statement
A corporate playbook's vision and mission statement section explains the goals and objectives of the organization. It gives a precise and brief explanation of the company's goals and strategies to attain them.
Target Audience
A business playbook's target audience section determines the perfect clients for the company's goods and services. It contains details about their demographics, interests, actions, and problems.
Competitive Analysis
An examination of the company's competitors' strengths and weaknesses can be found in the competitive analysis portion of a business playbook. It makes finding chances for differentiation and competitive advantage easier.
Unique Selling Propositions (USPs)
A company playbook section on unique selling propositions lists the main benefits and advantages of the company's goods or services that set them apart from its rivals. Potential clients can better understand the value proposition, thanks to it.
Marketing Plan
An organization's comprehensive marketing strategy, including its target markets, positioning, messaging, and channels, is described in the marketing plan portion of a business playbook. It describes the procedures and measurements required to carry them out.
Branding
An organization's brand identity, which includes its logo, colors, fonts, tone of voice, and visual components, is described in the branding part of a business playbook. It ensures that all marketing and communication channels are coherent and consistent, including the company's retail training platform.
Content Marketing
A business playbook's section on content marketing outlines the strategy used by the organization to produce and disseminate valuable, pertinent, and consistent material to draw in and keep a target audience.
Advertising
An organization's advertising strategy, including its target market, messaging, creative, and media placement, is described in the advertising part of a business playbook. It should outline the methods and criteria that will be employed to assess the success of marketing efforts.
Social Media Strategy
A company playbook's social media strategy section outlines its strategy for using social media to connect with and engage with its target audience. The platforms, content, and KPIs that will be employed to carry out the approach are described.
Sales Strategy
A business playbook's sales strategy section describes the company's approach to selling its goods and services. It contains details on the sales procedure, the ideal client profile, the sales objectives, and the performance indicators.
Sales Process
The sales process part of a business playbook describes the procedures to turn prospects into customers. It contains details about generating leads, qualifying them, nurturing them, completing deals, and following up.
Ideal Customer Profile (ICP)
A business playbook's ideal customer profile section lists the traits of the perfect customer for the organization, including their demographics, psychographics, behaviors, and preferences. It ensures marketing and sales efforts are directed at the appropriate target market.
Sales Targets
A company playbook's sales objectives section establishes goals for the sales force that are precise, measurable, doable, pertinent, and time-bound. It makes it easier to match sales efforts with the broader goals of the business.
Operations Guide
A business playbook's operations guide part outlines the processes, rules, and regulations that control daily operations. Customer service, logistics, supply chain management, and crisis management information are all included.
Customer Service
A business playbook's section on customer service describes the organization's strategy to deliver top-notch customer service. It details customer feedback processes, service level agreements, and customer support channels.
Logistics
A business playbook's logistics section outlines the organization's strategy to control the flow of goods from the supplier to the client.
Supply Chain Management
The creation and distribution of a good or service to customers are handled through the coordination and management of the supply chain. All parties involved in the supply chain, such as suppliers, manufacturers, distributors, and retailers, must cooperate smoothly and efficiently for effective supply chain management.
Crisis Management Plan
The actions a company will take in the case of a crisis or disaster are described in a crisis management strategy. These can include unanticipated calamities that affect the firm significantly, such as natural disasters, cyberattacks, product recalls, etc.