Home Tasks Center 2.0 | AcademyOcean Update February 2023
March 7, 2023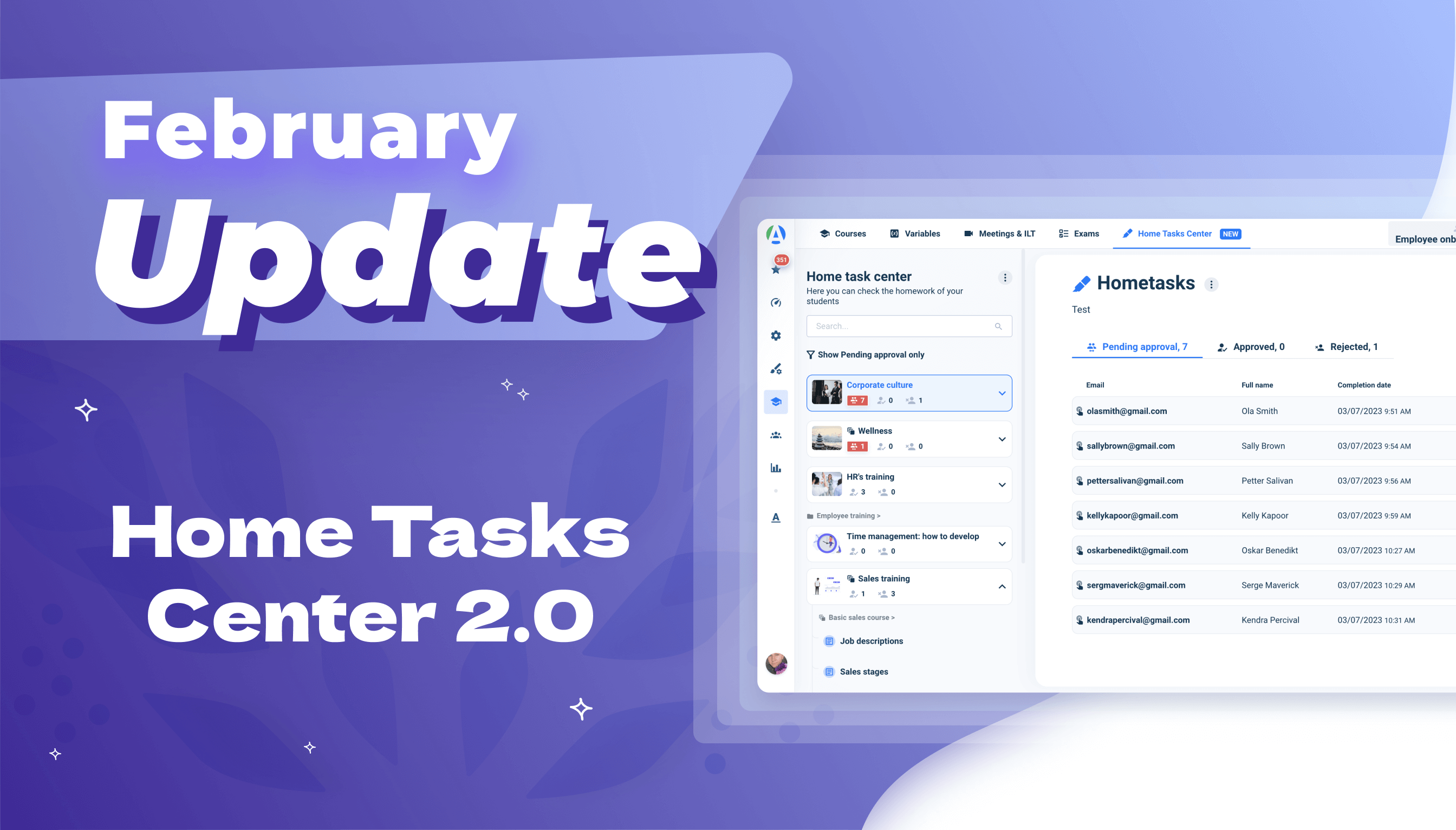 Knowledge checking is an integral part of any learning process. In AcademyOcean LMS, we created a separate section with all the assignments that require personal approval. And in February, we made a cool optimization of it! The new functionality will help you quickly navigate through the list of homework and spend less time checking it.
Imagine, now you have a mini "office" with all the information you need to comfortably work with a tutor or a team of several coaches.
Read more 👇
New home task center
We've completely "rebuilt" the homework center based on user needs. Updates will help instructors check homework more quickly and efficiently and provide timely feedback to learners.
Multiple trainers can conveniently navigate the section and filter out only the necessary information while working on the platform.
Showing lessons for easy checking
When you check an assignment, you can turn on the lesson preview to look at the training content and remember the details used to set the task. This makes checkups much easier for the trainer.
Logical structure
All the tasks will be handily organized according to the structure of your learning content. That is, if you have courses organized into folders or groups, this will also display in the assignment area.
This way, your examiners (trainers) will be more comfortable looking at the specific assignments they are currently responsible for.
Homework Statistics
We've added new stats to help the tutor or coaching team better organize their work time. That way, they won't have to worry about someone missing or forgetting to check a task.
Now you will have the following data available:
the administrator who checked the task
date and time of check operation
total number of attempts to pass the quiz (if this option is enabled in the quiz settings)
Additionally, you can give a learner extra attempts to pass the quiz right from the homework section.
This is helpful if you want to set a recommended number of attempts but not strictly limit them.
L&D Trends 2023: Results of Ukrainian participation
On February 23rd, we hosted a webinar with Donald Taylor for Ukrainian HR and L&D professionals. He discussed the findings of the global L&D Trends 2023 study. Also, Ukrainian professionals took part in this study for the first time.
This year AcademyOcean has become a country partner from Ukraine, and we have an excellent result (we received more than 200 votes out of 3,900 respondents from 100 countries). By the way, you can watch the webinar recording at Coaching for Ukraine Academy.
Research: Ukraine's labor market during the war
The AcademyOcean team surveyed Ukrainian HR to find out how the war and blackouts have affected employees, HR processes, and Ukrainian businesses in general. You can find the insights from our research in this presentation.
Blog News
📌 A lesson plan is the road map and the key to effective learning. Check out our lesson planning template.
📌 Salesforce training is a crucial component of every successful organization. At AcademyOcean, you can create an extensive training program, so we've prepared a free sales onboarding template to make it easier for you.
See you soon!