🏆 Learner Ratings | AcademyOcean Update January 2023
February 16, 2023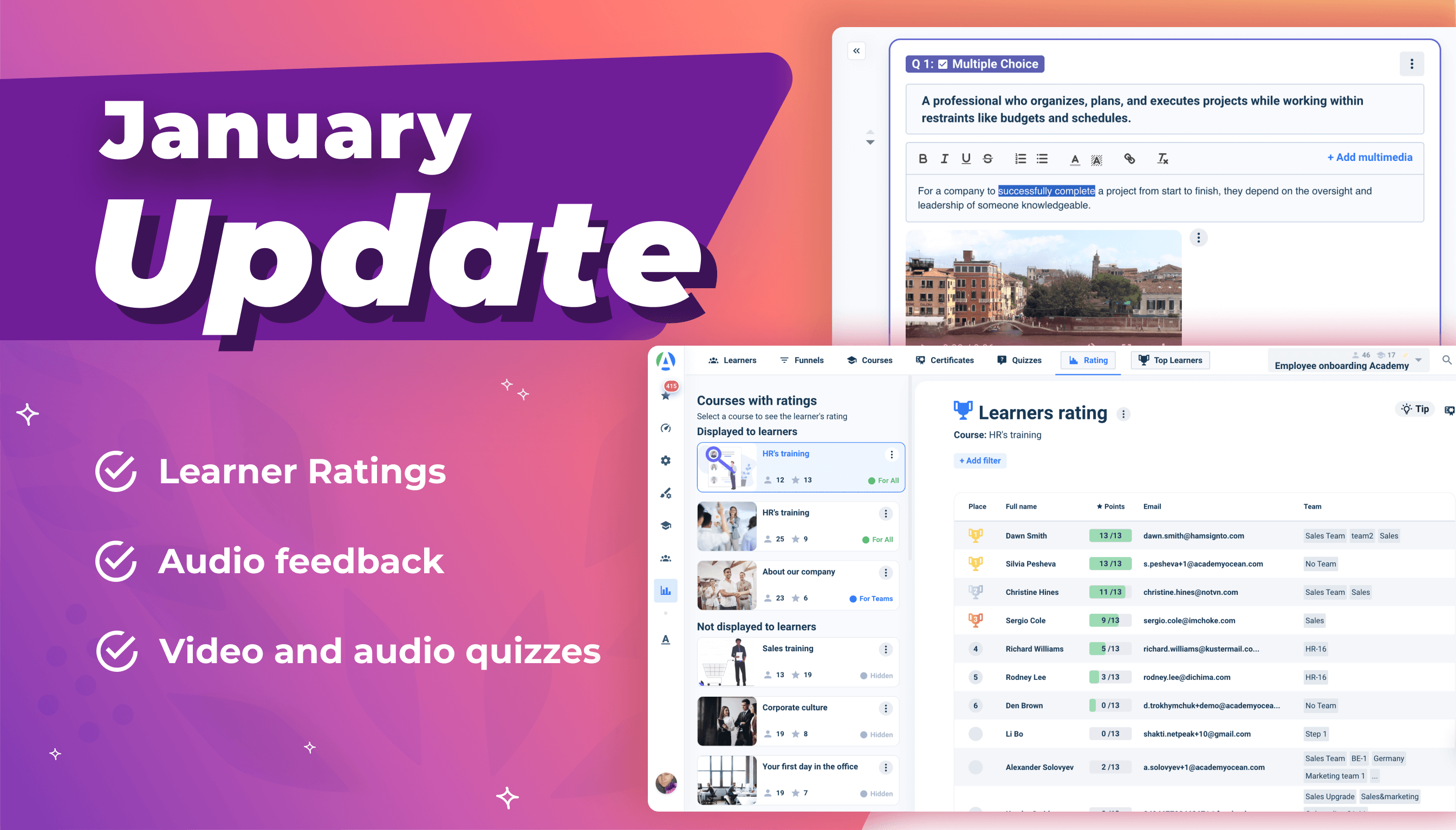 Well, hello there!
It's no secret that AcademyOcean LMS is especially appreciated for its simple and friendly user experience. Therefore, we designed all features and functions with usability in mind.
For example, January's updates will help you interact with your learners uniquely, quickly create video and audio quizzes, and engage learners even more with ratings and rewards.
Read more 👇
Rating board for learners
According to trainingzone.co, usinggamified activities increases engagement by 48%. So, to motivate your employees to learn better, we've added a rating board to the platform.
Each learner can go to the rating page on their profile and see their scores in the overall team rating.
The rating is based on learners' scores on quizzes or exams. That is why it will motivate them to take courses and tests more carefully and seriously. 😉
Admins or trainers can choose which courses will be shown and affect the rating.
Spoiler: pretty soon, we will add an extra gamification option—badges for winners.
Audio feedback 😍
Feedback notes in audio messages help you provide learners with quick and comprehensive support. So, they can better master the material.
Now tutors can both leave text notes for learners and record personal audio messages.
This option is available in tasks with manual approval, in feedback for quizzes, and for single questions.
Your learners will definitely love their training, as with AcademyOcean, they can better master the material and correct mistakes with the detailed guidance of a trainer!
Hot quiz upgrades 🎉
✅ Add audio and video to your questions
This allows you to more thoroughly explain the purpose of the assignment and improve your capacity to assess learners' understanding.
For example, you can use the following format to check listening skills or the learner's attention to details in the video/audio.
✅ Add life to your text using new features
We've updated the design and added a text editor for tasks with manual approval. Now it's even easier and faster to create assignments and quizzes. You can change the font, add links, bold the text, and split it into logical paragraphs.
It is possible to edit the general feedback for the whole test and individual questions, as well as the test description.
Your assignments will be structured and clear. In addition, you will be able to convey your message better to your learners. For example, if a learner answered incorrectly, you cannot just advise them to repeat a topic but immediately provide a link to a specific lesson or resource.
News & Publications
😍 AcademyOcean became a country partner from Ukraine in the L&D Global Sentiment Survey 2023 in order to promote the vision of our L&D specialists.
This global survey has been conducted for 10 years, and Ukraine joined this year for the first time. Totally 3996 experts from 100 countries took part in the research. And the opinion of our Ukrainian specialists will be known all over the world!
📌 In addition, there are several publications that came out in January and may be useful for you:
A podcast with Tom Haak, the founder of HR Trend Institute, where he talked about HR trends for 2023 and how he participated in the Coaching for Ukraine webinar by AcademyOcean.
An article by AcademyOcean CEO Vladimir Polo on VentureBeat, one of the most influential tech media in the U.S., on how to help remote workers feel connected to the culture of the workplace.
HR experts from around the world give their insights on how to make the best holiday congrats to employees of four generations.
---
Till next time!