🛡️✨ Safe and usable experience for all users | AcademyOcean LMS Update, April 2023
May 19, 2023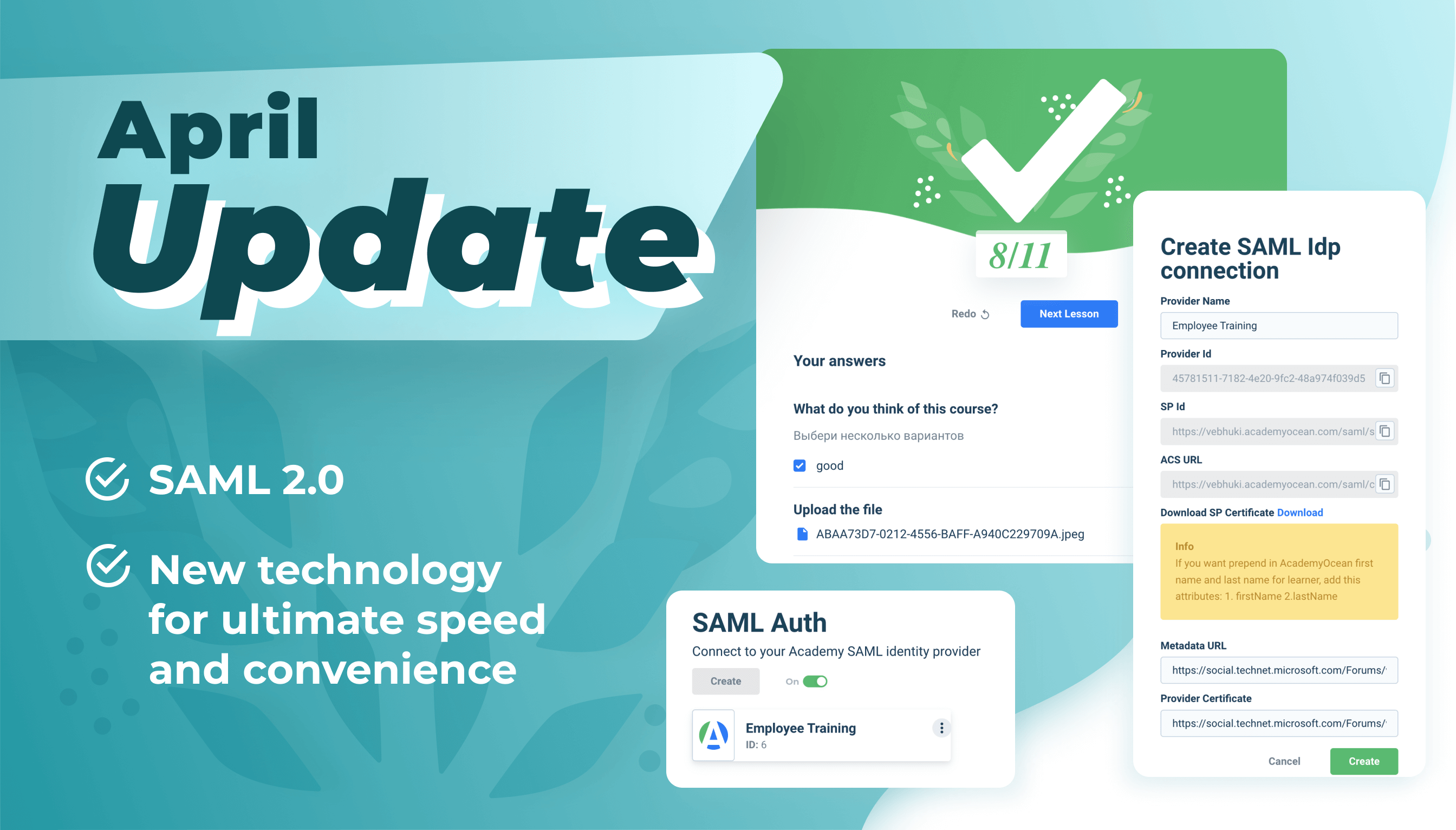 Welcome to an enhanced learning experience with the AcademyOcean LMS!
We are thrilled to reveal our latest updates, crafted to elevate your learning experience and streamline platform administration. Dive into our new features and discover how we are revolutionizing learning and platform management.
Single Sign-On (SSO): Safety and comfort
These updates provide you with enhanced convenience and security while using AcademyOcean LMS. We strive to make your learning journey more efficient and enjoyable.
With SAML 2.0, you only need to log in once to access multiple applications, including our LMS. No more entering your credentials over and over again!
🔐 Enhanced Security: SAML 2.0 is your digital shield, keeping your data safe. It ensures the information exchanged between our LMS and the identity provider stays confidential, reducing the risk of unauthorized access.
Smoother User Experience: Say goodbye to the hassle of remembering multiple usernames and passwords. SAML 2.0 SSO makes logging in to our LMS a breeze using your existing login information. Enjoy a seamless and user-friendly experience!
💡 Boost Your Learning Efficiency: Instant access to quiz answers
At AcademyOcean LMS, we are constantly striving to improve learning outcomes. We are pleased to introduce a new feature that allows learners to easily access quiz answers immediately after completing them.
For example, after submitting a quiz for review, learners can promptly revisit their responses, enabling self-assessment and progress tracking.
This feature empowers learners by providing immediate feedback on their learning. Learners can then assess their responses, pinpoint areas of improvement, and utilize this critical feedback to enhance their comprehension. This creates a more immersive learning experience, enriching their engagement with the material.
🚀🔥 Course Page Update: Experience Unparalleled Speed
The upgraded AcademyOcean LMS course page is a new milestone in our platform's development. We completely rebuilt this section using state-of-the-art technology.
First, the new course page runs at the highest speed. This is especially important when there is a massive amount of training content on the platform. For example, with 500 courses and 5000 learners, the page takes a couple of seconds to load. 💪 Now, you can get instant access to learning materials.
Secondly, we can introduce new features and innovations flexibly and quickly thanks to new technology. We will always be one step ahead, offering you the most advanced features and custom functionality.
🤩 Insightful new blog content
We invite you to look at our latest blog articles that provide valuable insight into important topics related to training and the global economy. They allow you to deepen your understanding and gain practical knowledge in these areas.
"The Effectiveness of a Learner-Centered Approach"
In this article, you will learn about the benefits and effectiveness of the learner-centered approach to learning. Here we look at the fundamental principles and strategies for implementing the learner-centered approach, such as encouraging active learning, personalized learning, and creating collaborative learning environments.
"Why Do Employee Layoffs Affect the Global Economy?"
We look at the complex relationship between employee layoffs and the global economy. The article discusses the various factors contributing to this impact, such as reduced consumer spending, lower productivity, and a potential domino effect on other industries. You will gain insight into the interconnectedness of the labor market, economic stability, and the effects of layoffs on individuals and society.
---
Stay tuned for more exciting updates coming your way!