For Customer Onboarding
|
8 min read
How SEO tools use academies to generate leads and onboard customers. Google, Moz and Semrush case studies
August 30, 2021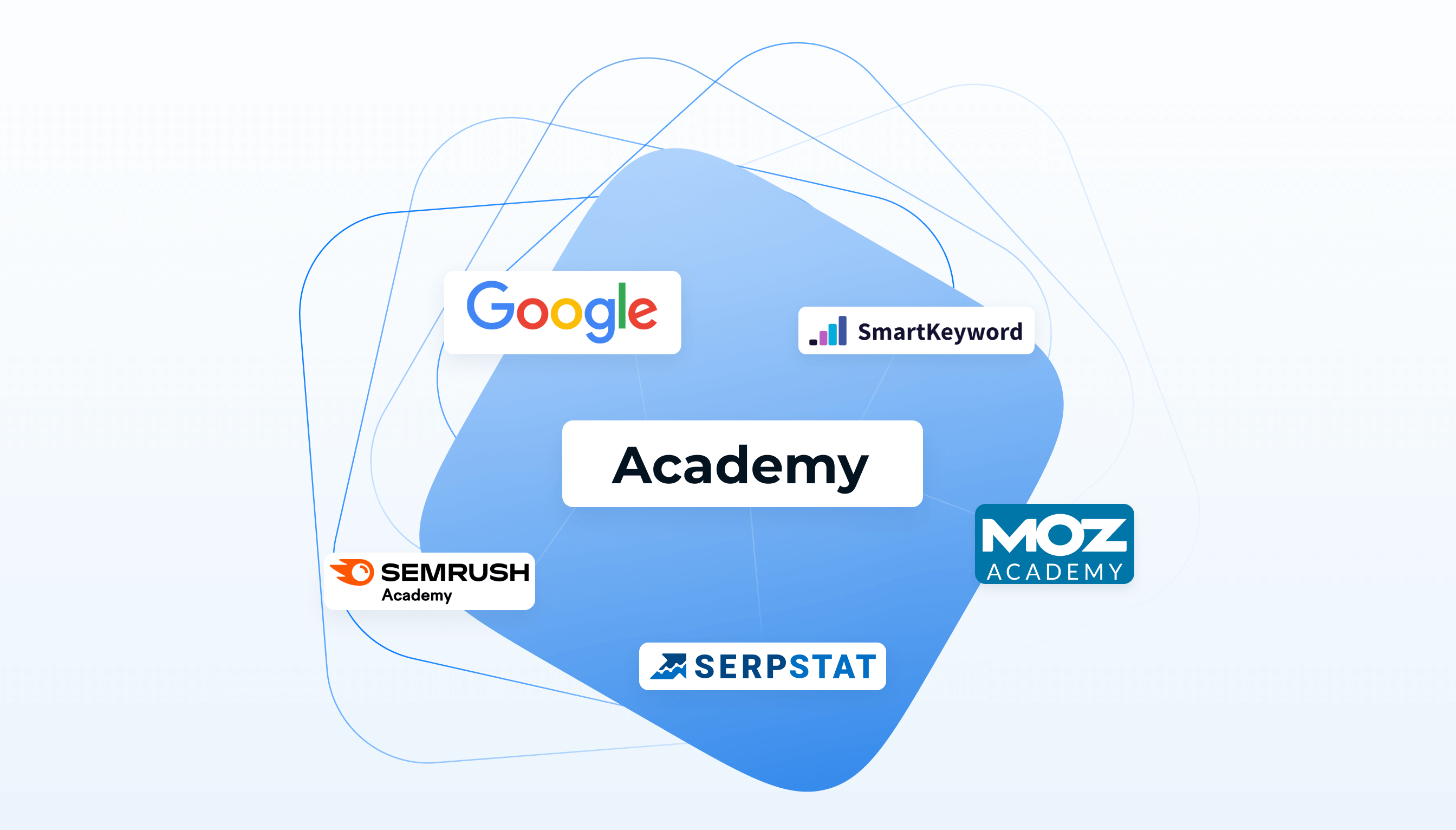 It's long been customary for the world's biggest SaaS companies to create academies. Every year, more and more companies follow in their footsteps, especially those who have created SEO platforms and tools. Let's take a look at this trend and answer three key questions:

What is an academy?
What do SaaS companies use academies for?
How can I create my own academy?
And, of course, we'll give some real-world examples of companies that are using training to boost their growth.

Highlights:
What is an Academy?
An academy is a training portal where you can offer courses, conduct tests, and certify users. Academies also provide user statistics.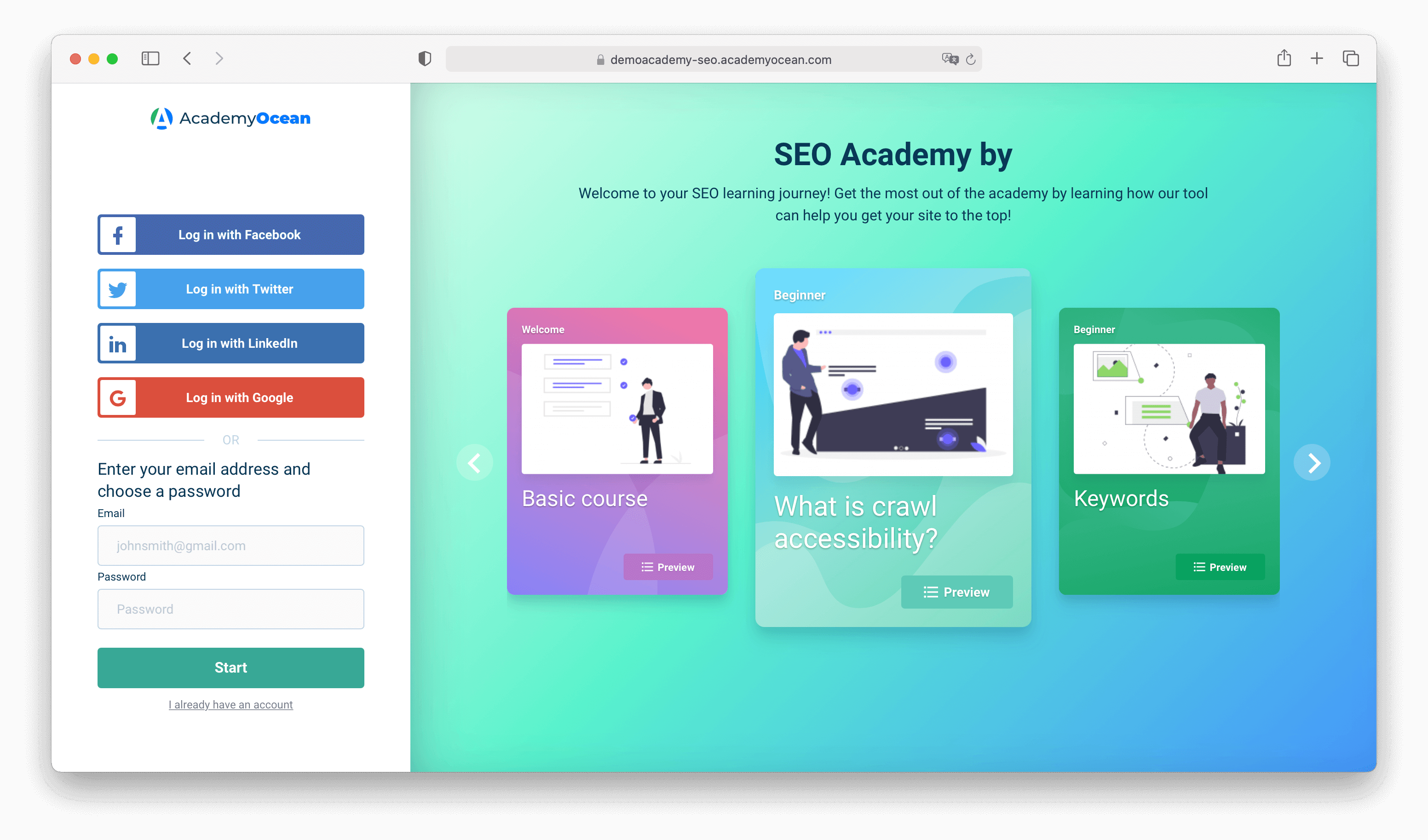 Companies typically use academies to accomplish the following:
attract new users
offer training on their product
create a product knowledge base
increase the value of their product
certify users.
The word "training" alone doesn't exactly elicit excitement — you may even think it sounds boring. But the fact that academies make training interesting is far from the only reason you should consider creating one. 🚀 Let's dig deeper and take a look at how large companies are using academies as their SaaS onboarding software.
Well-known companies with academies
Google
In late 2017, Google launched a training resource for advertisers who use Google AdWords and DoubleClick, called "Academy for Ads". They created this academy, so users could take courses about advertising, get tested, and become certified Google partners.
The platform is now called Skillshop, and it's a training center for anyone who uses Google tools in their work. It contains courses on all of Google's professional services: Google Ads, Google Analytics, YouTube, and more. Google uses these materials to train users, certify clients, and help people get the most out of their tools.
☝Fun fact: Employers highly value Google certificates when hiring. For the third year in a row, Google Certified Professional Data Engineer and Google Certified Professional Cloud Architect rank as the highest-paying certifications in IT (Global Knowledge).
In addition, Google launched several social training projects whose mission is to help accelerate economic recovery, thus enabling local businesses, communities, and people to grow stronger, faster, and more resilient.
Moz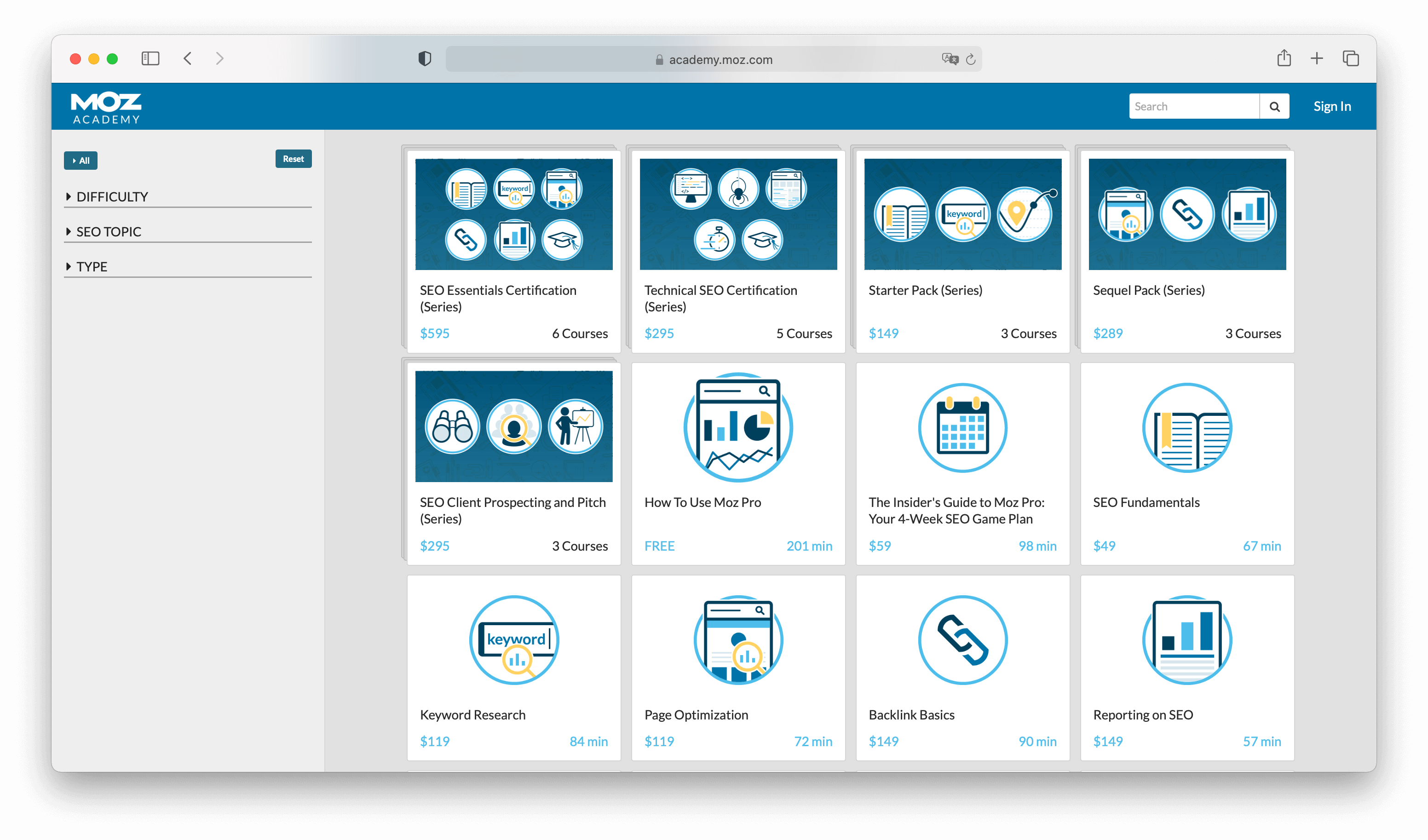 The Moz Academy was launched in 2013 with the large-scale goal of making SEO accessible to everyone. Moz also sought to provide more for subscribers: the knowledge that would help them grow as marketers and enable them to use Moz products confidently and to the fullest extent possible. The academy began with basic courses for new hires, and it now contains comprehensive technical training and SEO certification programs at various levels.
Moz periodically makes courses from their academy public, to attract new leads, but they're typically only available through a paid subscription service (Moz account holders can access them for free).
Semrush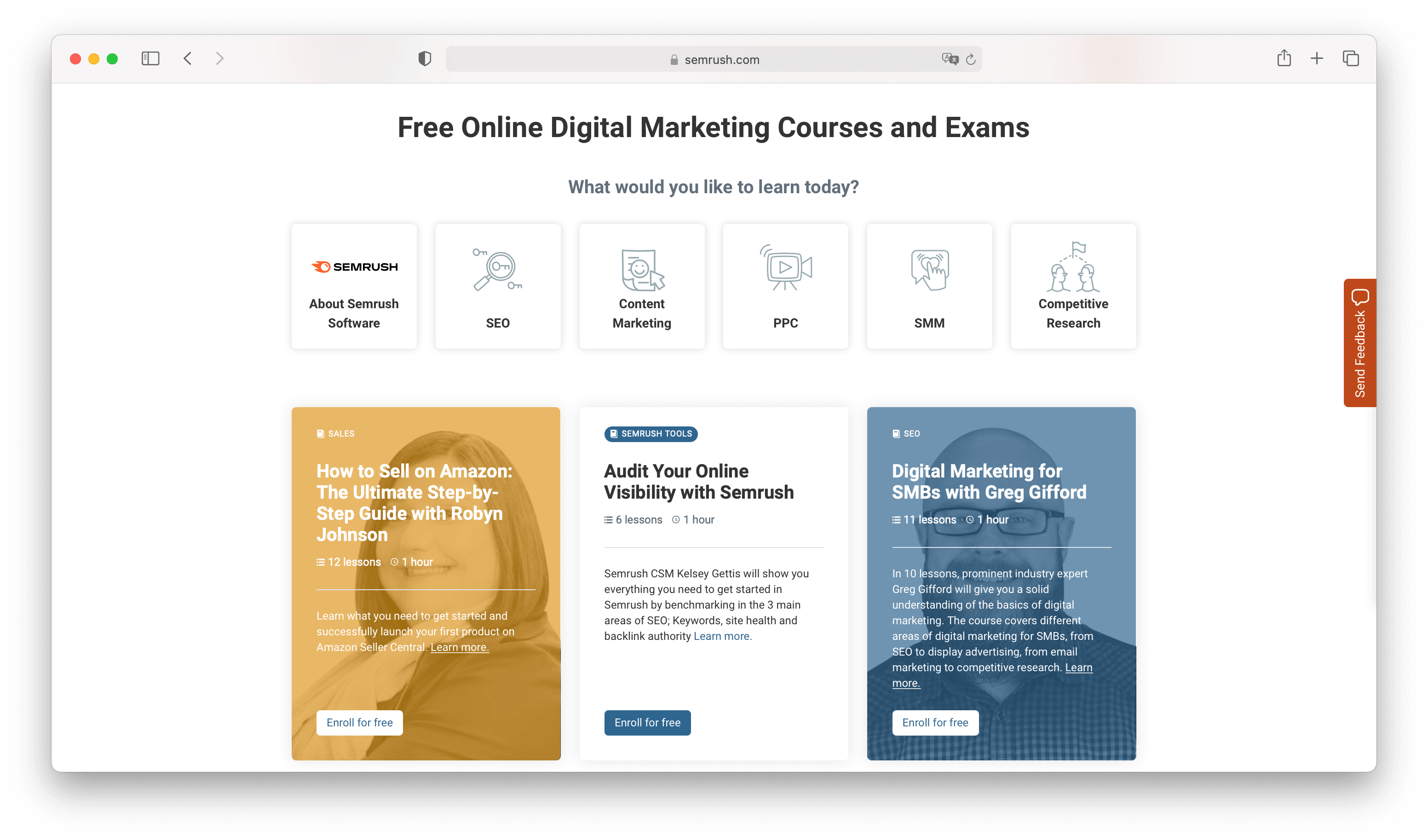 The SEMrush Academy was launched in 2017 with the goal of attracting new users, training them on the basics of digital marketing, and teaching them to use SEMrush to grow their business. The SEMrush academy offers online assessments and certification in a number of different digital marketing skills. This makes the academy an excellent resource for people who are working on career development. Since 2017 SEMrush Academy:
awarded more than 118K certificates
more than 150% YoY growth
engaged more than 380K users
more than 40 courses and 42 certification exams were released.
Serpstat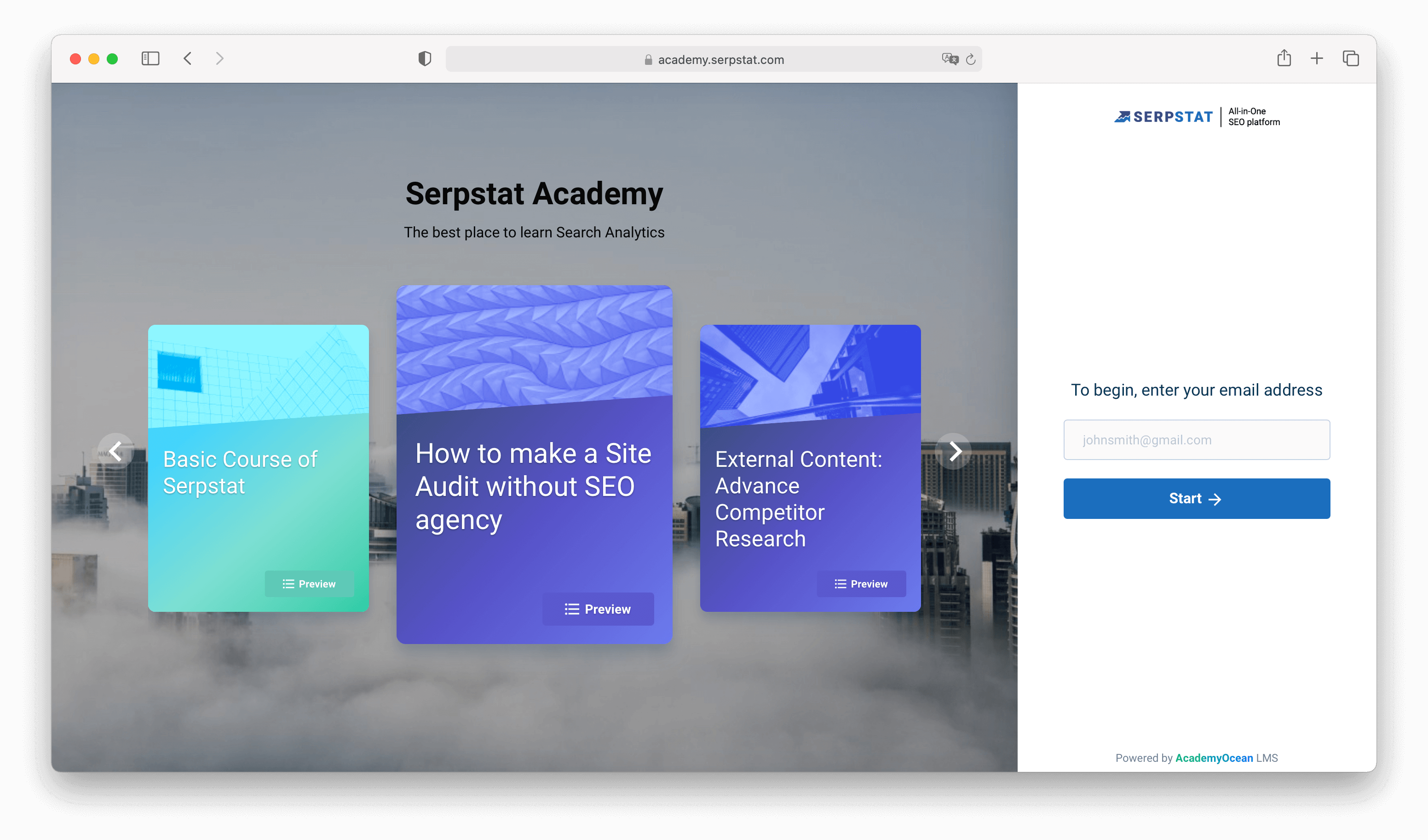 The Serpstat Academy was launched in 2016 for customer training. Serpstat's primary goal with their academy was to improve their content, move away from outdated white papers, and create something more interesting and interactive for users. As they were working on their academy, the company realized that this was more than just an opportunity to grow customer loyalty — they could also use the academy as a marketing tool for lead generation. Here's what they did:
added a link to their academy to their site footer
announced the launch of the academy in an email newsletter
wrote about it on Facebook and Twitter
used guerrilla marketing (answered questions on Quora with a link to a course in their academy with more detailed information)
created separate courses for targeted advertising on Facebook, to enter new markets and reach new audience segments
SmartKeyword
In 2017, SmartKeyword decided that they wanted to provide clients with quality training to accompany their online platform for SEO optimization. This led them to create the SmartKeyword Academy. The academy contains over 200 interactive courses about the basics of SEO and how to use SmartKeyword, as well as a personal trainer/coach. With the help of the academy, the company was able to cut their support team's work in half, since the courses cover most user questions. SmartKeyword also uses the same academy for new employees. New hires use the courses to learn about the product and its features, which enables them to get to work more quickly.
Advantages of an academy for SEO tools
So, now that we've been inspired by the positive experiences of well-known companies, we can summarize the values that an academy brings to clients and businesses.
⚡What do your clients get?
Knowledge: Enable clients to use your tool successfully.
Enjoyment: If clients enjoy the tool, this will translate into customer loyalty.
Help: Clients gain a new skill, which they can add to their resume.
Confirmation of expertise: Certificates allow users to showcase their expertise in your tool.
⚡ What does your company get?
New clients: Your academy could turn into a lead magnet that gets more users into the sales funnel.
Increased conversions: Interactive courses make it easy for users to learn about your product. Trial users will learn the benefits of your product more quickly, and they'll become paying customers.
Increased LTV and product value: In addition to using your academy as a knowledge base that's always at users' fingertips, you can create new courses as new features are released and announce the courses alongside the features.
Reduced user churn: Teach users how to fully use your product, and they'll be more likely to succeed and renew their subscription.
User segmentation: You can create separate courses for beginners, advanced users, and experts (which you can't do with FAQ sections or knowledge bases).
Additional monetization: Make basic courses free but charge a fee for advanced courses, which you can cross-sell to customers.
How can I create my own academy?
There are several options for creating your own academy. You can try adapting WordPress plugins or creating a system from scratch, which will usually run you upwards of $10,000.
Or you could use the platform that the leading SaaS companies are already using for their own academies.
And if you want your learning portal to be completely identical to your brand, you can choose white label LMS.
AcademyOcean is a smart LMS that was initially conceived as a tool for creating academies.
We've been vetted by companies in over 20 countries worldwide and have industry record ratings for ease of use and ease of admin.

Our expertise in implementing training for SaaS companies allowed us to create powerful tools for training clients. Our personal favorite feature is the ability to create independent portals with their own branding, dynamic content, custom interfaces, teaser lessons, and GTM.
📌 Remember Serpstat and SmartKeyword from earlier? They used AcademyOcean to create their academies. You can read more about their experiences with AcademyOcean here:
💡 Insights
When you consider the big picture, you can see that academies offer more than just instructions to guide your customers through your product — they give them the opportunity to grow and develop! This grows user loyalty to your brand, too.
It is more than just a perk for customers — it's content marketing at a whole new level, and it's a strategic business tool.