Startup Life
|
4 min read
Free Gradebook Template From AcademyOcean
March 10, 2023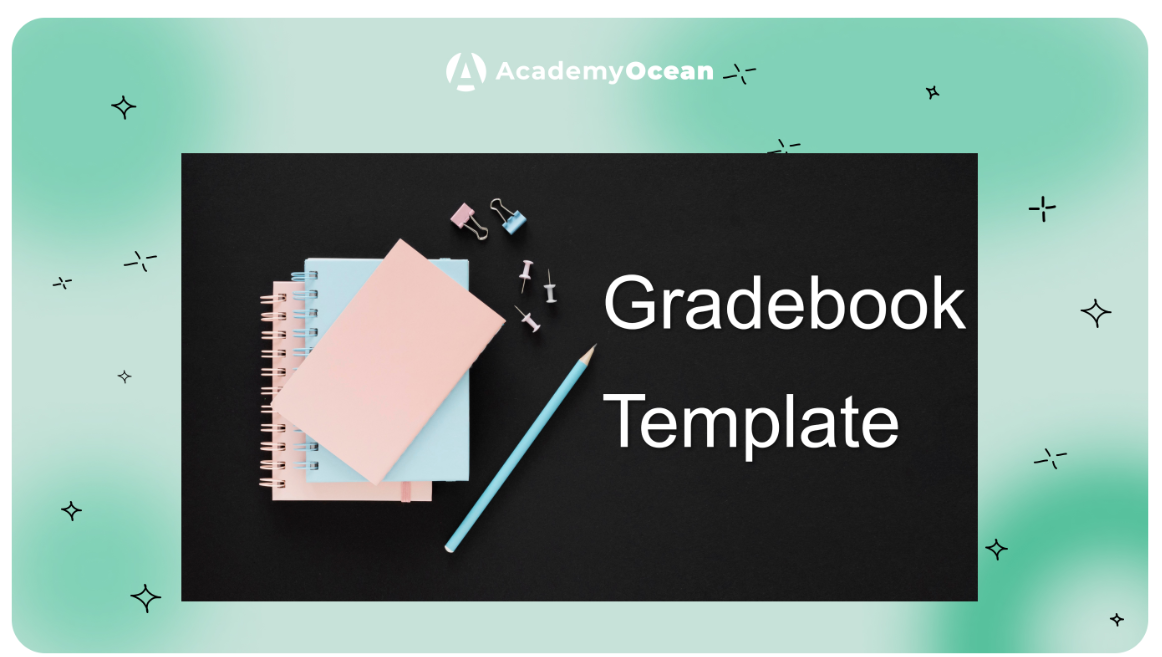 A teacher gradebook template is a rating or grade book for each learner. Often it is greatly supplemented and uniformed with the Template For Attendance. Typically, marks are awarded to questions, tests, courses, assignments, and examinations, among other things. The grading scale is determined according to the unique to every case demand. Nonetheless, whatever method you choose to assign grades must be fair and justifiable.
How To Use The Grade Book Template?
Whatever your learner does in a course—attending classes, taking supplementary procedures, doing assignments, taking tests, completing surveys, or taking an exam—affects their final score. You may define how many points they will earn for each question on the test, for the entire test, and finally, for the exam, and adjust your gradebook format to these values.
A test, for example, can cost as much as five homework assignments. As a result, you should provide one point for each work and five points for the exam. For example, you may assign a maximum of 25 points for a typical test. You have ten similar tests. Thus, your maximum score in gradebook forms dedicated to these tests will be 250.
You may use AcademyOcean to award points to specific questions on a quiz. For example, you have ten questions with ten points each. You may also specify in the test settings that the test will be counted if the learner correctly answers six questions out of 10 and obtains at least 60 points. The standard grading system in those examples of Excel gradebooks you can find online is 60-70% means the test was passed; 70-80% means it was okay; 80-90% means it was good; and 90-100% means it was great.
Define The Grading Scale
Your coaches and mentors should explicitly evaluate pupils to minimize misunderstanding. Depending on the course's structure, the grading scale might be provided directly in the course program. Learners frequently ask how many tests and examinations they have, how points are assigned, and how weights are determined.
You may construct an introduction lesson in LMS for each course in which you explain to learners what is expected of them and how you will evaluate them. Examples of percentages often seen in Excel gradebook templates: 15% for tests — 15% for homework — 25% for intermediate (or extra) assignments—35% for the final test — 25% for the preliminary exam.
If you are not going to modify this ratio from course to course, you will not need to put it down in every course with AcademyOcean. Simply use our unique Master/Replica function to replicate a lesson to all courses (or academies). If you wish to modify this ratio for all courses, modify the source file. Then, the same changes will appear in the copy. These hints will help course authors assign points accurately across all questions, quizzes, and examinations.
Add/delete Learners In The Name And Gradebook Tables.
Frequently, LMS systems don't limit the number of learners in a table. But, if any learners' results are no longer relevant for rating tables and grades, you may easily delete them. You may either permanently delete or merely conceal such pupils in AcademyOcean. The grades of the concealed pupils will not be counted in the overall ranking, but you can reinstate them at any moment.
Add/delete Tasks
For example, AcademyOcean LMS allows assigning tasks to individual learners and groups. You can also create courses that will have built-in tasks and grades. This significantly reduces the need for dedicated free gradebook templates, as you already have all the tools for comprehensive learner evaluation and progress tracking inside the LMS.
Recording Grades In The Gradebook
Using the LMS learning platform, you no longer need to manually enter grades into the gradebook. The system will handle it for you. However, if you or the reviewer believe that changing the number of points for the answer is required, AcademyOcean offers the opportunity to check the test manually.
What Are The Benefits Of Using Gradebook Template?
Overall, employing a gradebook template may help to streamline the grading process, offer reliable records of academic achievement, and increase communication between instructors, learners, and coworkers. At the same time, just like with the case Lesson Planning Template, having a comprehensive LMS is far more efficient. Thus, instructors may quickly arrange learner information and track training progress within an LMS. This can aid in the reduction of mistakes and the correct reporting of learner achievement.
Furthermore, using an LMS saves instructors time by eliminating the need to develop a fresh gradebook, search for obsolete tools, and Google something such as "gradebook template printable." Managers may quickly add learner information and track grades using a pre-made template.