For Employee Onboarding
|
4 min read
Lesson Planning Template
February 9, 2023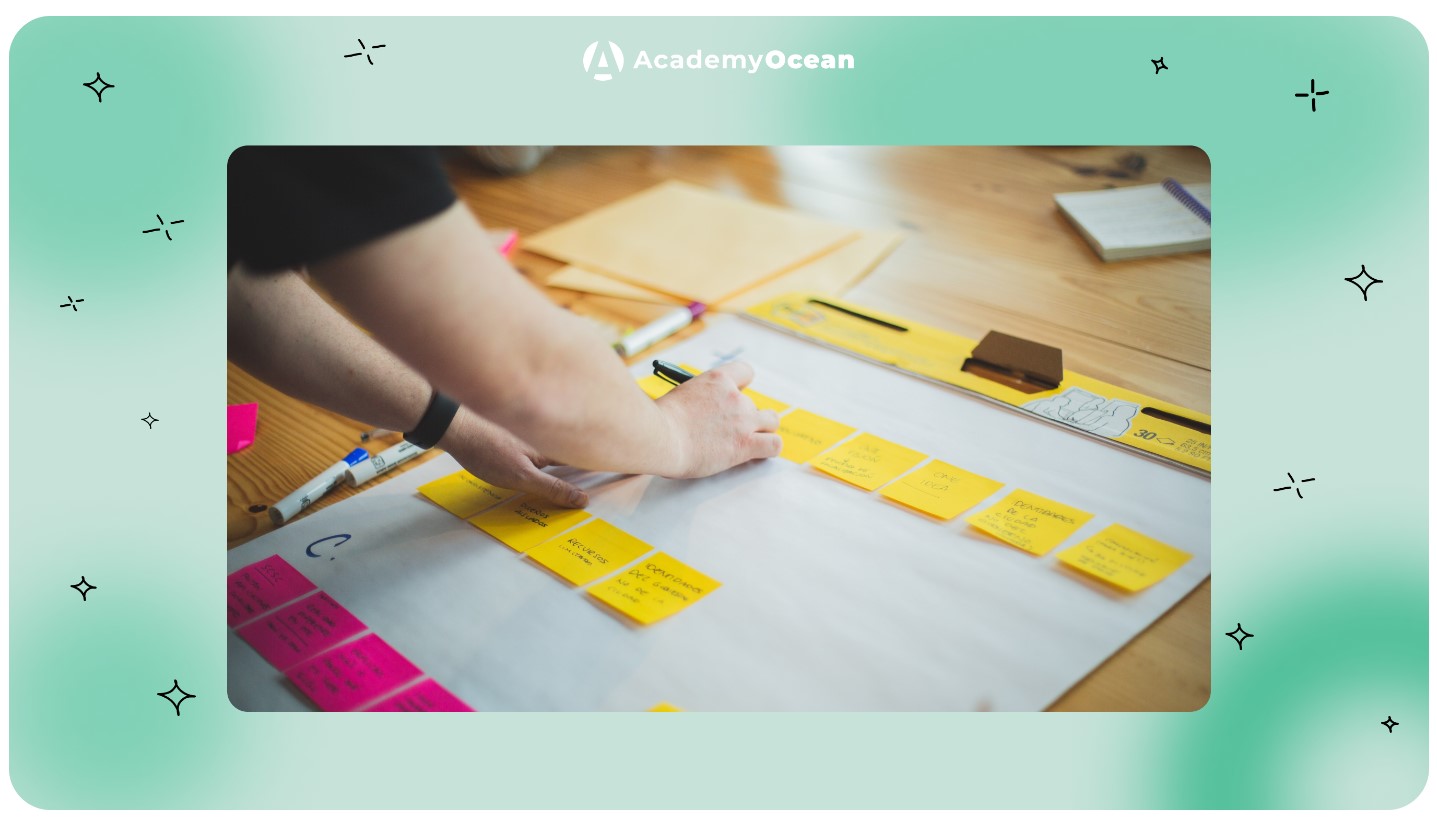 It is crucial to understand how to create lesson plans. Depending on the pedagogical intention and goals, those can be daily and weekly. Lesson plans can consist of blocks, sections, topics, etc. One should never underestimate the importance of lesson plan formats. So, if you are looking for ways how to do this, or maybe willing to get a lesson plan template example? Then you are in the right place!
What is a lesson plan?
A lesson plan is a roadmap or indicator guiding your teaching practice. It can be drawn up for a day, week, or last till the end of an entire section, topic, or block. It usually outlines the lesson objectives, activities, tasks, resources, materials, etc. Its major purpose is to help teachers and learners keep track of the topics or modules that need to be studied.
Lesson plans also help to introduce learners to course objectives ahead of time. Thus, they will know what to expect and can prepare. Lesson plans can be saved as PDF files and distributed via email or through an online learning platform.
With AcademyOcean LMS, you can easily attach a lesson plan in PDF format anywhere within a lesson or course.
How to compose an effective lesson plan?
Writing an effective lesson plan is relatively easy. But still, where to begin and how to create a lesson plan template? Surely, you can just Google something like a lesson planning template download. Yet, before you begin, you need to understand the goals of your learning course, requirements, and the individual needs of your learners. The information will help you decide on the lesson plan's layout and structure. At this point, you also may need a proper Class Lists Template to simplify the management process. After that, the time has come to add all the necessary sections to create a clear and understandable lesson plan.
Determine the scope of your lesson plan
Decide whether you are planning for a single lesson or the whole day course, or perhaps you want to make it last for a week or till the section ends.
Weekly lesson plans help learners focus on short-term goals and objectives.
The comprehensive course plan provides learners with an overview of the lessons and subjects to be covered, allowing them to plan their time effectively. It contains a list of resources and textbooks that learners can familiarize themselves with before the start of the training. This way, they can prepare adequately and ensure they are ready to get fully engaged with the course materials.
Define the main learning objectives
Answer the following questions to define the goals and objectives of your lesson:
What can learners expect from this lesson?
What do I want them to achieve in the end?
How can learners put to practice what they have learned?
This step is not about what topics you need to cover in lessons, but about ways your learners will benefit from studying these topics.
Make a list of required materials
If learners need additional materials in your course, such as stationery, books, apps, or anything else, make sure you include them in your lesson plan layouts. It will give learners a chance to prepare everything they need beforehand. Almost any result when Googling "lesson planning templates free" will offer this section. But we recommend including other sections to conveniently add recommended resources, books, libraries, or anything else that may be useful to learners to the list.
Create time slots
Consider creating time slots to schedule activities and ensure you give enough time to cover all topics. If you create a plan for a week, you can divide classes and tasks by day. You can also set time intervals for each action, for example:
8:00-8:20 – Presenting theory
8:20-8:40 – Practical session
8:40-8:55 – Q&A and discussion
8:55-9:00 – Homework
It will help you and the learners to stay on topic and efficiently apply theoretical and practical elements. At the same time, you may also want to consider having a Template For Attendance so that you would be able to track your learners way better.
Typically, there is a need to use third-party tools to create a weekly lesson planning template. But with AcademyOcean, you can use a template without leaving the editor. Then, use the "Master/Replica" function to create copies of it in any academy or course—very fast and convenient.
Furthermore, if you want to change the template or add or remove some items, or maybe turn it into a daily lesson planning template, you can modify the source (master), and the system will automatically change all copies (replicas).
📌 Want to learn more about how AcademyOcean can help your business? Book a free demonstration with an expert from our team!