LEVEL UP your ease of use ⚡ The AcademyOcean November 2021 update
December 21, 2021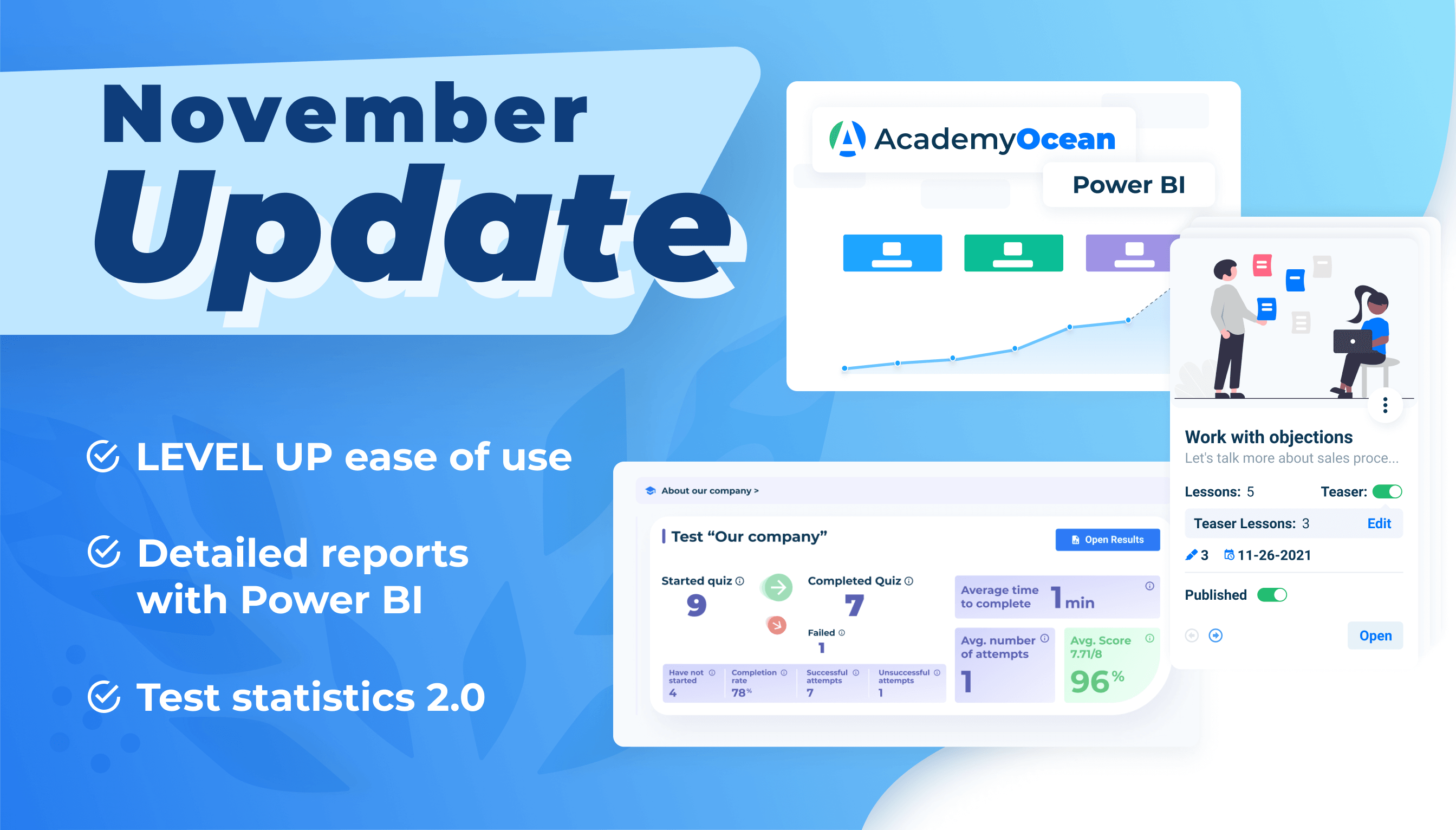 Hey friends!
This November was a very busy one for our team :) We presented AcademyOcean at the renowned Web Summit conference in Lisbon.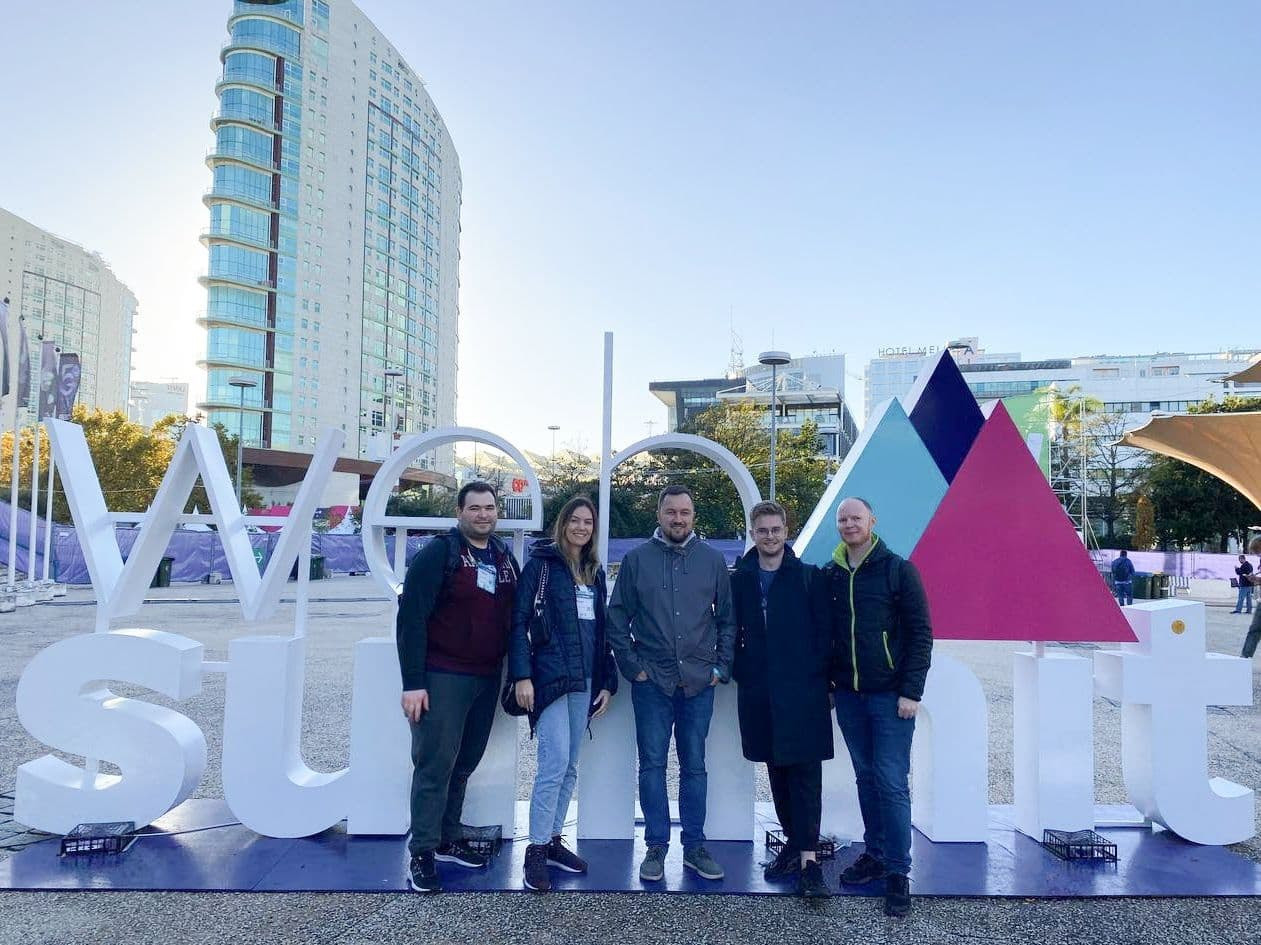 And we also made a lot of great updates to our product!
Now you can analyze the effect that training has had on your business as a whole. Want to learn how?
Read on 👇
👀 Detailed reports in Power BI
As you know, in AcademyOcean you can view detailed reports on various metrics broken out by learner, team, course, quiz, and more.
Now you can dig even deeper and get a full understanding of how effective your training has been in your business!
We've expanded the capabilities of our API, so you can now export AcademyOcean data into any business intelligence service, such as Power BI. This allows you to gather data from different systems, including your LMS, CRM, task managers, and more, in one place.
View detailed reports, create visualizations and dashboards, analyze data further, and, accordingly, take the actions needed at a specific point in time to help you reach your goals.
For example, you can evaluate how completing a course on sales skills affected a specific employee's number of closed deals.
Or how time spent on a time-management course relates to the amount of time spent on work tasks.
🆕 Quiz stats 2.0

We've made quiz stats cards even more informative:
we added two new metrics (unique successful and unsuccessful quiz attempts)
Now, you'll be able to get a quick view of how many learners passed and failed a specific quiz without actually navigating into the quiz.
we added tips for each metric
These pop-ups next to each value help you understand what a particular metric means.
🙌 LEVEL UP your ease of use
AcademyOcean has an industry record-high rating for ease of use, and we're always striving to maintain and even improve this metric!
This month, our designers carefully went through each section of the platform and made dozens of visual and technical improvements.
We want to provide a truly unforgettable user experience, and we're constantly working to do so.
✔ Course card updates

We've made course cards more compact, and we've worked on visual accents for metrics such as:
number of quizzes with manual grading in a course
course deadline (with the ability to go straight to settings)
✔ Ability to reissue certificates for learners
Certificates can now be reissued in the certificate stats section.

Administrators can reissue each individual certificate once every 24 hours.
You might need to update a certificate if:
there's a typo in the learner's name
the learner's name changed
the course name changed.
✔ Learner stats
Learners who have had their academy access revoked are highlighted in a different color in the learner stats section.

This makes it easier for admins to find learners who have been removed from the academy, should they need to be identified or have their access reinstated.
✔ Updated learner cards and course deadline reset
Our design team also improved learner cards, to make it easier for administrators to see key training metrics by learner and manage learner accounts.
A button was added to learner profiles that lets you easily reset a course deadline for this specific user.

🙌 Improvements for learners
We've cut down the loading time for academies with over 100 courses by a third.
After all, time is the most valuable resource we have. We're firm believers in this, so we've created a platform that facilitates training that's not only effective, but is also quick :)
🚀 The team goes to Web Summit
We started November with a trip to Lisbon, where we attended the Web Summit conference.
While there, we met some interesting people and got to know startups from around the world with inspiring products.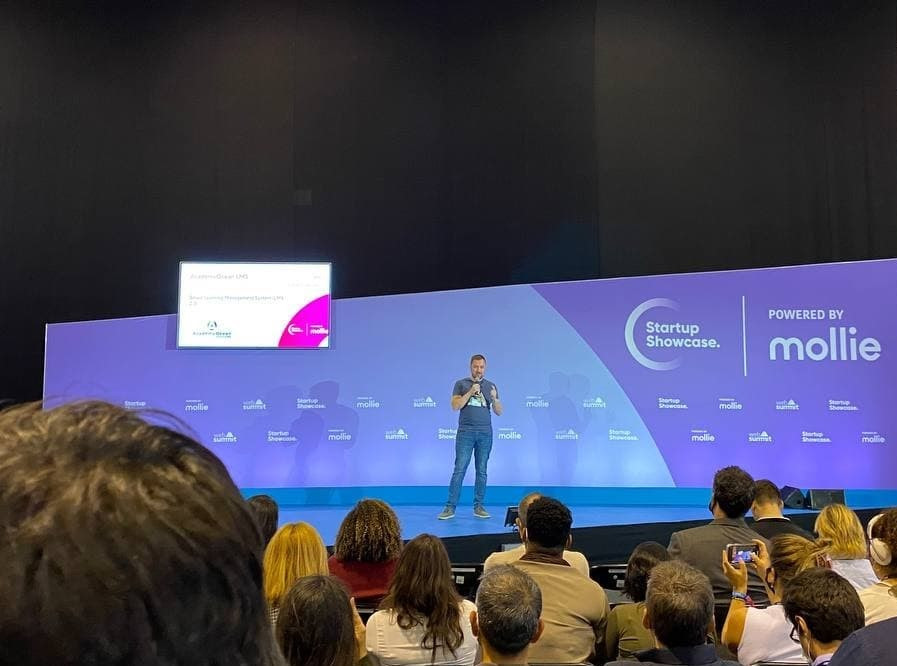 Our CEO Vladimir gave a speech and presented AcademyOcean onstage. 😍
---
We left inspired and continue to appreciate and value our clients!
Let's keep in touch ✋