Embed AcademyOcean into your apps📲 AcademyOcean October Update
November 18, 2021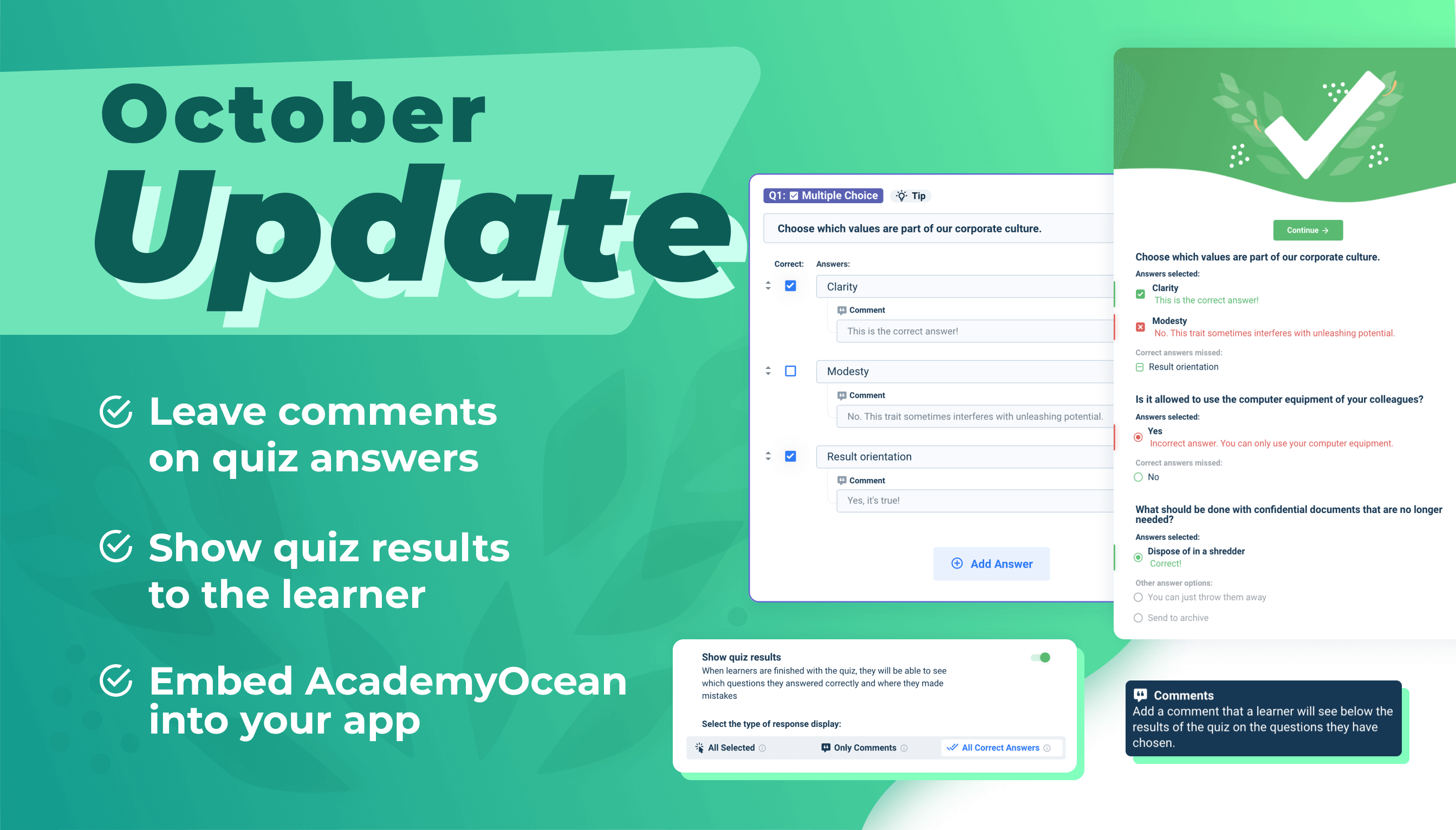 Hello everyone!
Our main hobby is to make our clients happy! :)
So in October, we made it possible to integrate AcademyOcean inside your apps and platforms!
We also provided you with more opportunities for communication with learners — now you have more options to give feedback to your learners. So now you can help them get into the learning process faster and improve their results!
Now let's take a closer look👇
📲 Embed learning portal into your app or platform
Now you have the option to embed the learning portal into your application.🔥
How does it work?
Option 1 — You can embed AcademyOcean into the desktop version of your platform using API integration or Iframe.
Option 2 - You can embed AcademyOcean into a mobile application that will run on iOS and Android using WebView technology.
You can now embed AcademyOcean into your learner's familiar environment, with seamless transitions between your platform or learning app.
For details, contact [email protected].
👍 Help learners to improve their results

We added one more option to the quiz settings. Now you can show the quiz results to your learners!
There are three options:
show all answers (if the possibility of retaking the test is not expected)
show only the selected answers (the learner will be able to understand in which questions he made a mistake);
show only replies with a comment (more details in the next paragraph)
Thus, upon completion of the test, learners will be able to analyze why they received this or that score, where they made a mistake, or why this answer is correct.
This will allow them to understand what material is worth repeating, what to look for in the future. In addition, learners will not feel left alone with the training.
📝 Leave comments on test answers
Now learnerscan see comments and explanations for their chosen answers under the quiz results.
In this way, you can explain to the learners why the chosen answer is correct or, on the contrary, incorrect.
Firstly, it will allow your learners to delve deeper into the topic and better understand the material.
Secondly, learners receive feedback immediately, which is critical to engagement and loyalty!
📢 New publications
Don't miss the new incredible articles that came out on our blog:
---
We wish you good studying and have a nice day!
See you soon 👋