🌟🔄 SCORM, Triggers, Scalability | What's New at AcademyOcean, July 2023
August 10, 2023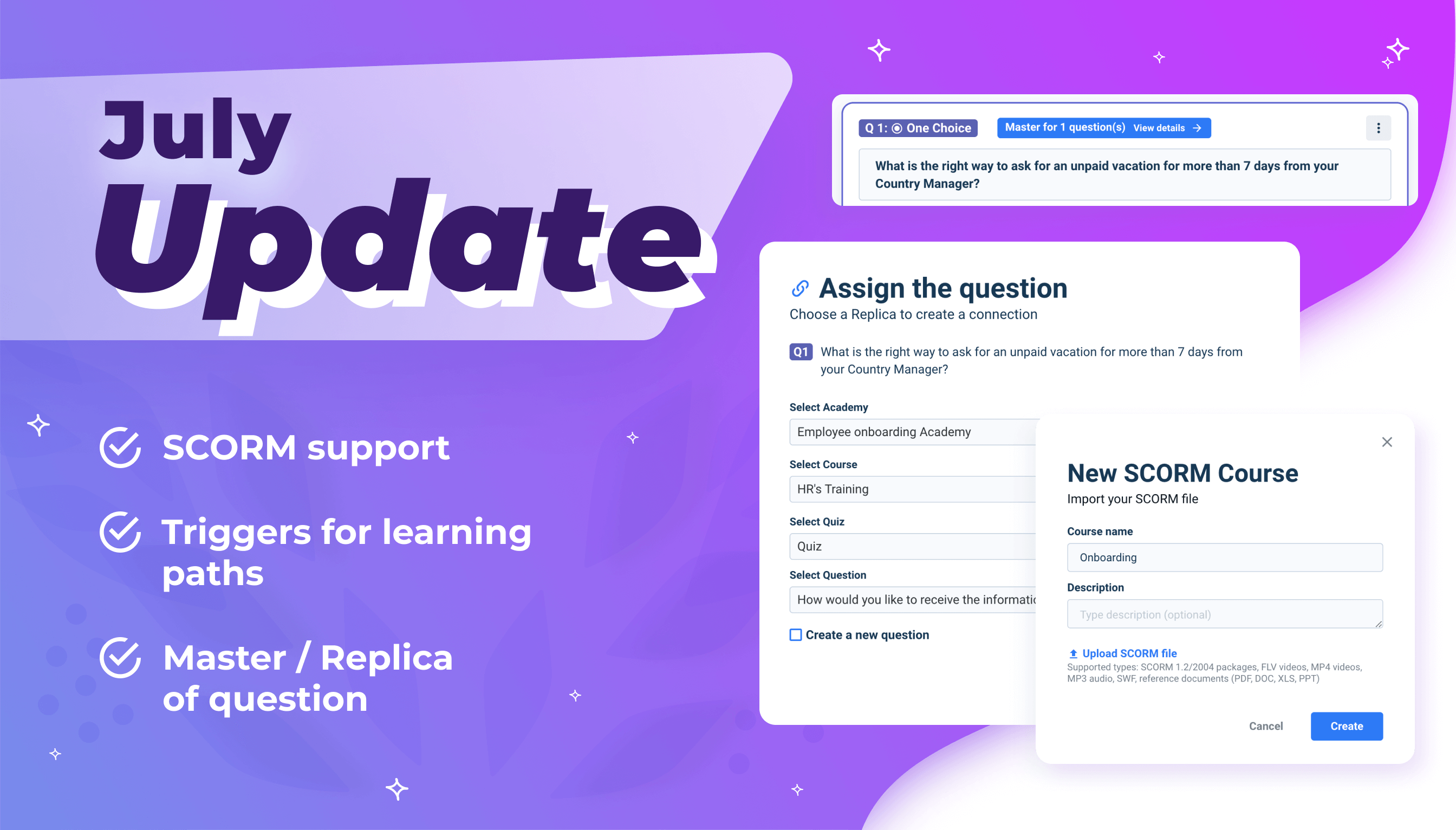 We continue to delight you with new possibilities in AcademyOcean LMS!
In July, we've emphasized flexibility and optimization to empower you in effectively developing your teams and ensuring quality learning with minimal effort.
Let's delve into the updates in more detail. 😉
SCORM Courses: Flexibility in Content and New Avenues
AcademyOcean LMS has always supported modern tools for creating educational content. Our unique editor allows you to create interactive courses with various multimedia elements. And now, we're granting you even more freedom with SCORM course support.
This means you can seamlessly integrate existing materials into our platform, all while preserving multimedia capabilities. Let content creation become even more comfortable and tailored to you!
Triggers for Smart Teams: Path to Effective Learning
Creating clear pathways for employee development is pivotal for every HR and L&D specialist. We've integrated triggers into our Smart Teams functionality, automatically transitioning employees from one team to another after course completion.
This empowers you to customize unique learning paths or regular certifications. For instance, you can open a course and test on a specific subject every quarter.
This allows the opportunity to automate the learning process further, ensuring logical and sequential development for each team member!
"Master-Replica" OF Question: Elevating Quiz and Survey Creation
At AcademyOcean, innovation never ceases! Now, we introduce a new feature – the Master-Replica of Question. It is possible to copy questions from one quiz to another and establish a connection between the copy and the original.
If you use the same question in different exams or assessment stages, any modifications to the original question will automatically update all its copies.
No more duplicated or outdated questions!
Moreover, this translates into colossal time savings. After creating quiz questions once, you can employ them in various courses and Academies. Forge new assessments with a few simple clicks!
Blog News and Webinar: How AI is Transforming Learning
Our mission is more than just providing tools, we are about sharing knowledge as well!
Recently, we hosted an exciting event with John Helmer, the host of the "The Learning Hack" podcast, to explore how AI is reshaping global learning practices. Watch the webinar recording here: Webinar Recording
And in our latest blog article, learn how artificial intelligence can revolutionize learning in your company. Please click the link to read the article: How to choose the right LMS for a company using AI
---
Let's collaborate in shaping efficient teams prepared for future challenges!
💙 AcademyOcean