Start the year with great training ✨ The AcademyOcean January 2022 update
February 17, 2022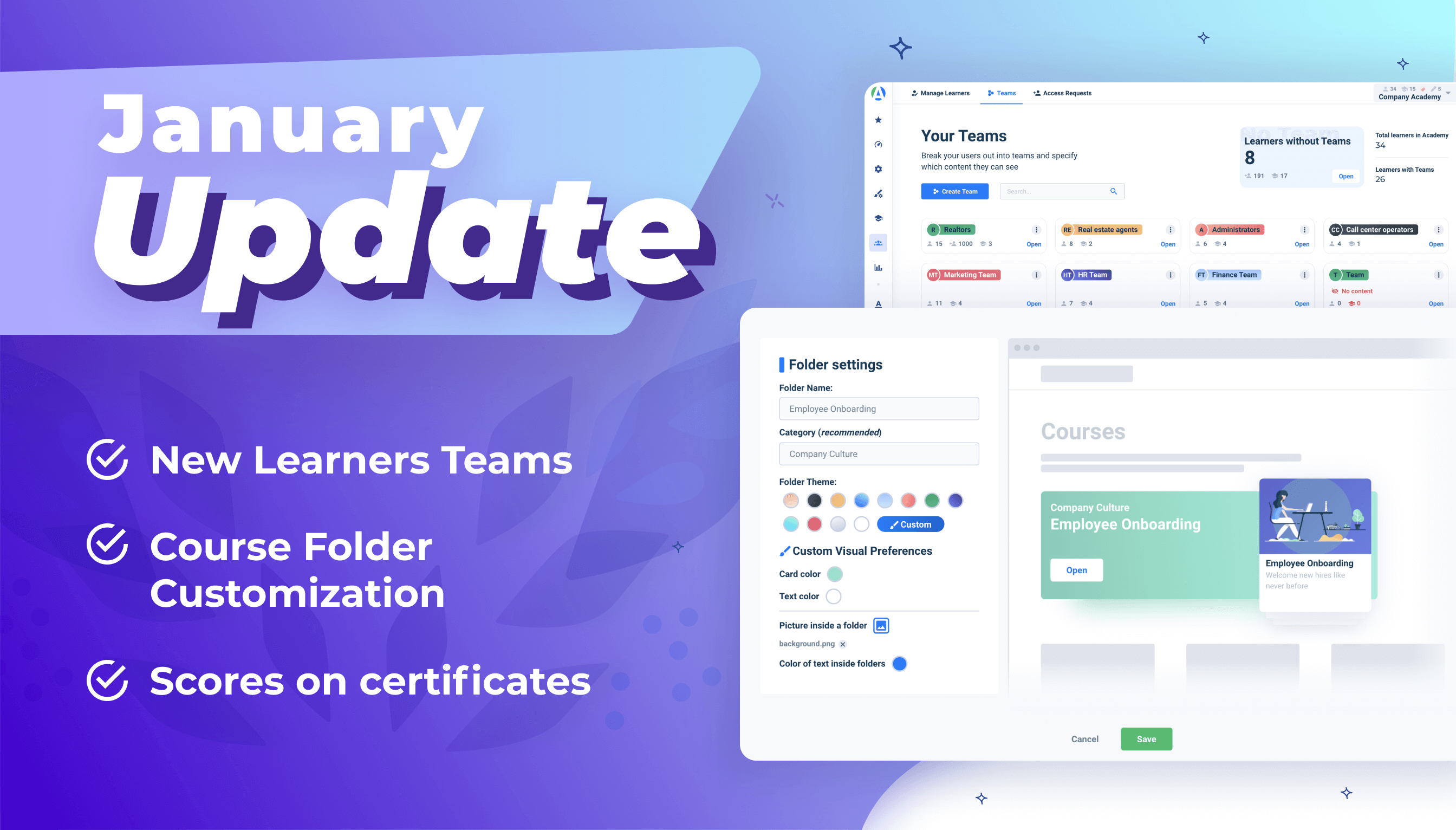 Hey friends!
The time is ripe for us to share the fruit of our labors :)
We're always working to create new modules that will help solve more of your problems, making learning more interesting and effective.
In addition, we regularly conduct research and survey our customers, so we can make AcademyOcean as simple and easy to use as possible! In January, we focused on creating a better user experience.
Want to create teams in three easy steps, find out how much time learners spend in your academy, and further personalize your learning experience?
Then let's get into some details! 🚀
New branding capabilities
We've added even more ways to brand your training portal!
Now, course folders can also be customized. Set a color for each folder, a color for the text on it, and an image for the background inside.

This will make the course page more exciting and personalized for learners.

Now it's easier to create teams — only three steps needed!
We've simplified the process of creating teams by separating it into three logical stages. You'll be guided through the process, from adding students to assigning content and setting visual preferences.

Now, you won't have to figure out on your own where to start or how to continue, even if there are several administrators creating teams. When an admin goes to the teams section, they'll see where their colleagues left off and will be able to pick up from there as needed.
In addition, we've been working on the visual design of the teams section:
we separated out the "NoTeam" group
we improved team card design
we modified the page for managing teams
we added an icon for teams without content
Now, when you go to the teams section, you can quickly see a list of all teams, and you can tell at a glance which have content and which don't. You can also click into the "NoTeam" section and view a list of learners who aren't in a team yet.
This simplifies the team-management process, especially if you have a lot of learners. It also means that you can set things up to only show each team the content that applies to them, giving learners an individualized experience. In addition, you can view reports on specific groups to track their progress.
Displaying points on certificates
We've updated our certificates, so you can now display a new field: points awarded in a course or group of courses.

Add value to the certificates you award your learners!
You can award your learners a simple certificate stating they completed a course, or you can display their score on the certificate — which would look pretty great for someone who scored 99/100 points. Some of your learners may value having this detail on their certificate :)
We've also added info about the number of points learners can earn in a course and the max total score for a group of courses. Now, this information will be displayed on the group card for your convenience.

This allows administrators to quickly see how many points learners can earn if a course or group of courses has multiple quizzes, each with questions worth a different number of points.
This also helps you even out the number of points available (say, to 100) if you want to display results neatly on certificates.
Calculating time spent in your academy
Now you can track the amount of time learners are spending in your academy.

This is useful if you're launching paid courses and want to grant access to your academy for specific periods of time.
In addition, you can find out how much time users are devoting to learning the material (completing courses, taking quizzes) and how much time they spend aimlessly clicking around the platform.
Blog news
Because we want to make AcademyOcean the best platform of its kind in the world, we're constantly consulting with top HR specialists and online training experts. We have new interviews up on our blog:
Natalie Tollefson: "With the right technology solution, your company can create a sense of belonging for employees from Day 1" Read
Reimund Nienaber: "I clearly see that AI is the way forward" Read
Want to see your company in this list?😉
---
If you're interested in sharing your experience with training and/or onboarding employees, customers, or partners, get in touch — we'd love to interview you!
And, of course, if you have any suggestions for new features, feel free to write to us! We're always open to new and interesting ideas. 😉
👋 Until next time!