For Employee Onboarding
|
3 min read
Free Sales Onboarding Template From AcademyOcean
March 1, 2023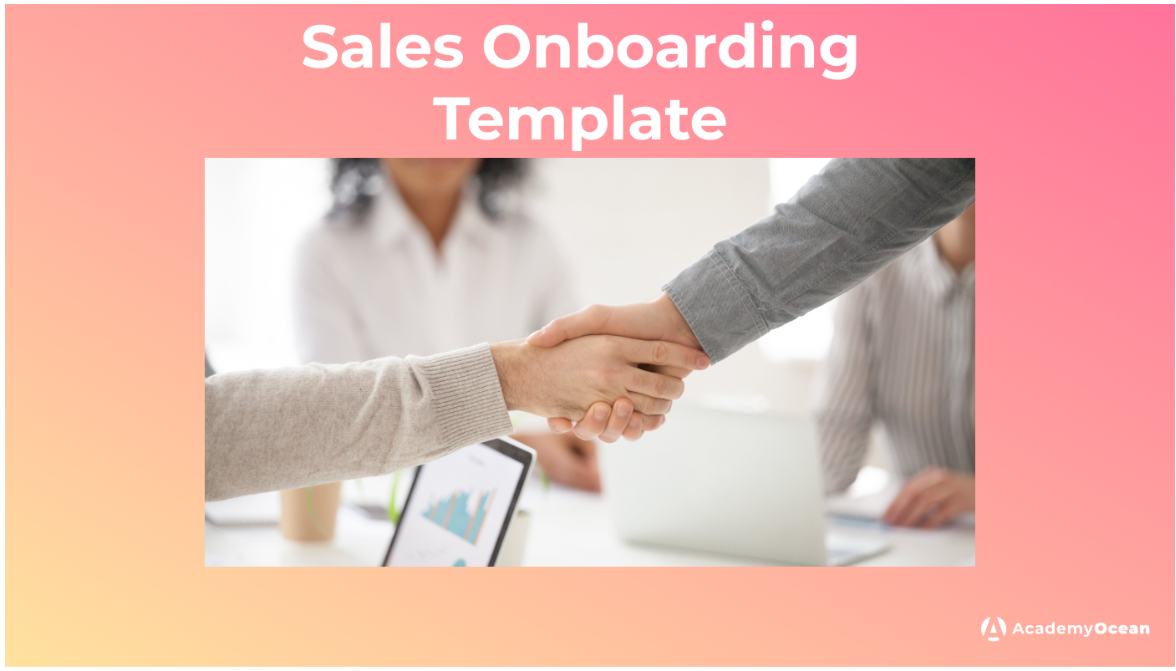 According to the Association for Talent Development, organizations spend almost $1,300 per person on their sales team yearly. Such an expense is explained by the fact that this is an essential component of every successful organization. Thus, organizations with successful learning programs outperform those without such programs regarding revenue objectives. This is why sample sales training manual templates are so popular these days.
But, it goes beyond simply investing in sales training and finding a proper sales onboarding template. It's critical to realize that this field is a drawn-out process that calls for commitment and consistency. Organizations cannot afford to skimp on the training's content or delivery quality because it typically takes sales personnel 6 to 9 months to advance. Effective sales training is essential to maximize returns because a company's success is frequently correlated with the effectiveness of its sales team. In turn, sales manual templates play an important role in this.
What Is a Sales Onboarding Template?
A sales onboarding plan template is a structured system that lets people quickly join the working team by understanding an organization's sales process, product, culture, and values. It is a strategic approach to ensure proper training and integration into the sales team, reducing the time it takes for them to become productive and generate revenue. Also, consider checking our Gradebook Template to learn more about employee progress control.
Within AcademyOcean, one can create an extensive training program that covers everything from the fundamentals of the company's goods and services to more sophisticated sales methods using an advanced sales onboarding template. It also has various exercises, such as mentoring, work shadowing, and team-building activities, to assist new sales reps in adjusting to the company's culture and principles.
A sales training guide template aims to arm new salespeople with the abilities and information necessary for job success. Organizations may guarantee that all new sales hire receive uniform training and that there are no knowledge or skill gaps by utilizing a standardized methodology. An effective sales onboarding template can lower churn, boost employee happiness, and boost revenues.
Stages Of An Onboarding Process Template
The first experience of an organization is heavily influenced by onboarding. It is the first stage in developing a supportive and effective work environment, significantly impacting the person's success in the organization. An effective onboarding procedure may make new hires feel at home and supported.
The challenge of developing a successful sales onboarding plan significantly harms companies that are new to the procedure or need more resources. Partially, it resembles the problem with the Class Lists Template. I will examine the stages of this process, which may act as a road map for businesses aiming to optimize their onboarding procedure and provide new hires with a great experience. This material can also serve well to create sales training templates.
Pre-week training
The first steps are always crucial, but not overdoing them and avoiding excessive pressure on people is essential. Send a welcome email with the date, time, and place of work, contact information for the assigned curator, tasks for the first couple of days, and a list of resources to get you started.
Day-One Activities
Introduction to the company culture and values.
Introduction to team members and key stakeholders.
Review of employee handbook and policies.
Explanation of benefits package and enrollment process.
Week-One
Department-specific training and job shadowing.
Introduction to company software and tools.
Performance expectations and goal setting.
Meetings with HR and supervisors to examine progress and address concerns.
Month-One
Deeper dive into job responsibilities and projects.
Feedback and performance evaluations.
Opportunities for networking and professional development.
Identification of potential areas for improvement and further training.
Ongoing Training and Support
Regular check-ins with managers to assess progress and provide feedback.
Opportunities for continued learning and professional development.
Access to online training resources and materials.
Encouragement to seek out mentorship and coaching from experienced colleagues.