👀 💥 Revolutionize Learning: Let the AI do its magic | AcademyOcean Update June 2023
July 7, 2023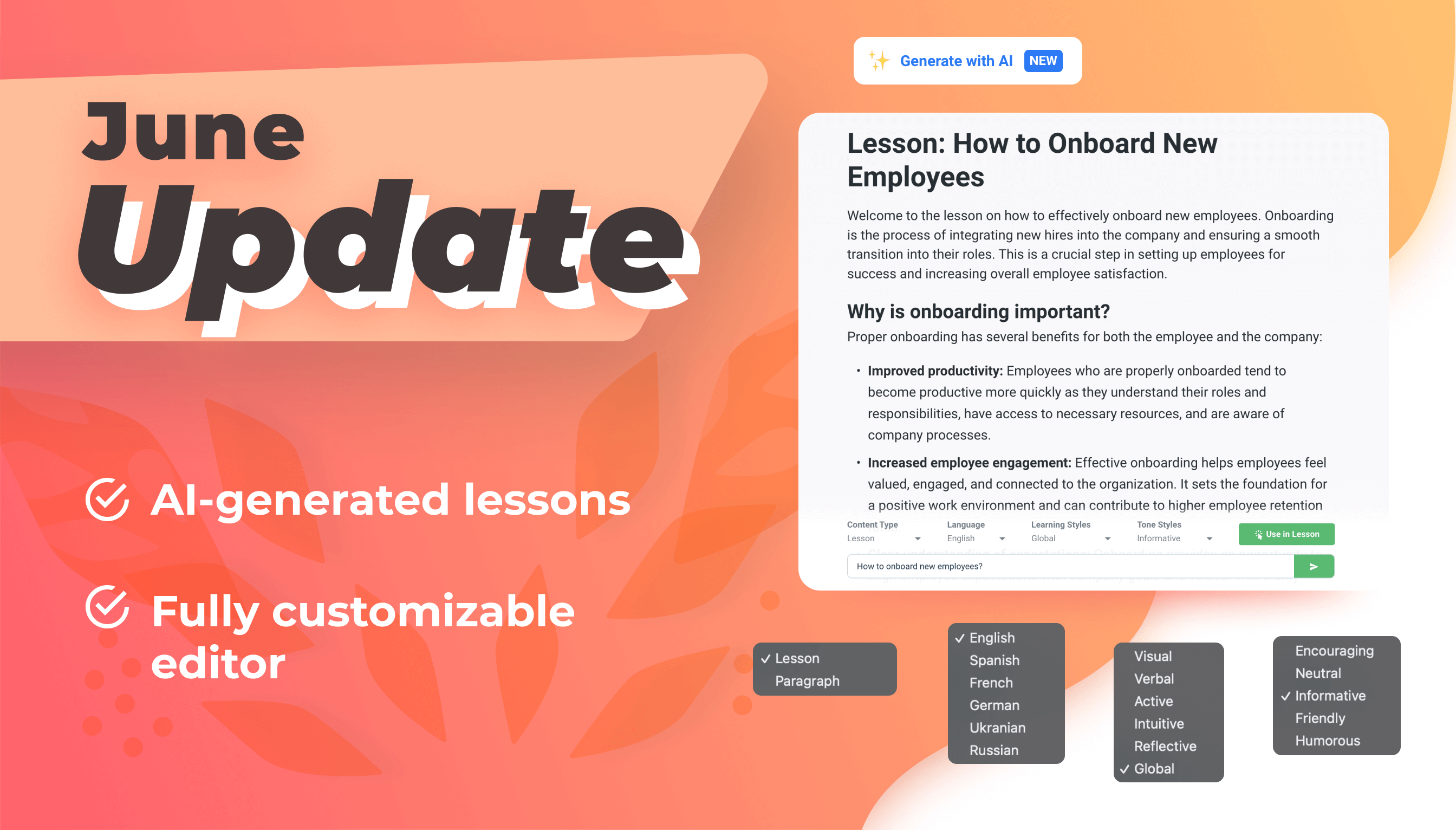 Get ready for an extraordinary leap in the world of training and e-learning! 🚀
AcademyOcean is proud to announce a groundbreaking update to our LMS that will redefine the learning process as we know it.
Let's dive right in!
AI-Powered Lesson Creation: Unlock Unprecedented Possibilities 🤩
Prepare to be amazed as we introduce AI-powered lesson creation. This new feature makes it possible to benefit from the limitless potential of artificial intelligence directly on the AcademyOcean platform. Make learning more efficient, engaging, and personalized than ever before!
✨ Save Time and Boost Productivity ⏰
With AI, you can generate paragraphs or even entire lessons with just a few clicks. Simply request the content you need, specify your preferred learning style (visual, active, verbal, intuitive, etc.), language and tone, and let the AI work its magic. Within seconds, you'll have a well-crafted, ready-to-use text to refine and customize.
✨ Enhance Engagement and Learning Outcomes 🎯
AI doesn't just save you time—it takes your lessons to a whole new level. By tailoring the content to your learners' needs and preferences, you create a more immersive and impactful learning experience!
And that's just the beginning! In the near future, we have exciting plans to enhance our platform with additional AI-based features further.
New editor: Customize Your Lessons Like Never Before ⚡️
We have integrated one of the best text editors into our product, allowing you to customize it specifically for your needs. Here are some useful features:
✨ Work with Lists and Subscriptions
Create engaging content, organize information to suit your teaching style and captivate your learners' attention.
✨ Highlighting and Font Customization
Grab your learners' focus and make important information stand out. Experiment with different font combinations, highlight text or change its color to elevate the visual appeal of your lessons and find the perfect match that reflects your teaching style.
✨ HTML Code Accessibility
For those with advanced technical skills, our editor now allows you to view and modify the HTML code of your lesson if necessary. Enjoy unprecedented control over the structure and design of your content.
✨ Powerful Table Module
The new editor has a powerful module to handle tables. You can create and customize the tables in the lesson editor.
Dive into this new feature and explore endless possibilities for designing and organizing content. We highly recommend trying it out!
📢 Blog news
Embracing technology in training has become crucial for staying ahead in the learning landscape. In our blog, we explore three essential topics shaping education's future.
Discover the top 5 technology trends that will revolutionize education in 2023.
Learn how to use the power of Artificial Intelligence (AI) to create exceptional course content.
Finally, find expert guidance on how to choose the right learning management system for your organization.