For Employee Onboarding
|
15 min read
How Dropbox, Nike, Salesforce, MailChimp, Google and Pepsi welcome their new hires
September 19, 2019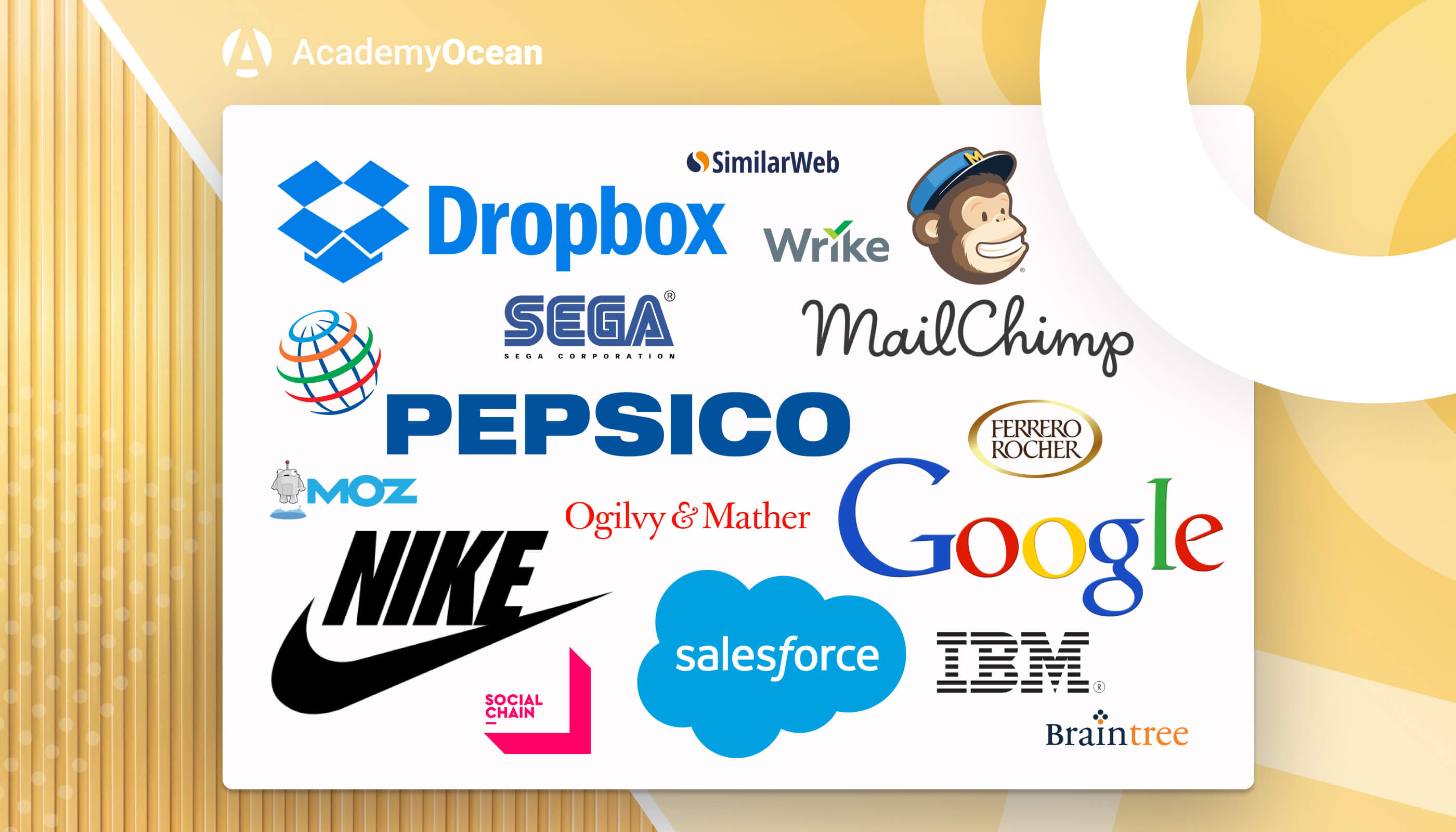 The first day of work at a new job can be very stressful. The unfamiliar surroundings and onslaught of new material can cause new hires some degree of discomfort. But sometimes the atmosphere at the new company can be welcoming and can help counteract the stress.
Different companies have their own traditions to help make this transition period more comfortable and memorable for new hires. Some of these traditions include:
Team-building day trips for new hires
Breakfast with the CEO
Tours of the best cafes, parks, and other spots in the neighborhood
Office "quests" (or some other gamification of onboarding)
Personalized onboarding programs or interactive company academies
Usually, only employees can experience these traditions. But there's one new-hire tradition that has become extremely popular and often highly publicized: the "welcome kit".
Welcome kits usually contain a hodgepodge of items that employees will need on the job (pens, notebooks, books, etc.) and things to make employees feel welcome (clothing, stickers, water bottles, or more unusual items — often with the company name or logo on them).
To get a sense of how different companies handle their kits, we talked to four successful startups about their welcome kits in the article below, followed by our look at a dozen more.
This article is based on the personal welcome kit collection of Vladimir Polo, founder of AcademyOcean. AcademyOcean is a tool for interactive onboarding and training (and Vladimir Polo is a fan of welcome kits).
Dropbox
Dropbox focuses on cloud-based file storage. The company was founded in 2007. Until 2009, Dropbox was known as Evenflow.
The company currently has more than 2,000 employees and more than 500 million users, with 13.6 million users paying for the service.
There are some uncommon things in the company's kit for new hires, like bricks of coffee and a handwritten welcome letter.
Our conversation with Dropbox:
1. Why did you start this welcome kit tradition?
We care deeply about our employees at Dropbox and want to show this from day one! Giving them a welcome kit is just a small way of helping them feel part of the team from the moment they walk through the door.
While we want the kits to be fun, it's also about ensuring new hires have useful items for their work day— like a backpack for their commute, a "tech pouch" to organize their chargers, or a reusable mug to help reduce waste. We also let new employees choose their own desk accessories and tech equipment so they can personalize their workspace to their liking.
2. Do you have any other onboarding traditions at Dropbox? Events or gamification that are part of an employee's first few days?
Our General Counsel kicks off our two-day onboarding experience by giving a memorable presentation on our mission and values. In addition to the standard talks from benefits and payroll, our new Dropboxers meet a range of people from different teams across the company, including Product, Sales, Design and more, to get better acquainted with our culture and business.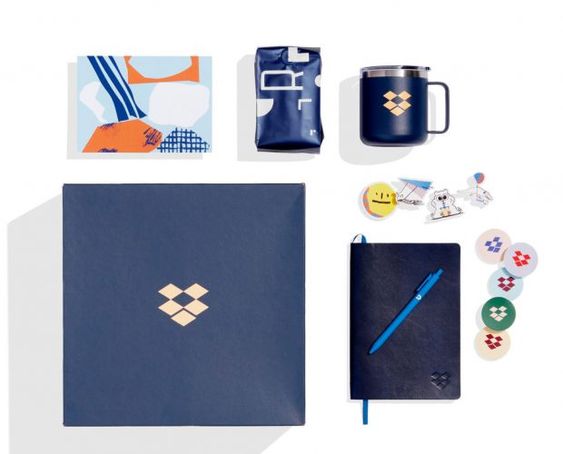 Salesforce
Salesforce is the biggest SaaS company in the world. CRM system is their main product.
This company was founded in 1999 and employs 35,000 people.
Their welcome kit contains a name tag, stickers, books, a gift certificate, and, very importantly, a toy gun.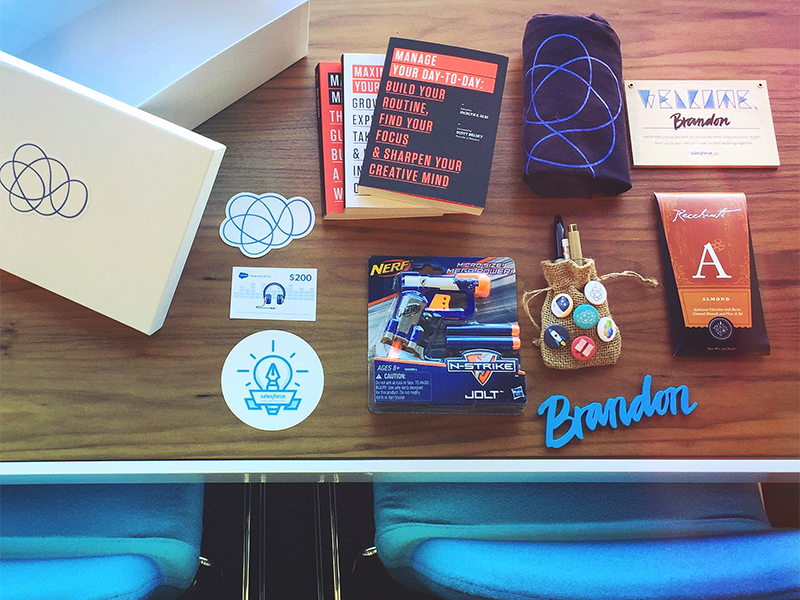 Our conversation with Salesforce:
"Before the first day, employees receive an email directing them to cool trails on Trailhead, Salesforce's free online learning platform. There, employees can take various courses in preparation for their first day, watch videos and more. We also want to make sure employees don't spend their first day filling out benefit forms — those elections are made prior to day-one.
On day one, we want to make sure employees are able to dive right in, familiarize themselves with our core values and take some time to give back with a volunteer-time-off (VTO) activity. While we certainly provide welcome kits to all employees on their first day, that's not the central focus for us when they join. The welcome kits regularly evolve and change, and are personalized depending on the different teams."
Wrike
Wrike is a popular project management software and has more than 16,000 customers. Founded in 2003, it now has more than 850 employees.
Wrike's welcome kit includes a mug, a pair of socks, a planner, a pen, a pencil, and an analog version of Wrike (a task manager) to help employees keep track of their tasks offline. It also includes a T-shirt and a tote bag.
Our conversation with Wrike:
At Wrike, we try to make the first day of work special, and we want new hires to feel comfortable. To highlight the fact that there's someone new on a team, we make their workspace stand out. This means putting balloons on their chair and putting a welcome bag on their desk before they come in for their first day of work.
The idea behind the Wrike welcome bag is showing we care. We try to make new hires feel special by demonstrating that we're excited for them to join our team. Our welcome bag has some necessities in it, like a mug and socks — things that make people feel at home.
New hires also get a planner, a pen, a pencil, and an analog version of Wrike (a task manager) to help them keep track of their tasks offline. The welcome kit also includes a T-shirt (we find out sizes beforehand) and a tote bag, so employees can show their company pride.
We keep track of our employee count, and we celebrate every 50th Wriker.
When we reach one of these milestones, we invite everyone into the kitchen on the new hire's first day (when they least expect it) and we throw a party with food, champagne, and balloons. The new hire gets a special T-shirt with their name on it.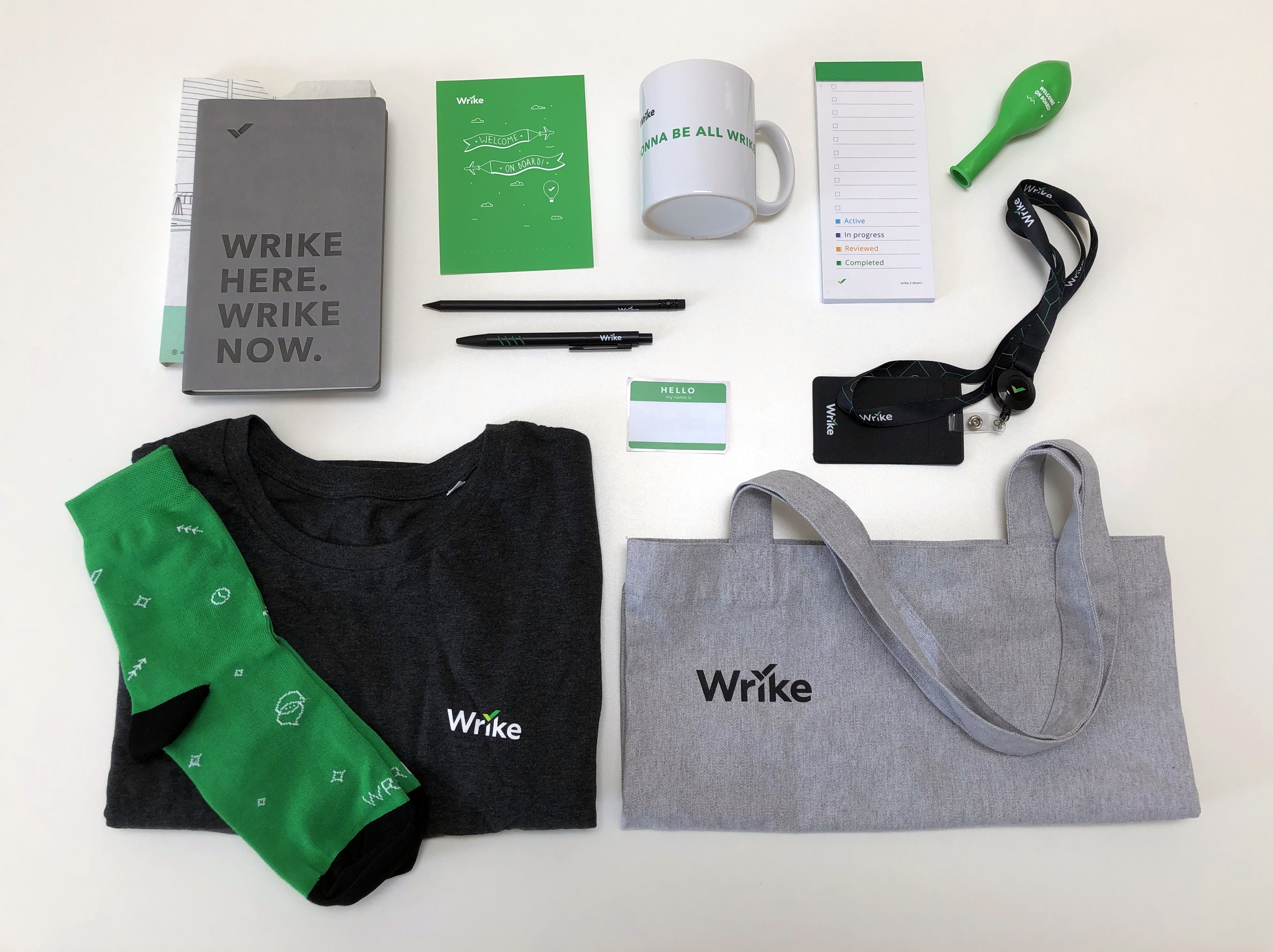 Similarweb
Similarweb is an analytics service that was created in 2007.
You can use Similarweb, for example, to analyze Techcrunch.com. This lets you see the countries where most of their visitors come from: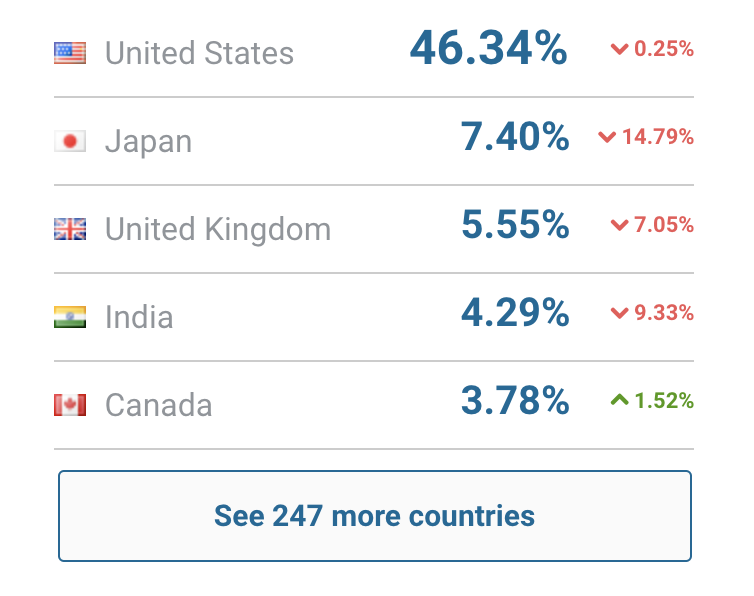 More than 500 people work for Similarweb. Their welcome kit is a classic starting kit, complete with socks and chocolate: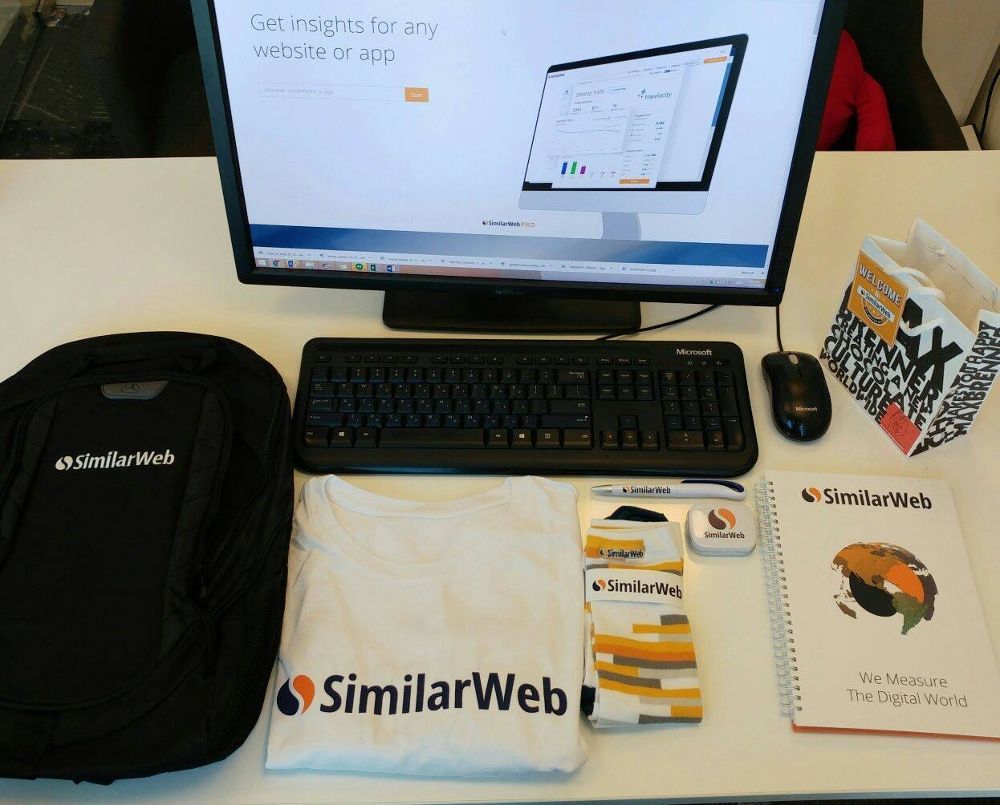 Our conversation with Similarweb:
1. Why did you start this welcome kit tradition?
The first day for any new employee's is meaningful, but it can also be stressful. Therefore we created a holistic onboarding process, giving a lot of attention to small details, such as the welcome kit. We've found that branded items make a great early impact in terms of establishing a connection with the organization and making our employees proud.
2. Do you have any other traditions of giving employees gifts, maybe after one or more years at your company?
It's important for us to pay attention to every employee touchpoint. On their birthdays we celebrate with balloons in the office along with a small gift. We also celebrate each employee's work anniversary each year.
Employees also receive gifts for each major life events such as getting married or celebrating a new arrival. We also make sure to show we care during periods of illness or bereavement. We support each employee's journey in the company on a professional and personal level.
Moreover, we have a program called "Rockstar's Reward", that managers are able to award their employees per quarter.
Another meaningful tradition at SimilarWeb is the "Brown Bag Lunch" where a different group of employees each week, across different departments are invited to share lunch at their favorite restaurant at the company's expense. It's a great way to get to know each other and enjoy spending time together.
3. Do you have any other onboarding traditions at Similarweb? Events or gamification that are part of an employee' s first few days?
A few days prior to their start date, we send each new employee a box of sweet goodies with a letter welcoming them to the company, to celebrate also with significant others.
On their first day, they have a special onboarding session, where they receive an overview of the company, and more practical information. After that they receive an office tour and join a team lunch.
Each employee joins a week-long New Employee Orientation session with others starting around the same time. A mentor is appointed for the group and each NEO group is encouraged to remain in touch and provide support for each other as they continue their journey at SimilarWeb.
Editors note: The conversation with Similarweb has been updated with clarifications from the company.
Nike
Nike is an American company that produces athletic clothes, shoes, and equipment. The company was founded in 1964. It employs more than 73,000 people around the world. This is the North American marketing team's welcome kit.
The items are exactly what you'd expect from a marketing team. There's a cup, a calendar, headphones, and a pin. It's all presented in a memorable box.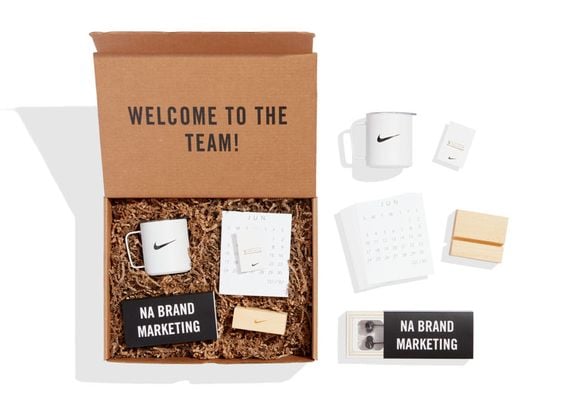 Braintree
Braintree is a fintech company that was founded in 2007 and has more than 500 employees. In 2013 Braintree was valued at $800 million and was acquired by PayPal.
Here's their stylish black welcome kit: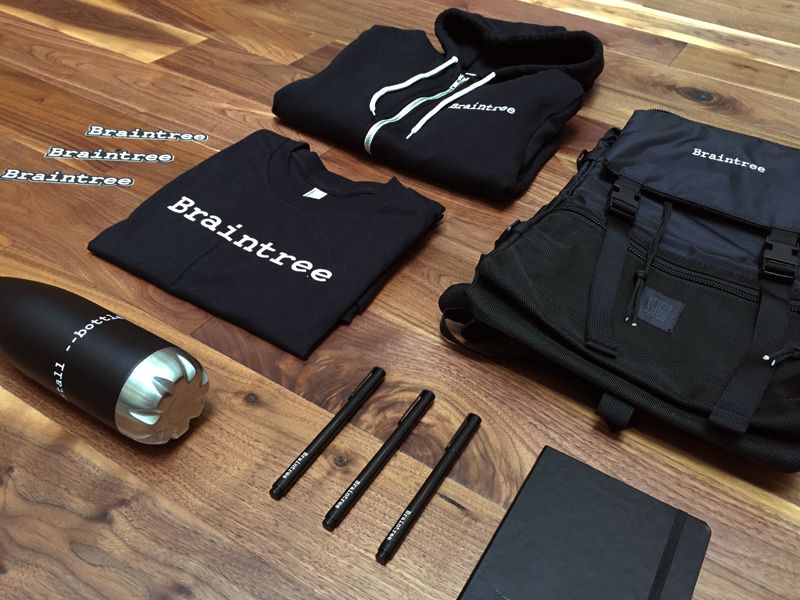 MOZ
MOZ is a service that offers a set of tools for marketers and analysts. It was founded in 2004 by an unusual team: a mother and son. Today, more than 300 people work for MOZ.
Their welcome kit looks kind of chaotic, but it actually has a lot of cool things in it. For one, they're the only company on this list that gives their employees a towel. There's a chance that there's a hat from the SEO Mom (as the founder calls herself) at the bottom of the canvas bag.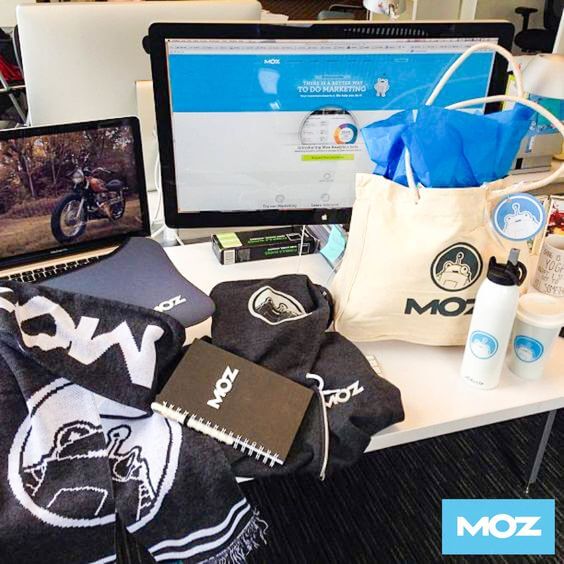 IBM
IBM is one of the largest hardware and software companies in the world. It was founded in 1911. They employ more than 350,000 people in 170 countries. Here's a sample welcome kit. You can see that IBM loves coffee and thinking. They especially love writing down what they think up.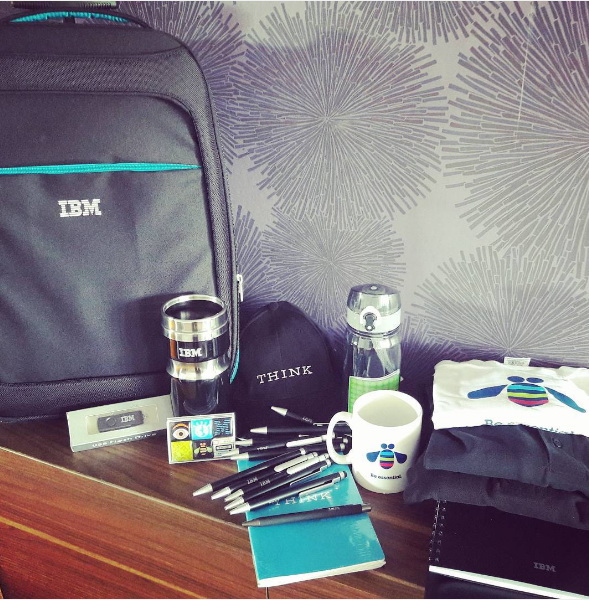 SEGA
This Japanese video game company was founded in 1960 and employs more than 5,000 people.
Their welcome kit includes a couple bags, some comics, organizers/notebooks, and a bit of nostalgia — a portrait of the legendary Sonic.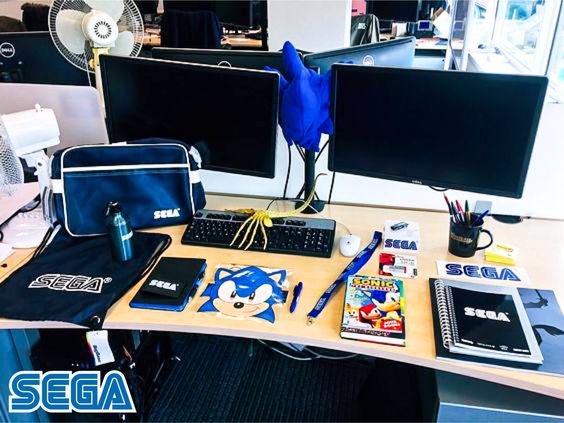 Social Сhain
Social Chain is a British SMM agency with 150 employees. It was founded in 2013.
At first glance, their welcome kit seems pretty traditional. But there's one unusual component: a bottle of Bacardi.
It's safe to say they probably don't recommend drinking the Bacardi when trying to apply takeaways from the Social Media Bible.
Ogilvy & Mather
Ogilvy & Mather is one of the most well-known marketing and PR agencies in the world. It was founded in 1948. Сurrently there are 10,000 employees there in 83 countries.
Their welcome kit is perhaps the most stylish one on this list. It has lots of paper goods in it — from aesthetically pleasing cards to an office plan. There's also a secret red book in the box, by David Ogilvy, the founder of the company. This book isn't available in stores, and you can only get it if you work at the agency.
By the way, Ogilvy uses a very good method to increase loyalty, starting from an employee's first steps in the company. Several companies are going even further and making their story interactive — one of our clients, Netpeak, created an entire academy for their new hires, called "Your first day at Netpeak." Just like with the book, only Netpeak employees can access this academy.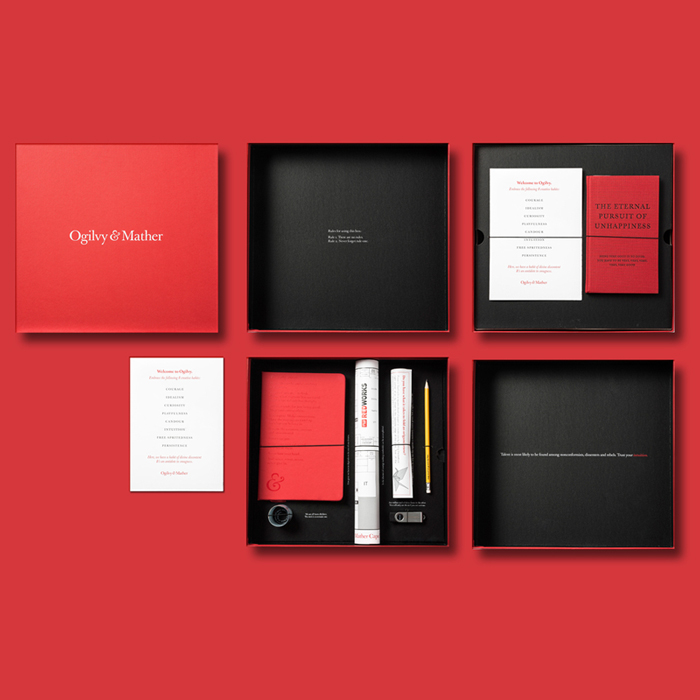 Google
Google has surpassed the 100,000-employee mark.
Internships are common practice at Google. To get an internship, you need to submit your resume and get interviewed. After (or during) an internship you can apply for a "real" job at Google.
The following picture isn't exactly a welcome kit for new employees; it's what interns get three months in. All interns, regardless of age, get a Nerf gun in their kit.
MailChimp
MailChimp is one of the most famous email marketing services out there. If you've sent a newsletter before, then it's highly likely that you've heard of MailChimp and are familiar with their mascot, Freddie the monkey.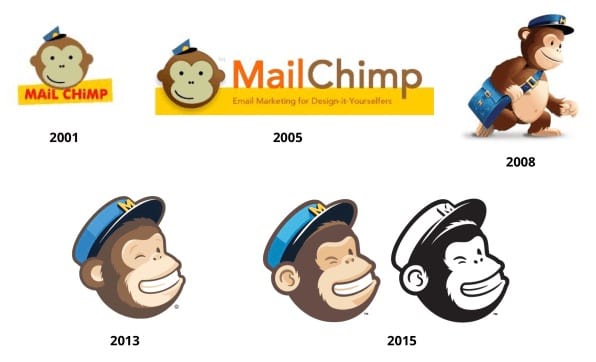 The company was founded in 2001 and now has about 900 employees.
There are several hundred new hires at MailChimp every year, and there's a special employee in charge of onboarding. Before new hires arrive, they fill out a survey about their favorite food, colors, and hobbies.
The company then decorates new hires' desks based on their survey answers. This could mean covering their desks in anything from little trinkets to pizza-themed wrapping paper.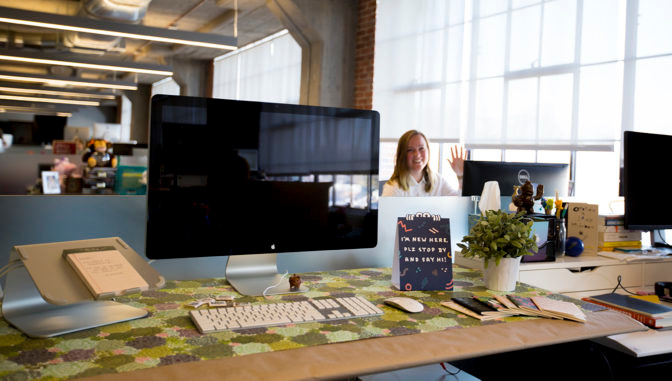 Ferrero
Ferrero is an Italian company that was founded in 1946. Nutella made the company famous worldwide 50 years ago, but they're known for their other familiar brands too, such as Kinder, TicTac, Ferrero Rocher, and Raffaello.
An interesting fact about Ferrero is that Kinder Surprise was banned in the US until 2013 because there's an American law stating that an edible product cannot contain an inedible component inside it. To get around this law, the company separated Kinder eggs into two halves — one with just the toy, and the other with just the chocolate.
About 35,000 people work for Ferrero around the world. New employees are given an assortment of chocolates made by the company.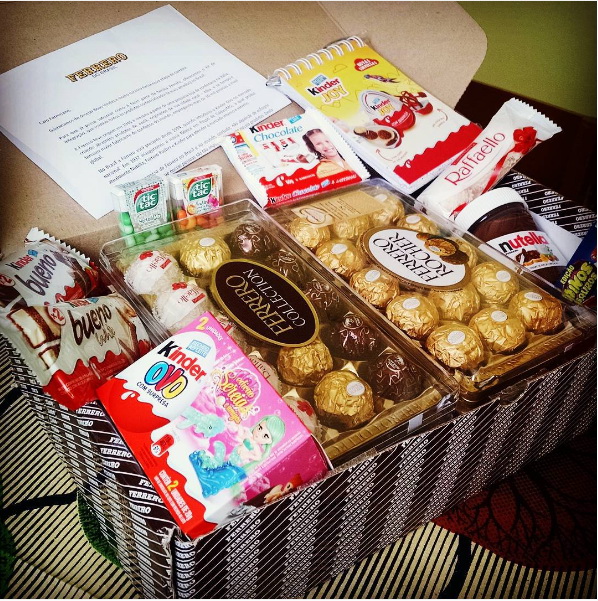 PepsiCo
PepsiCo is the oldest company on this list, and it's the only company mentioned that was founded in the 19th century (in 1898). They employ more than 260,000 people.
PepsiCo owns brands like Pepsi, Lay's, Mountain Dew, 7Up (except in the US, where 7Up has a different owner), Mirinda, Cheetos, and Doritos.
As such, when new hires begin at PepsiCo, they are invited to try the company's major products. But the company tries to be health-conscious, too — in addition to chips and soda, they give new hires a fitness tracker.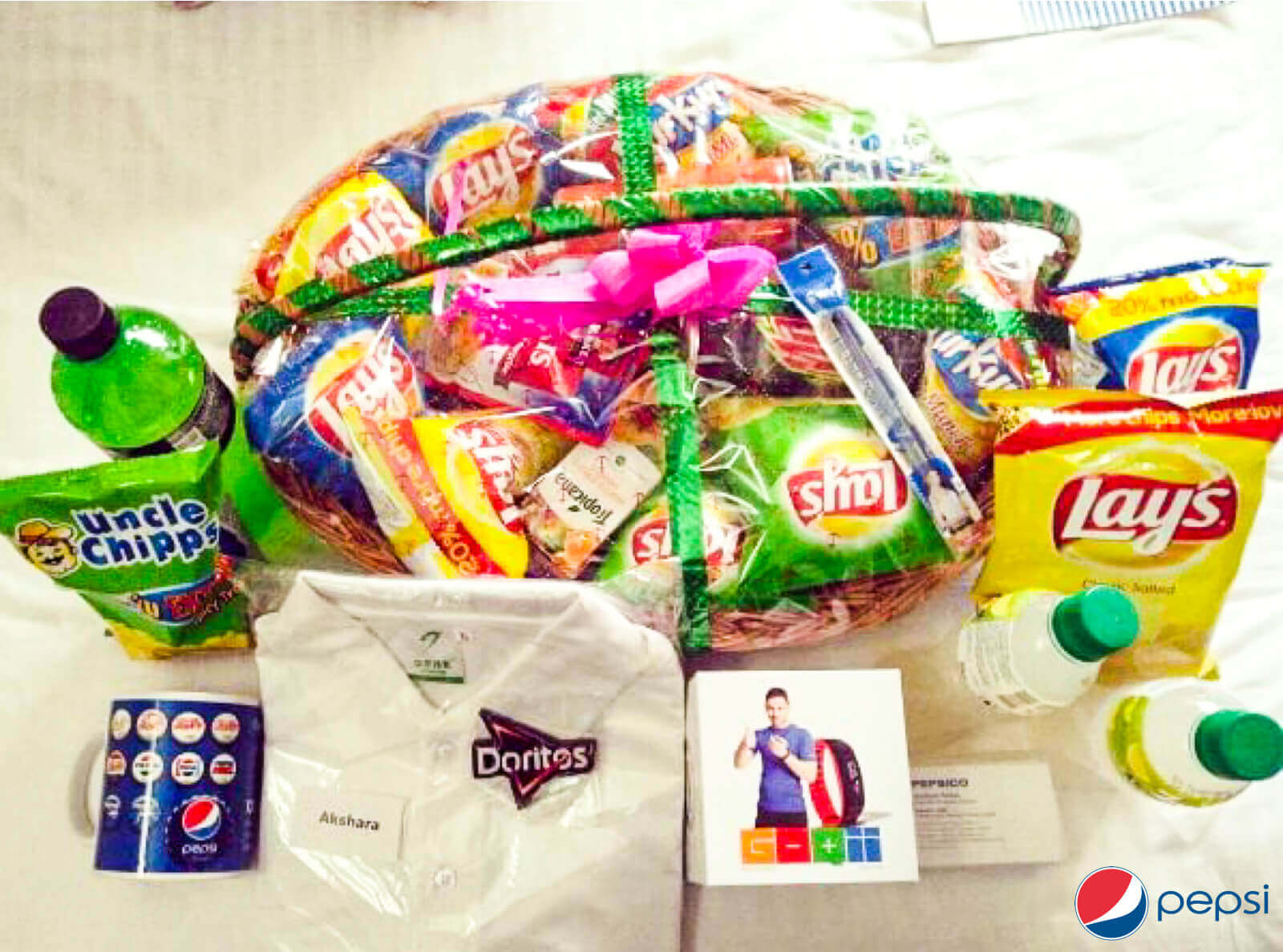 The US Department of Labor calculated that on average a person changes jobs 12 times in their career — so with the right mixture of desire and perseverance, you could experience most of the welcome kits listed above for yourself…
Key takeaways
When creating a new hire welcome kit, think about which items will be useful to an employee during their first days on the job (water bottle, mug, charging cable).
Don't forget things that cheer people up (coffee, chocolate).
Remember to include things that help new hires feel like they're part of a team. Tshirts, hoodies, socks, and backpacks help here.
If one of your goals is good PR, focus on making the kit photogenic.
If possible, add something personalized (a note, handwritten letter, or nameplate).
If you don't have any experience giving new hires welcome kits, you could start by giving similar items to current employees. Some companies do this by having their own special company "money" that employees can spend at a company store.
Include items that give employees a sense of their surroundings — an office plan, parking instructions, or a list of the best lunch places. Don't forget to get your new hire a building pass or key.
Add something to help employees meet goals in their personal lives (books, fitness tracker, etc.)
Tell the story of your company and convey its mission. You can create written content (maybe in a book) or interactive content (such as an academy) so employees can return to the material you share whenever they want.
Once you've jotted down your ideas for a welcome kit, take some time to consider whether or not an employee will actually need each of the things you've thought of. Only the best ideas should survive.
Source: How Dropbox, Nike, Salesforce, MailChimp, Google and Pepsi welcome their new hires.