Case Study — Netpeak Group — Academy reduced onboarding time by 60%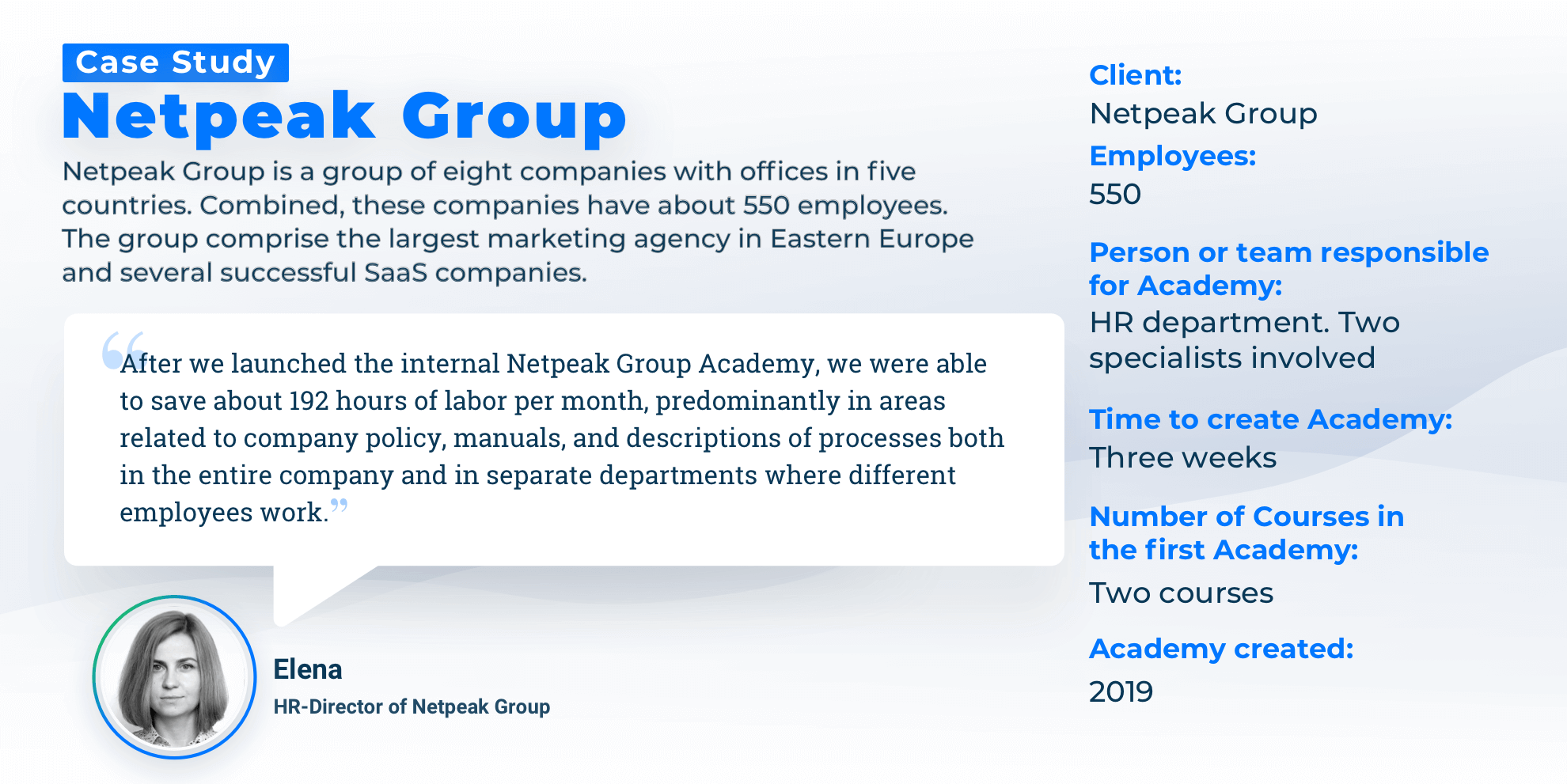 1. Why did you decide to create the Netpeak Group Academy? What problems did you want to solve?
Like many other companies, here at Netpeak Group we throw a lot of new information at new hires on their first day. Not everyone has an easy time retaining and mastering this information. Moreover, we have to repeat a huge part of this information for each new employee. So it was important for us to find a solution that would be effective for new hires and would save time.
Before, we tried various methods of organizing this information (we would often use Wiki + Google Docs + Google Forms, which wasn't that effective for onboarding), but we ultimately settled on an Academy, where we can guide new hires step by step, systematically, right from their first hours on the job.
We created the academy to solve a number of problems. Specifically:
Structured content. We wanted to structure the information new hires receive. As a result, we'd reduce the likelihood that new hires would miss or forget things they learn.
Interactive format. We wanted to introduce information in an interactive and easily digestible format. We would improve the experience new employees have during their first hours and days at our company.
Save employees time. Make onboarding smoother. We wanted to enable new hires to get through onboarding tasks quickly and efficiently, so they could begin taking on the responsibilities of their new roles.
Save managers time. We wanted to reduce the amount of time supervisors spend on onboarding. Supervisors often go through the same motions for all new hires, and this process needed to be optimized.
Engaging and gamified onboarding. Turn onboarding into something exciting. Inspire new hires and increase engagement.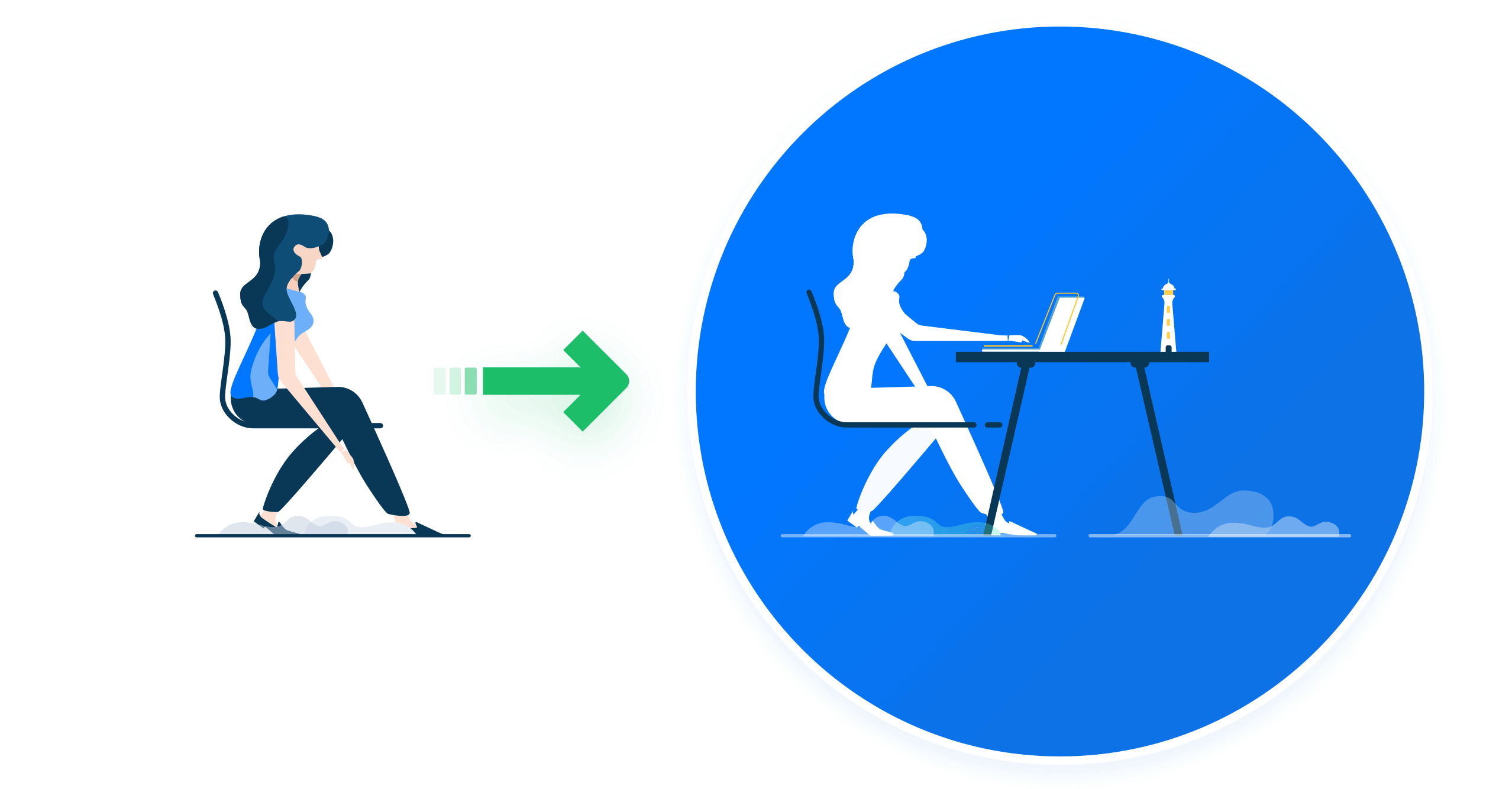 2. Where did you start?
We started by setting goals. Our goal, essentially, was to solve the five problems I mentioned earlier. We wanted to structure information, improve the onboarding experience, increase effectiveness, optimize time spent, and inspire while engaging.
Then we went over all the materials we had when we started creating the academy. We had a decent amount of materials, but they were in different formats (text documents, spreadsheets, checklists, presentations, pages on our website, and articles in our company's internal Wiki). Some of the documents were relatively new, but others had been created years earlier. So just the fact that we started making an academy really helped us structure the materials we had.
3. How much time does it take to create the academy? How much time did you need?
A lot of it depends on who does the creating of the academy. If you have a newer employee create the academy, there will be a lot for them to investigate at length and ask for confirmation about. Then it could take months to create the academy.
But if the person you choose has been working at your company for a while and understands how your company works, it will take them much less time. You can get it done in a week.
We had a combination of those two options. In our case, several people worked on creating the course, and it took about 2-3 weeks total.
4. What did you do after you created your first course?
First, we tested out the course on several of our colleagues. We got feedback and ironed out the kinks.
Our first course was for new hires, so it was important to integrate it into our existing onboarding process. We made it so that all new hires receive a link to the course as part of their first task on the job and have to complete it during their first day.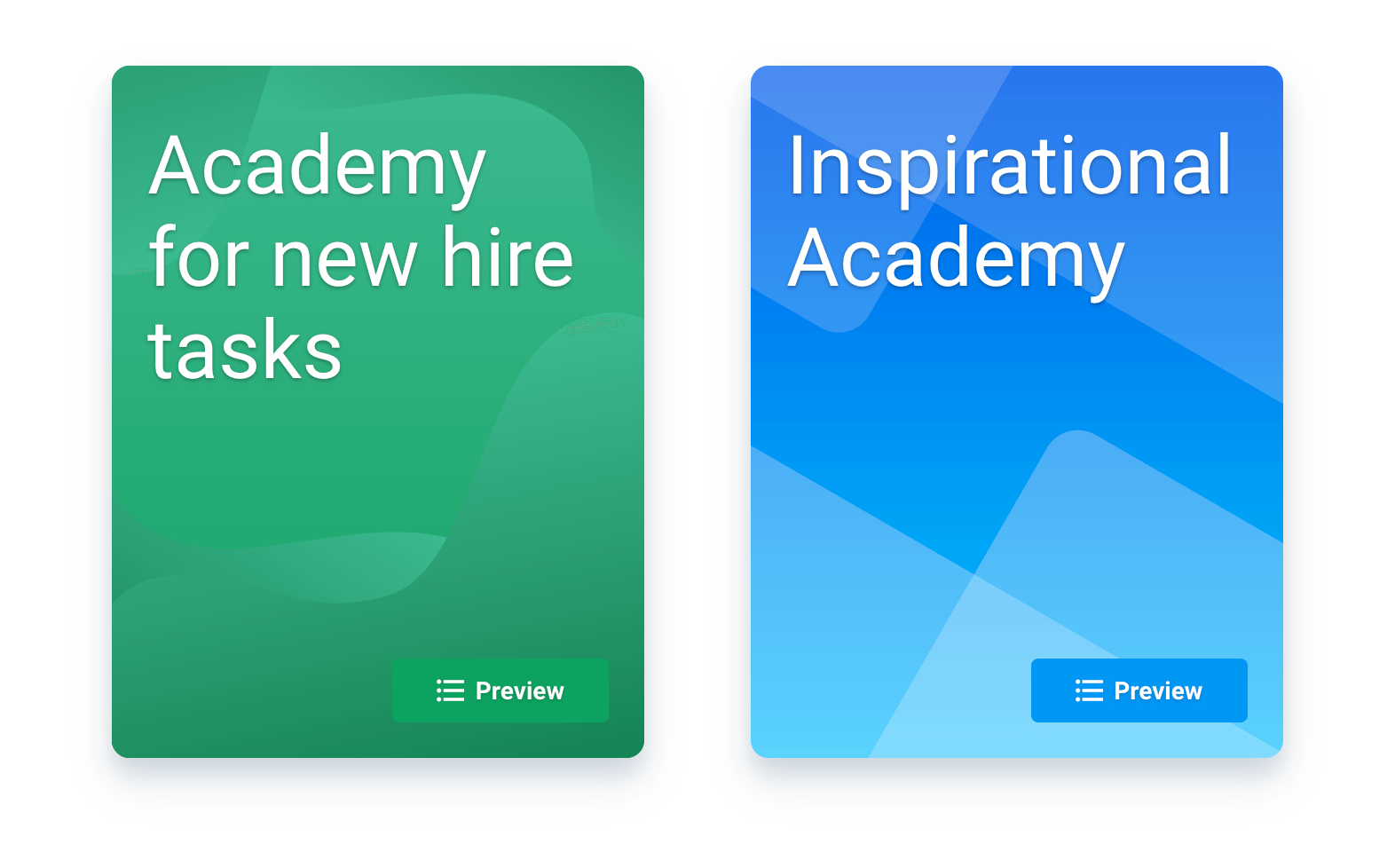 5. What benefits do you get from the Academy now?
I can safely say that we have solved the five problems mentioned earlier. But I should say that we had to create another course in our Academy to do so. In addition to the introductory course in our Academy, we also created an "Inspirational Course," where we provide details about our mission, history, goals, and traditions. It talks about why Netpeak Group was created and all the great people who work here.
By dividing the information into two courses, we made it seem less daunting. The first course was more formal and covered the company's organizational structure and processes. The second was informal and fun.
Actually, as we used the academy, we realized that we were solving three extra problems in addition to the five mentioned before: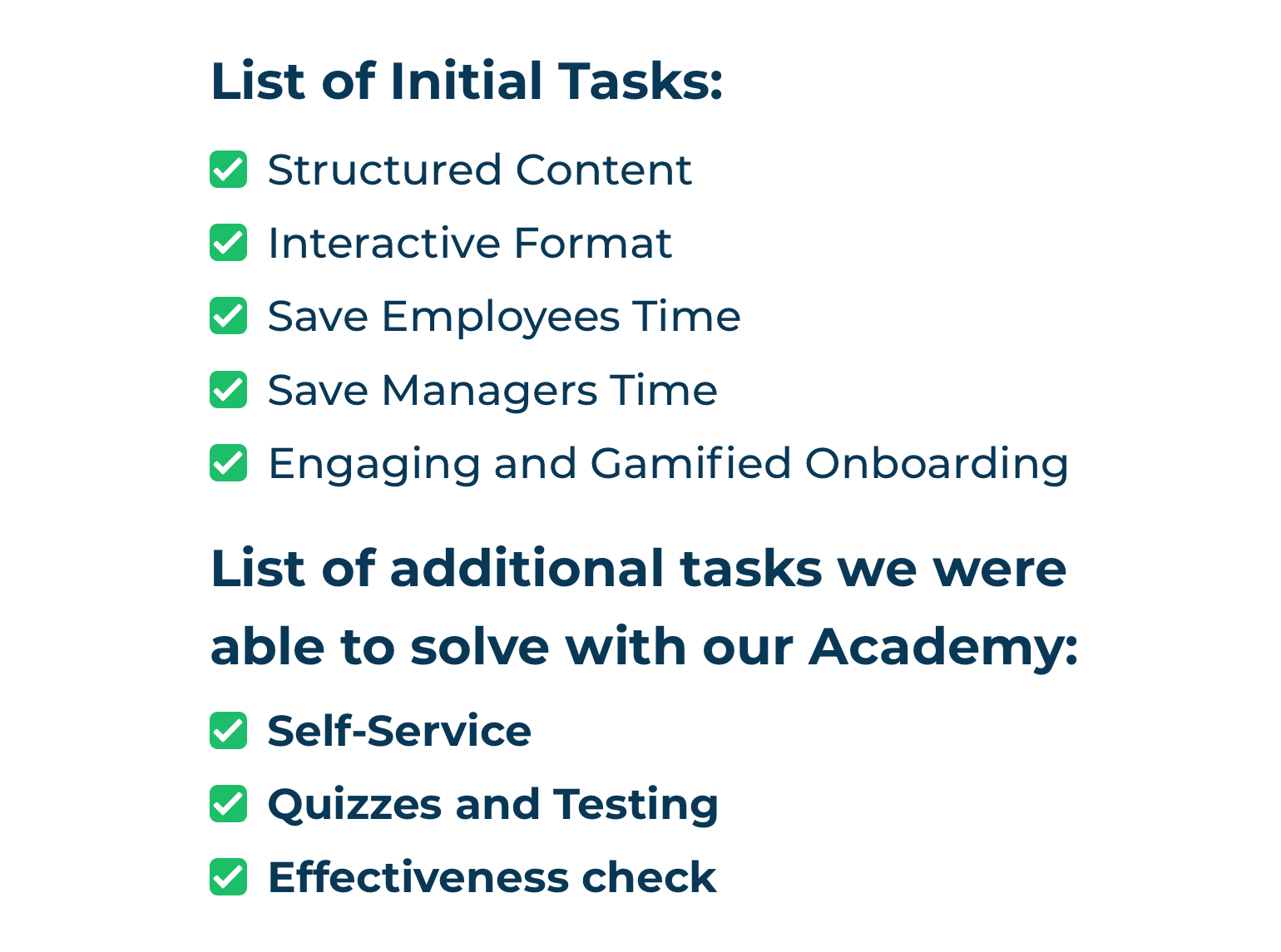 Self-service. It's easy for new hires to forget information they learn in one-on-one sessions with their supervisors, since there's so much of it. New employees may end up asking supervisors a lot of questions, which can be distracting. With an academy, new hires can return to the information on their own at any time.
Quizzes and testing. Using an academy's built-in testing features, you can easily check how familiar a new hire is with specific material, and you can be sure they have mastered everything they need to start completing all of the responsibilities of their new role. It's just as simple to evaluate 50 new hires as it is to evaluate 5.
Effectiveness check. To top it all off, the detailed stats on how new hires progress through your academy during onboarding help identify employees with low productivity.
6. What kinds of quantifiable results did you see?
The company's expenses from onboarding each new hire one-on-one are very high. As an example, at Netpeak Group we have about 20 new hires per month. The employee in charge of onboarding needs to spend about 16 hours on each person.
Without an academy, we were spending 20 * 16hrs = 320 hours each month on 20 people. If one employee puts in about 160 work hours a month, that means it would take two employees to cover onboarding. Those two employees need to be hired and paid.
Of course, there are some processes that can't be adapted and put into the academy. But after we launched the internal Netpeak Group Academy, our time spent on onboarding decreased by about 60% (about 192 hours of labor per month), predominantly in areas related to company policy, manuals, and descriptions of processes both in the entire company and in separate departments where different employees work.

Now we're seeing a trend where each company within Netpeak Group is making their own academies. Some of them are public and available to all employees (academies about how to use Google Docs, or an academy about Planfix). Other courses are available only to employees with certain roles, such as sales managers, middle managers, etc.
We have plans to create several more academies, so we're spending the time we saved wisely :-)