Serpstat

Case Study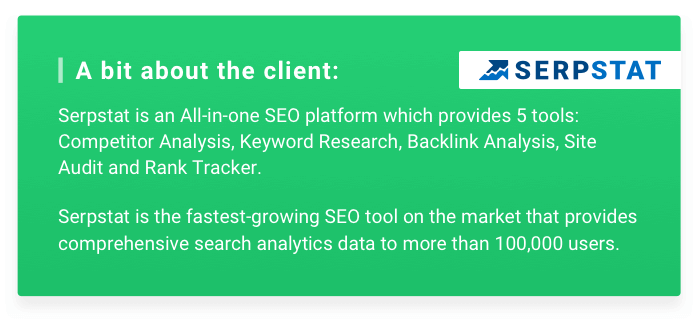 1. Why did you decide to create an Academy? What prompted you to do this?
What prompted us was the need for long-form content that would generate leads. On the one hand, this problem could have been partially solved with the help of PDF whitepapers, but there were a couple reasons why I didn't want to create those.
First of all, it's much more complicated to work with layouts in whitepapers (where to put pictures, how to place text, how to fit everything on the page, etc.).
Secondly, an Academy, from the point of view of interactivity, is far more interesting for readers. After all, a whitepaper is just a multipage PDF document.
And, thirdly, you can get much more data from an Academy — not just a potential clients' email addresses, but also information about which courses they found interesting, how much time they spent reading them, and how they interacted with them.
2. What did you start with?
We decided to start by creating one course. Since I was doing this for the first time, it took longer to create than all the subsequent courses (we already have five of them at this point).
The topics of the first course were general (about what keywords mean in SEO). Because of this, we were able to attract the attention of people who lacked knowledge but wanted to gain it. In other words, in the course we provided not what WEwanted, but what LEARNERS (our potential clients) needed. When people got general, useful information from us, they became interested in how they could apply it in practice. And there we were, telling these already interested learners about our functionalities.
3. How much time did you spend?
Creating the first course took a fairly long time. I was doing this for the first time, and I was completely responsible for the process. There was a desire to make the course as interesting as possible, so it took me nearly five workdays (writing texts, creating screenshots and animations, and also dividing all the content into lessons).
In the future, it was much easier to create courses (about one day per course).
4. What did you do after you created the course?
We tried different things. Among the things that worked out well for us were:
adding a link to the Academy on our site's footer;
sending out an email to our mailing list and creating a blog post announcing our Academy;
writing about it on Facebook and Twitter;
Guerilla marketing. For example, when we see a very relevant question on Quora, we may write a short answer and provide a link to the course in which we have answered the question in more detail. Down the line, anyone who sees this answer can click the link, educate themselves, and become a lead.
To enter new markets (and reach new audience segments) I think that what can work well is creating a whole course plus targeted ads on Facebook for the course. But we haven't tested that hypothesis yet.
5. What were your results?
In the past ten months that our Academy has been active, we have received 2,100 warm leads through it. And from the total number of learners, 5% convert into paying customers even without the involvement of sales reps.