🌷Meet the spring with a new team statistics | AcademyOcean update
March 11, 2021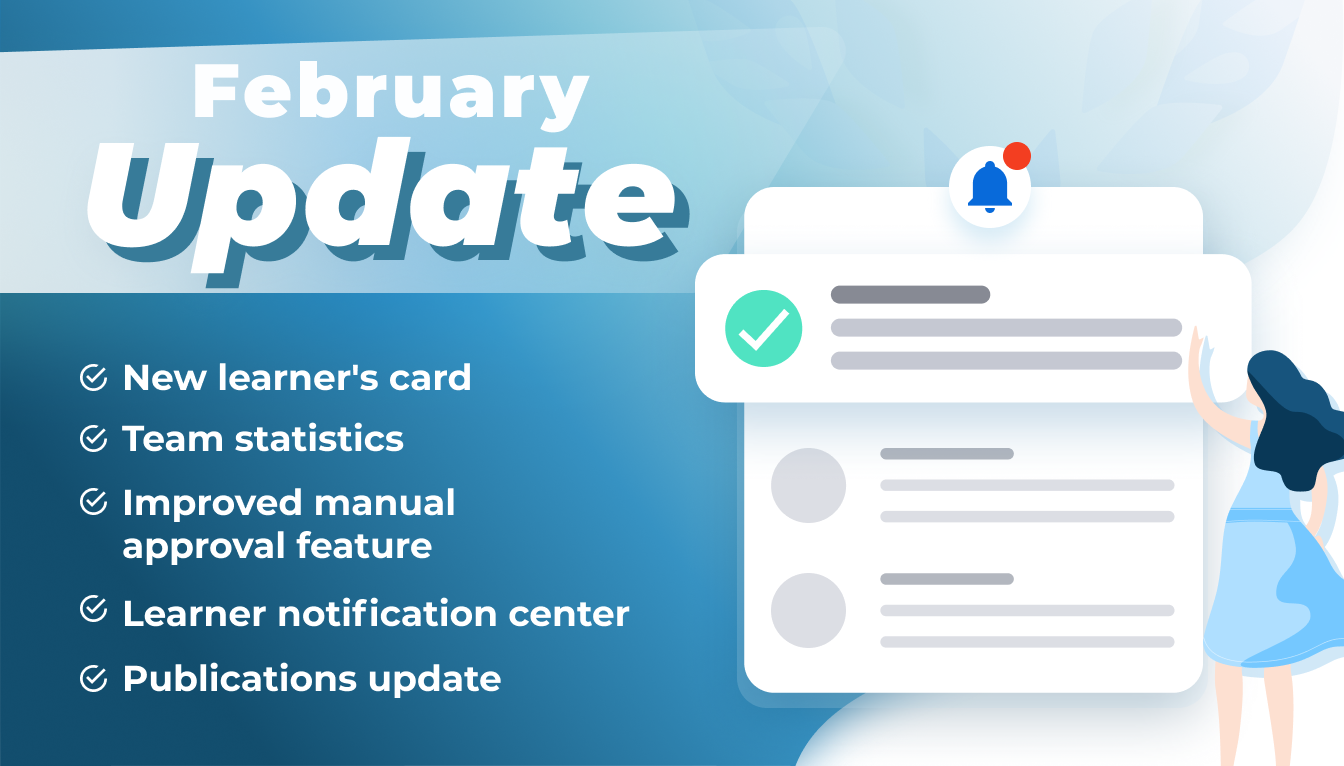 Hello everyone!
It was another busy month of product updates at AcademyOcean.
📌This blog post will guide you through the top highlights: team statistics, new learner's card, notification center and more.
Analyze detailed team statistics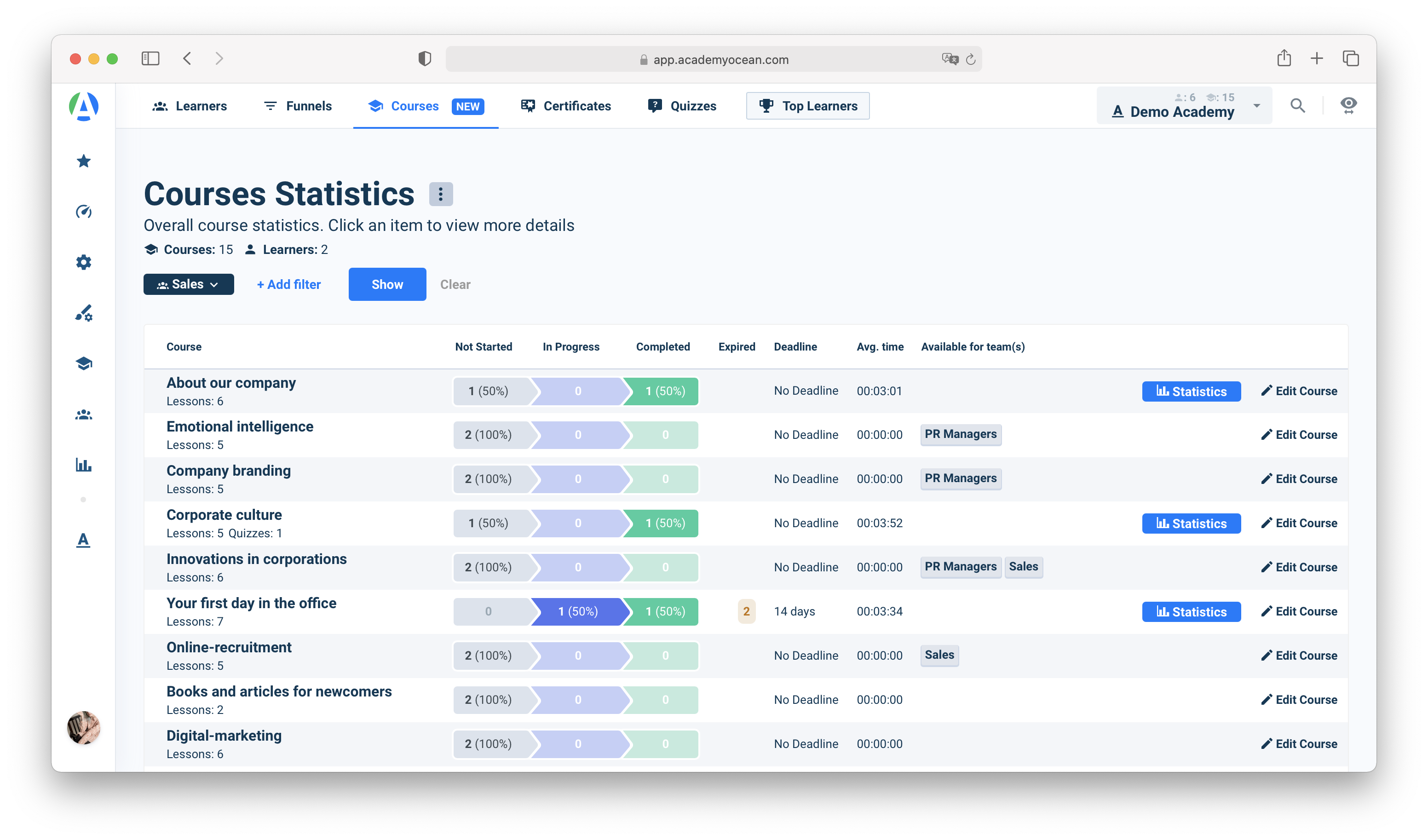 This long-awaited feature will help you view learners' statistics in more detail and better analyze the effectiveness of the learning process organized.
We have added filters (on the following parameters: on all learners, on all courses, on one course, on a quiz) on the main pages, which will help you more precisely evaluate the results of your learners.
Let's say you want to see how your sales team is handling training material. By choosing the filters you need, you will receive detailed information on the progress of a specific sales team.
Track the learning process with a new learner's card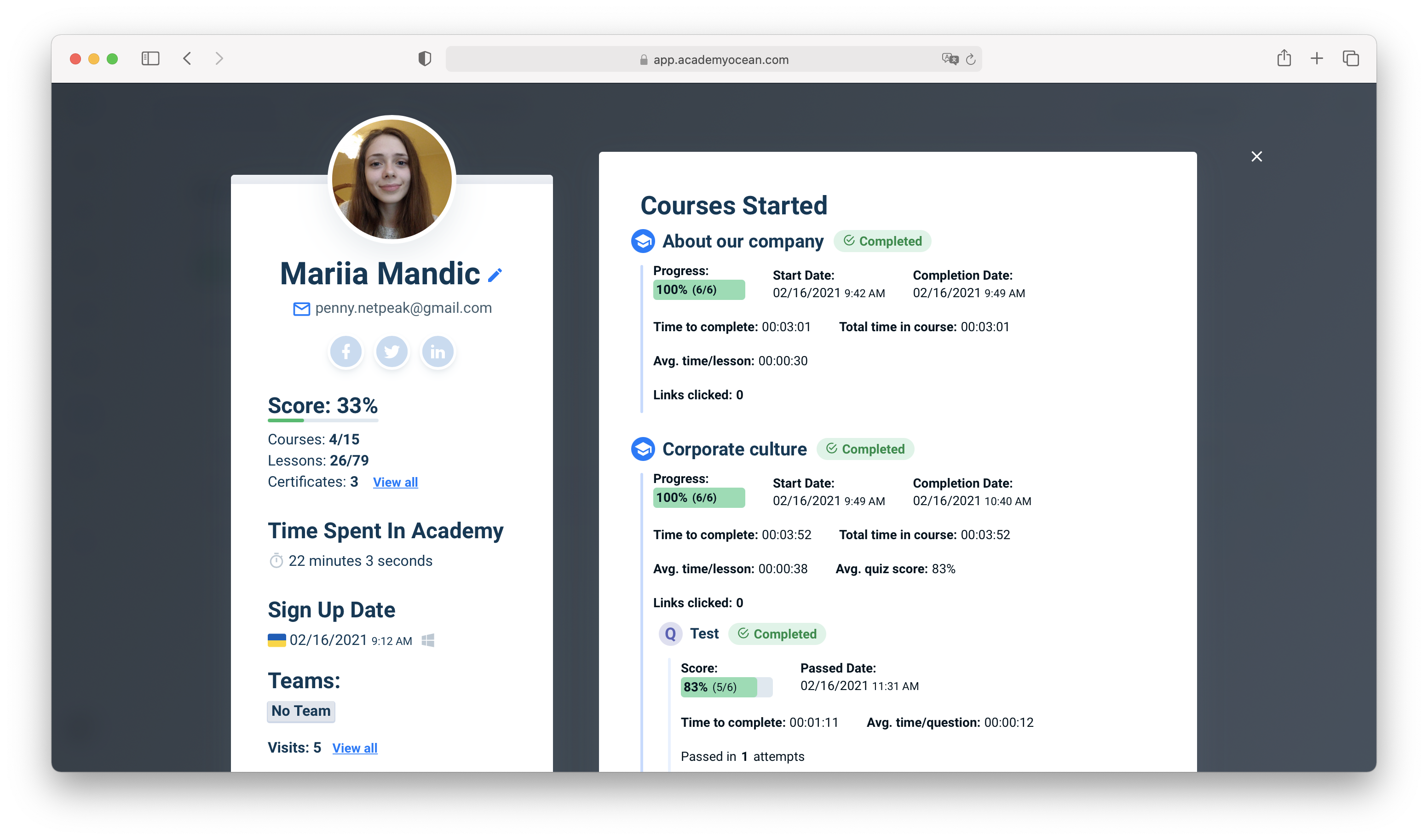 Tracking the progress of a particular learner has become even more convenient. All the learner progress data (quiz results, course completion, etc.) is presented on one page. Using this page, you will be able to see the full learning path of a particular learner. It will help you better understand where the learner is doing well, and where he is facing problems and poorly absorb the learning material.
Check the improved manual approval feature
When checking the test, the admin can mark the learner's answers as correct or incorrect. It helps reduce the amount of manual interaction during the test checking. It also helps automatically recalculate the overall quiz score.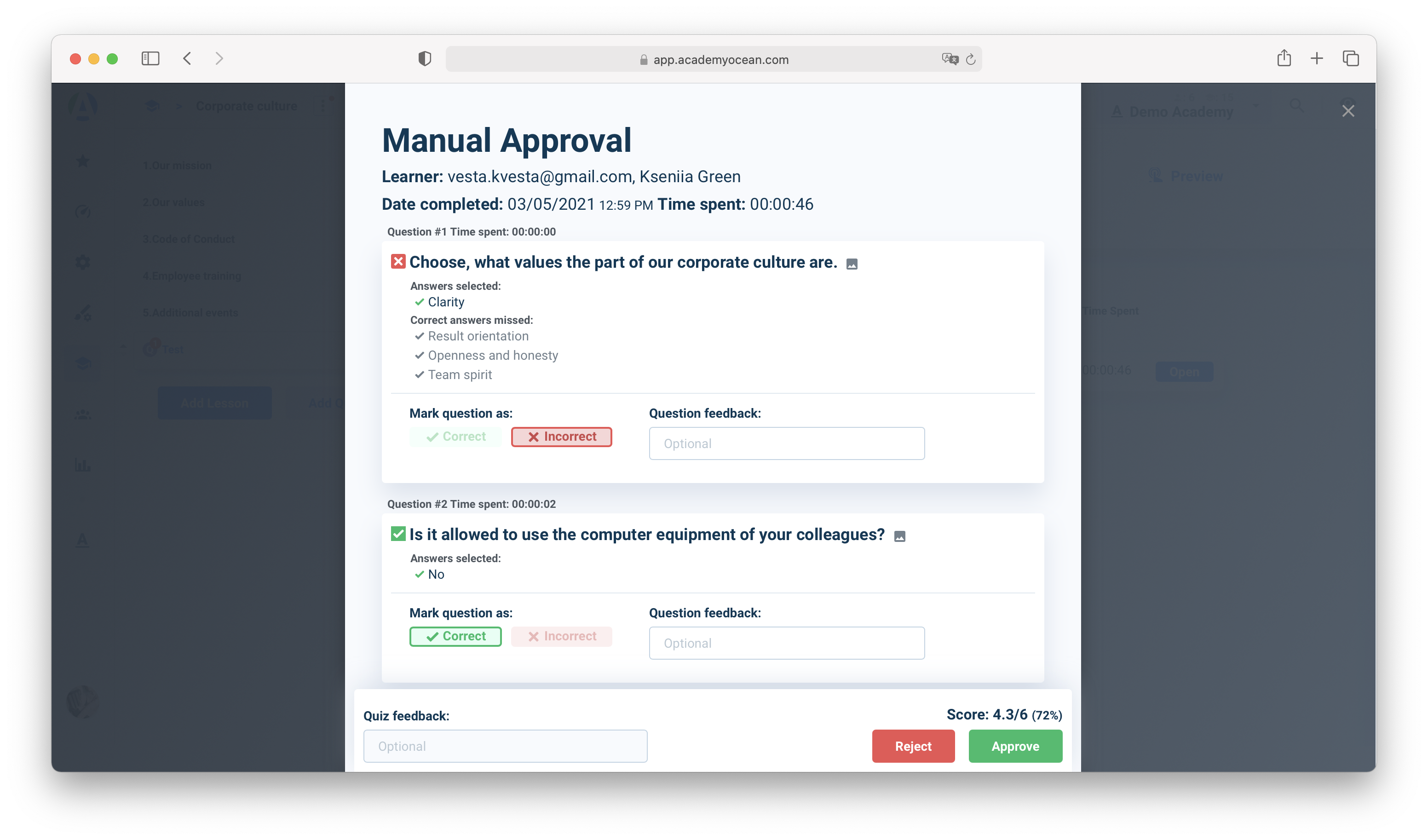 We have also added the ability to comment on the individual questions in tests. It will help the teacher draw the learner's attention to specific knowledge gaps and recommend materials for further study.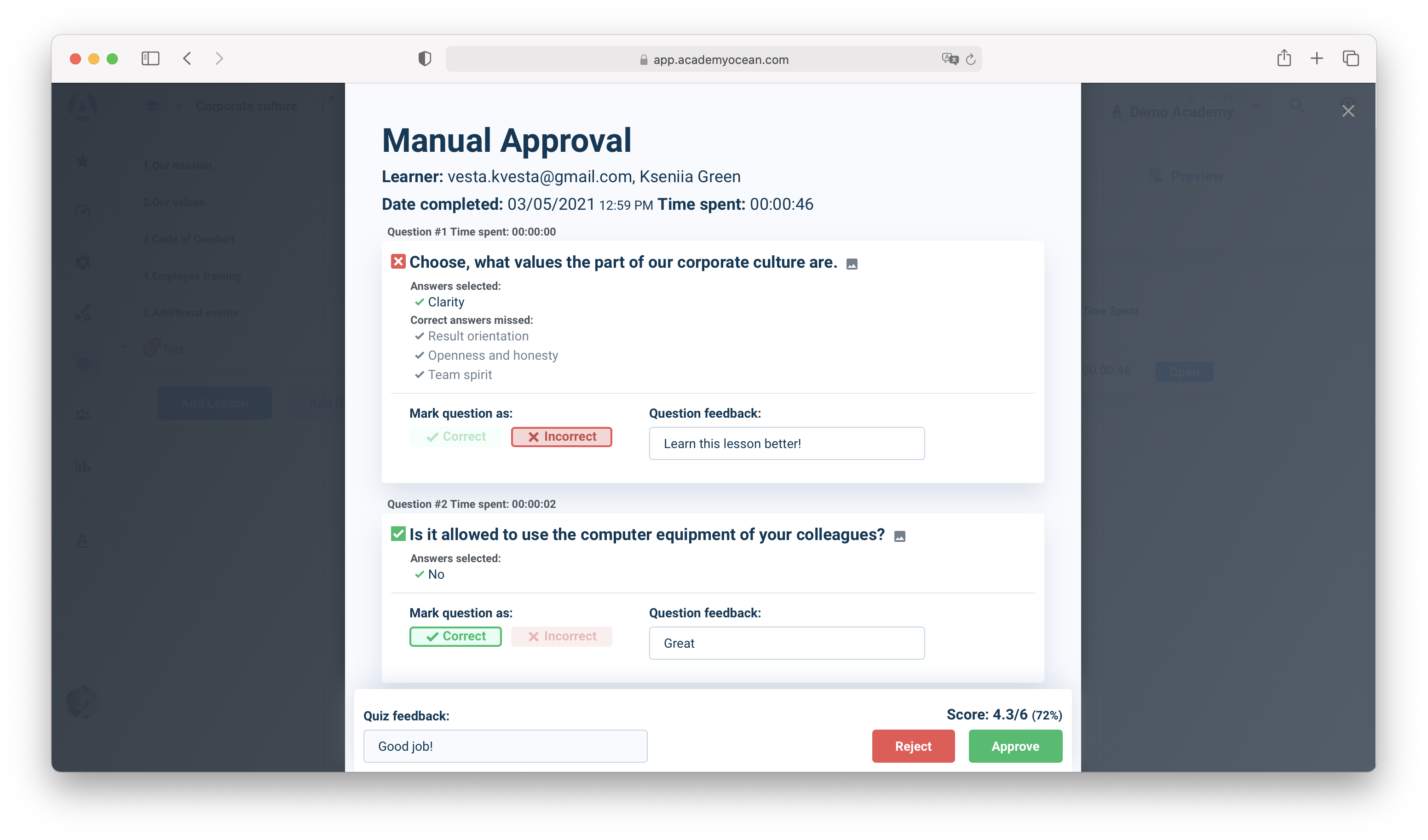 Learner notification center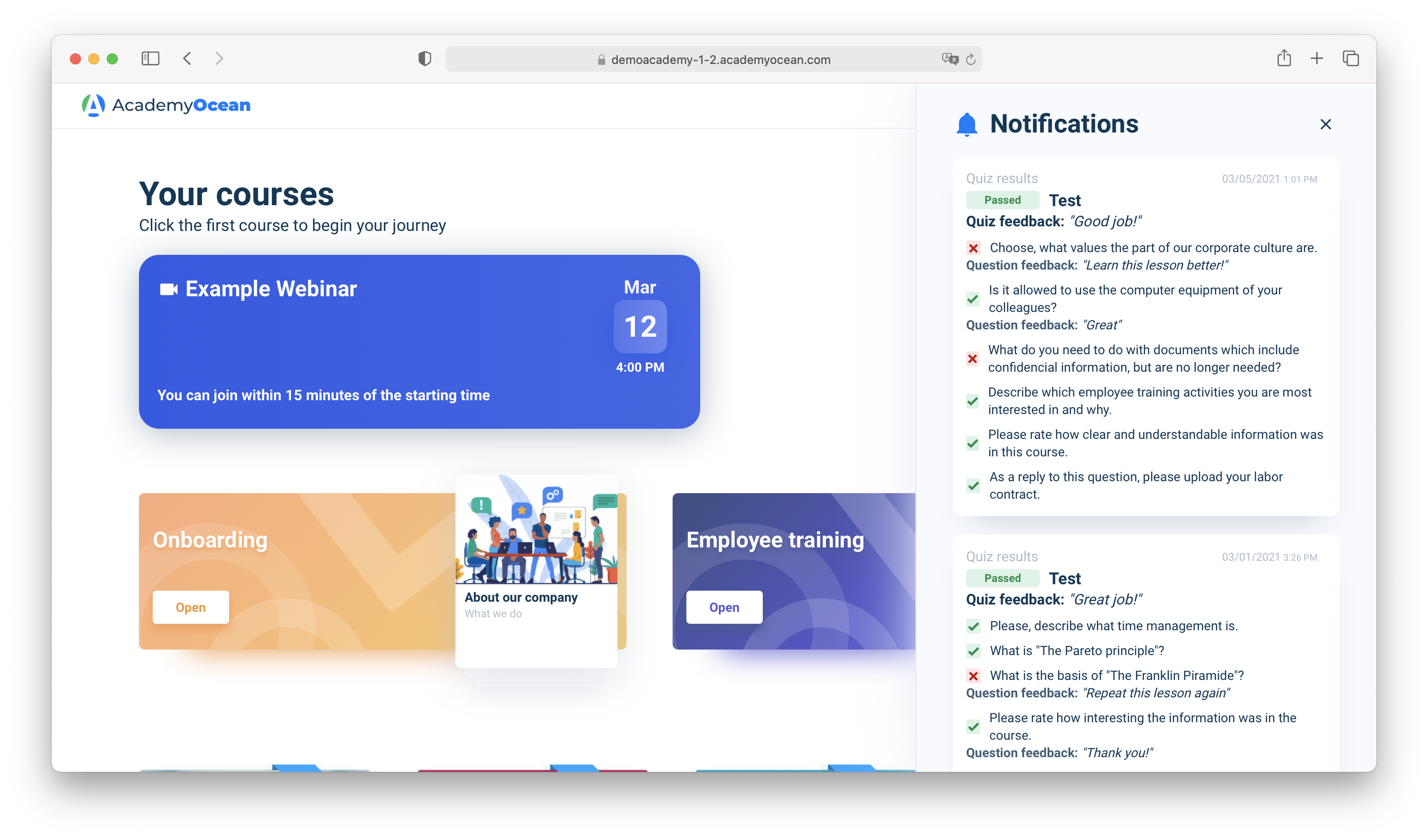 This is a place where all learner notifications are collected. Now, if the learner missed some kind of notification, for example, test results, he will be able to see it at any time.
Learn more about AcademyOcean features at 1 on 1 meeting.
Publications update
Every month we also work on creating engaging, and most importantly, valuable content for our audience. Here are some of the new articles that we recommend reading:
What HR software is a must in 2021 [Expert Opinion]? We decided to research what types of HR tools will be in demand in 2021 and interviewed several HR experts. They talked about how this year, certain types of software can facilitate specialists' work and help accomplish specific tasks.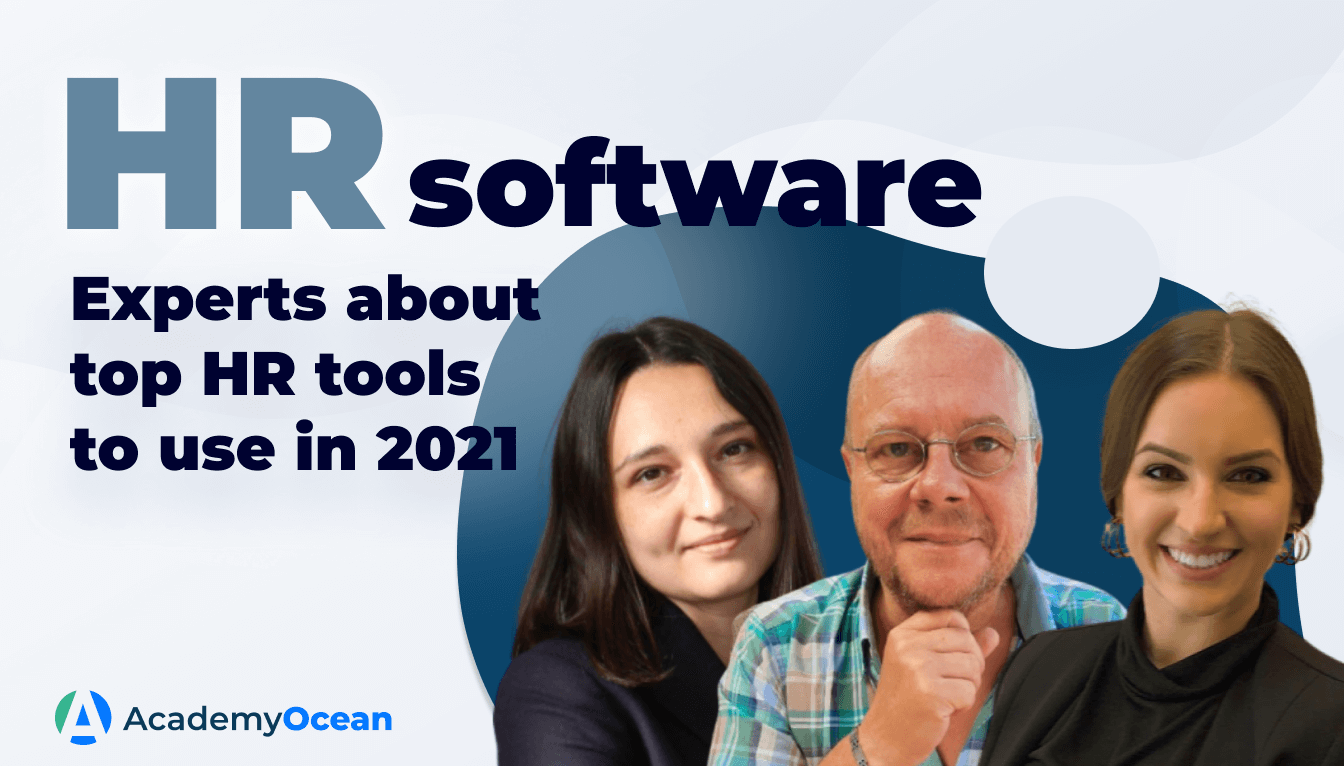 Jan Helwerth: "Employee experience will become one of the biggest trends in HR in 2021!" Read this interview to find out what HR trends will emerge in 2021 and what an unusual gift Jan once received.
FaithLinh Rowe: "Recruiters don't push back on their hiring managers when hiring managers are looking for a "unicorn." Interesting facts and peculiarities of the HR sphere in our new interview with an HR Business Analyst at Intel Corporation.
Etty Burk: "The biggest challenge that we often have is educating those that "do not get it." Etty is passionate about creating inclusive values-based cultures where individuals are respected, feel safe, and understand how they make a difference. Read more about this in our new interview.
---
That's all for February, friends! Stay tuned not to miss new features and publications. We are preparing a lot of new and interesting things for you!