Case Study — WeControl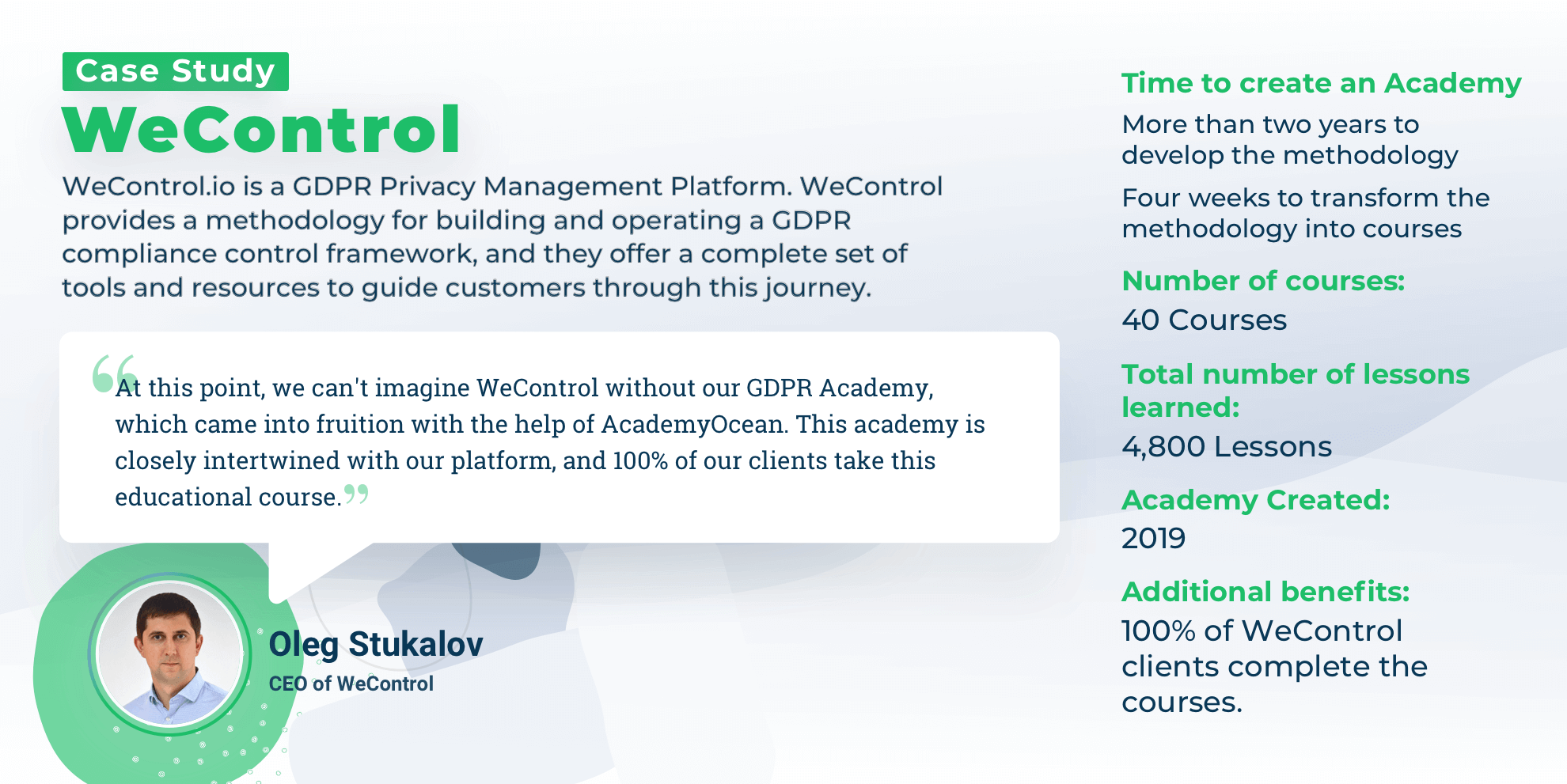 1. A bit about the company
WeControl.io is a GDPR Privacy Management Platform. WeControl provides a methodology for building and operating a GDPR compliance control framework, and they offer a complete set of tools and resources to guide customers through this journey.
2. Why did you decide to create the WeControl Academy? What problems did you want to solve?
Our academy helps us solve two main challenges:
Under GDPR, our clients' employees need to be trained on how to work with personal data.
We have prepared training courses that focus on staff training and awareness. They provide a comprehensive understanding of what GDPR is truly about and how to operate a business under its rules.
All of our clients can invite employees to specific courses, and there's a feature for DPO and C-level employees to track employees' progress.
We have designed 40+ practical courses specifically for Data Protection Officers. All of our courses are grouped by specific modules (Academies), so a learner can improve their knowledge in a specific domain (such as record keeping) We also needed a system that would help us manage 40+ practical courses in one place.
We've also integrated AcademyOcean into our own platform, making access seamless for our customers.
3. Where did you start?
At the beginning :)
We developed a consulting methodology. We understand our clients' needs, and we converted our content into courses.
We saw a problem: to be GDPR compliant, you need to do more than just change your Privacy Policy or put a cookie consent widget on your page.
By the way, cookies are used on most sites regardless of whether or not users click "I consent."
We realized that in order to really be GDPR compliant, we had to do more than just make changes. We had to continue supporting these changes, because like any other type of compliance, GDPR compliance is an ongoing process.
When we realized that this wasn't just our problem, we put together a team: we hired people with decades of legal experience—people who have developed the best methodology in the world, who are trying to digitize this methodology so as to make it easier both to become GDPR compliant and to stay that way going forward.
4. How much time did it take to create the academy?
All of the content is part of one huge methodology that was put together over many years by many experienced lawyers, adapted to real clients' needs, and "test driven" during a number of consulting projects.
The "digitization" and integration of this content into general processes and our platform took over a year. We tried to transfer the content as conveniently as possible, adding details and ensuring it was possible to find the necessary content at any point.
5. What benefits do you get from the Academy now?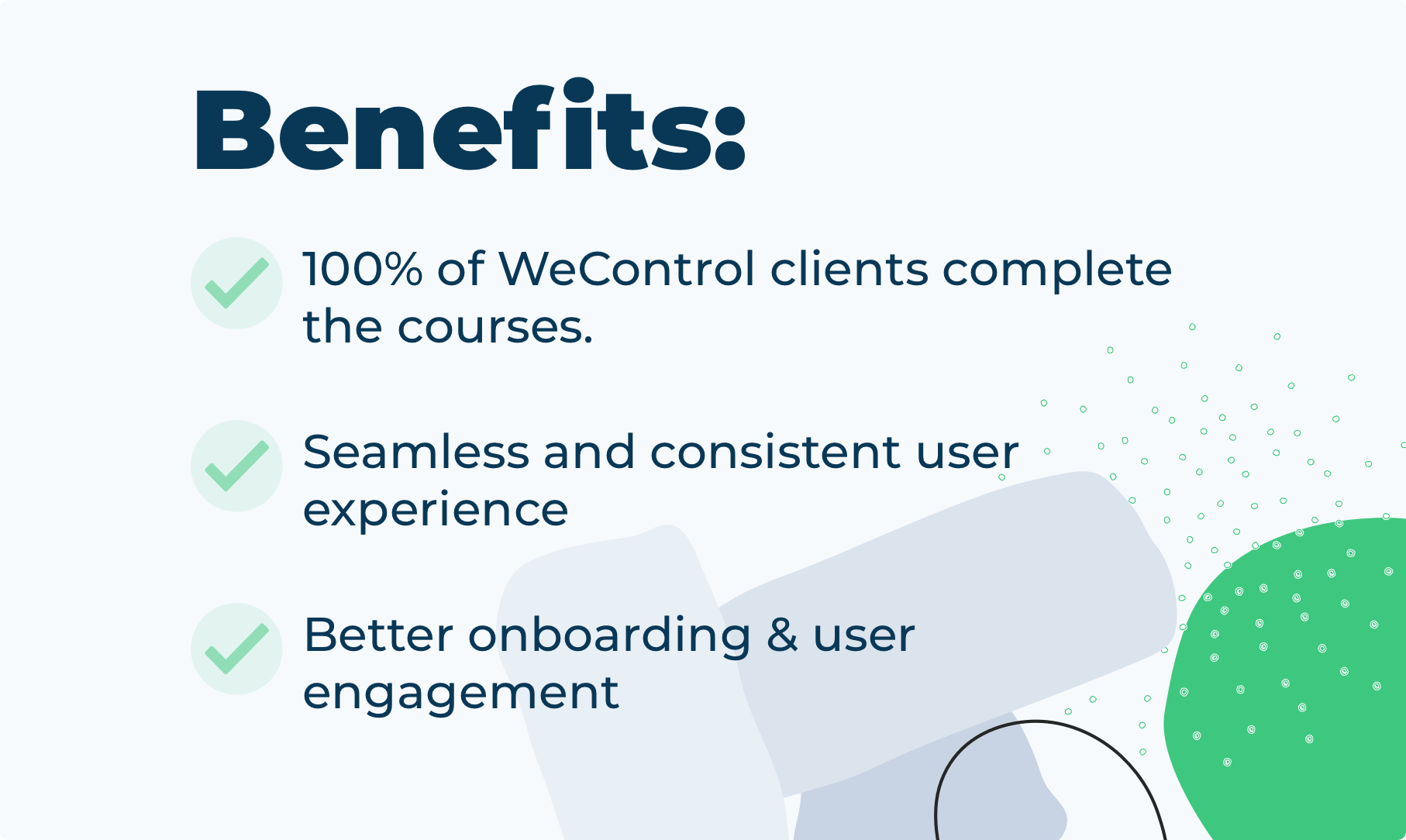 For us, educating our clients' employees is essential. That's why we chose AcademyOcean—it's the only platform that satisfied our needs.
At this point, we can't imagine WeControl without our GDPR Academy, which came into fruition with the help of AcademyOcean. This academy is closely intertwined with our platform, and 100% of our clients take this educational course.
Also, we constantly get feedback from our clients—and in particular from DPO companies—saying that it was generally difficult to get employees to take educational courses in the past, and that tracking their work was virtually impossible. Our platform, including the GDPR Academy, solves this problem.
6. What do you like the most about the product?
What we really love about AcademyOcean is its seamless and smooth integration, as well as the amazing support that the AcademyOcean team has provided us.
Although the initial integration was fast and seamless, we required a deeper integration to provide our users with a continuous and consistent user experience, with the feeling that they aren't leaving our app and the user flow isn't breaking. Unlike most B2B product companies, the AcademyOcean team understood our needs and did their best to help us to achieve our goal.
And yes, we have some unique customizations. It's worth noting that it was pretty easy to make these customizations, thanks to AcademyOcean's state-of-the-art technical architecture.
7. Whom would you recommend AcademyOcean to?
We would definitely recommend AcademyOcean to anyone who needs regular training of customers and/or employees and wants to avoid inefficient and time-consuming meetings, calls, and documents saved randomly on ten different people's computers.
AcademyOcean is an amazing and comprehensive product that is ideal for solving problems related to user training.
Want to see AcademyOcean in action?